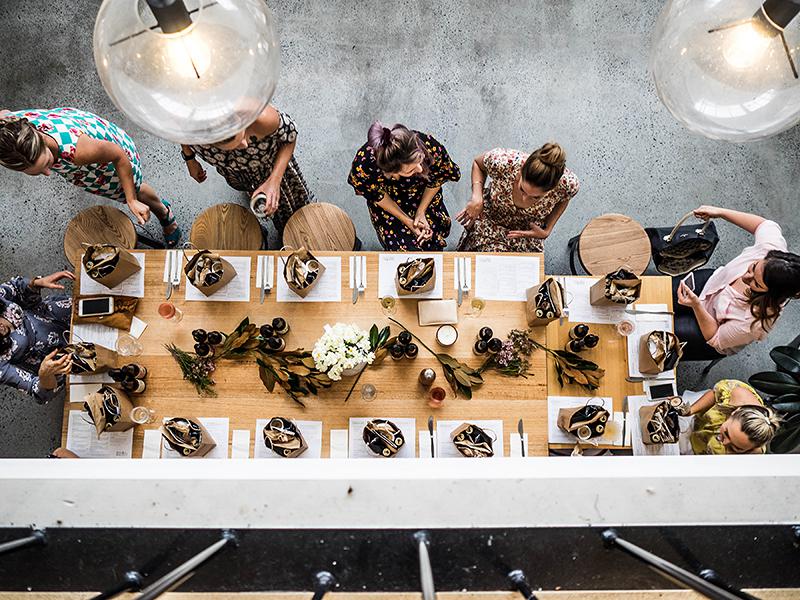 With much anticipation and excitement The JCN Clinic is excited to present the JCN Luncheon Event.
The JCN Luncheon is a very unique and personalised opportunity to spend one on one time with The JCN Clinic team in Jessica's home. Come along and be immersed in a small and intimate group while learning and actively preparing a wholefood, delicious macronutrient balanced lunch with Jessica and Carissa in Jessica's own kitchen. Following this with a sumptuous lunch, relaxing and enjoying your wonderfully prepared dishes over Jessica's dining table. This is an experience that Jess has dreamt of offering for some time, and now before departing overseas it is time to finally see it happen!
The day will include:
Arrival at 10am to complimentary drinks.
An intimate welcoming & opening to the mornings events.
Participation in making the dishes for the Luncheon where attendee's will be encouraged to get hands on, with a focus on preparing wholefood ingredients used less frequently in most home kitchens.
Nutritional education on the benefits of the food prepared, tips and tricks in the kitchen and how to tweak recipes to suit your individual needs.
Making take-home homemade patè, cashew cheese and raw chocolate to enjoy after the event with family and friends (or just for yourself – we get it).
A sit down grazing style lunch, enjoying the homemade recipes and produce of the day with condiments by Peace, Love & Vegetables & Summerland Camels
Complimentary Nanny Goat Vineyard wine or non alcoholic beverages from Remedy Kombucha and Aqua Botanical to enjoy with your lunch.
A healthy sweet finish with homemade raw chocolate and herbal tea.
A complimentary gift bag filled with goodies from a collection of our favourite wholefood businesses including Thera Health, My Hemple, Nodo Donuts, Cobram Estate, Superfeast Skin Juice, Amy Sargeantson Chocolate, Loving Earth
The food prepared will all be gluten, dairy and egg free with a focus on fresh, local, organic seasonal produce.
JCN Luncheon Menu
Millet Salad w Garden Herbs & Seasonal Veg
Root Vegetable Salad w Roast Tofu & Legumes
Slow Cooked Organic Lamb*
Paté*
Dill & Chive Cashew Cheese
Cheesy Gut Friendly Bread Rolls
Nanny Goat Vineyard Wine, Remedy Kombucha and Aqua Botanical Mineral Water
Chocolate Slab
Herbal Tea, Espresso, Chai, Matcha, Superfeast Mushroom Latte
*All organic animal produce sourced locally from Australian Natural Food Co and dry organic goods & teas from The Soure Bulk Foods Bulimba.
event details
Location: Brighton QLD (full location disclosed on booking)
Date: Sunday 19thMay 2019
Time: 10am – 2:30pm
Cost: $220.00 per person
How to Purchase Tickets: Please contact the JCN Clinic directly on reception@jessicacox.com.au or visit here on the website to send us an email. Alternatively call the JCN Clinic on 0411 161 730. Please note, payment is due at the time of booking via debit or credit card. A 2% surcharge applies to payments.
Please note there are limited seats to this event. Tickets are on sale until sold out.
FAQs
Will the JCN Luncheon cater for dietary requirements?
The JCN Luncheon will be strictly gluten, dairy and egg free. Please note Jessica's kitchen is not coeliac friendly so there may be trace levels of gluten in food prepared. Please let the team know if you have other dietary requirements and we will do our best to cater for you.
What are my transport/parking options for getting to and from the event?
Jessica's home is located 8 minutes from the Sandgate train station. On street parking is available on location.
Is my ticket refundable?
Unfortunately not, however tickets to the JCN Luncheon are transferable. Please contact the JCN Clinic if you need to organise a transferable ticket after purchase.
How can I contact The JCN Clinic organiser with any questions?
Please contact The JCN Clinic on reception@jessicacox.com.au or 0411 161 730.
Jessica Cox is a qualified practicing Nutritionist with a Bachelor Health Science (Nutrition) and over 15 years of clinical experience. She is the founder and director JCN Clinic, published author and established recipe developer. Jessica is well respected within health and wellness space for her no fad approach and use of evidence-based nutrition.