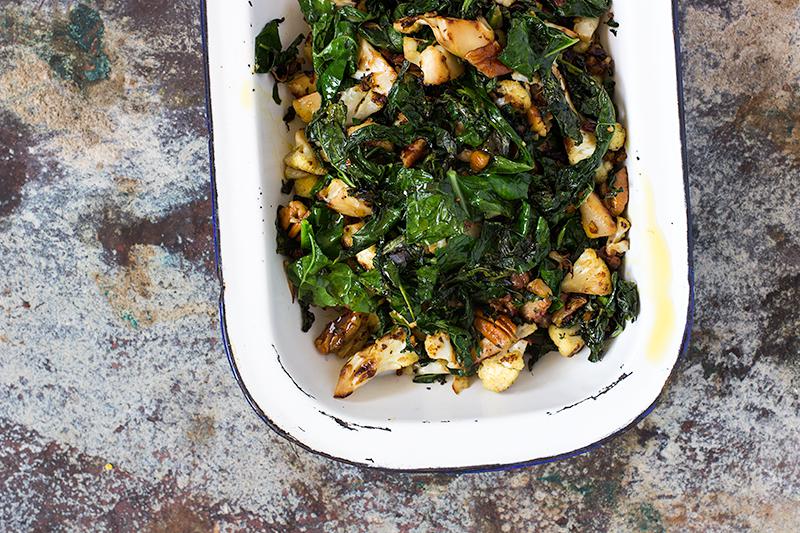 This is one of those really basic dishes that I just didn't think about adding to the website. It's easy to get distracted by fancy muffins and breads (I do love an excuse to bake), so sometimes you have to take a step back and let the simple recipes have their moment in the sunshine.
This Garlicky Kale & Cauliflower w Toasted Pecans is pretty much a weekly feature in our household. I find I crave it and generally either cook it up with kale or sometimes with silverbeet, depending on what's available. It's so simple to throw together mid week and I always make extra so I can have it to add to lunches as well. It's ridiculously good with my creamy polenta and some salmon.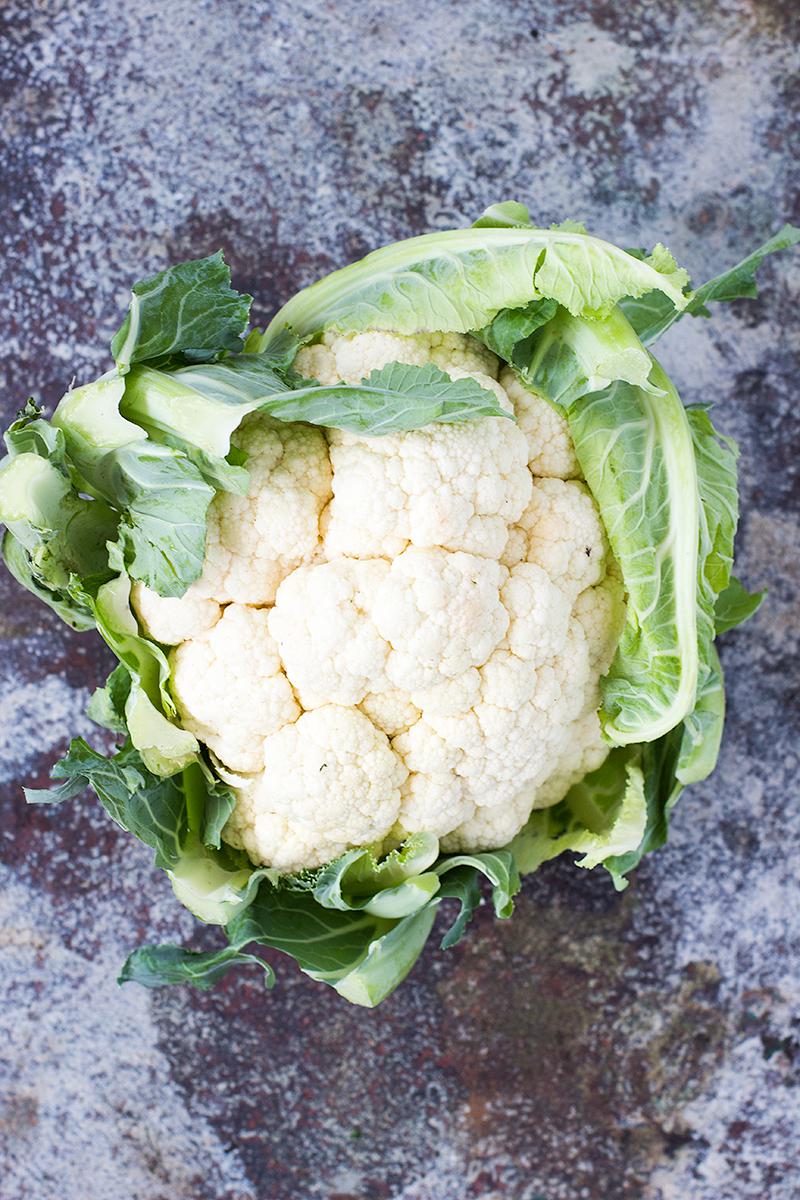 This dish is a great example of how adding those extra elements can really bring a dish together. It's also about understanding ingredients and how far to push them to get maximum flavour. For instance, you could cook the cauliflower until just tender and then toss through the kale till just wilted, ultimately serving up a quicker dish. BUT what you miss out on by rushing this is the caramelisation. When you allow vegetables to develop those golden hues the natural sugars will turn golden and bring with them a more intense and enhanced flavour. For me, this is everything when it comes to understanding cooking vegetables.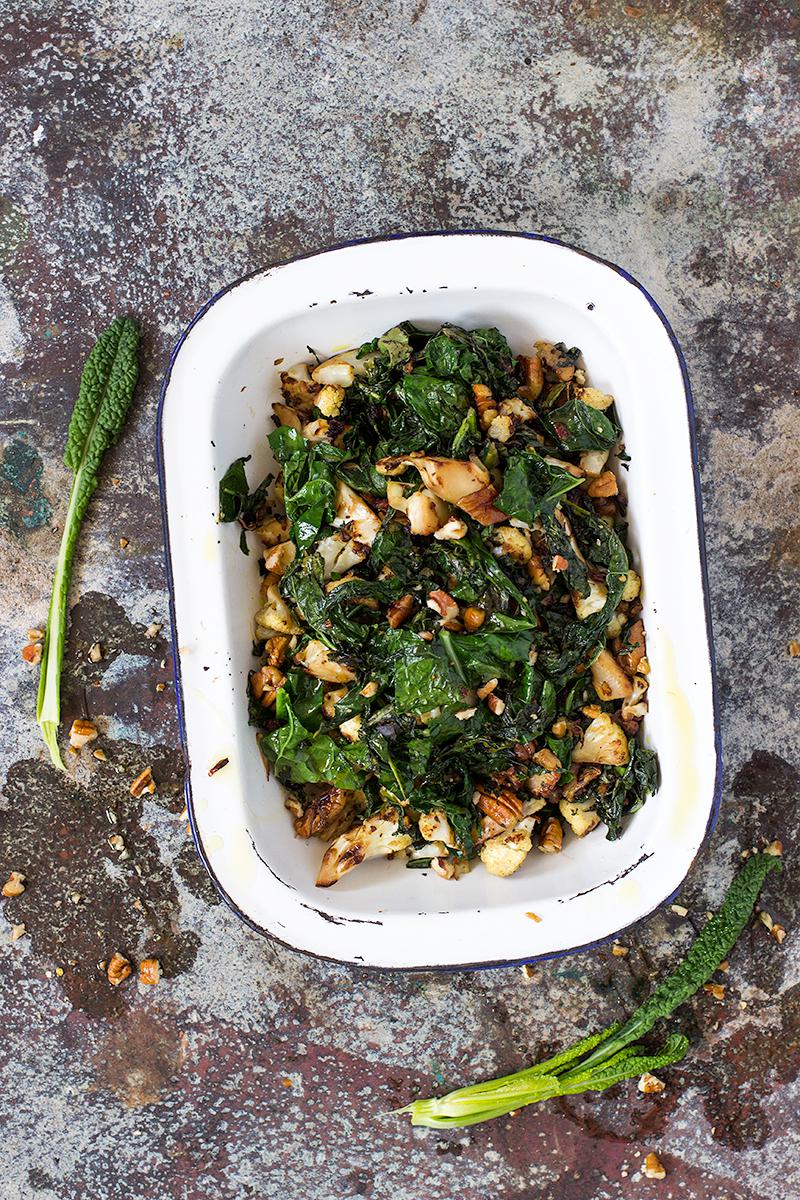 Secondly, using quality extra virgin olive oil will bring that earthy, grassy flavour. This married with generous salt and pepper and then the subtle last minute depth from the garlic is how this dish truly works. It just wouldn't be the same with flavourless oil or no salt. Sacrilege! Finally the pecans are about texture. When we eat a dish our palette not only looks for sweet, salty, creamy etc, but also for the crunch within the soft. Anytime I create a meal I always think about bringing these elements together.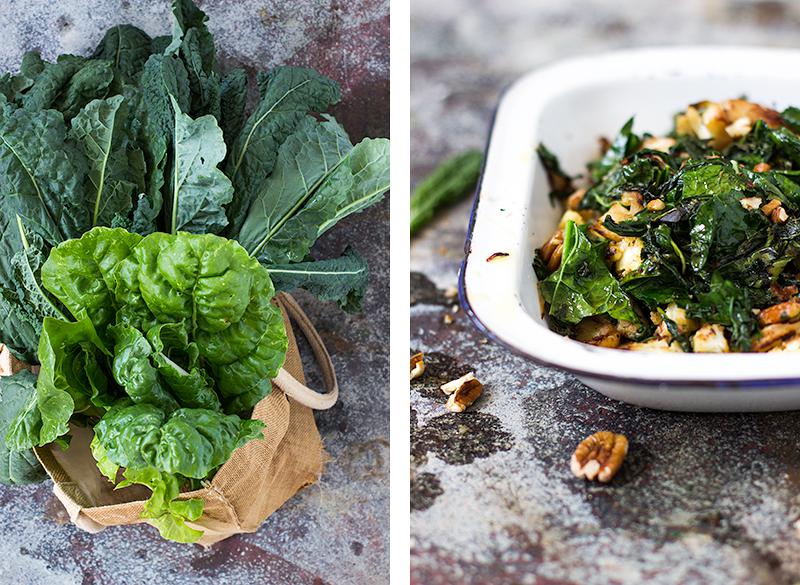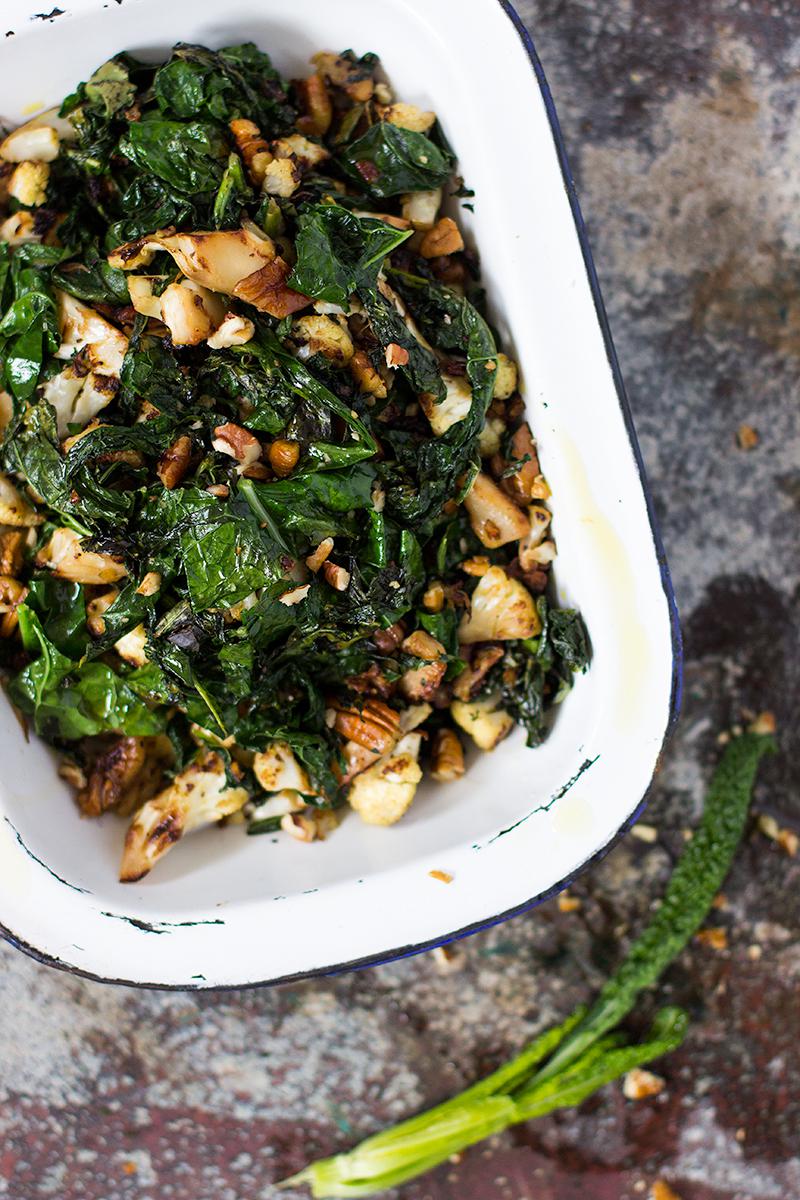 Of course it's a learned habit. I've grown up around food and as one does, learnt to really know cooking through countless trials and errors. I liken it to when we first started renovating and I lost my shit trying to strip my first room. Crowbar in one hand, chisel and hammer in the other, it seemed impossible to me to pry the architraving and skirting from the walls. I had no idea what I was doing. On the other hand, my hubby with a whole lifetime of trade and carpentry knowledge simply took the crowbar and chisel from me and pointed out that 'it's simple, just start here and hold the tools like this. Think of working backwards from how a room is built and put together. Windows last, then architraving. Don't try and pull a door off without removing the architraving around it first'.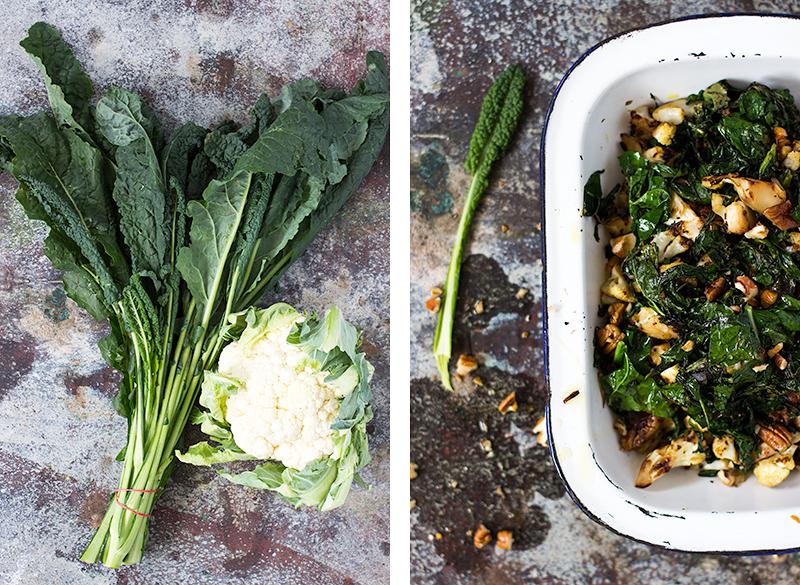 Simple right (insert MANY swear words). But, I learnt. Like I know cooking with what seems like every cell of my body, he knows building. Similarly, the way I get enraged over a sheet of gyp-rock that won't come loose, he will see red over a recipe that doesn't work. He can't see the wiggle room and know how to adapt the recipe to really 'work' the way I can't see how to get down that bloody sheet of gyp-rock without losing my mind.
How did I get onto gyp rock?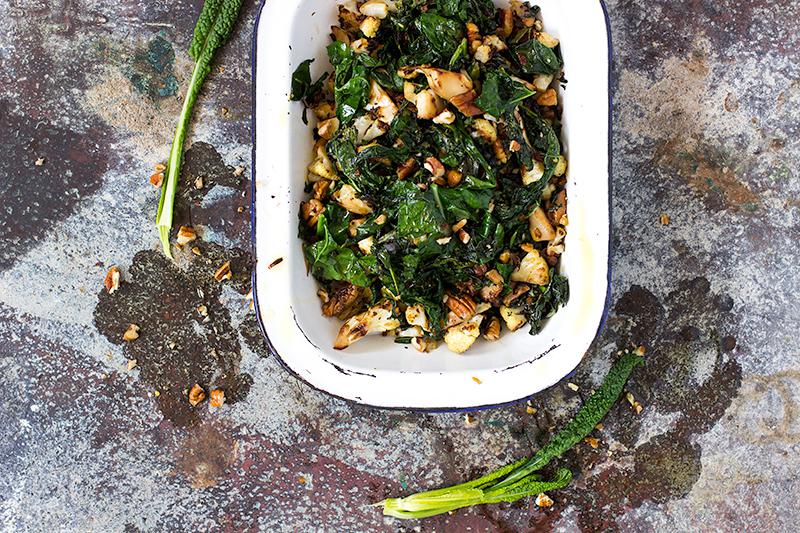 Let's finish off with coming back to the recipe shall we. So, yes! Trust me when I say this simplistic dish is a winner, but the best will come from it if you really give it the love of time and quality ingredients that it deserves. Do me a favour and enjoy it with my creamy polenta because the two together are truly magic. xx
garlicky kale & cauliflower w toasted pecans
serves

serves 4 as a side dish

preparation time

5 minutes

cooking time

20 minutes
ingredients
2 – 3 tablespoons extra virgin olive oil (don't be shy now)
1/2 regular sized cauliflower
1 large bunch of kale ( I use tuscan kale)
1/2 teaspoon salt
1/2 tsp ground pepper
1/2 cup pecan nuts
1 clove garlic, mashed
method
Start by cutting the cauliflower up into rough bite sized florets. It's good to have some small crumbly bits too as these will really crisp up. Now preheat a large heavy base saucepan to a medium heat. Add in 1 tablespoon of your olive oil and add in the cauliflower. Stir to coat with the oil and season with half of the salt and pepper.
Continue cooking the cauliflower until softened and really golden, this will take around 10 – 15 minutes. In the interim, chop up the pecans roughly and remove the kale leaves from the woody stems. Roughly chop up the kale.
Once the cauliflower is done add in the pecans and stir through for a good 2 – 3 minutes allowing them to start toasting. Now add the kale and stir through with the remaining olive oil, salt and pepper along with the garlic. The kale will wilt down quite quickly. I like to give it at least 5 – 10 minutes to really soften and even start to slightly crispy up in the oil.
Serve as a side dish to your protein of choice along with some complex carbs such as creamy polenta.
nutritional information
Kale is abundant in vitamins, minerals and antioxidants. Kale is high in Vitamin A, C and K along with providing a good source of manganese, potassium and calcium. Kale is also rich in fibre and antioxidants lutein and zeaxanthin, which help keep our eyes health warding off macular degeneration. Kale is also rich in the phytochemicals isothiocyanates, made from glucosinolates which have been shown to play a role in reducing metastasis.
Cauliflower is rich in vitamin C, Vitamin B6 and folate. Cauliflower is also part of the family of vegetables that contain the phytochemicals known as sulforaphanes, indoles, isothiocyanates and thiols. These compounds have been shown to exhibit the ability to down regulate the production of adverse types of oestrogen. These plant-based compounds also support the natural detoxification processes of the liver.
To make this recipe suitable for a low FODMAP or SIBO friendly diet, omit the garlic and use garlic flavour olive oil. You can also swap the cauliflower for broccoli if needed depending on your sensitivity levels.
Jessica Cox is a qualified practicing Nutritionist with a Bachelor Health Science (Nutrition) and over 15 years of clinical experience. She is the founder and director JCN Clinic, published author and established recipe developer. Jessica is well respected within health and wellness space for her no fad approach and use of evidence-based nutrition.