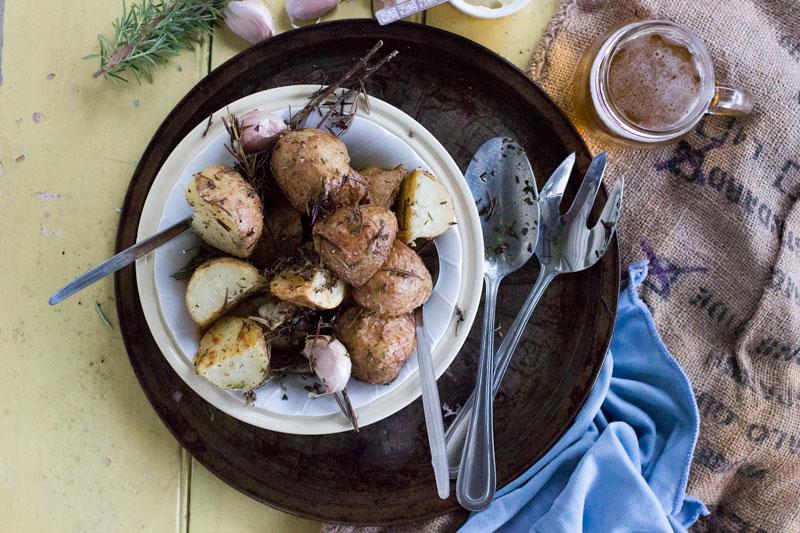 She's finally lost her marbles right. I'm sure that's what you may be thinking seeing this recipe. A nutritionist sharing a recipe for duck fat roast potatoes!? I esure you I have not lost my marbles. I know there is a lot of fear surrounding animal based fats (and also ethical concerns for some), but duck fat is not only a sensational medium for roasting, it is acutally a good source of mono unsaturated fatty acids along with its saturated fat profile.
Discussions of types of fats pushed aside for the moment however, these really are the best roast potatoes you will ever have. The outside of the potatoes crisp up and develop a heavy crunch that gives through to a soft and creamy like centre. The roasted rosemary clings to the skin of the potatoes with the sea salt enhancing every bite. The garlic cloves give off their own subtle flavour, though for the bold the idea is to sqeeze out the contents of the skin and devour the soft centre in one delcious bite.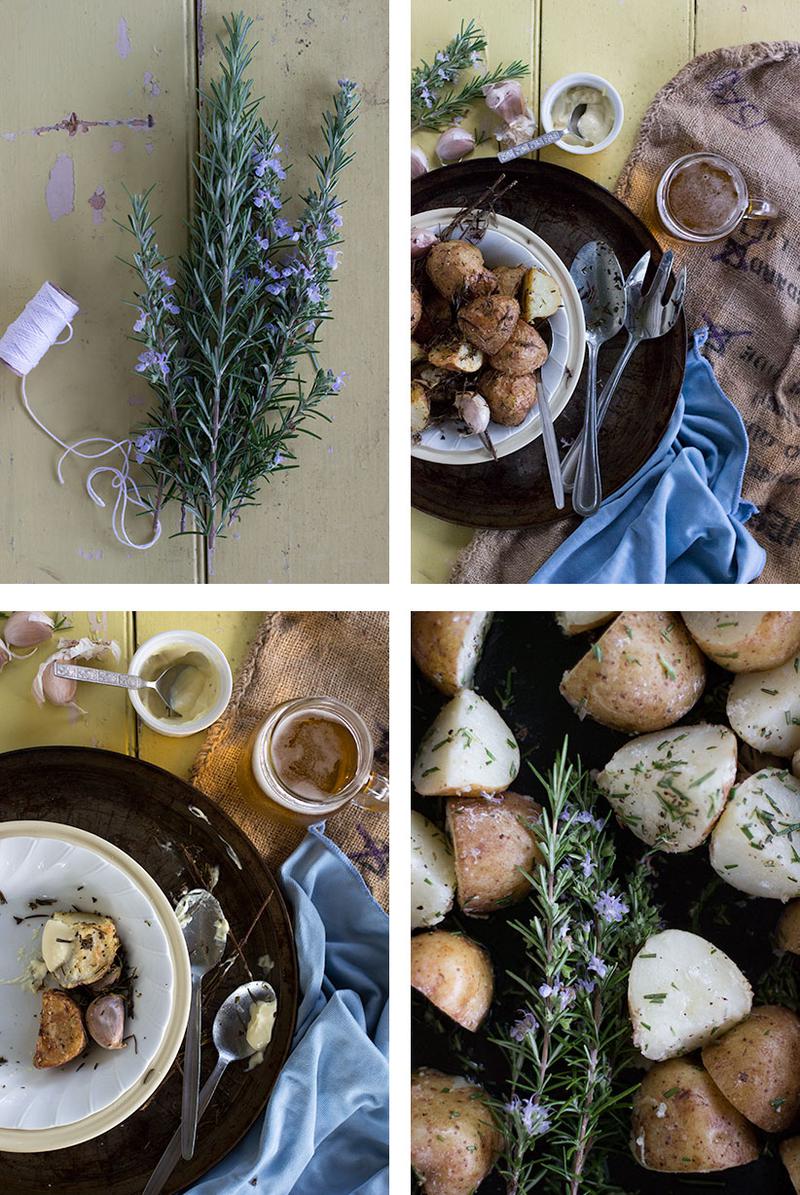 I cannot take the credit for this recipe. I knew nothing of duck fat potatoes until quite a few years ago when my husband and I were travelling in New Zealand. We spent a New Years holiday with our soon to be in-laws in Central Otago. It was the first time we had met the parents of my brother in laws then girlfriend, now fiance. Well, what a treat we were in for. When two forces collide that are passionate about enjoying life on the same level, then only the best of memories can be built. A whirl wind week of the best Central pinots matched with an ongoing foodie extravaganza flourished into friendships, that developed into a solid family bond.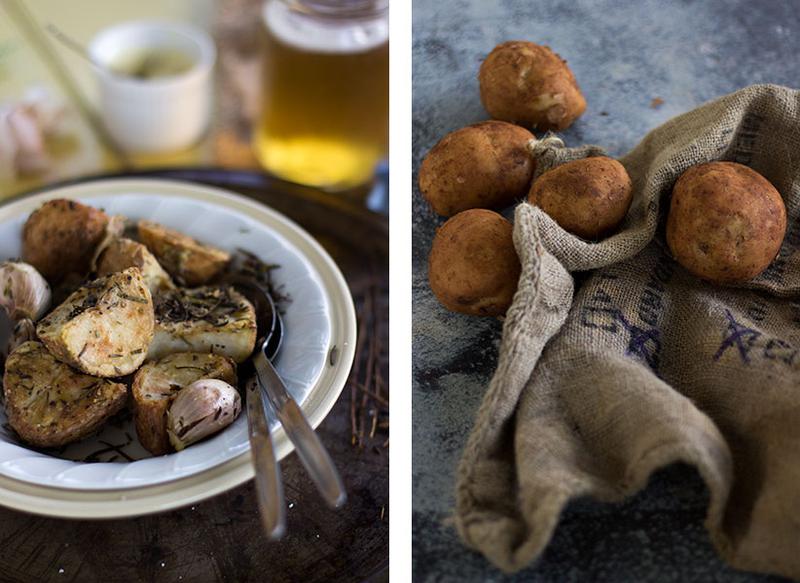 It was in this week over a pinot (or several) that I was introduced to duck fat potatoes by my soon to be sister in law and her mum. They said..'just you wait till you taste these!' I was unsure, I thought duck fat, wouldn't it taste…ducky?? I was wrong. One bite and I was an avid fan. A duck fat roast potato lover for life.
I claim these as the best roast potatoes basically because the are. Pure and simple. If you can't get your head around the duck fat, then you could use a unrefined rice bran oil or coconut oil, but the finish will not be as spectacular.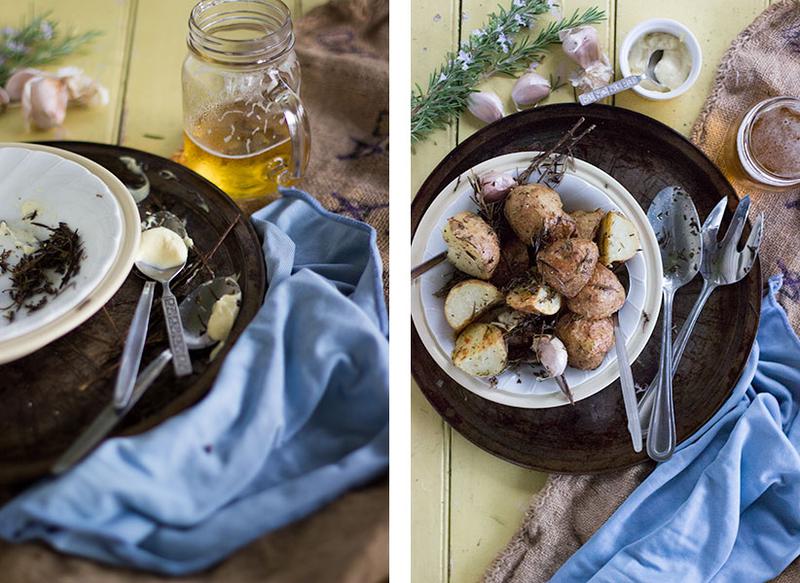 These roast potatoes are made to celebrate with. They are an essential on our table at Christmas (with a handsome sized dollop of aioli, I like Rozes Sauces aioli), and will definitely be taking pride of place with the maple roasted carrots and parsnips w pistachio, cranberries and sage. If roast potatoes play a part on your Christmas day then I suggest you give these a go. You will not look back once you have.
the best roast potatoes
serves

4 people as a side

preparation time

5 – 10 minutes

cooking time

35 – 40 minutes
ingredients
1kg brushed potatoes
1 tablespoon arrowroot flour or potato starch
1 handful fresh rosemary
3 -4 cloves garlic + 1 clove extra
2 tablespoons duck fat (or coconut oil if desired)
sea salt and pepper
method
Wash the potatoes well removing the dirt from their skin. Cut potatoes in half, then into thirds to give good sized chunks. Bring a large pot of water to the boil and add the potatoes with 1 clove of garlic, skin removed. The idea here is to par boil them, making sure you do not over boil the potatoes. Generally this should take about 8 -10 minutes max, but check them with a fork as they go. You want them to have a little bit of give.
While the potatoes are boiling remove the leaves from half of the rosemary and roughly chop. Set aside. Once the potatoes are par boiled, drain well, discard the garlic and let them steam dry for a minute or two.
Pre heat your oven to 220c. In a large baking dish place the duck fat (which will be solid at this point) and pop the dish in the oven for 5 minutes to get the fat nice and bubbling hot. In the interim, put the par boiled potatoes in a large bowl or a plastic bag with the arrowroot flour or potato starch and a generous amount of sea salt and pepper. Shake well to ensure the potatoes are well covered. You will notice that pieces of the potatoes become roughened up and crumble. This is the desired effect as this will create really crispy edges.
Remove the baking dish with the hot duck fat carefully from the oven. Very cautiously place the potatoes in the hot fat. Add in the chopped rosemary and the rest of the full rosemary sprigs and mix well with the fat to coat all of the potatoes well. Place in the oven to roast for 20 minutes, then remove and add the garlic cloves. Turn the potatoes and then continue roasting for another 15 – 20 minutes, or untill the potatoes are golden brown.
Serve with a dollop of your favourite mayo or aioli.
nutritional information
Duck fat should be used in moderation as it is still a high source of fats. However, as a baking medium duck fat is a great choice with a high monounsaturated fatty acid profile. Per serve duck fat is richer in monounsaturated fats, followed by saturated fats then finally polyunsaturated.
Potatoes get a hard wrap. Potatoes eaten in the right portions and quantities can be a nutritious alternative carbohydrate source when married with other vegetables and grains in the diet. Potatoes contain virtually no fat (which makes up for the duck fat!) and are a good source of vitamin B6, folate and vitamin C. They are also high in choline and lipoic acid making them a 'food as medicine' choice for nervous system support. Potatoes also supply an ample supply of minerals such as potassium, magnesium and iron.
Enjoy these duck fat potatoes as a one third serving size of your plate. Fill the remaining two thirds with other vegetables and protein and you will have a well balanced Christmas plate. Oh, and don't forget a dollop of good quality mayo or aioli to finish!
Jessica Cox is a qualified practicing Nutritionist with a Bachelor Health Science (Nutrition) and over 15 years of clinical experience. She is the founder and director JCN Clinic, published author and established recipe developer. Jessica is well respected within health and wellness space for her no fad approach and use of evidence-based nutrition.