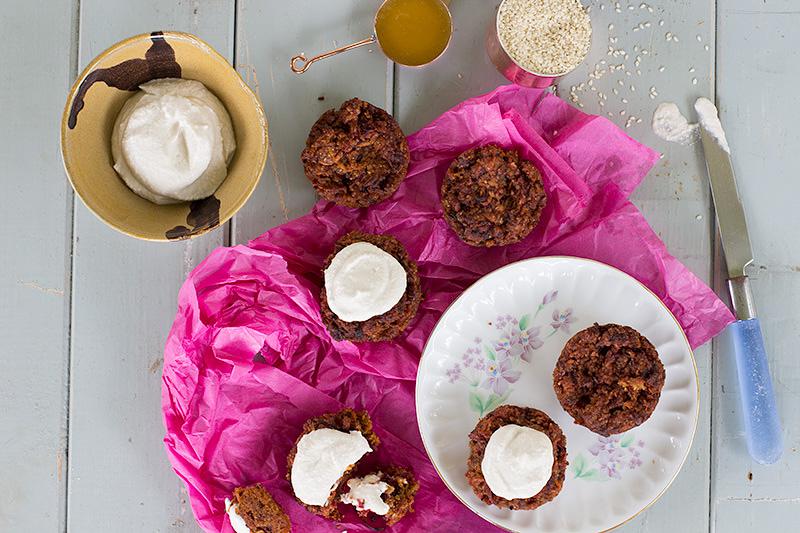 I have a baking ritual like most bakers out there I imagine. After sifting, kneading, mixing and stirring I pop my prize to be in the oven and wait eagerly for it to cool enough to pry it from the pan. Often its not really cool enough, I just use that great technique of throwing the hot food back and forth between my hands to stop the burning. You know the trick. I then perch myself on the kitchen bench and devour that first taste in anticipation. When I am in this moment I want no interruptions. The husband, the cat, the magpies…they all just float away and it's just me and the steaming hot baked goods in my eager hands.
On first bite of these sweet potato and beet muffins I actually declaimed out loud 'oh god!, these are GOOD!' to no one in particular but a self confessed proud baker (me) and some closely watching butcher birds. In a long-winded way I am telling you these muffins are outstanding.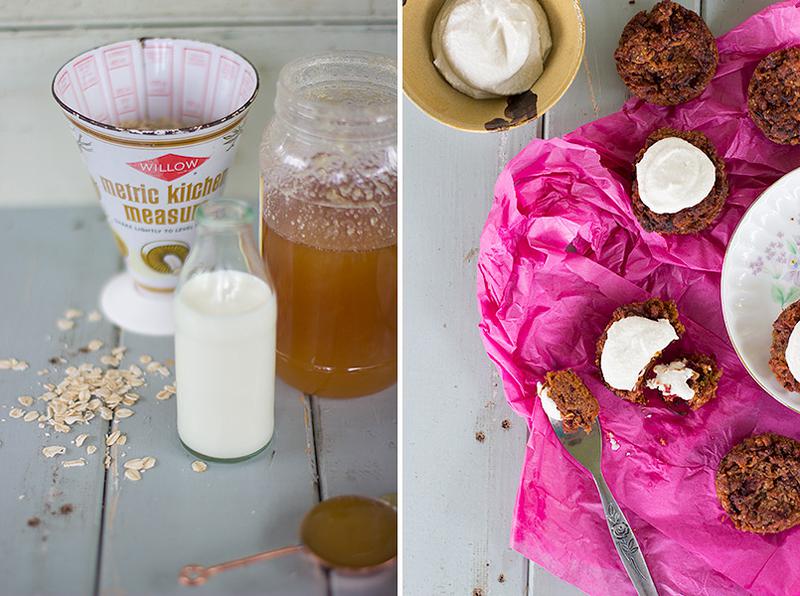 These sweet potato and beet muffins are a close adaption of my pumpkin and beetroot muffins, which were one of last years most popular recipe posts. I used that recipe as a base and just modified it slightly to create a sister muffin. For some added decadence I decided to top these muffins with a raw sesame cream. There are so many cashew creams out there for dairy free alternatives, so I wanted something that was nut free friendly and also a different flavour from the standard creamy coconut so often used. I wanted to keep the cream a rich and luscious white, so sesame seeds were the natural choice. Nothing to do with my tahini obsession at all.
The sweet potato in these muffins also lends them to being more carbohydrate friendly, especially with the lovely fiberous oats. This makes them a great choice for many of you ladies out there who have contacted me with 'what do I eat in the first trimester of pregnancy when all I want is stogey carbs' questions. The raw cream may not do it for you in this first trimester, but the muffin surely will. (You may also want to consider my polenta pesto veggie muffins with tomato paste as they have quite a pizza like taste to them. Choose the vegetables that suit in regards to what you can tolerate at the time of baking).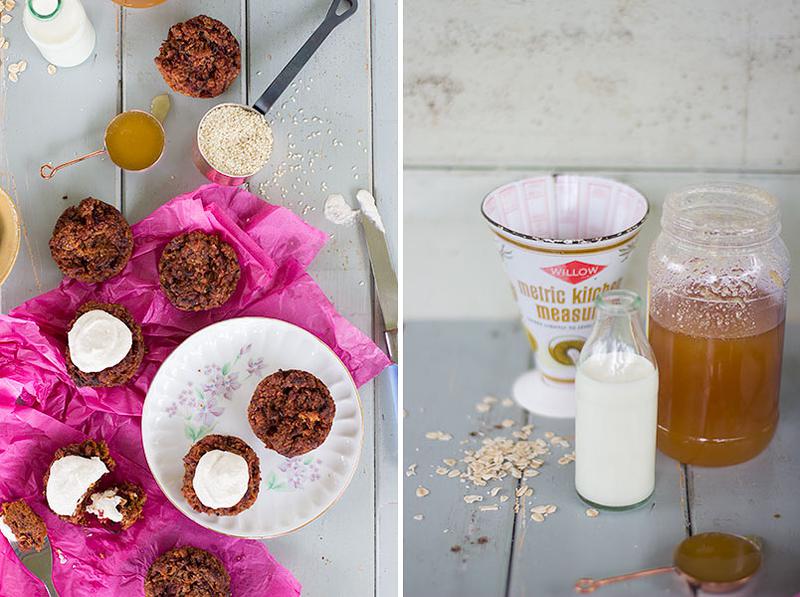 Because these muffins are so fresh and full of vegetables they will perish quite quickly if not kept in the fridge, and then frozen within a few days. The same applies to the sesame cream. It will last three days at the most and should be kept in the fridge at all times. You could also make these muffins into a loaf or a cake and enjoy it sliced and then toasted under the grill. That would be truly fabulous. Just make sure you coat it with lashings of tahini for me and some sliced banana.  Ohh yeah.
Last, but not least, the raw sesame cream is certainly not mandatory to these muffins. It is an additional add on that is great for jazzing them up. Especially when making them for guests or for a morning tea. If you do make the sesame cream it is best liberally dolloped on top of the muffins once they have cooled.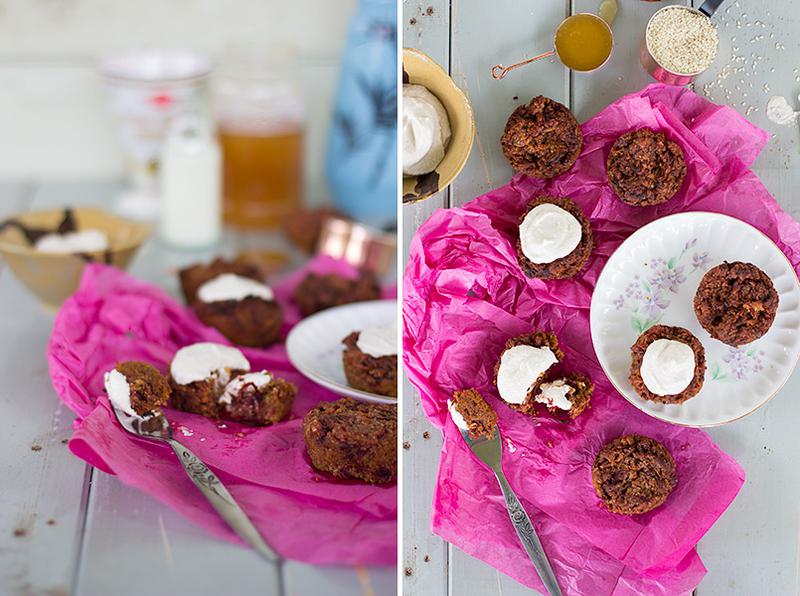 sweet potato & beet muffins w raw sesame cream
serves

12 small muffins

preparation time

15 minutes

cooking time

40 – 45 minutes
ingredients
1 cup sunflower seed meal (just pop then in a blender and grind them up. You could also use almond meal)
1/2 cup organic desiccated coconut
1 1/2 cups ground oats (pop them in the blender, or use oat bran)
2 teaspoons baking powder
pinch salt
1 cup finely grated sweet potato
1 cup finely grated beetroot
2 tablespoons chia seeds
1 cup of almond milk
1/4 cup raw honey
1/2 cup coconut oil, melted
// raw sesame cream //
1/2 cup sesame seeds
1 tablespoon coconut oil, melted
1/2 teaspoon vanilla extract
2 tablespoons rice milk
1 tablespoon maple syrup
1/8th cup water
method
Preheat your oven to 180c fan forced.
Place almond milk, oil, honey and chia seeds in a saucepan on medium heat and bring to a simmer. Once simmering turn off and set aside. (This will help the chia seeds become more gel like).
In a large mixing bowl combine the sunflower seed meal, coconut, oats, baking powder and salt. Add the grated beetroot and sweet potato and mix till well combined.
Make a well in the center and pour in the wet ingredients. Mix till just incorporated and then let the mixture sit for 5 minutes, as it will soak up some of the liquid. The mixture should still be quite wet, but not oozing out liquid. If you are worried it is too wet then simply add some more oats.
Grease a standard sized muffin tin and sprinkle some extra seed meal or some linseed meal on the base of the muffin tin holes to stop them from sticking. Spoon mixture into the muffin tin holes. Bake for around 40 – 45 minutes, or until they feel firm to touch with a bit of bounce.
While the muffins are baking make the raw sesame cream by placing all the ingredients in a high speed blender and blending to a smooth cream. If you do not have a high speed blender you could use tahini instead of sesame seeds. Scoop out and store in an air tight container.
Once out of the oven allow to cool in the tins for at least 10 – 15 minutes. This will allow the muffins to shrink away from the side a little and make them easier to get out. Once cooled, carefully lift them out of the muffin tin with a knife. These muffins are quite moist and may crumble a little as you do so. Just use this excuse to nibble on the crumbs! Store in a plastic container in the fridge for 3 days then freeze.
To serve simply eat top with raw sesame cream.
nutritional information
These sweet potato and beet muffins are very low in added natural sugars as the baked vegetables and the sweetness of the rice milk provide ample sweetness. You could even try leaving the honey out altogether and adding some yoghurt instead for a savoury version.
The oats in these muffins are high in fibre and b-glucan, which makes them a fantastic snack for those with high cholesterol. The high fibre content also means they provide ample complex carbs to keep your blood sugar levels balanced. If you are gluten intolerance you could use quinoa flakes instead of oats.
Raw sesame cream is a rich source of calcium. It is also a fabulous nut free and dairy free cream making it suitable for children with nut allergies.
Overall the combination of the chia seeds in the muffins and the raw sesame cream provide a really good intake of non dairy based calcium. These sweet potato and beet muffins would make a good substitute to a yoghurt or some cheese in a lunch box.
Jessica Cox is a qualified practicing Nutritionist with a Bachelor Health Science (Nutrition) and over 15 years of clinical experience. She is the founder and director JCN Clinic, published author and established recipe developer. Jessica is well respected within health and wellness space for her no fad approach and use of evidence-based nutrition.