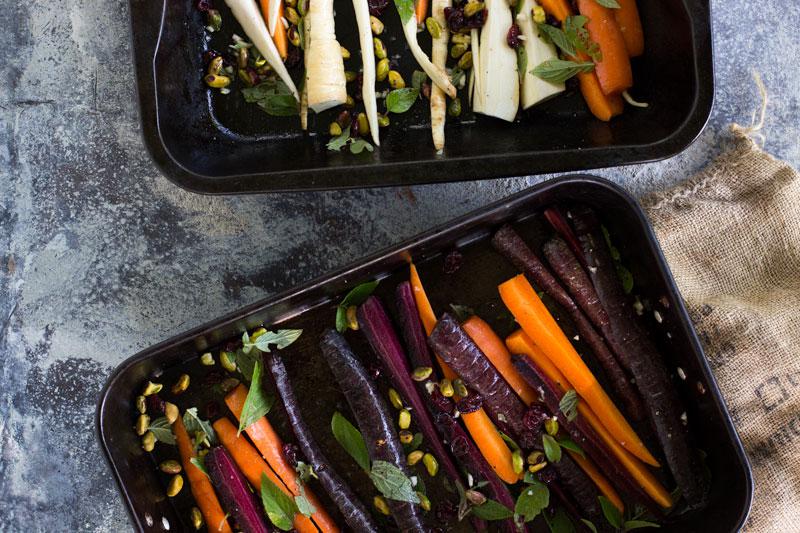 Candy carrots and parsnips. That's pretty much what these roasted maple carrots & parsnips with pistachio and sage are. Basically a 101 on how to make kids and fussy adults eat their vegetables. Like brussel sprouts, no one seems to like parsnips. My husband doesn't like them and I must admit they aren't the tastiest vegetable in my eyes. But coating them in maple and roasting them to bring out their natural sweetness takes these vegetables to a level of deliciousness you cannot even imagine. Similar to my maple roasted brussel sprouts this dish really will change your mind.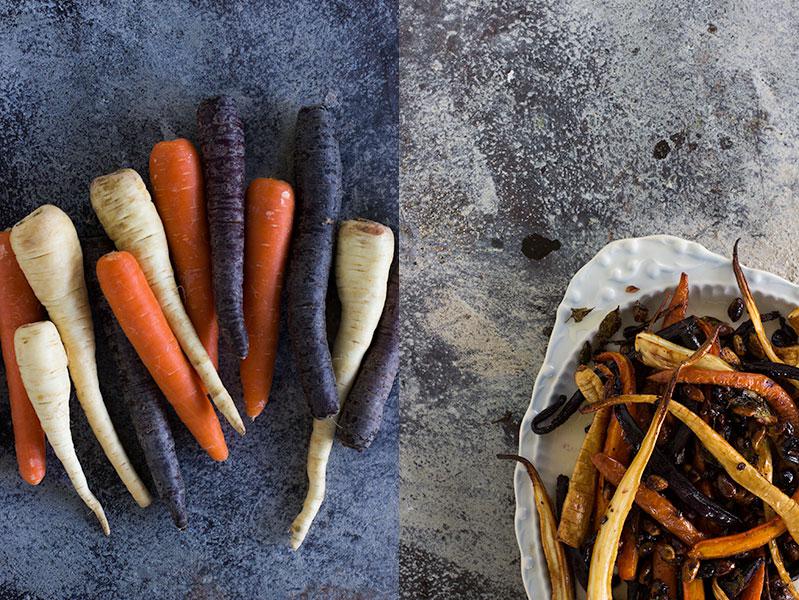 We are only a hop, skip and a jump away from Christmas now, and many of us are making decisions about what to serve on Christmas day. On Christmas day we always tend to go for the roasted tradition. Every year we say, 'lets do something simple this year', but it never happens. Our minds get carried away with the thought of duck fat roast potatoes (to come I promise you) and thyme, hazelnut and dried fig stuffed slow cooked meats, and we give in to the ridiculousness of cooking hot dishes in the searing heat with a foodie like swoon.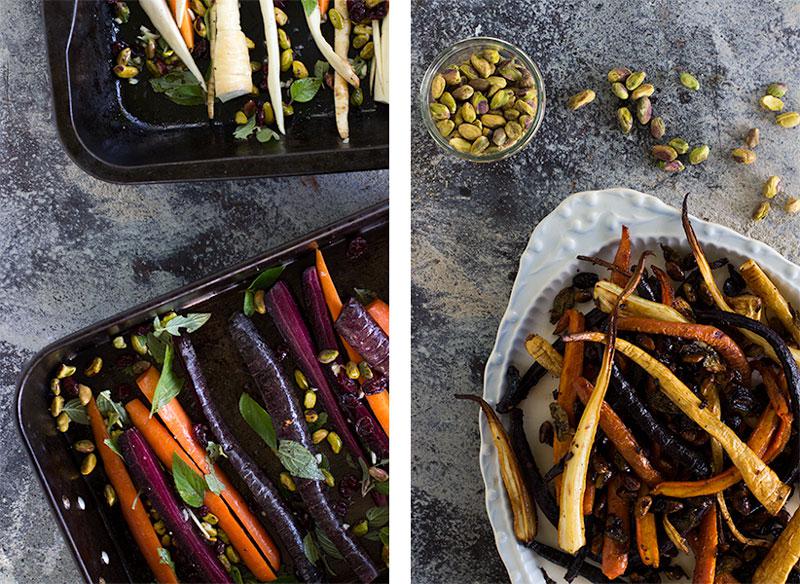 The traditional roast lunch is a forever-popular choice and these maple roasted carrots and parsnips with pistachio and sage are the perfect accompaniment. The vegetables take on a delightful soft center with a crunchy outside, with each mouthful enhanced by sweet bursts of cranberries and toffee-coated pistachios. Sage leaves crunch and dissolve on the palate and the roasted garlic cuts through the sweetness of the dish.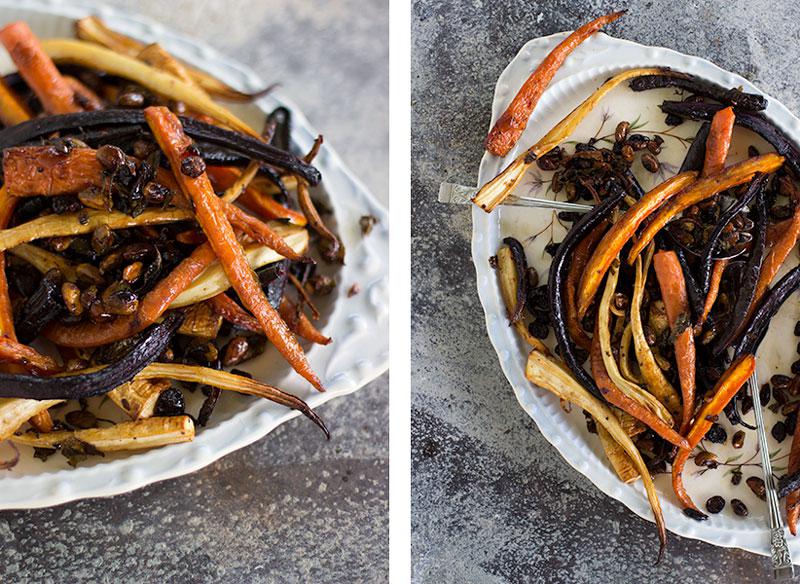 These maple roasted carrots and parsnips are also lovely topped with crumbed feta or creamy chevre to round out the sweet flavours. They are also gorgeous drizzled with tahini sauce. Serve these roasted carrots and parsnips with my white bean and spinach smash for the perfect side dish.
maple roasted carrots & parsnips w pistachios, cranberries and sage
serves

4 people as a generous side dish

preparation time

5 – 10 minutes

cooking time

50 – 55 minutes roasting
ingredients
1 kg mixed carrot (purple and orange) and parsnips
2 1/2 tablespoons pure maple syrup
1 large handful sage, leaves picked
1/2 cup raw pistachios
1/4 cup organic dried cranberries
oil of choice for roasting (coconut, rice bran or grape seed oil)
1 clove garlic, mashed
method
Preheat your oven to 200c. Wash the carrots and parsnips and halve lengthways and then quarter. Place in a large roasting dish (you may need two, I certainly did) making sure they are not too crowded to make sure they don't steam instead of roast.
Add to the roasting dish the sage, pistachios, cranberries, crushed garlic and a good seasoning of salt and pepper. Add the maple syrup and a generous lug of oil of choice then using your hands mix all the ingredients together coating the root vegetables until they glisten.
Place in the oven to roast for 30 minutes. After 30 minutes remove from the oven and toss them well to make sure all the vegetables are coated with the sticky marinade. Place back in the oven for another 20 – 25 minutes removing in-between again to give them another toss.
The vegetables are done when they are soft in the center when pierced with a skewer and starting to crisp and caramelise on the outside.
Serve maple roasted carrots and parsnips with sage and pistachio's with roast meats and duck fat potatoes.
nutritional information
Parsnips are a good source of folate, vitamin C and manganese. Parsnips are also a high source of in soluble fibre making them a great food choice for bowel health. Parsnips are part of the same family as carrots, which are well known for their high vitamin A content, however carrots also contain an abundance of antioxidants that effectively help protect against cardiovascular disease.
Sage is a ridiculously delicious herb, and the king of the crop next to parsley in my eyes. Sage has some intriguing therapeutic qualities inclusive of its ability to help elevate hot flushes.
If you would like to make a nut free version of this dish, I'd suggest using pine nuts in place of pistachios. Leave the pine nuts out however until the last 10 minutes as they will burn quite easily.
Jessica Cox is a qualified practicing Nutritionist with a Bachelor Health Science (Nutrition) and over 15 years of clinical experience. She is the founder and director JCN Clinic, published author and established recipe developer. Jessica is well respected within health and wellness space for her no fad approach and use of evidence-based nutrition.