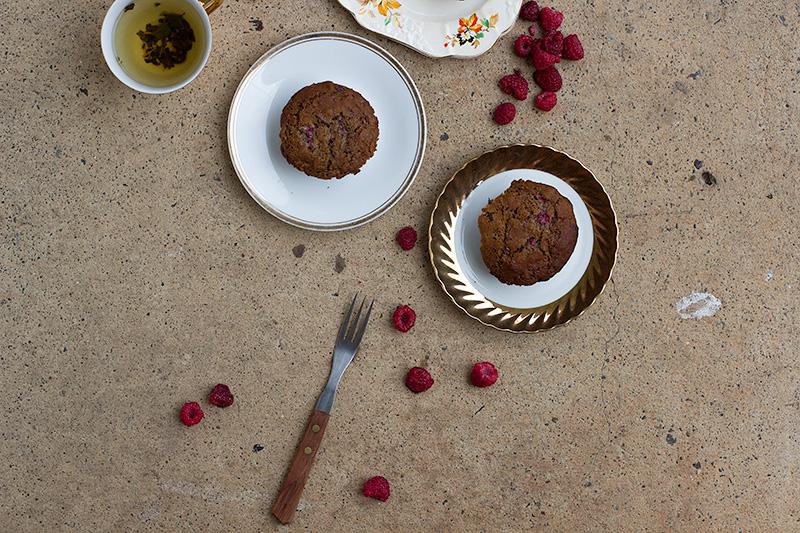 I can't take all the credit for this recipe. After moving house on the weekend and finally getting all of my cookbooks out of storage, I went on a baking frenzy. I was like a wild woman let loose in the outback. Think the movie 'Nell' when Nell is taken back in her homeland forest.
It's truly amazing how much baking and having my entire kitchens bits and bobs around me makes me inherently happy. After nearly nine months of living out of boxes and with the bare minimum to cook with, I feel like I have been set free. My heart literally feels more enriched to be in the zone again, lost in my baking trance. Who needs to shower or change out of your pajama's when there is a kitchen bursting with ingredients and plenty of bench top space to get loose in.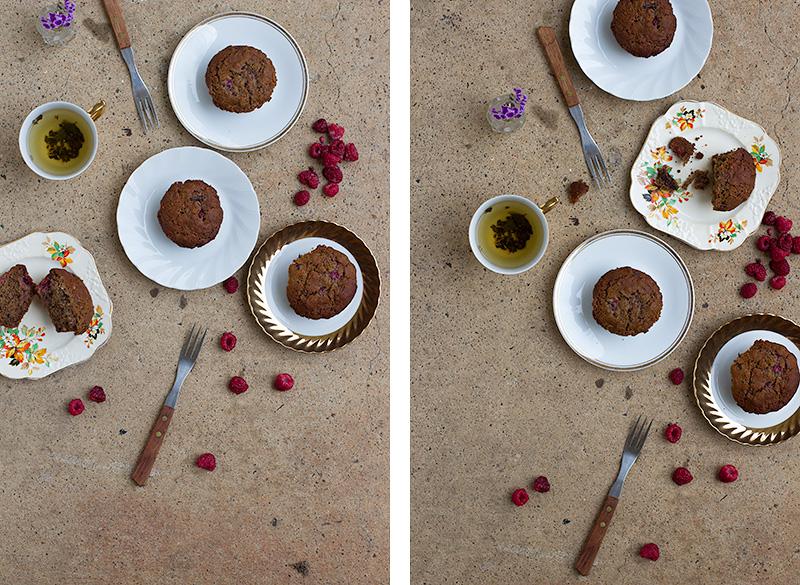 After unpacking my cookbooks and carefully stacking them in places of display, I pulled out some old favourites including Gwyneth Paltrows second book, 'It's All Good'. I must say, I was apprehensive about this book when I first picked it up at my sister in laws house, but I soon ate my words after devouring the pages with foodie enthusiasm. It's certainly not a book for someone new to wholefood cooking and baking, but for those already in the zone it's an inspiring addition to a wholefood cookbook collection.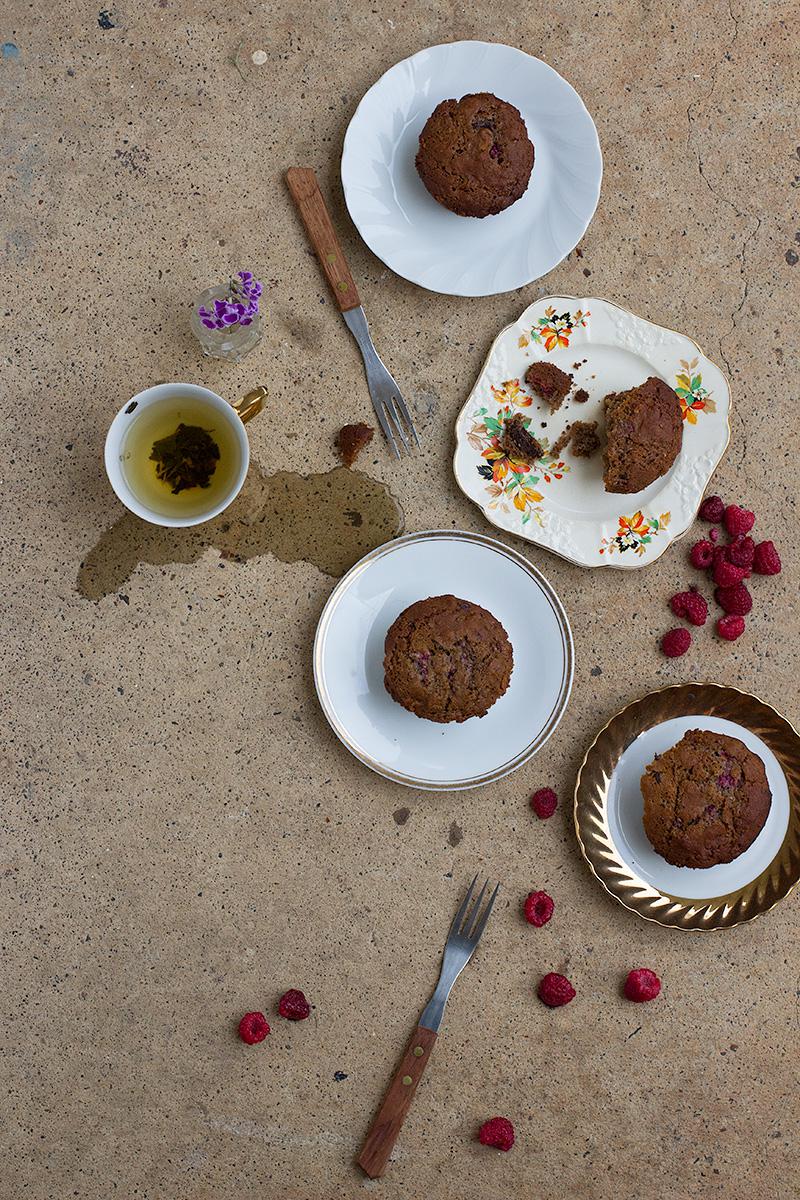 So therefore, these muffins are an adaption of Gwyneth's fig and millet muffins. For my version I simply omitted the millet and figs and replaced them with raspberries, chocolate and oats. They can be made gluten free by using the millet that Gwyneth uses, or even some quinoa flakes. I also reduced the sweetness slightly, as I like my muffins to have just a hint of sweetness to them.
These muffins are wonderfully bouncy and dewy for a vegan muffin. This comes down to the combination of the olive oil and the flaxseed meal, which creates a lovely texture to the final result. Too often vegan baking is dry and crumbly. Not these little winners, they are sumptuously perfect in every vegan baking way.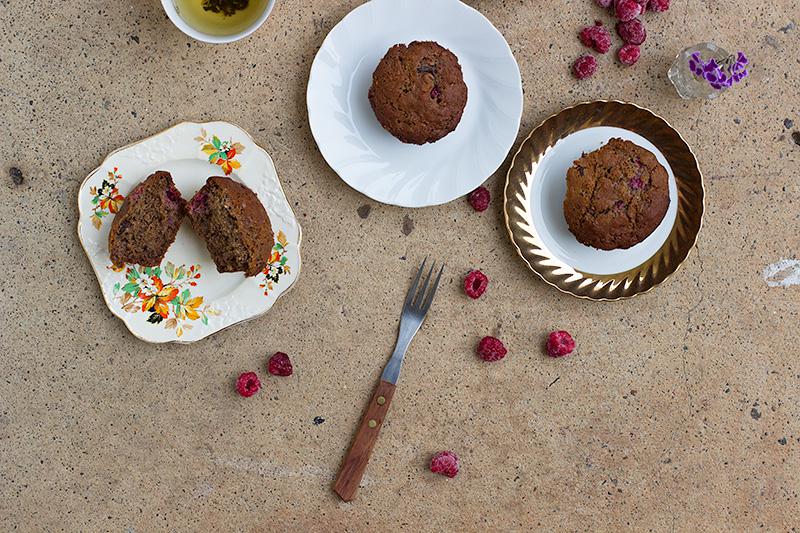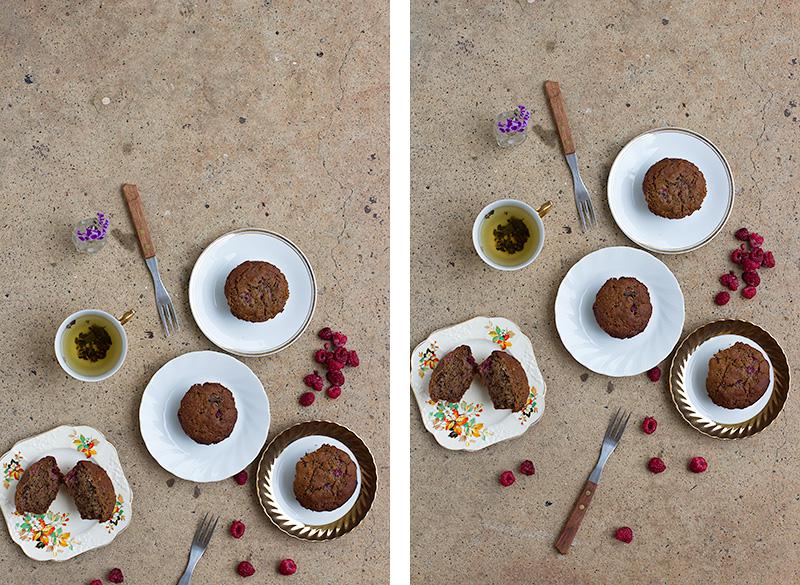 Hopefully as the months tick by now and I have all of my tools back in my toolbox as such, you will be seeing a little more baking from me. I adore sharing my baking adventures here on the website, the successes and the fails. Times are busy, but I'm a woman on a mission now I have my hammer and nails back.
raspberry chocolate chip muffins
serves

makes 12 muffins

preparation time

15 minutes

cooking time

25 minutes
ingredients
2 cups quinoa flour (or wholegrain spelt if wheat tolerant) + a pinch of salt
1/2 cup oats (or quinoa flakes or millet for gluten free)
2 teaspoons baking powder
2 teaspoons baking soda
2 teaspoons ginger powder
1/3 cup flaxseed (linseed) meal
2 cups raspberries
100 grams dark dairy free chocolate, roughly chopped ( I used 70% Lindt)
2/3 cup olive oil
2/3 cup almond milk
1/2 cup maple syrup or rice syrup
method
Recipe adated from 'It's All Good' by Gywenth Paltrow.
Preset your oven to 200c (180c fan forced). Grease and flour a regular sized muffin-baking tray that will hold up to 12 muffins.
In a large mixing bowl combine quinoa flour, baking powder, baking soda, oats, flaxseed meal, salt and ginger powder.
In a separate bowl, combine oil, almond milk and maple syrup. Set aside.
Fold the raspberries and chopped dark chocolate through the dry mix. Make a well in the center and pour in the wet mixture. Stir with a wooden spoon until just combined. Spoon the mixture in to the greased and floured muffin tray, evenly distributing the mixture between each muffin.
Place in the oven and bake for around 25 minutes, or until a skewer comes out clean. I suggest checking them at 20 minutes just in case they cook quickly on you.
Allow to cool in the muffin tray for 1o minutes, then use a butter knife to carefully remove them from the tray. Place the warm muffins on a cooling wrack. Once cooled, they can be stored in an airtight container for two days, then frozen to be kept fresh.
nutritional information
These raspberry and chocolate chip muffins are rich in complex carbohydrates thanks to the quinoa flour and oats. They also provide loads of fibre and quality fats with the addition of the olive oil and flaxseed meal. Flaxseed meal is a very rich source of anti inflammatory omega 3, specifically alpha-linolenic acid (although some of this will be lost in the cooking process). Please do not let this deter you from using flaxseed meal however, as it is full of nutritional benefits.
Flaxseeds are also the highest plant source of lignans, a phytochemical compound from the polyphenols family, that helps reduce cholesterol levels and also regulate oestrogen levels. When consumed, lignans are converted by gut bacteria to enterolignans, enterodiol and enterolactone. These compounds exert phytoestrogen like effects in the body, binding to estrogen receptors, either blocking or up regulating the effects of estrogen in the body. Many studies (animal based) have shown a reduction in metastasis (tumor growth) inclusive of breast cancer, however more human based trial studies are warranted in this area and are actively being completed.
Flaxseeds are also very high in fiber and rich in mucilage, a slimmy/gum like substance that expands when in contact with water (this is why it is so useful in vegan baking as a n egg substitute). Inside the intestines this helps provide bulk to stools aiding their movement through the gastrointestinal tract.
Raspberries are a rich source of Vitamin C, Vitamin K and manganese. Raspberries are also rich in flavonoids and anthocyanins, potent antioxidants pivotal for cardiovascular health. Studies have also shown that the ingestion of regular berries within the diet help reduce the risk of type 2 diabetes. This is most probably due to the high amount of polyphenolic compounds, which have been shown to improve glucose metabolism. (Jaakko M, et al , 2013, Intake of fruit, berries, and vegetables and risk of type 2 diabetes in Finnish men: the Kuopio Ischaemic Heart Disease Risk Factor)
Jessica Cox is a qualified practicing Nutritionist with a Bachelor Health Science (Nutrition) and over 15 years of clinical experience. She is the founder and director JCN Clinic, published author and established recipe developer. Jessica is well respected within health and wellness space for her no fad approach and use of evidence-based nutrition.