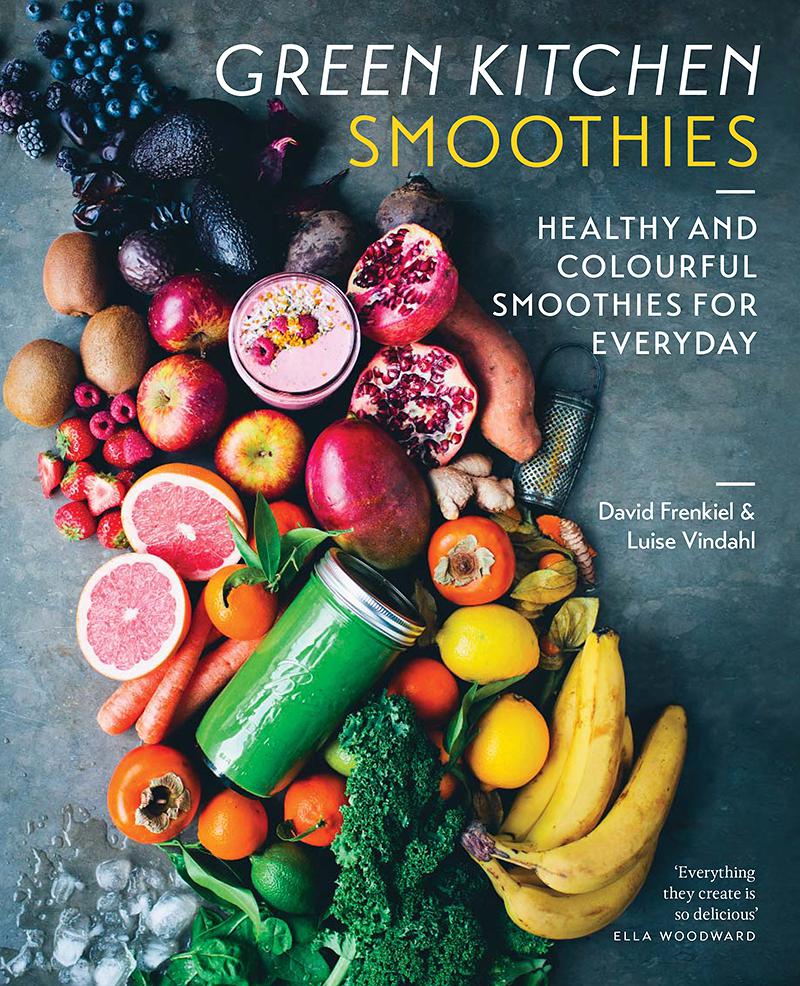 Unless you live under a rock its hard not to know about Green Kitchen Stories in the health and wellness arena. David and Luise, the driving collaborative force behind Green Kitchen Stories truly are an inspiration. Their divine website loaded with stunning imagery thanks to David, is hard to pull your eyes away from. Green Kitchen Stories has been around longer than the recent surge of Instgram and other social media driven popular wellness sites. These guys have deep roots that are backed up by the golden globe of foodie awards, a "Saveur" award for Best Food Blog (Best Special Diets Blog) that cements all the credit they deserve.
Any cookbook you pick up by Green Kitchen Stories will without question be a visual and culinary feast. The latest in release is Green Kitchen Smoothies, a selection of exciting and captivating smoothies, juices and more that really get you thinking outside the box. As always you can expect nothing more than breath taking images and the need to pour over this book time and time again, drinking in (pardon the pun) all that it has to offer.
I was lucky enough to interview David and Luise to get a little bit more behind the scenes info, and also have them share one of their delightful recipes from their new cookbook. Enjoy!….
Additionally, to celebrate the release of Green Kitchen Stories new cookbook, we are giving away two Green Kitchen Smoothies books on Facebook and Instagram! Head to the JCN social media sites to enter!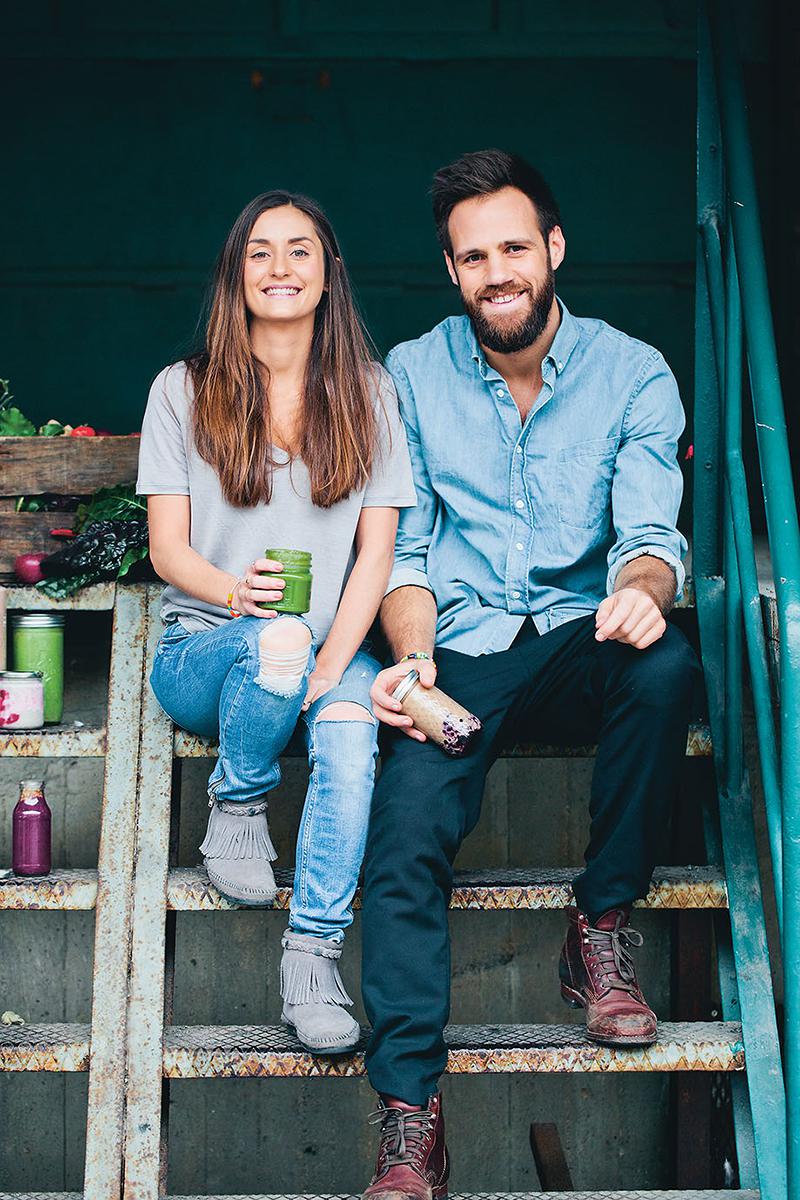 Hi David and Luise, congratulations on your new book, "Green Kitchen Smoothies" Tell us a bit about this cookbook…
It was a really fun book to make. We love smoothies in our family and enjoy them for breakfast, as a healthier midday alternative to sweet snacks and drinks, as a dessert and always after a workout. Sometimes they are very quick and simple and other times a bit more elaborate. We have gathered all of those smoothies into this book. Our hope is that both experienced smoothie enthusiasts and newbies will find drinks to love in this book. It's loaded with new smoothies, juices and nut milks, along with our favourites from the app and blog – a mix of simple smoothies and real showstoppers (with layers and toppings). We have also included granola, muesli and nut butter recipes along with lots of really handy tips and tricks.
What does balanced eating mean to both of you?
Eating a healthy and varied diet focused on vegetables, fruit, pulses, whole grains and unprocessed food without being restricted by rules. We always eat to feel good. And on sunny days that might very well mean having ice cream too.
Luise you are now a qualified Nutritionist, which is awesome! What aspects about being a Nutritionist most excite you?
I think everyone today can agree that our eating habits affect our well-being. This has always fascinated me and it was a dream coming through to also get to study and learn more about this.
One of the most exciting parts of my work is seeing and learning how we can prevent many lifestyle diseases and improving our life standards by doing a few small changes in our eating habits and daily routines.
At the moment, I am integrating this knowledge in our work, books, recipes and workshops, rather than having clients, but that might change one day.
David, your photography is seriously beautiful. As a photographer myself seeing how you bring food to life in such a luscious form is just wonderful. What are your favourite images in your new cookbook?
It was very challenging to shoot all the smoothies in the book in different ways and I think that is what I am most proud about. Most smoothie books are typically quite boring visually but I feel that we have managed to create a book that feels very dynamic and looks stunning. We have mixed many different type of shots but I think my favourites are the Simple Raspberry Smoothie on page 39 (I love the light and composition of that one) and the shot of all the differently coloured smoothies on page 51. I also included a few ingredient shots that I love. The yellow smoothie ingredients on page 14-15 is a favourite and we actually have a large print of similarity styled shot (with red ingredients) hanging in our kitchen.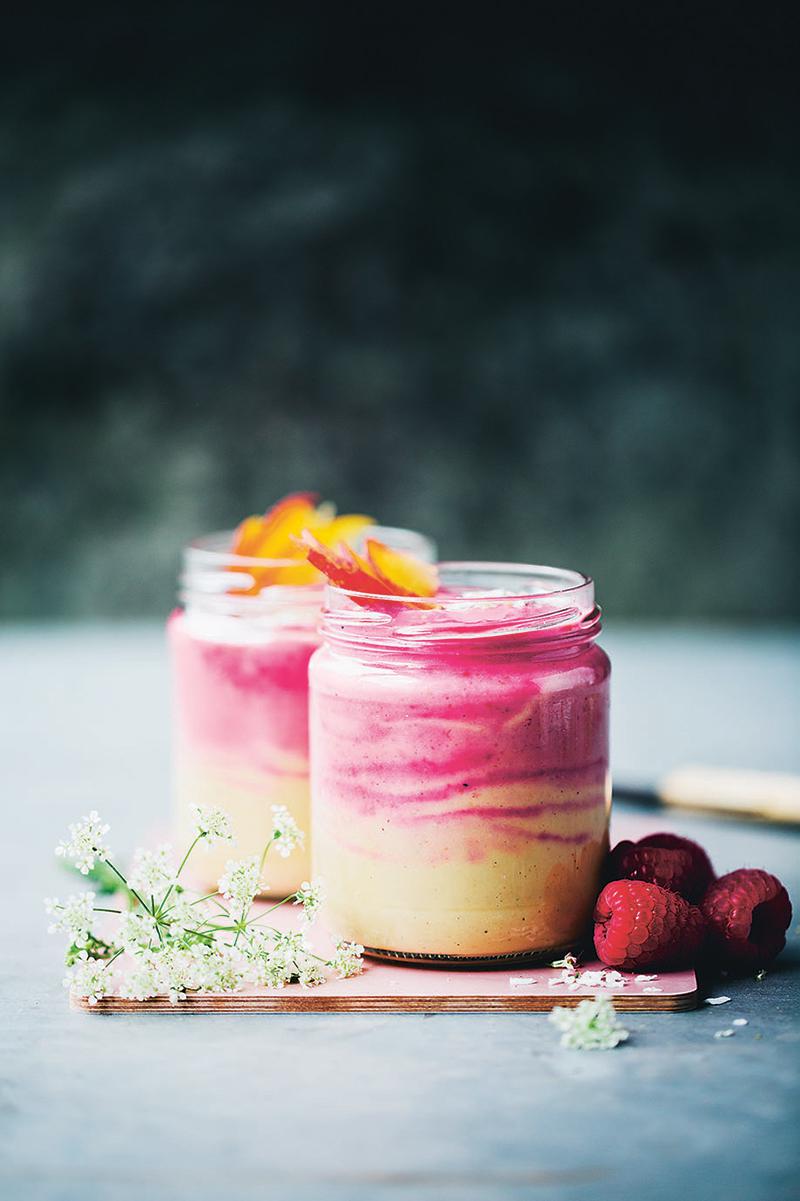 If you both had one last meal on earth what would it be?
David: Oh god, if it was my last meal, the only thing that would matter to me would be who I was sharing it with. So I'd invite all my close friends and family to the table. We'd probably eat a huge vegetarian meze buffet or something else with lots of small bits and pieces that we all could share.
Luise: Hopefully I'd be invited to that dinner so I'll just say the same…
What's your favourite wholefood ingredient? Can you give us two ways you like to use it in your kitchen?
Nordic berries! During the late summer months we can pick pick wild blueberries, lingonberries, raspberries and gooseberries in the Swedish forests. They taste amazing (much better than cultivated berries) and we use them in an endless amount of ways. They are also very low in sugar and high in antioxidants compared to other fruit, so great if you are trying to keep track of your sugar intake.
We of course use berries in smoothies. Either mixed in the smoothie or mashed at the bottom of the glass to create beautiful swirls of colour and interesting flavour twists.
Berries are also incredible in muffins and sweeter cakes as they balance the sweetness with their tanginess (wild berries are generally more tangy than sweet).
But our favourite way is simply to eat a bowl of mixed berries with some almond milk poured over.
What is your number one tip for creating a lusciously creamy 'dairy free' smoothie?
Freezing the fruit and vegetables always create creamier results. Smoothies are also always more delicious when served cold so freezing the fruit helps on that part as well. The creamiest of all fruits are avocados and bananas so we often make sure to include either of them in our smoothies.
What foodie websites/blogs inspire you?
We have discovered so many through Instagram. A few favourites are Linda Lomelino What Should I Eat for Breakfast Today Local Milk Taline Gabriel Issy Croker, Grown & Gathered and many more. A few blogs that we have been reading ever since we started are: 101 cookbooks, Sprouted Kitchen and My New Roots.
Can you give us an interesting food combination that we may not have thought of doing?
I secretly add mango or raisins when I'm making kale pesto for the family. The sweetness balances the bitterness from the kale and it truly makes it extra delicious.
What's one healthy habit that keeps you feeling vibrant and healthy?
Sleeping! But ever since we started the blog and our kids were born we have unfortunately never been able to sleep as much as we need. Instead we try focusing on working out!
Lastly, what is the recipe you would like to share……..
Creamy Peach Melba!
*Recipe taken from Green Kitchen Smoothies by David Frenkiel & Luise Vindahl. Published by Hardie Grant Books and available now where all good books are sold.
Want to get social with Green Kitchen Stories? Heres how:
Check out Green Kitchen Stories on Instagram, Facebook & You Tube
guest recipe post w green kitchen stories + creamy peach melba smoothie + a giveaway!
serves

serves 2

preparation time

5 minutes

cooking time

nil
ingredients
// for the peach layer //
3 medium-sized ripe peaches, (approx. 300 g/10 oz), stones removed (or 1 400 g/14 oz tin sliced peaches in clear fruit juice, drained) (organic if possible)
frozen banana
2 tablespoons hulled tahini
125 ml (4 fl oz/ cup) oat or almond milk
1 tablespoon lemon juice
teaspoon ground vanilla or vanilla extract
2 ice cubes
// for the raspberry layer //
120 g (4 oz/1 cup) frozen raspberries
// for the topping //
thin slices of a firm but ripe peach
desiccated coconut
hemp seeds, chia seeds or bee pollen
method
Recipe taken from Green Kitchen Smoothies by David Frenkiel & Luise Vindahl. Published by Hardie Grant Books and available now where all good books are sold.
This is our liquid interpretation of the classic dessert peach Melba, combining peaches and raspberries in two beautiful layers. Although it's not as sweet as the original dessert, it's very fruity and also creamy, thanks to the addition of tahini. Even though it has two layers, you only need one quantity of smoothie ingredients to make it. Simply start by making the peach layer, divide half of it between two glass jars, then blend the rest with the raspberries to get the pink layer.
Roughly chop the peaches and add them to a blender along with the rest of the peach layer ingredients.
Blend on a high speed until completely smooth.
Divide half of the peach layer smoothie between two medium-sized glass jars (as featured in the photo), leaving the other half in the blender. Add the raspberries to the blender and blend until they are fully incorporated and the mixture turns pink.
Slowly pour the raspberry layer on top of the peach layer, working your way from the outside to the inside of the glass jar (as the raspberry layer is heavier). To create a marbled effect, simply run the back of a teaspoon up and down along the inside of the glass jar. Be careful not to mix too much or the layers will blend into one. Finish with a few peach slices, as well as a sprinkling of coconut and seeds.
nutritional information
This creamy peach melba smoothie is a great source of plant based calcium due to the inclusion of tahini and almond milk. The protein content of this smoothie is not super high, so I would use this smoothie in between meals or as part of your breakfast. For instance, have this delicious smoothie with an omelette for breakfast or with a protein dense salad for lunch.
Peaches are a rich source of Vitamin C, obvious in their vibrant orange colour. Peaches are also rich in Vitamin A, Niacin (vitamin B) and Potassium. Peaches are also rich in phytochemicals such as carotenoids, lutein and zeaxanthin that help keep our eye site in check particular as we age with conditions like macular degeneration.
Jessica Cox is a qualified practicing Nutritionist with a Bachelor Health Science (Nutrition) and over 15 years of clinical experience. She is the founder and director JCN Clinic, published author and established recipe developer. Jessica is well respected within health and wellness space for her no fad approach and use of evidence-based nutrition.