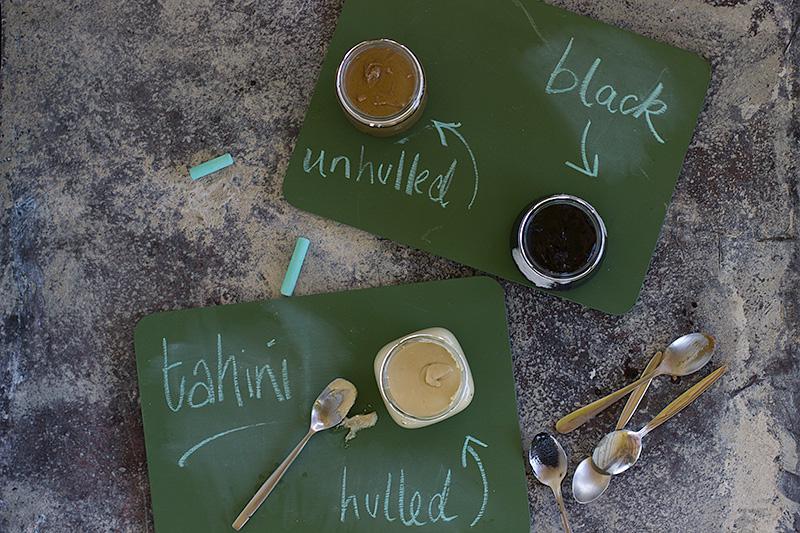 Really this had to happen. A girl can't just go on posting about how fabulous tahini is, drowning every dish in it and then not sharing with everyone how to make up your own batch of this liquid gold now can she. I tend to use the hashtag #tahiniporn when posting social media pictures of tahini. Why do I use this? Not only is tahini the best ingredient known to human kind, it's also visually looks enticing with its seductive sheen. Tahini is also so spectacularly diverse. It adds creaminess and depth to savoury and sweet dishes and it also carries other flavours really well without overpowering them. Think of a falafel burger dripping with garlicky tahini sauce or chocolate and pistachio halva. Both would not be the same with another seed or nut based butter.
There are plenty of 'how to make tahini' posts on the internet, any Google search will give you that. However, when I first started I didn't find them so helpful. Generally they were adding extra oil, which I didn't want to do (I am a purist when it comes to tahini) or they were thick and gluggy looking paste, which is not at all what I wanted as a finished product. Therefore, after many attempts, a little swearing (okay, a lot) I figured out how to make homemade tahini without adding anything at all but some TLC.
I get asked frequently on the social media sites about the difference between the variety of tahini's available and also the health benefits. Therefore, I am going to outline them below for those who are interested in tahini beyond its flavour explosion. If you would like even more nerdy facts, see the nutritional information section.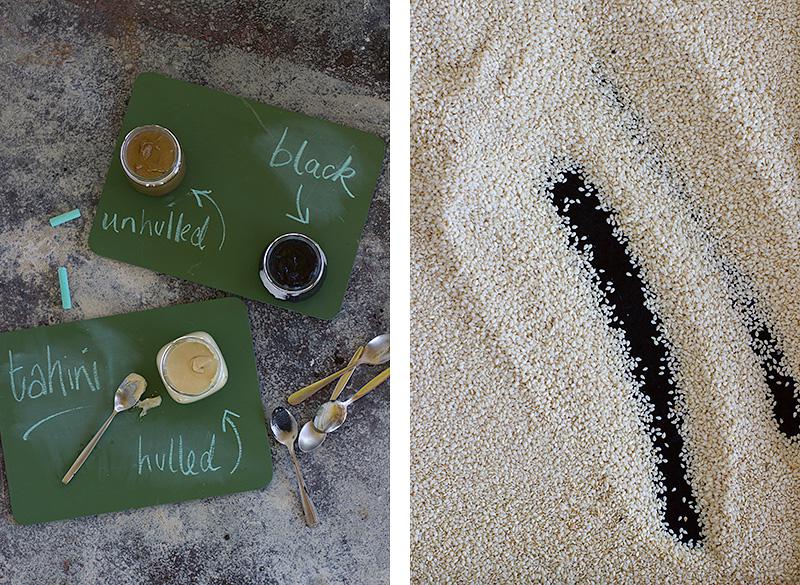 hulled tahini
Hulled tahini means the outer husk has been removed from the sesame seeds. Depending on the brand it is either stone ground in its raw form or may be roasted first. Generally it will be lightly roasted as the roasting helps release the oils to make a smoother and slightly nuttier tahini. Hulled tahini is the lightest in colour out of the three different types. The flavour is a more neutral, creamier finish than the unhulled and can therefore be used in sweet and savoury dishes. For instance, hulled tahini is lovely drizzled over pancakes or used with maple or honey in cooking.
Hulled tahini is rich in calcium, though not as high as unhulled and black tahini. It also provides high levels of magnesium and potassium along with thiamine, vitamin E, copper, iron, manganese and folate. Because the outer husk has been removed the fiber content of hulled tahini is lower than the unhulled tahini. However, the reduced amount of husks can actually boost the absorption of calcium found in the seed of the hulled tahini, as the oxalates have been dramatically reduced (more of this below).
unhulled tahini
Unhulled tahini still contains the outer husk of the seed, which gives the paste the darker colour. The inclusion of the husk also means that the flavour is slightly stronger and more savoury, some say bitter. Unhulled tahini is generally not suitable for sweet dishes. It is best used for savoury. Try it as a spread on toast with tomato and leg ham or mix it with lemon juice, olive oil and water to create a sauce to drizzle over salads.
Unhulled tahini contains more calcium than hulled, in fact more than four times the amount! 1 tablespoons provides around 90mg of calcium where as hulled has just under 20gms per tablespoon. The form of calcium within the husks is calcium oxalate, which can be harder to absorb where as ironically the small amount of calcium in the actual seed itself is generally easier to absorb. Don't get too hung up on this though. Generally when you eat tahini it will be with some sort of foods anyway that contains oxalates and phytates and all those other naturally occurring compounds. As long as you have a varied balanced diet I don't think it matter which tahini you use.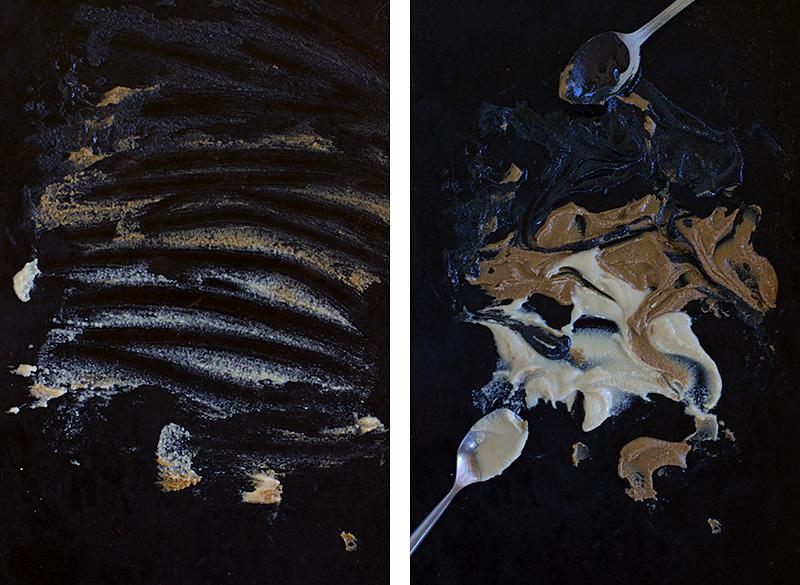 black tahini
Black tahini is made from black sesame seeds (surprise, surprise) and in generally unhulled. Black tahini has a slighter sweeter and creamier flavour than hulled tahini. This makes it useful for sweet and savoury dishes, although many are put off by its colour.
Black tahini contains the aforementioned vitamins and minerals and is extremely high in calcium with similar levels to unhulled tahini. Black tahini also contains phytochemicals found in black foods such as melanin and anthocyanins. Melanin is said to help reduce the occurrence of grey hairs (I guess anything is worth a go!), whilst anthcyanins have been shown to reduce oxidative stress and scavenge free radicals.
So there you have it! Hopefully this gives you more of an understanding of the diversity and use of one of my most favourite ingredients. Tahini really is the apple of my eye and sharing its merits with you is quite exciting, hence this extra long post. I look forward to hearing from you very soon with your tahini making adventures!
how to make tahini
serves

fills 385gm jar

preparation time

2 minutes in a high speed blender

cooking time

7 – 8 minutes
ingredients
3 cups unroasted organic sesame seeds of choice (hulled, unhulled or black)*
method
*The pre roasting of the sesame seeds releases their oils so they blend easier and develop that lovely toasted flavour. If you do not pre roast them you can still acheive a paste in a high speed blender, but it will be thicker and have a grainy consistancy. If you buy preroasted sesame seeds you will not need to oven roast them. Simply go straight to blending stage of the method.
Preheat the oven to 175c. Place unroasted sesame seeds on  baking tray and spread out evenly. Place the sesame seeds in the oven for 7-8 minutes, checking half way and giving them a good stir to make sure they are all evenly recieving the heat.
Remove the sesame seeds and either allow them to cool, or if you are impatient like me put them straight into a high speed blender. If you do not have a high speed blender this next process will take more time.
Turn your blender on to high and blend till a thick paste begins to form. You will need to push the paste down the sides of the blender to make sure it is all being incorporated or stop the blender and scrape down the sides. Continue to blend until the thick paste begins to thin out and become more oily. If using a high speed blender this should take around 2 minutes. The tahini is done when it is very oily and a thick pouring consistency.
If using a regular blender you may find it hard to get to this stage. I would suggest starting with a coffee grinder to get a sesame meal and then putting the sesame meal in the blender. If you add a dash of neutral oil such as grapeseed or macadamia oil this should help the tahini along when using this method. The final product will still be more grainy than the results with a high speed blender.
Pour the tahini into a sealable jar and store in the fridge. Scrape the remains from the blender with your fingers and enjoy licking them clean.
nutritional information
Tahini is high in polyunsaturated and monounsaturated fats accounting for around 50-60% of the macronutrient intake and provides moderate amounts of protein and carbohydrates. For instance, 1 tablespoon of hulled tahini provides 8gms fat, and 2.5 grams each of protein and carbs. Tahini is also a good source of amino acids tryptophan (boosts serotonin levels) and methionine (beneficial for liver health).
Sesame seeds are also the only source of phytochemicals sesamol, sesamin and sesamolin that belong to the lignan family. These antioxidants have been shown to reduce oxidative stress and therefore reduce risk of cardiovascular disease and potentially malignant growth (especially oestrogen dependent malignancy). Sesame seeds are also high in y-tochopherol (a form of vitamin E), which keeps the oils in the sesame quite stable, therefore inhibiting easy oxidation. The sesamin in the sesame seed actually increases the retention of vitamin E meaning it has a longer 'shelf life' in the body.
Sesames super powers pack a potent punch with its combination of phytosterols shown to naturally reduce LDL (bad) cholesterol and improve HDL (good) cholesterol. Studies show sesame seeds reduce cholesterol levels due to their high fiber content and linoleic acid content. Sesamin also reduces the activity of enzymes involved in the conversion of fats to cholesterol. (W Wu, Y Kang, N Wang, H Jou, T Wang, 2006, ,Sesame Ingestion Affects Sex Hormones, Antioxidant Status, and Blood Lipids in Postmenopausal Women, The Journal of Nutrition)
Sesame seeds contain extremely high levels of lignans, higher even than flaxseeds. Lignans act as phytoestrogens and help modulate oestrogen levels. Studies have shown that sesame seeds have the ability to increase 2-OHE (good estrogen) and inhibit 16-OHE (detrimental oestrogen). (W Wu, Y Kang, N Wang, H Jou, T Wang, 2006, ,Sesame Ingestion Affects Sex Hormones, Antioxidant Status, and Blood Lipids in Postmenopausal Women, The Journal of Nutrition)
Jessica Cox is a qualified practicing Nutritionist with a Bachelor Health Science (Nutrition) and over 15 years of clinical experience. She is the founder and director JCN Clinic, published author and established recipe developer. Jessica is well respected within health and wellness space for her no fad approach and use of evidence-based nutrition.