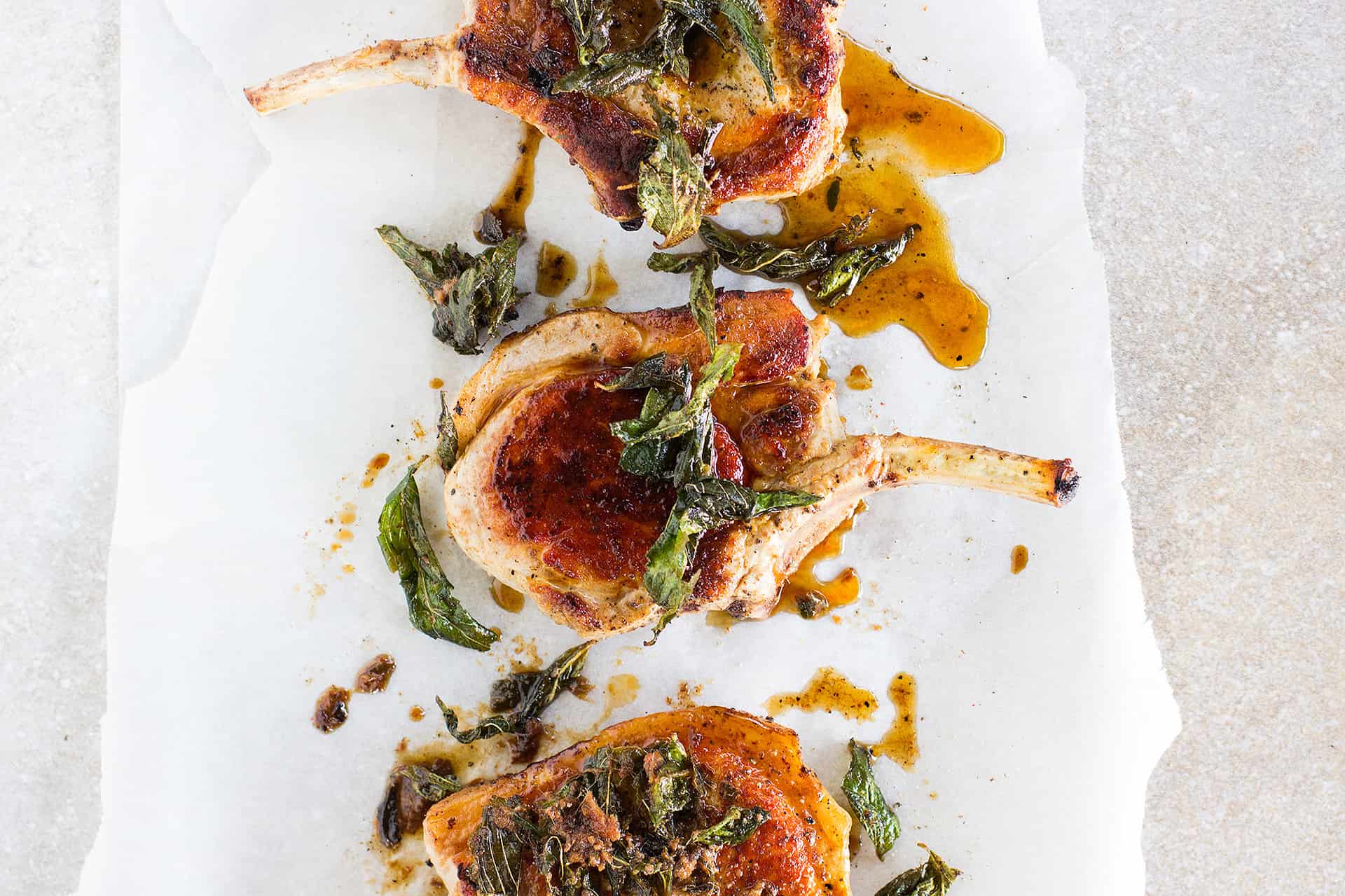 I've been meaning for way too long to share this recipe with you all. It's hardly even a recipe given it's so easy to do, but the combination of these key ingredients creates a flavour that packs the perfect complimentary punch to pork. The sage is cooked till crunchy, yet melting on first bite. It dissolves on your tongue along with all the delicious pan juices it has soaked up. The anchovies give a delightful saltiness that compliments the pork like a well-salted crackling. Of course if you're not a fan of pork you could try this crispy sage and anchovy mix with other meats such as chicken, white fish or even lamb.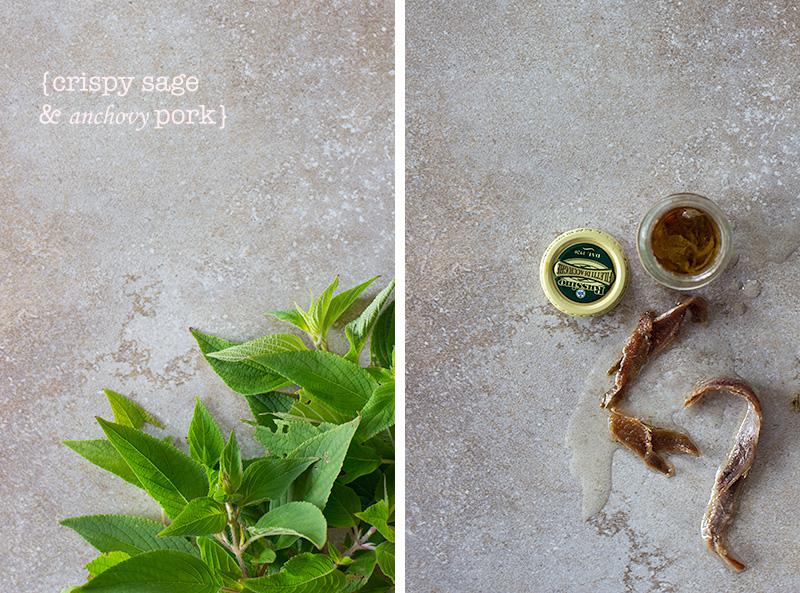 My first job out of high school was actually working in a piggery. I would ride my pushbike to the piggery at 5:55am through the summer holidays and work till midday in the heat of the farrowing shed (the farrowing shed is the shed where the sows and piglets are kept). I actually really loved this job. I worked along side a 60+ year old lady called Coral who was a whizz with the sows. She made the process of sows give birth to their piglets look like a walk in the park. Once midday came along I would ride home in the heat and head straight to the laundry where I would strip off my overalls and everything else and then streak to the shower. Anyone who has been near piggery's knows there is a certain smell that sticks to you. It takes literally days to leave your skin properly. I then had the rest of the day to do with as I chose (which may have involved watching Days of Our Lives…hey it was the eighties! Bow and Hope were worth it!).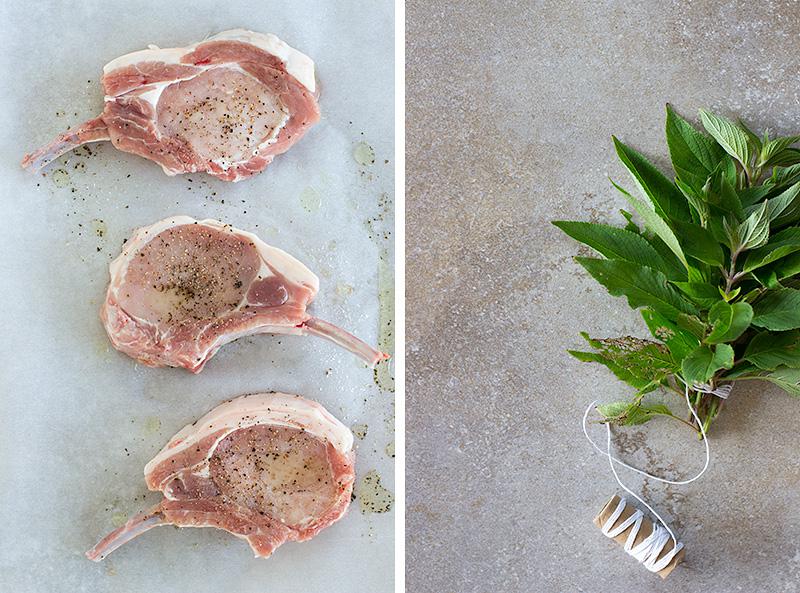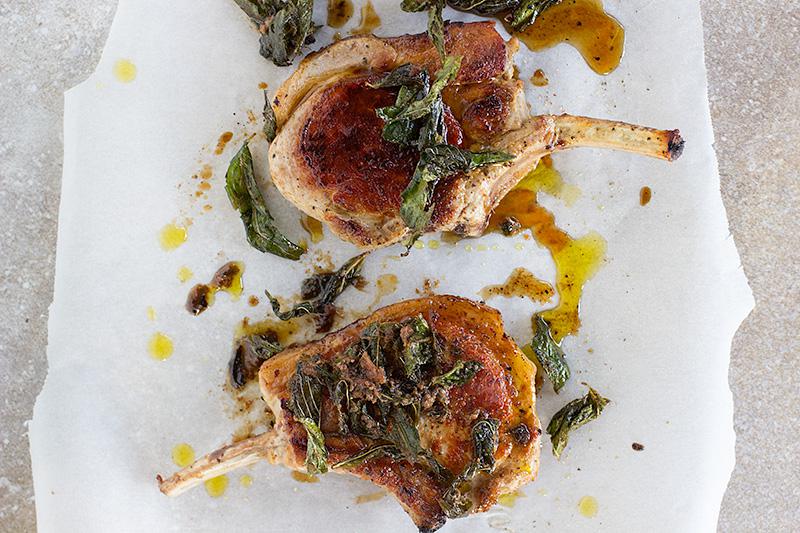 These days I source my pork from  Jasons Meats in Brighton who stocks Gooralie Free Range Pork. Jason's butcher shop is a mecca of quality produce that is almost completely free range and predominantly organic. The flavours of the produce that I buy from Jasons really speak for themselves. Anytime I eat meat outside of Jasons produce it never has the same flavours. Obviously if you are not on the north side of Brisbane (or live else where) then this butcher shop is not going to suit you. I would suggest however taking the time to source a local butcher who takes pride in their produce and work. There is more and more of a push these days for sustainability, free range and organic with meats so you may be surprised as to what your butcher is able to source for you.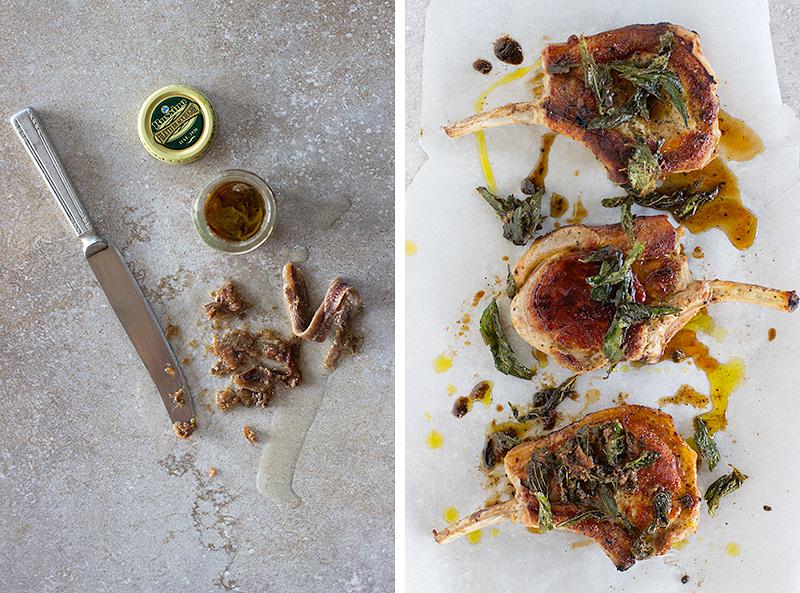 If you are vegetarian or vegan you probably stopped reading this up at 'crispy sage and anchovy pork', however if you are still with me then I would suggest trying this combination with capers instead of the anchovies and combine it with crispy skin silken tofu instead.
Lastly, the recipe mentions pineapple sage, however regular sage is just as gorgeous. The reason for the pineapple sage is literally due to the fact that it grows so well in our garden, where as normal sage struggles. Either or will be delicious!
crispy sage and anchovy pork
serves

2 people

preparation time

2 minutes

cooking time

5 – 8 minutes, depending on thickness
ingredients
2 pork cutlets (ideally free range and organic), fat ideally attached
1 generous handful of pineapple sage or standard sage, leaves picked
4 anchovies (2 per cutlet)
unrefined macadamia nut oil or coconut oil
salt and pepper for seasoning
method
Heat a heavy based, non stick fry pan to a high heat. As its heating, season both sides of the pork with a little sea salt and pepper.
Place the pork cutlets in the frying pan when its reached a good searing heat. It should be hot enough to have an immediate sizzle. Whist the cutlets are cooking take your anchovies and roughly chop them with a knife, then mash them a little with the side of the knife.
After 3-4 minutes check the underside of you pork. If it has nicely caramelised turn the meat over and allow it to cook through on the other side for another 3-4 minutes. When the pork chops are close to being done turn them over onto their skin/fat edge with the tongs to allow the fat to render and crisp up forming a bit of crackling finish. You may need to nurse it there with the tongs for a minute to do this, so it doesn't fall over.
Once the pork is ready remove it from the pan and place onto your serving plates. Quickly add the sage to the hot pan with a lug of oil of choice. Be careful as the sage will spit a bit. Keep it moving and you will notice it begins to shrivel and crisp up. When it's looking close to being all crispy and delicious add in the anchovies with another small lug of oil if needed. Stir to incorporate in with the sage and the pan juices. Turn off the heat and then scrape out the crispy sage and anchovies directly on top of the pork cutlets ensuring your spoon on any pan juices too.
Serve immediately with sides of choice.  I recommend candy brussel sprouts and mashed potato.
nutritional information
Pork is an abundant source of blood cell supportive nutrients. It is rich in B vitamins, especially B3 and B12 and is also a great source of zinc and selenium (nutrients which keep your immune system and thyroid in optimal health). Pork is also a good source of protein and provides a mix of saturated and monounsaturated fats.
Anchovies are one of my favourite ingredients for adding zing to a dish. So many people are afraid of them, but it they are used right the can impart a lovely meaty and salty flavour to dishes really giving them some depth. Anchovies are a great source of minerals including iron and selenium. They are also rich in monounsaturated fats with a lower amount of poly and saturated fats supplied. Anchovies do have a high sodium content, however we are not generally consuming that many of them for this to count.
Sage is used in natural medicine circles to relieve heat and therefore reduce the symptoms of menopause. Sage is rich in phytochemicals such as flavanoids and monoterpenes. Monoterpenes have the ability to inhibit wayward cellular development.
Jessica Cox is a qualified practicing Nutritionist with a Bachelor Health Science (Nutrition) and over 15 years of clinical experience. She is the founder and director JCN Clinic, published author and established recipe developer. Jessica is well respected within health and wellness space for her no fad approach and use of evidence-based nutrition.