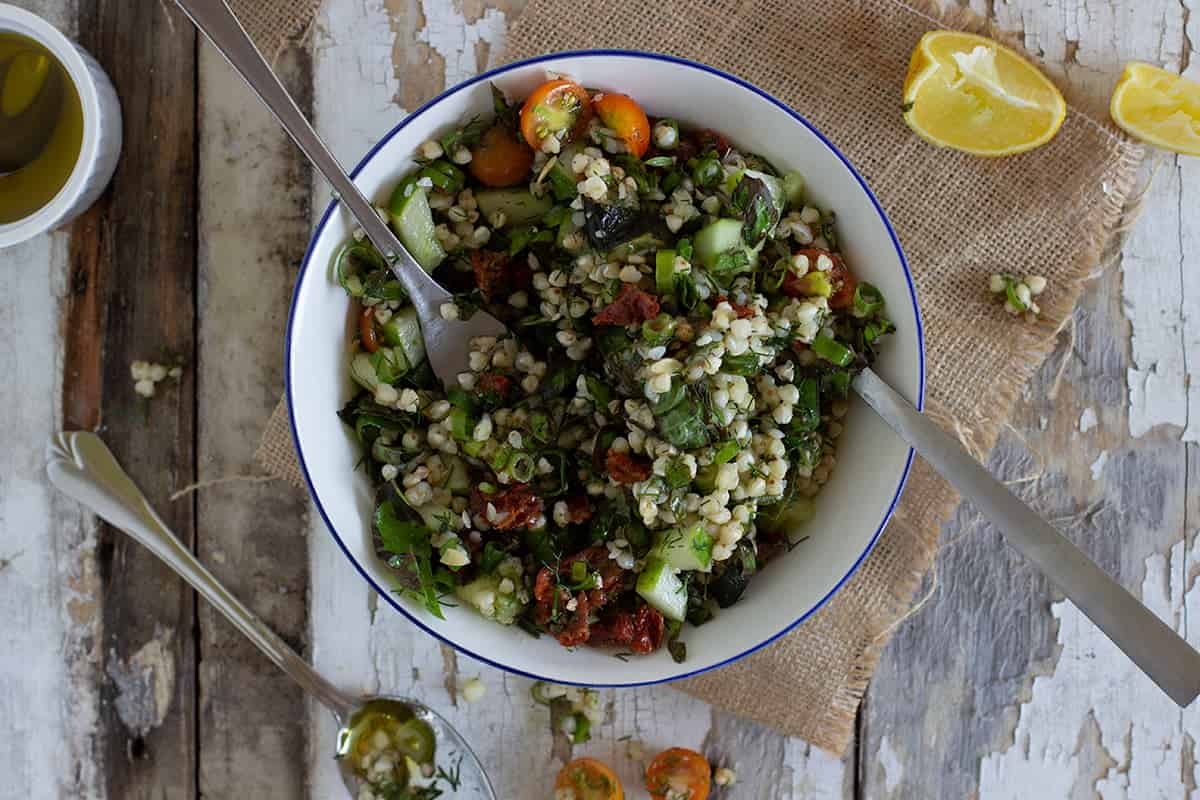 I think I have posted my fair share of sweet dishes lately, so to balance those gorgeous desserts and snacks out I wanted to share a really light and refreshing salad. This basil, dill & sundried tomato buckwheat salad is also about ease. There is no baking, the only time the hot plates are on is to cook the buckwheat. Besides that, everything in the salad is freshly cut up and tossed in. Obviously this makes this salad grand for mid week dinners and then left overs for lunches.
This basil, dill & sundried tomato buckwheat salad was also inspired by our garden, as it is going crazy right now with its production of basil, dill and cucumbers. I have so many cucumbers that I am totally overwhelmed by them. I am cutting them up and freezing them for smoothies but there is only so much room in the freezer for that. (My husband is using this as a reason for us to buy a deep freezer, but he wants one of those huge fridge sized ones that you can put a whole cow in. I've put in my two cents and said not until we have a farm, but apparently its so hot in Brisbane at the moment that he is going to sleep in it instead. That I would pay to see).
When I talk to clients the most common request is easy and quick. Everyone wants to be healthier and has grand intentions, but it's not always feasible to spend a lot of time in the kitchen. Plus, some people just don't want to spend their precious spare time cooking, which I totally understand. We are all different.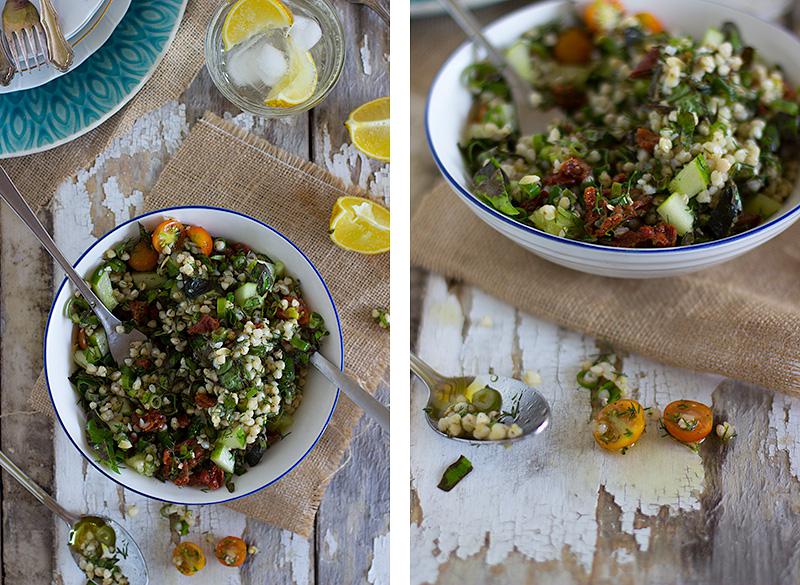 Case in point, we recently looked through our renovation photos from start to finish. It was amazing seeing how much everything has changed. You forget the progress that you have made and the milestones, as you often get lost in what there is to do next. What still isn't done. One thing I noticed as the photos flickered by was the kitchen. As the old kitchen was demolished, became literally a bomb zone and then was rebuilt to its now modernised glory, there was one thing that stayed constant in the ever changing environment. Me. I was always there in the kitchen. Even when there was no actual kitchen I was still in there preparing something. It was like one of those David Attenborough documentaries showing time passing and only one object standing constant.
The point is this made me realise how much time I spent in that space. However, just because I adore being in the kitchen doesn't mean that everyone else does. This basil, dill & sundried tomato buckwheat salad is for those of you who don't want to spend your hours with your head in an oven. Throw this together, enjoy its vibrancy and nutritious deliciousness then go forth and do what makes your heart sing with your spare time.
basil, dill & sundried tomato buckwheat salad
serves

4 as a side salad

preparation time

15 – 20 minutes

cooking time

8 minutes
ingredients
1/2 cup raw buckwheat groats
1.5 cups water
1 cup firmly packed basil leaves
1 cup firmly packed dill
1/2 cup cherry tomatoes, halved
1/3 cup sundried tomatoes, packed in olive oil roughly chopped
3 tablespoons shallot ends, finely sliced
1 cup roughly cubed cucumbers, seed pulp removed
2 tablespoons olive oil
juice 1 large lemon
sea salt & pepper to season
method
Firstly get your buckwheat cooking by placing the water in a saucepan and onto a high heat stove top. Add the buckwheat straight away, don't worry about waiting for it to come to the boil. Once the water comes to a rapid boil turn it slightly down to a strong simmer and leave for around 7 – 8 minutes. Test the buckwheat at around 6 minutes by taking a bit out with a spoon and tasting. You want the buckwheat to be tender, but not soggy. Once you are happy with buckwheat, drain it well through a colander and rinse with fresh water. Set aside.
Now in a large salad bowl combine roughly chopped basil, dill, green shallot ends, tomatoes, sun dried tomatoes, lemon juice and olive oil. Give it a good stir then add the buckwheat and stir this through too. Season with salt and pepper and give one more toss. Allow the salad to sit for 2-3 minutes then taste as the dressing will be soaked up by the buckwheat. If it needs more then just simply add some more lemon juice and olive oil.
To serve, spoon onto plates and enjoy with a lovely piece of salmon or tuna or any protein side of choice. If you are vegan or vegetarian you could crumble over some feta, add sliced boiled eggs or a big dollop of hummus and some pan seared tempeh.
nutritional information
The cucumbers in this salad provide an abundance of antioxidant dense polyphenols. Recent studies have shown that cucumbers have up to 73 phenolic compounds! These compounds scavenge free radicals, reduce the level of oxidative stress and prevent the oxidation. Its hard to find more of a better reason to include cucumber in your diet. (I Abu-Reidah, D Arrez-Romn, R Quirantes-Pin, S Fernndez-Arroyo, A Segura-Carretero, 2012, Elsevier, HPLCESI-Q-TOF-MS for a comprehensive characterization of bioactive phenolic compounds in cucumber whole fruit extract).
This salad is not a meal on its own, it requires some added protein to make it more of a sustaining meal choice. Enjoy this salad with either some seared tuna steaks or some marinated chicken. It is also really nice with falafels or some lentil burgers and a dollop of yoghurt or hummus.
Tomatoes are rich in the phytochemical lycopene, vitamin C and vitamin A making them a wonderful vegetable (technically a fruit) to support eye health and prostate health. Cooking tomatoes in olive oil enhances the lycopene availability, so don't be shy on added that oil!
Using the green ends of the shallots keeps this salad FODMAP friendly. You could use the white ends if you like, but this will add a stronger onion flavour to the dish.
Jessica Cox is a qualified practicing Nutritionist with a Bachelor Health Science (Nutrition) and over 15 years of clinical experience. She is the founder and director JCN Clinic, published author and established recipe developer. Jessica is well respected within health and wellness space for her no fad approach and use of evidence-based nutrition.