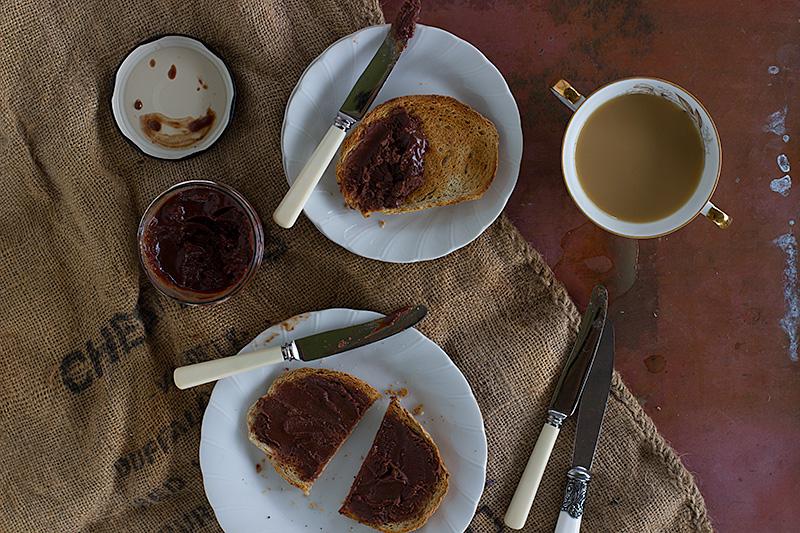 It's a bit of a double whammy for the site today. Valentines Day, plus my 100th recipe post! On this loved up day I wanted to take the opportunity to say thank you to you dear readers for all of your feedback, kind words and positive comments. It really does mean the world to me. I adore running this website and hearing your feedback regarding the recipes, and your enjoyment of them always reiterates why I do it. So, thank you! xx
Now back to the big V Day. I thought it only just that I shared a Valentines Day treat with you all. And what better way than with an adult nutella. Nutella is one of those spreads that is commonly associated with kids palettes, becoming too sickly sweet for adults in our grown up years. The joy of this adult version of nutella is that it has only a hint of sweetness balanced with the lovely salty kick that us grown ups enjoy with our chocolate. It seems to make the chocolate experience more intense giving that lovely contrast between bitter sweet and salty.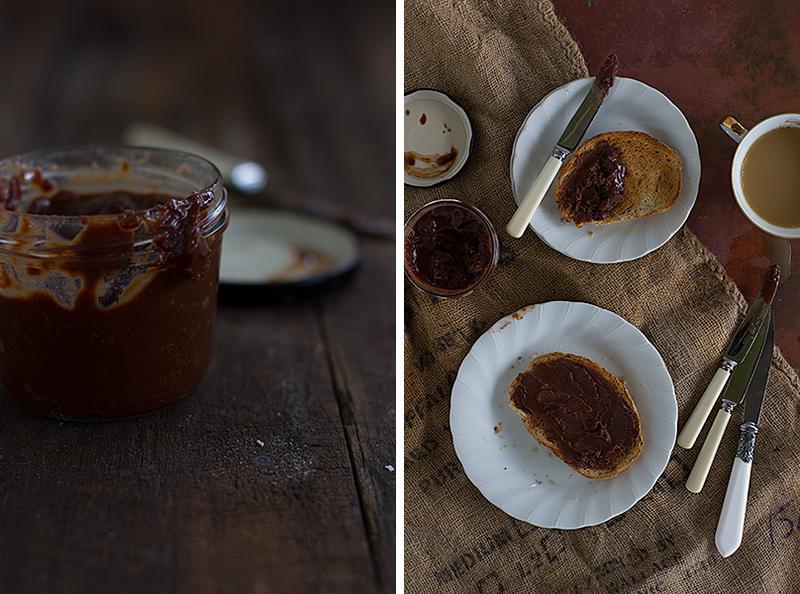 I was one of those kids that didn't like nutella. I thought it was too hazel-nutty. I thought, why would you want to go and mess up that chocolate flavour with that nut flavour? Now days I like that deep and earthy hazelnut flavour and find it particularly pleasing when it has been freshly home roasted.
If you haven't made your own nut pastes (or seed pastes) then you really are missing out. There are of course some lovely store bought products, but there is nothing like the taste of freshly roasted nuts that have been only just made into a paste. The oils are new and clean and there seems to be a natural sweetness to them. Making your own nut spreads mean that the oils are at their freshest with less chance of oxidisation. Once they are made they are best kept in the fridge to keep the oils at a stable temperature.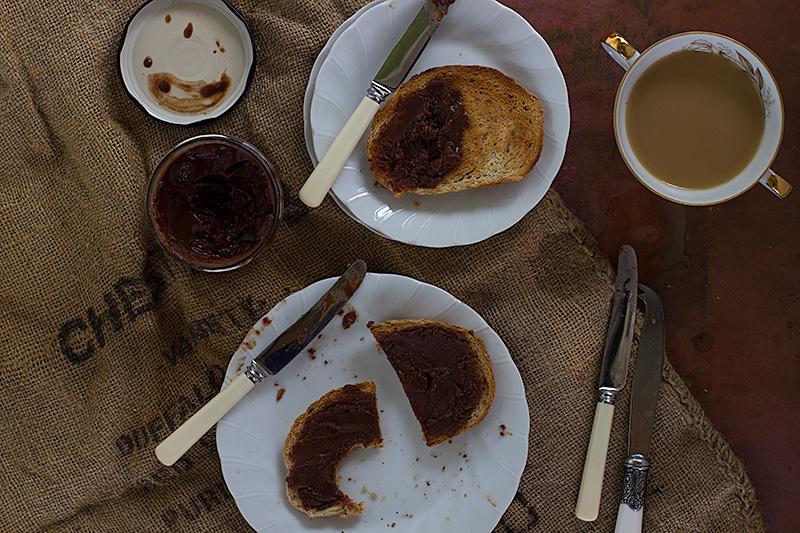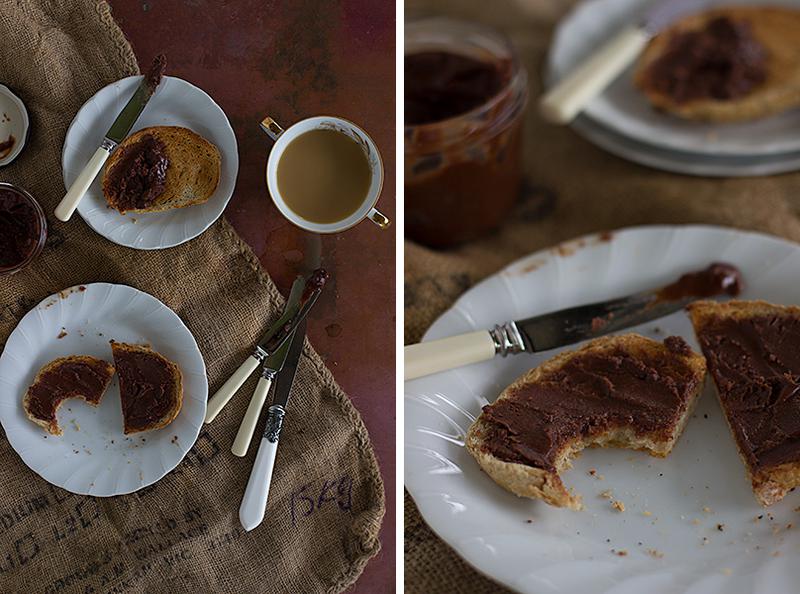 Being an adult nutella certainly does not mean you cannot enjoy this chocolate bliss in fun ways. It is delicious smeared onto hot toast alone, but it is also fabulous spooned onto hot pancakes or a steaming bowl of oats. You could also add a spoonful to smoothies for a delicious choc hazelnut fix. Being Valentines Day you could also dip lovely fresh strawberries into your adult nutella and serve it as a dessert to your loved one.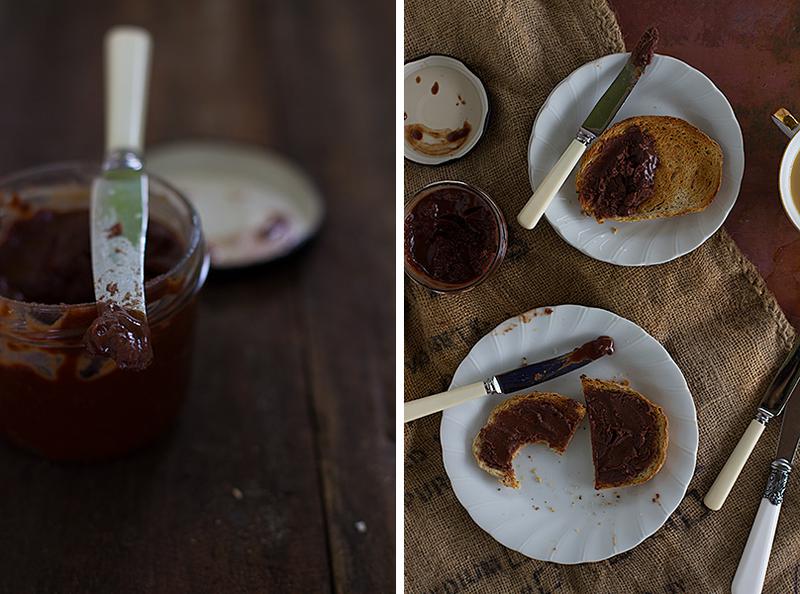 Of course the big kid in you will want to eat it from the spoon straight out of the jar. There is nothing wrong with this on the odd occasion I say. Life's too short to deprive oneself of such child like pleasures. Enjoy!
adult nutella + happy valentines day!
serves

makes 1 and 1/2 cups

preparation time

30 minutes

cooking time

10 minutes
ingredients
2 cups raw hazelnuts
2 tablespoons 100% maple syrup
3 tablespoons cold pressed macadamia nut oil ( I used Brookfarm)
pinch of sea salt
3 tablespoons raw cacao powder
method
Preheat your oven to 170c. Place the hazelnuts on a baking tray and spread out evenly. Put in the oven for a total of 10 minutes, removing at the 5 minute mark to toss around so that they are getting even heat. They are ready when they have slightly browned and you can see them starting to slightly glisten as the oils release.
Pull out the tray and leave the hazelnuts to cool until they can be touched with your hands. Then, using your hands pick them up in handfuls and rub them together releasing the skins from the hazelnuts. Keep repeating this until all of the skins have been removed (don't worry if there are a few stragglers).
Now the fun part! Take the tray outside and using a hair dryer blast the hazelnuts from about 40cms away. This will send the skins soaring into the air and leave the bare hazelnuts behind.
Now the hazelnuts are ready for blending. In a high speed blender place the hazelnuts and blend to a smooth paste. Stop the blender and add in the remaining ingredients. Blend again allowing everything to mix well together and again come to a paste. If you find yours is too thick then simply add a little more oil. Taste for seasoning. If you want it more sweet add a touch more maple. If you like it a bit more salty add some more sea salt.
Spoon out your nutella into a jar and seal with a tight lid. Make sure you lick the blender clean of any leftovers. 😉
Enjoy your nutella on toast alone or with sliced banana or stawberries. It is also divine spooned onto muesli or melted onto porridge or pancakes.
nutritional information
Choosing to make your own nut spreads mean that the oils are at their freshest with less chance of oxidisation. Once they are made they are best kept in the fridge to keep the oils at a stable temperature.
Raw cacao is rich in polyphenols, especially flavanoids. Cacao has been shown to reduce oxidative stress. It has also been shown in studies to help alleviate chronic fatigue thought to be linked again to its high flavanoid profile. What a fabulous reason to include raw cacao in our diets! (2010, T. Sathyapalan, S Beckett, A Rigby, D Mellor, S Atkin Nutrition Journal, High cocoa polyphenol rich chocolate may reduce the burden of the symptoms in chronic fatigue syndrome).
Hazelnuts are an underused powerhouse of nutrients. They are rich in monounsaturated fats and a great source of Vitamin E, Thiamin (B1) and folate. Hazelnuts are also a fabulous source of magnesium and iron.
Jessica Cox is a qualified practicing Nutritionist with a Bachelor Health Science (Nutrition) and over 15 years of clinical experience. She is the founder and director JCN Clinic, published author and established recipe developer. Jessica is well respected within health and wellness space for her no fad approach and use of evidence-based nutrition.