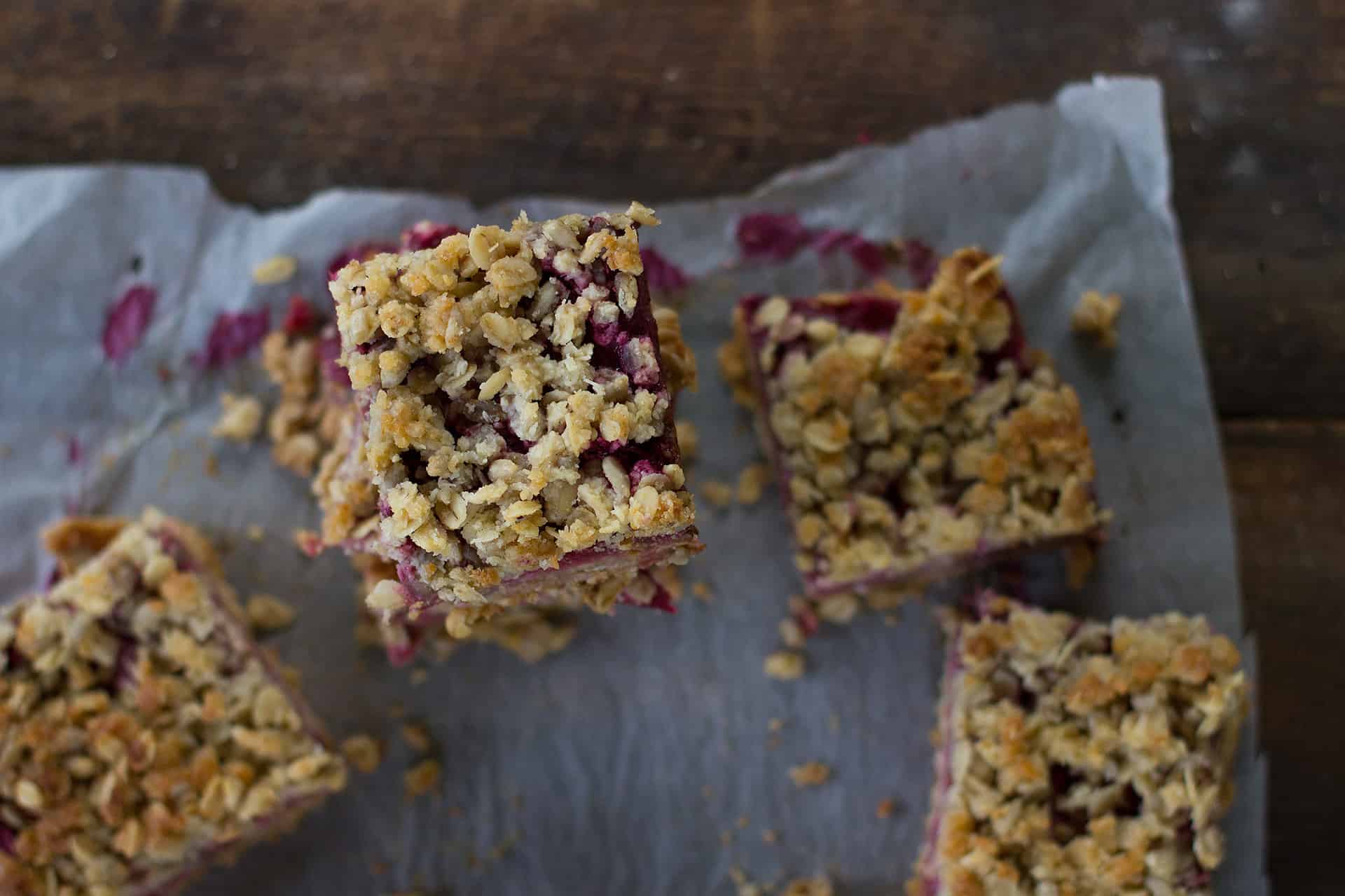 I was lucky enough to be given the most delicious box of fresh cherries I have ever tasted just before Christmas from a lovely client and her family. These cherries were honestly the best cherries I have ever had and were enjoyed in their freshness over the lead up to the Christmas break. However, with holidays approaching and lots of cherries to still eat I decided to make a compote with them. Obviously cherries are quite sweet so matching them with the rhubarb was perfect. The sweetness of the cherries meant that there was a reduced need to add sweeteners to the tart rhubarb.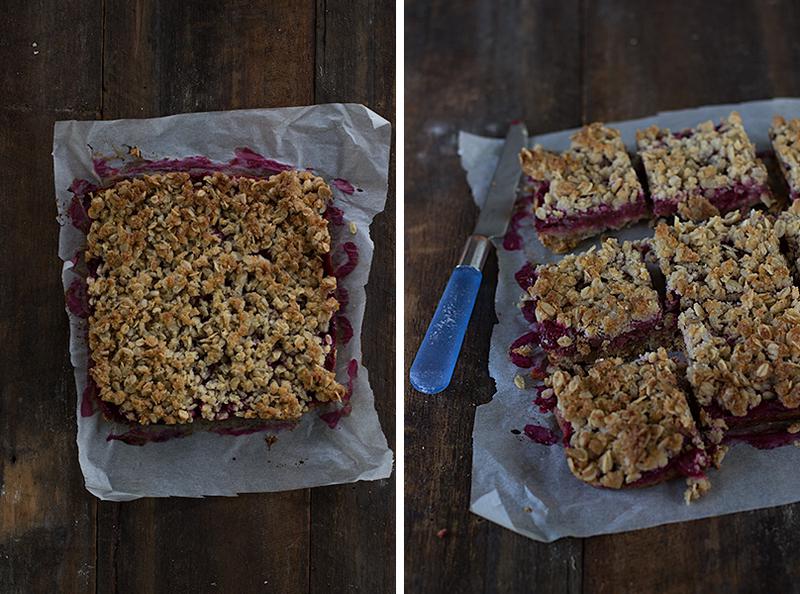 I'm quite confident that I would declare this rhubarb and cherry crumble slice my new favourite snack, or breakfast at a far stretch. There is this perfect union between the hard base, the soft sweet fruit center and the crumble top that is just spot on. This rhubarb and cherry crumble slice is one of those snacks you can feed to any skeptic of 'healthy hippy food' and they will love it. I've made if for friends, I've put a slice in my husband's esky box and the container comes back empty. Trust me, that's a good sign. Soggy sandwiches always come back along with the apple that went in Monday that I (stubbornly) and repeatedly continue to put in there through till Friday.
I have made this rhubarb and cherry crumble twice now, and each time I do its devoured very quickly. It is extremely versatile as you can use whatever fruit you have on hand to make the compote, or for an express version just use a spread of 100% jam and some sliced fresh fruit such as mango or stone fruit. If you wanted to make this crumble slice on a wheat based flour you could easily do so too by using a spelt or whole-wheat. You could also use organic butter instead of coconut oil if dairy is your thing.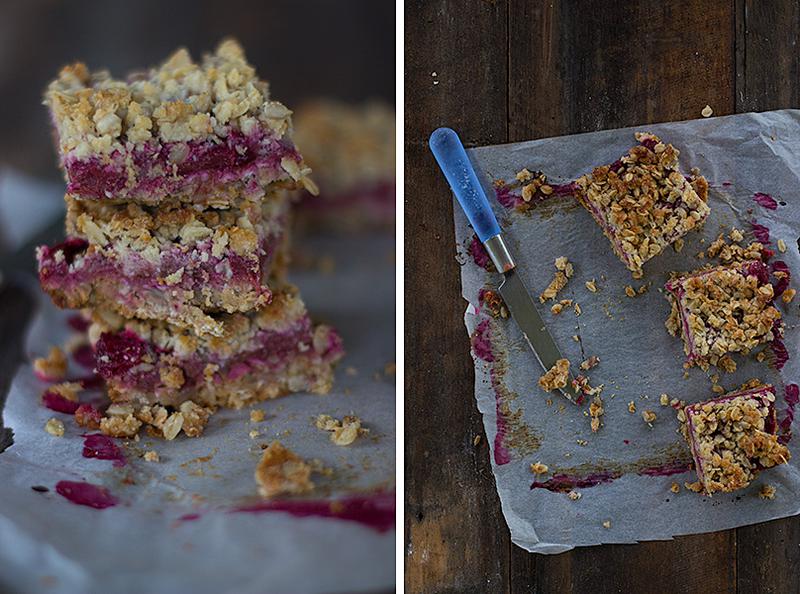 Whatever you choose to do I am sure you will enjoy this crumble as much as I do. It's fabulous on its own, but it's certainly taken to a new level with a generous dollop of dairy free yoghurt or whipped coconut cream. Personally, I love a generous meal size and adding yoghurt which amps up the protein content making it a breakfast worthy of kings. Be warned, if you do enjoy it as much as I do you will not want to share it and may find yourself hiding it in the back of the freezer where other hands cannot find it.
rhubarb & cherry crumble slice
serves

9 generous slices

preparation time

15 minutes + compote cooking time

cooking time

50 minutes
ingredients
1/2 cup millet flour (or sorghum flour)
1/2 cup brown rice flour
1 cup oats
1/2 cup un-sweetened, organic desiccated coconut
1/4 cup rapadura sugar or coconut sugar
1 teaspoon ginger powder
1/2 teaspoon sea salt
1/4 cup sunflower seeds
110 grams softened coconut oil
3 tablespoons unrefined honey
1 1/2 cups rhubarb & cherry compote*
method
*The rhubarb and cherry compote should be prepared in advance. You can use this fruit crumble base and use half rhubarb and half cherries to make up the quantity, or use any fruit that you desire (just leave out the orange zest and juice and add a 1/4 cup of water instead). You could also use 100% jam and some fresh fruit for an even speedier version.
Preheat your oven to 175c. In a large mixing bowl combine the flours, oats, coconut, salt, ginger and sugar. Add the coconut oil and use your hands to rub into the mixture to create a course breadcrumb like consistency. Now add the honey and mix this in with your hands bringing to a wet and crumbly dough mixture.
Spoon 2/3rds of the mixture into a lined square baking dish (with the paper over hanging the edges to create handles latter on) and press down firmly. Place in the oven and bake for 20 minutes or until beginning to brown.
Remove from the oven and spoon over the rhubarb and cherry compote (or and other fruit compote of choice). Take the remaining crumble and sprinkle over the top of the compote. Place back in the oven for 20 minutes. If the crumble slice is not yet browning on top, turn up the oven to 180c and bake for another 10 minutes.
Remove from the oven and let cool in the tin for at least 20 minutes before carefully removing by lifting the slice out using the edges of the baking paper. Otherwise, cut directly in the tin. Gorgeous served alone, but made even more delicious served with dairy free yoghurt or whipped coconut cream.
nutritional information
This rhubarb and cherry crumble slice uses oats for its delightful texture. If you are gluten intolerant you could use quinoa flakes instead. Whole oats provide a diversity of B vitamins, especially thiamine (B1) and folate. Oats are also a great source of minerals such as iron, magnesium and zinc. These minerals are important cofactors in day to day biochemical reactions within our amazing bodies.
Cherries are an abundant source of antioxidants that can help reduce inflammation. Recent studies have show that cherries (specifically tart cherry juice) have the ability to reduce exercise induced muscle damage. This may be due to the anti-inflammatory effects and antioxidant content of cherries, specifically anthocyanins. 2010, K. Kuehl, E. Perrier, D. Elliot, J. Chesnutt, Efficacy of tart cherry juice in reducing muscle pain during running: a randomized controlled trial, Journal of the International Society of Sports Nutrition.
Rhubarb is certainly an underrated and under used fruit (technically a vegetable related to sorrel). Chinese medicine has utilised rhubarb extracts for many years to reduce cancer proliferation. Excitingly (from a nutritional nerd perspective) phenol extracts from rhubarb such as anthraquinone, specifically emodin, have been shown in studies to inhibit cellular proliferation, induce apoptosis (programmed cell death) and prevent metastasis. 2006, Q. Huang, G. Lu, H. Shen, M. Chung, C. Ong, Anti-cancer properties of anthraquinones from rhubarb, Medicinal Research Reviews; 2001, Shi YQ, Fukai T, Sakagami H, Kuroda J, Miyaoka R, Tamura M, Yoshida N, Nomura T, Cytotoxic and DNA damage-inducing activities of low molecular weight phenols from rhubarb, Europe PubMed Central
Jessica Cox is a qualified practicing Nutritionist with a Bachelor Health Science (Nutrition) and over 15 years of clinical experience. She is the founder and director JCN Clinic, published author and established recipe developer. Jessica is well respected within health and wellness space for her no fad approach and use of evidence-based nutrition.