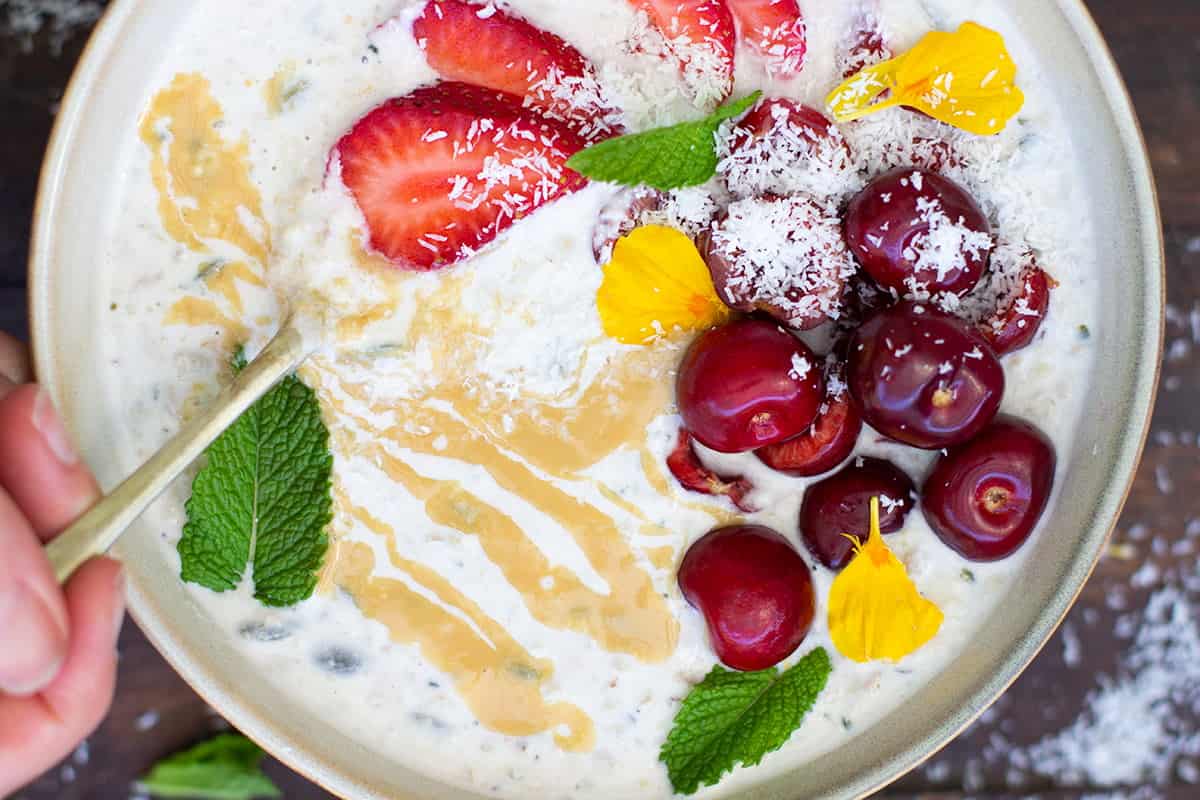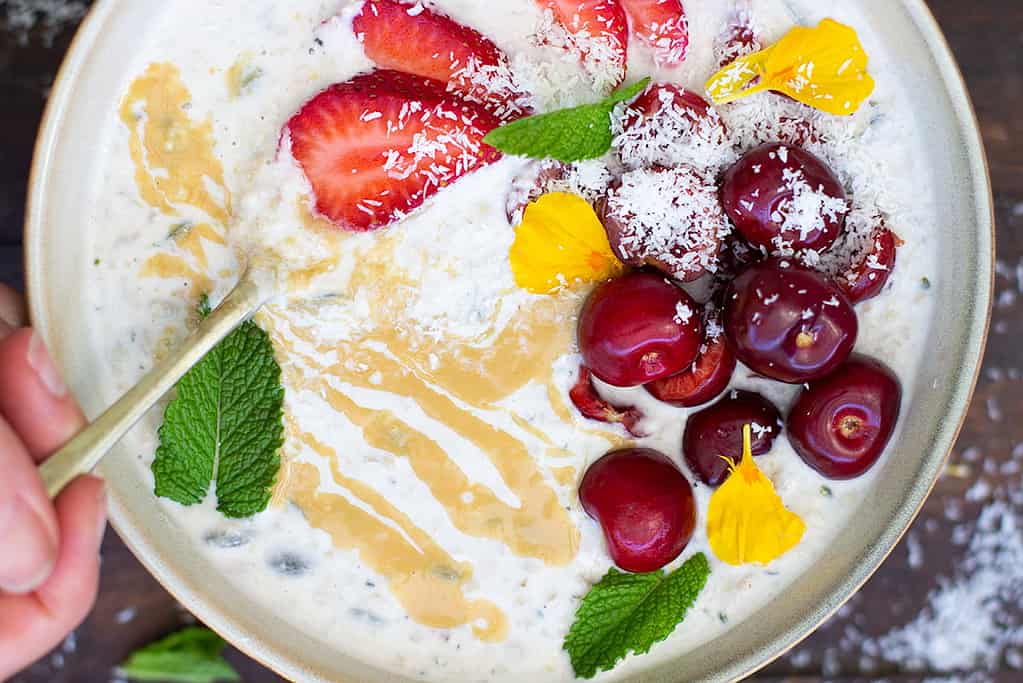 Finding a good gluten free, low fodmap, SIBO friendly recipe for bircher muesli is not easy. Bircher muesli is of Swiss origin, traditionally made with oats, yoghurt and grated apple. Alternative spins these days for basic gluten and dairy free options tend to incorporate chia seeds and quinoa flakes, alongside alternative sweeteners. These alternative options (and even original versions) are fine if all you need is a basic gf df format, but for many of our clients at The JCN Clinic we need a little more when aiming to enjoy a bircher that is going to suit a collection of dietary requirements. As a result, I have been itching to create a recipe like this Gluten Free Low Fodmap Bircher Muesli that can be enjoyed by those of you needing more boxes ticked with dietary requirements.
Now anyone could just mix some coconut cream or low reactive dairy free yoghurt through some low reactive grains and be done with it. Whack on some blueberries and bobs your uncle. But thats not me. I want you to have the 'wow' factor. I want you to look forward to your breakfast bircher and salivate at the thought. Not just eat it because 'it does the job'. I can't handle any of my clients not being happy with the food they put in their mouths on a daily basis. Food is too amazing for this.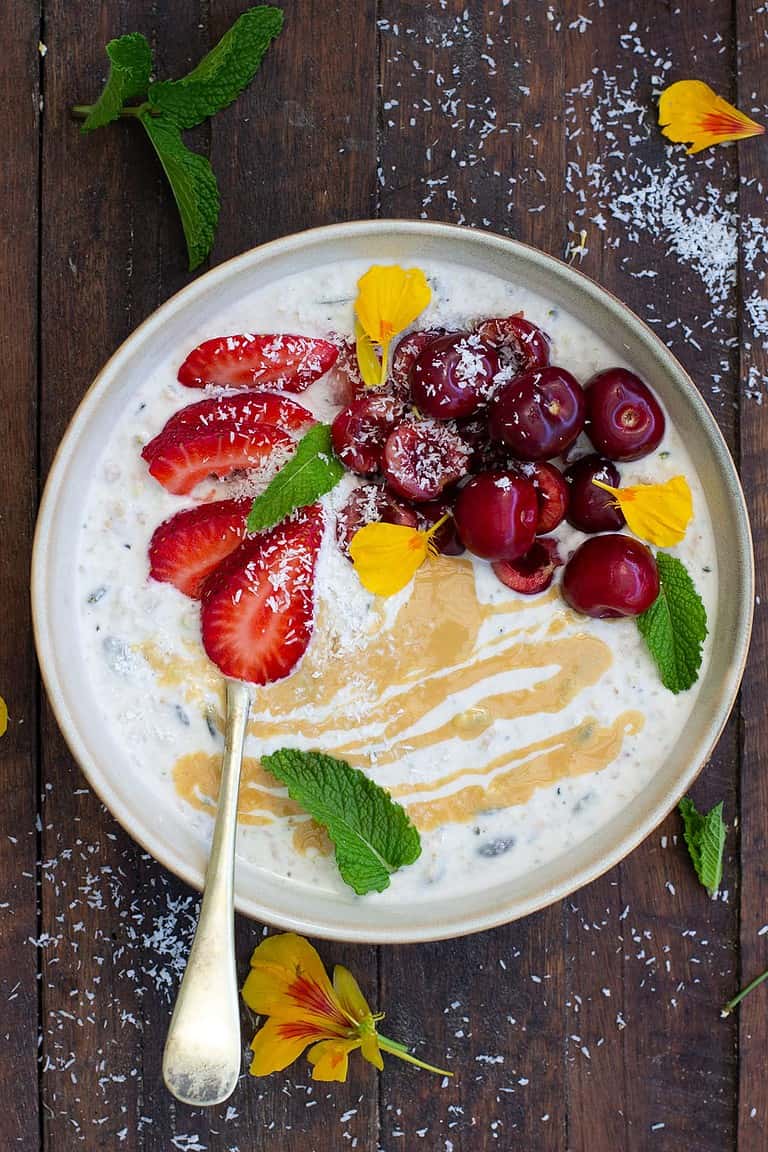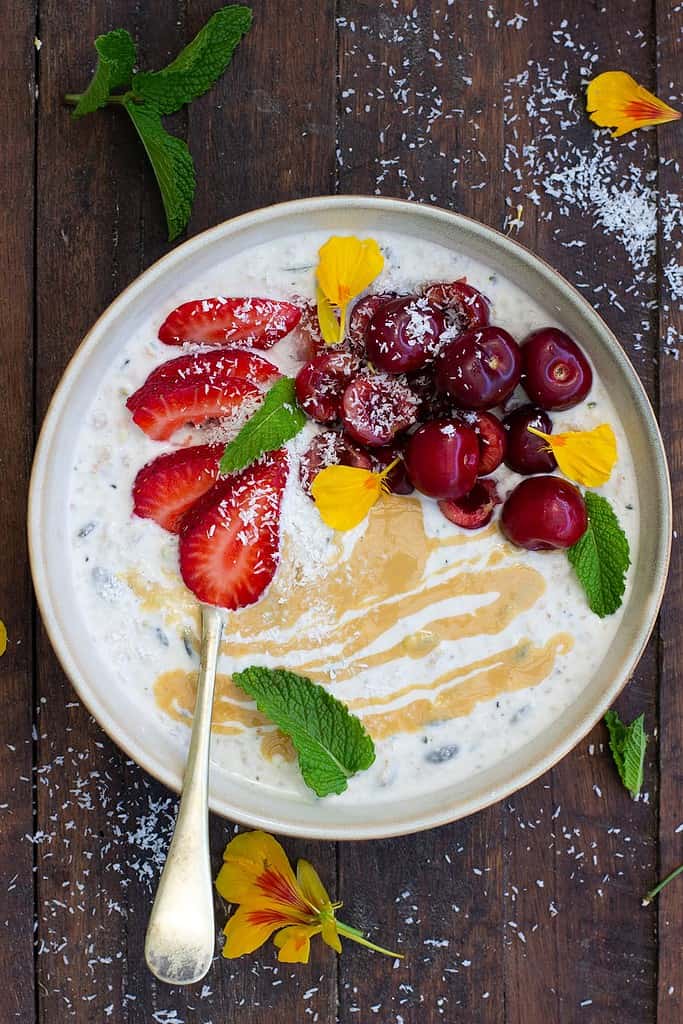 Therefore, to create something more special and more lux we need to spend an extra 10 minutes or so putting some ingredients together. After this, it's just a matter of soaking overnight. The pay off is a luxurious creamy bircher that is not only sustaining and low reactive but ridiculously delicious.
Think of this Gluten Free Low Fodmap Bircher Muesli as a blank canvas or base. Essentially it is a creamy vanilla flavour that you can then choose to flavour in multiple ways. I find it hard when creating recipes like this to not get pulled into adding in a little extra here or there flavouring wise, but I know having a base recipe works best for you. So I slap my own hand and put the cinnamon/cacao/matcha down. It's not about me and what flavours I would add – it's about you.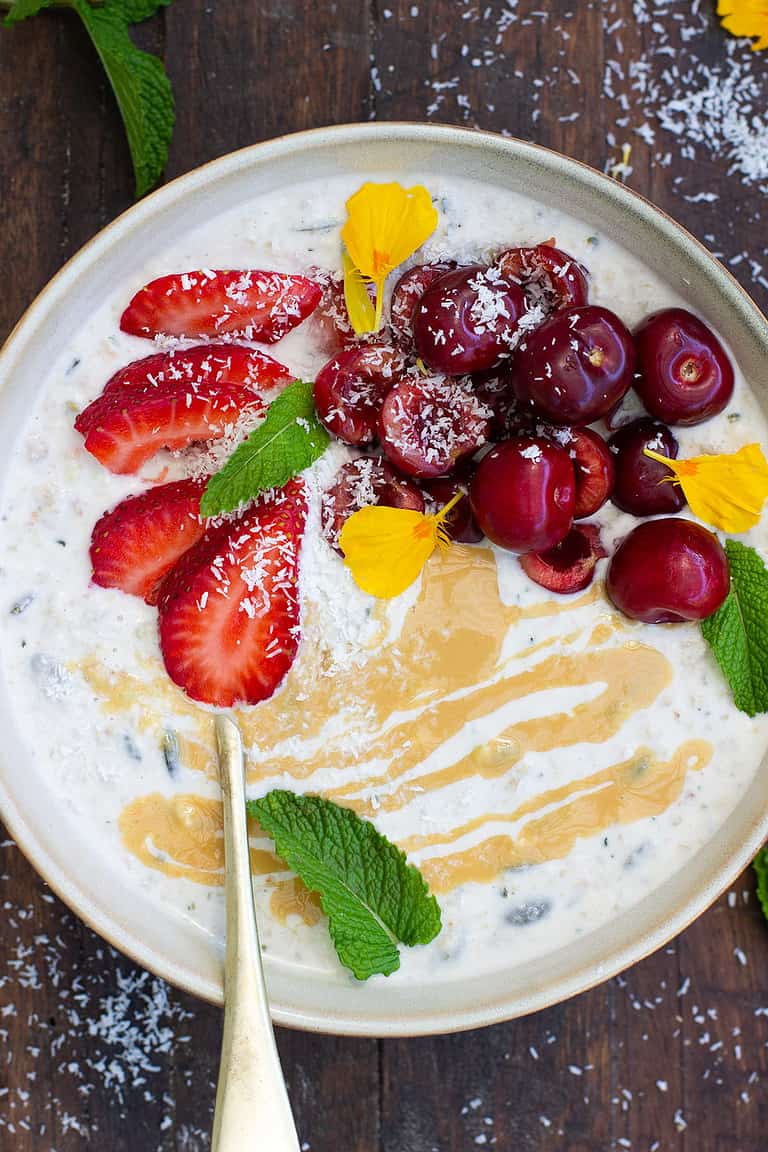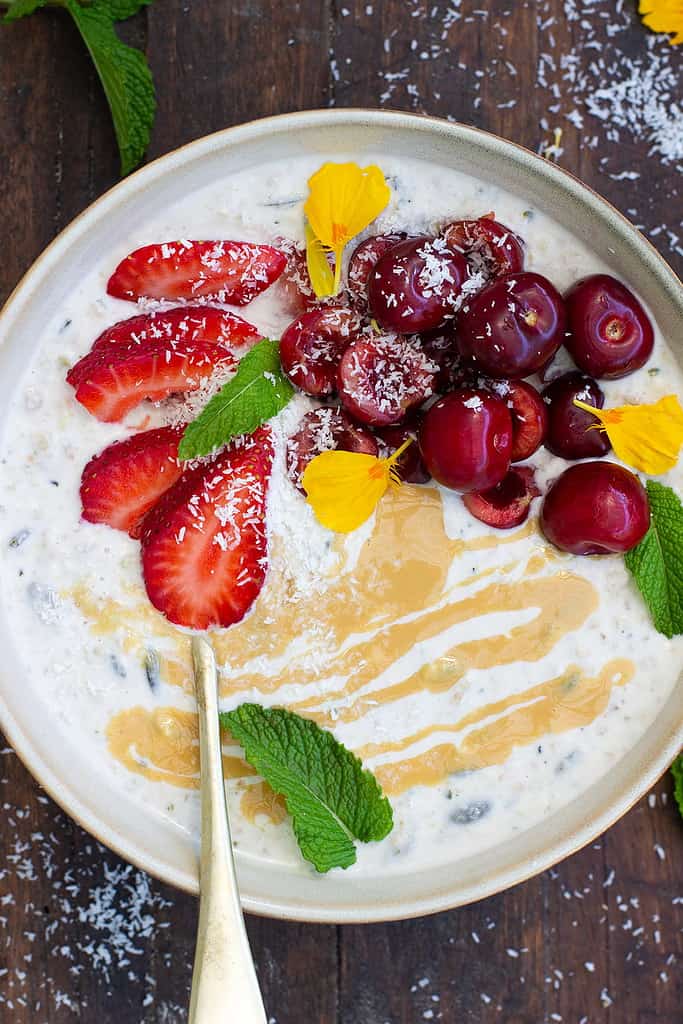 the best bircher flavours & combo's
You can flavour this base recipe for low fodmap gluten free bircher in so many ways! You can also adapt it to suit further requirements pretty easily. Here are my suggestions on how to create different bircher combinations and flavours (some low fodmap and some not):
Classic Apple & Cinnamon Bircher – stir through grated apple and cinnamon with a drizzle of honey.
Berry Bircher – stir through seasonal berries and finish with a drizzle of almond butter.
Mango & Lime Bircher – stir through lime zest and top with chopped mango and coconut yoghurt.
Low Oxalate Millet Blueberry Bircher – swap buckwheat for millet and stir through blueberries and drizzle with macadamia nut butter.
Banana & Peanut Butter Bircher – stir through mashed banana and then top with extra banana slices, peanut butter and a drizzle of honey.
Chocolate Bircher – stir through raw cacao and top with strawberries and cacao nibs.
Tropical Bircher – stir through lime zest and top with papaya, dragon fruit and pineapple.
Winter Bircher – stir through cinnamon, ground cloves and ground cardamon and top with stewed apple and tahini.
Crumble Bircher – pan fry mixed seeds in olive oil and honey till sticky and serve on top of bircher.
Hopefully this leave you with loads of ideas to play with when it comes to this low fodmap gluten free bircher as a base recipe. I've enjoyed it here (as pictured) with seasonal (and very festive season inspired) cherries (technically low FODMAP at 20g or under, but you do you) & strawberries drizzled with peanut butter.
Like what you're seeing? Subscribe for new recipes and nutrition tips every week!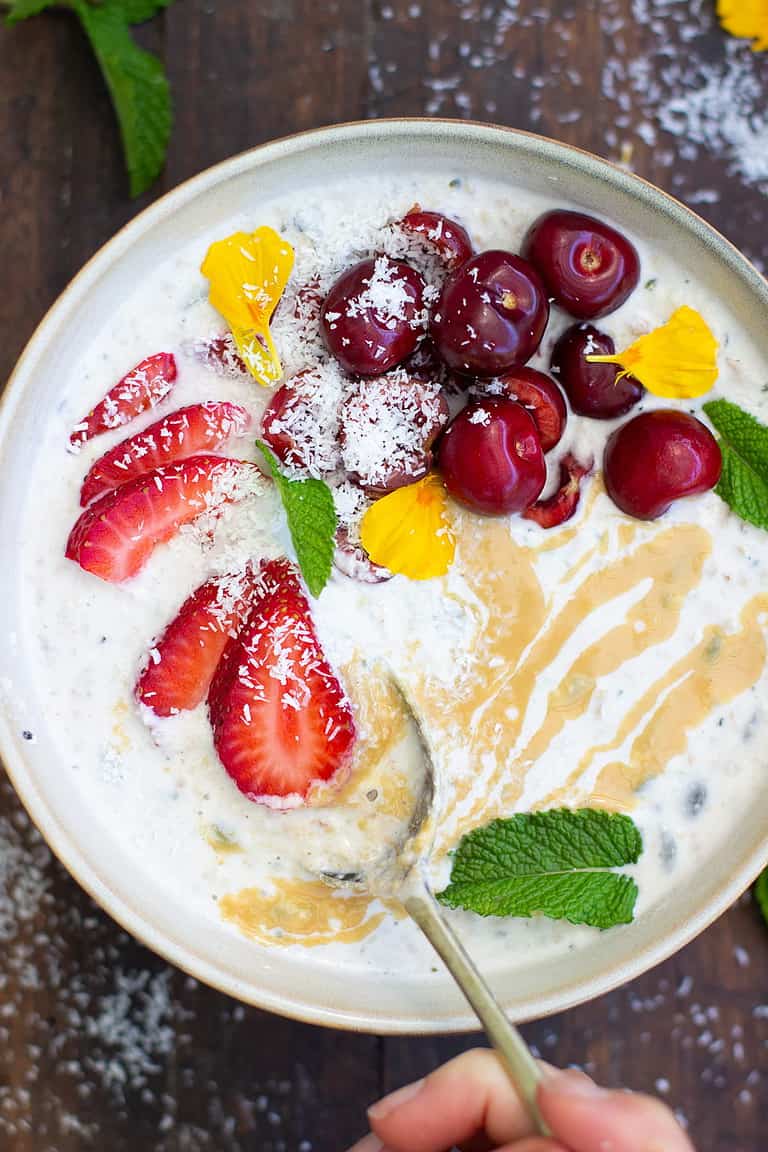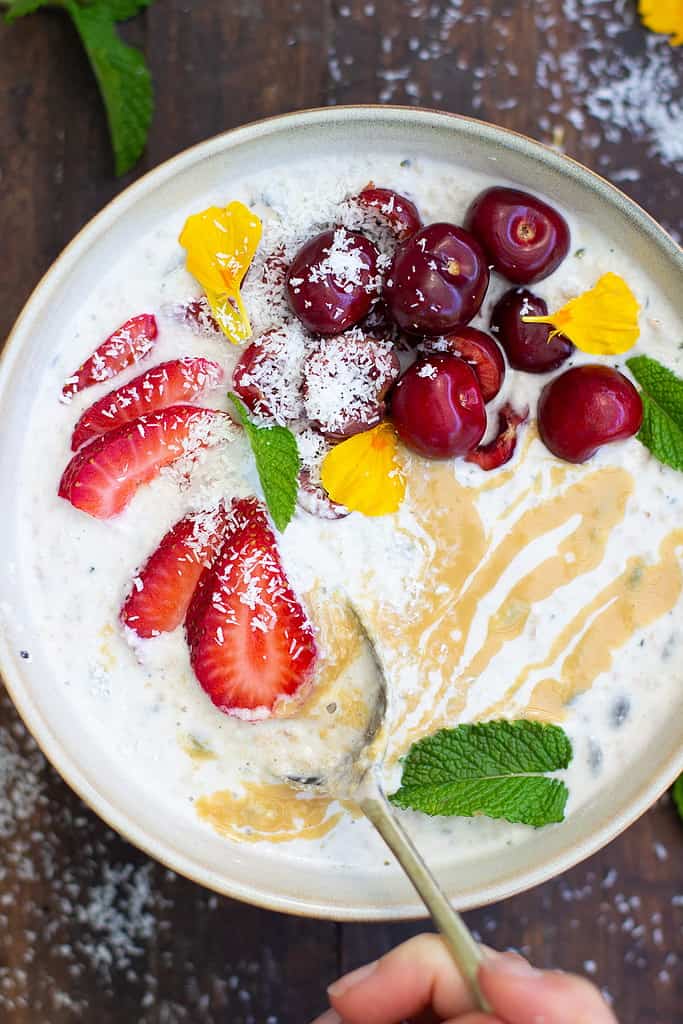 how to store of batch make bircher muesli
If you are not making this bircher to share between others and enjoy in one sitting, then you can easily store it in the fridge. To be honest, this was more the point of the size of this recipe when I created it so you can make a batch of it, then keep it in the fridge to use each morning.
Please keep in mind however that after 3 days the mylk will start to turn, so if you want to use it after this you will need to freeze it in batches. I do this myself all the time with porridge, birchers and even my homemade made almond mylk (from e.a.t), essentially freezing in portions on the day of making. This way you can ensure its fresh and not be disheartened when you go to eat it 4 days later and its turned.
You can also just halve the recipe if you want to make small portions, or alternatively double the recipe to make enough for a week or longer depending on the frequency of eating. This is the beauty of batch cooking and having meals like this on hand in the fridge and freezer. Either way, I know you will enjoy it and as always let me know what you think in the comments below. xo
Need personalised nutrition advice catered to your needs?
If you are after personalised nutrition advice and dietary planning individualised to your health and dietary needs then contact us at The JCN Clinic with your enquiry. We are always happy to answer any questions you have!
gluten free low fodmap bircher muesli
serves

4 – 6

preparation time

20 min + overnight soaking

cooking time

nil min
ingredients
1/2 cup buckwheat
1/4 cup (approx. 40g) macadamia nuts
5 tablespoons desiccated coconut
5 teaspoons vanilla extract
1 pinch salt
1 & 1/4 cups water
1/4 cup sunflower seeds
1/4 cup pumpkin seeds
2 tablespoons hemp seeds
method
For those who need longer soaking times for buckwheat, start this recipe the day before.
Place the buckwheat groats in a small bowl and cover with boiling water. Leave to soak for 10 minutes to soften (you can also just cover in cold water and leave overnight for a longer soak and activation of the buckwheat if needed). Drain the buckwheat through a sieve and rinse well.
Place the buckwheat in a food processor and pulse lightly to break up some of the grains. Ideally you want some still whole with others broken down. Scrape out the buckwheat into a bowl and set aside.
Now place the macadamia nuts, desiccated coconut, vanilla extract, salt and water in un upright blender and blend till smooth and creamy. Set aside.
Take the bowl of soaked and blended buckwheat and add the pumpkin seeds, sunflower seeds and hemp seeds and stir through. Pour over the mylk liquid from the blender and mix well. It will be quite loose but will firm up with time.
Cover the bowl or pour into a container with an air tight lid and place in the fridge overnight.
In the morning, spoon out a serve and top with seasonal fruits of choice, a drizzle of nut or seed butter and a sweetener if desired.
Note: you can also stir through fruits before serving like grated apple or berries. Please see blog post for more ideas on alternative flavours.
nutritional information for gluten free low fodmap bircher muesli
This bircher muesli is very rich in fibre thanks to the combination of the buckwheat and hemp seeds. Hemp seeds are naturally high in protein and contain good amounts of the essential fatty acids. Just 30 grams of hemp seeds (about 2 tablespoons) contains around 10 grams of protein (similar to eating an egg). The same amount of hemp seeds also contains 14 grams of fats, with a large amount of this coming from omega 3 and omega 6.
Buckwheat is a rich source of flavonoids, biological active phytochemicals with a multitude of health benefits such as aiding the reduction of cholesterol and hypertension (it's high rutin content playing a large role in this), alongside buckwheats anti-inflammatory benefits. (1)
Buckwheat is high in the amino acid lysine, tryptophan, threonine and the sulphur-containing amino acids. Buckwheat is abundant in complex carbohydrates, especially starch in a variety of forms. Buckwheat also provides adequate protein, the seed or 'pseudo grain' providing around 12% of its macronutrient content, varied between different types of buckwheat (between 11-15%). Buckwheat is rich in the proteins albumins and globulins.
Pumpkin seeds (pepitas) are one of the highest plant based sources of zinc. Zinc is used in hundreds of enzymatic pathways in the body. It is paramount for a healthy immune system, skin and hormonal health. Adequate zinc levels are also vital for fertility in males.
Jessica Cox is a qualified practicing Nutritionist with a Bachelor Health Science (Nutrition) and over 15 years of clinical experience. She is the founder and director JCN Clinic, published author and established recipe developer. Jessica is well respected within health and wellness space for her no fad approach and use of evidence-based nutrition.