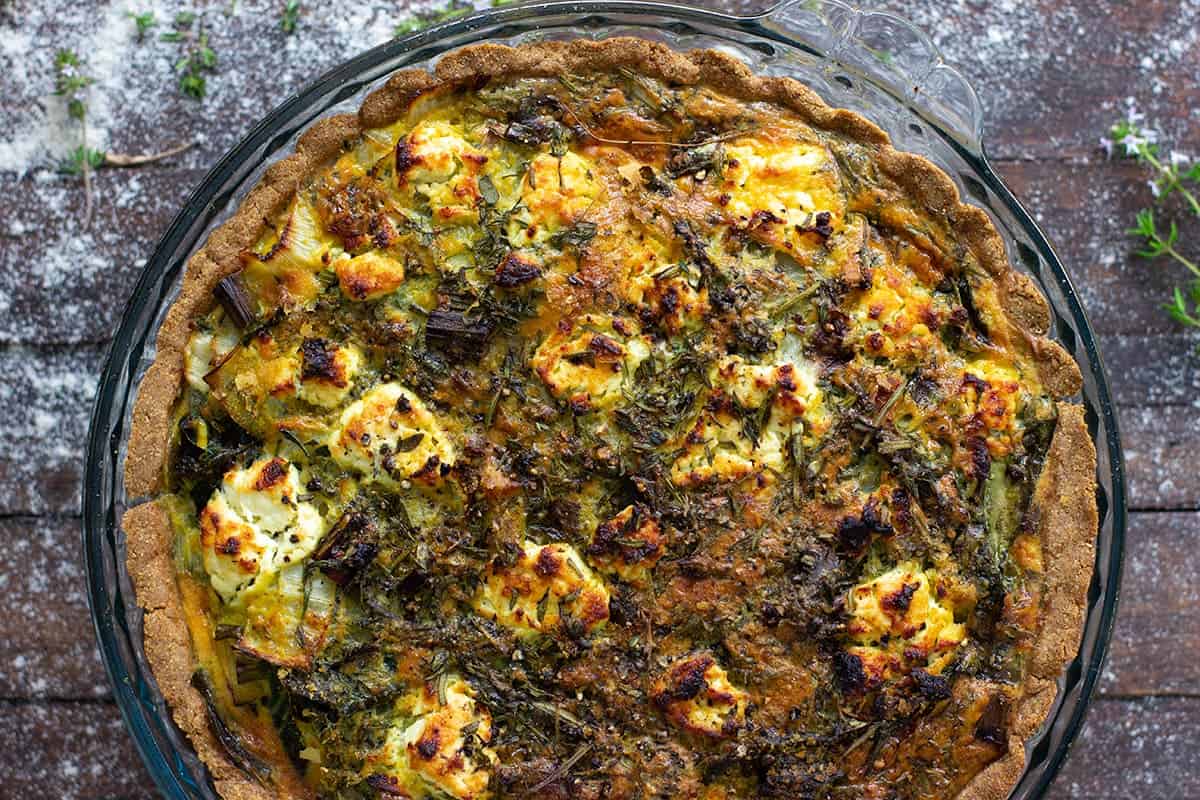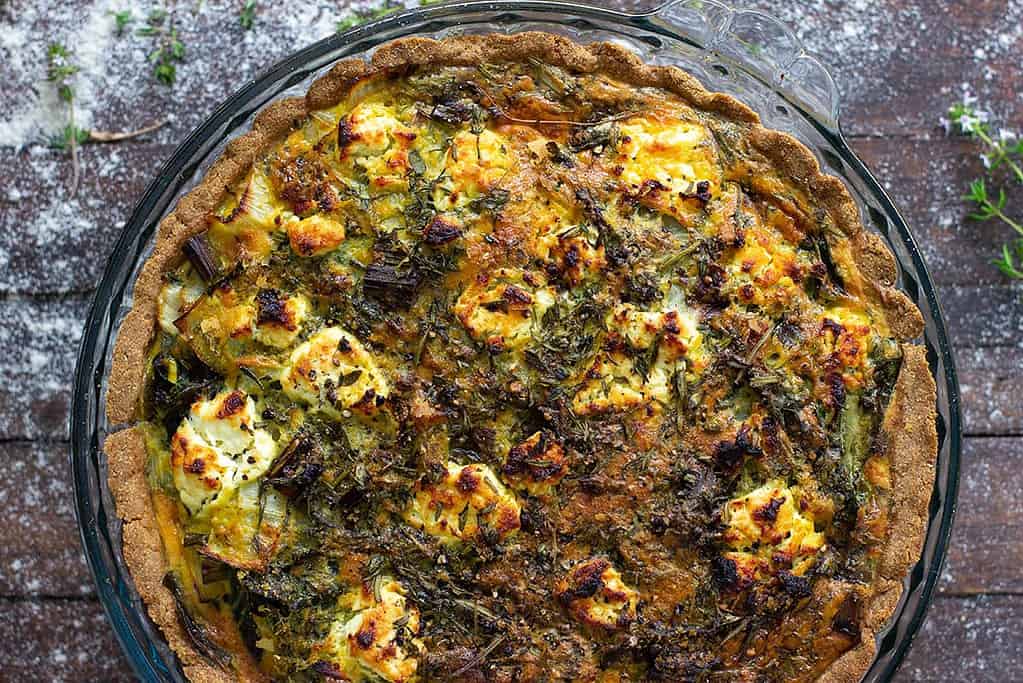 I've been on a serious quiche bender these past weeks. Between keeping up with the eggs laid daily by our three chickens and the abundance of shooting spring greens, it's been all about making the most of excessive ingredients on my Sunday 'bake day'. Oddly, as someone who loves variety in their diet, I am lately obsessed with eating quiche for lunch every day at this moment. I think it's because it is that perfect union of easy to digest protein, veg, carbs and fat that sits well and keeps me going for hours through busy days. The latest hero of my quiche escapades has been this Gluten Free Silverbeet, Spring Onion & Herb Quiche.
As I am sure you are aware, the defining factor between a quiche and a frittata is the pastry. Most people lean towards a frittata because (a) its quicker and (b) gluten free pastry can be a nightmare. I am confident I have taken care of (b) for you, however making a quiche will always take a little more time – but, the pay off is worth it!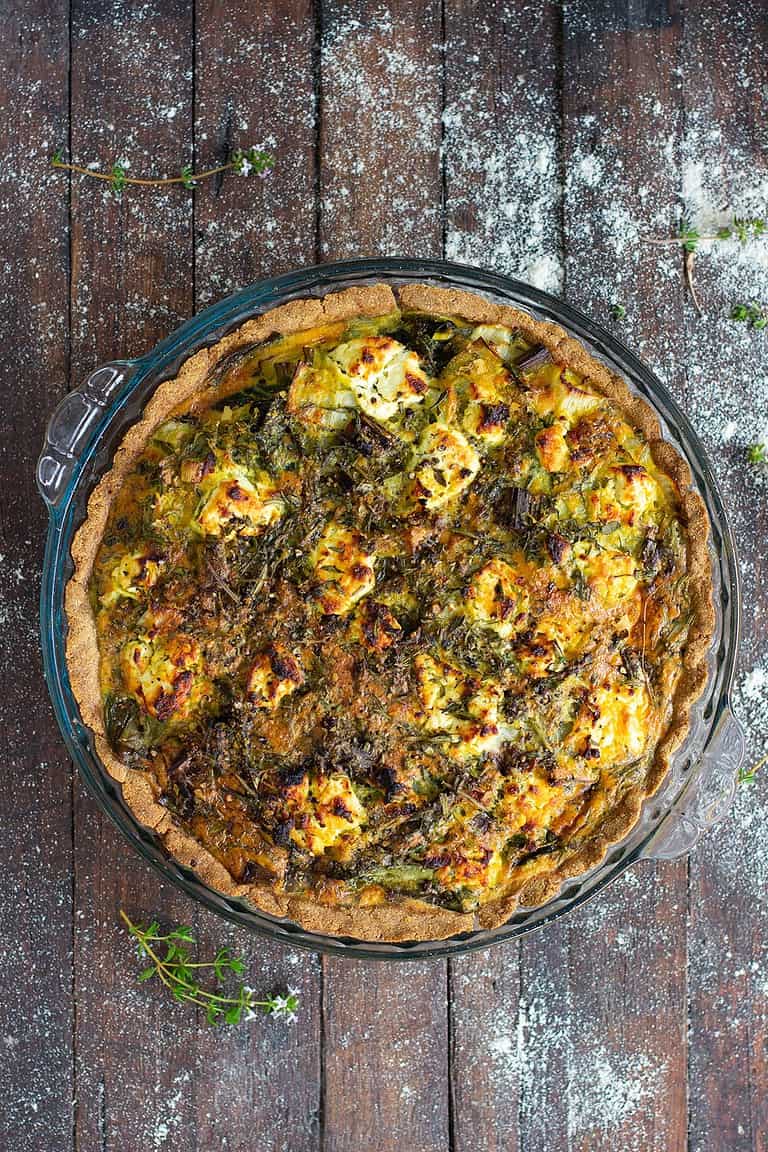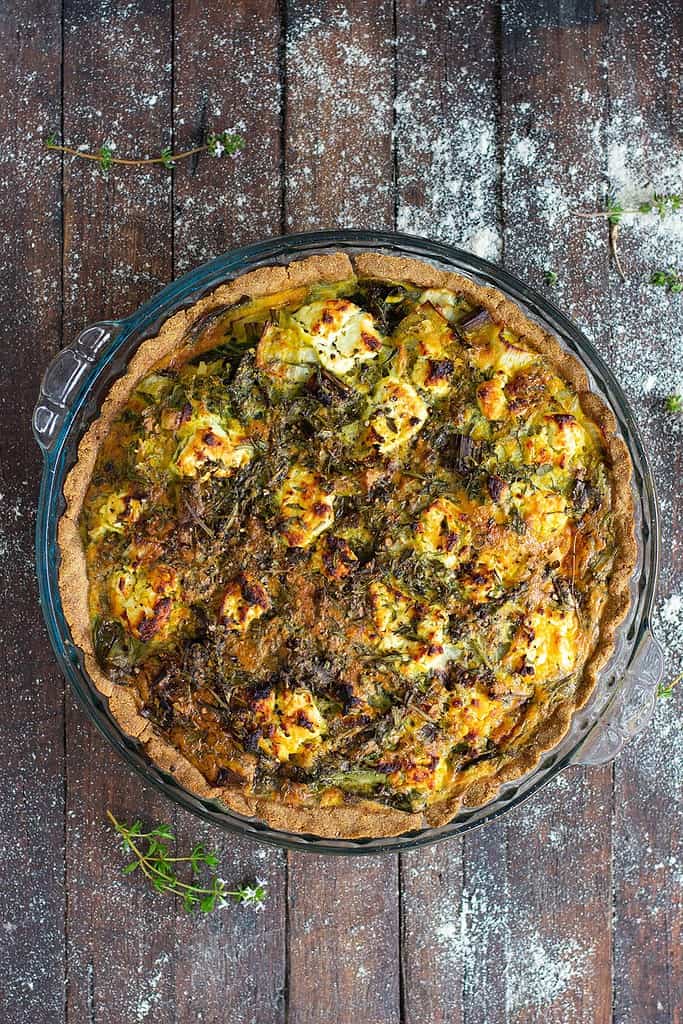 how to make gluten free pastry
Making a good gluten free pastry comes down to the right mix of gluten free flours with some form of binders that will hold everything together due to the MIA gluten. You also want some form of fat added to a pastry to give lightness and stop it from being too dry, which is super common with gluten free baking.
The key here for example is using psyllium combined with a gluten free flour like sorghum, which is quite light itself in nature. The psyllium helps create the 'gluten like' behaviour of sticking everything together, while the added eggs and oil provide a mix of fat for moisture and lightness with the rise of the eggs.
Essentially, if you want to make gluten free pastry you always need to think about what is going to provide the same (or similar) characteristics that gluten brings to the party? That being a stretchy stickiness that also allows room for expansion when heated for rise.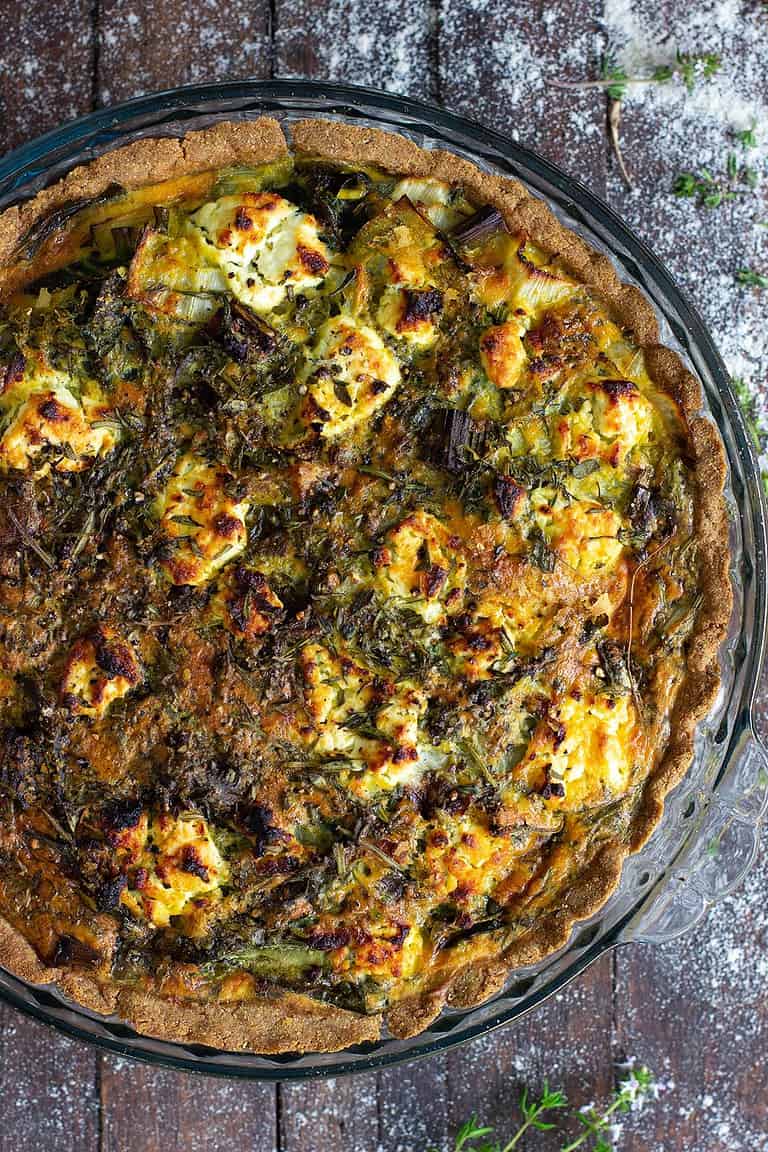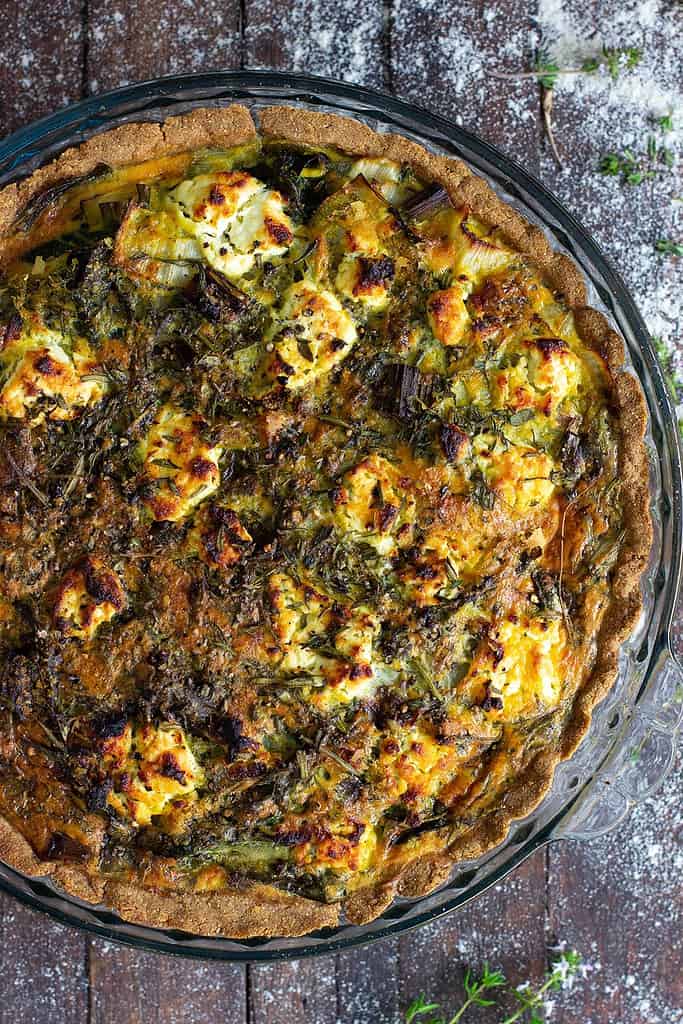 Quiche; your all-in-one macronutrient balanced meal.
The loss of time that goes into make a quiche is quickly gained back during the week when it comes to lunch (or dinner). We are avid fans at The JCN Clinic of batch cooked ingredients that can be thrown together to make a macro-balanced meal like a quick nourish bowl or buddha bowl. However, one of the joys in a recipe like this is the breeze of having a quiche as a pre-made lunch option for the week set to go. There is no need to pack multiple containers for work or think about what macros might need to be added (e.g. shit, I need to run down to the shops and get some tuna etc), its just an all in one meal ready to rumble.
To unpack this further and explain what macro is what in this recipe, the pastry of the quiche provides the majority of complex carbohydrates thanks to the sorghum flour. The 1/2 plate serving size of vegetables is provided by the large amount of greens, herbs and spring onion in the filling. The protein is provided by the eggs of course and lastly the fat through the extra virgin olive oil and egg yolks.
Now you can add a little something fresh and lively to the side as I tend to do too. This is often just a simply handful of chopped leafy salad greens and herbs dressed with some balsamic and more extra virgin olive oil.
Like what you're seeing? Subscribe for new recipes and nutrition tips every week!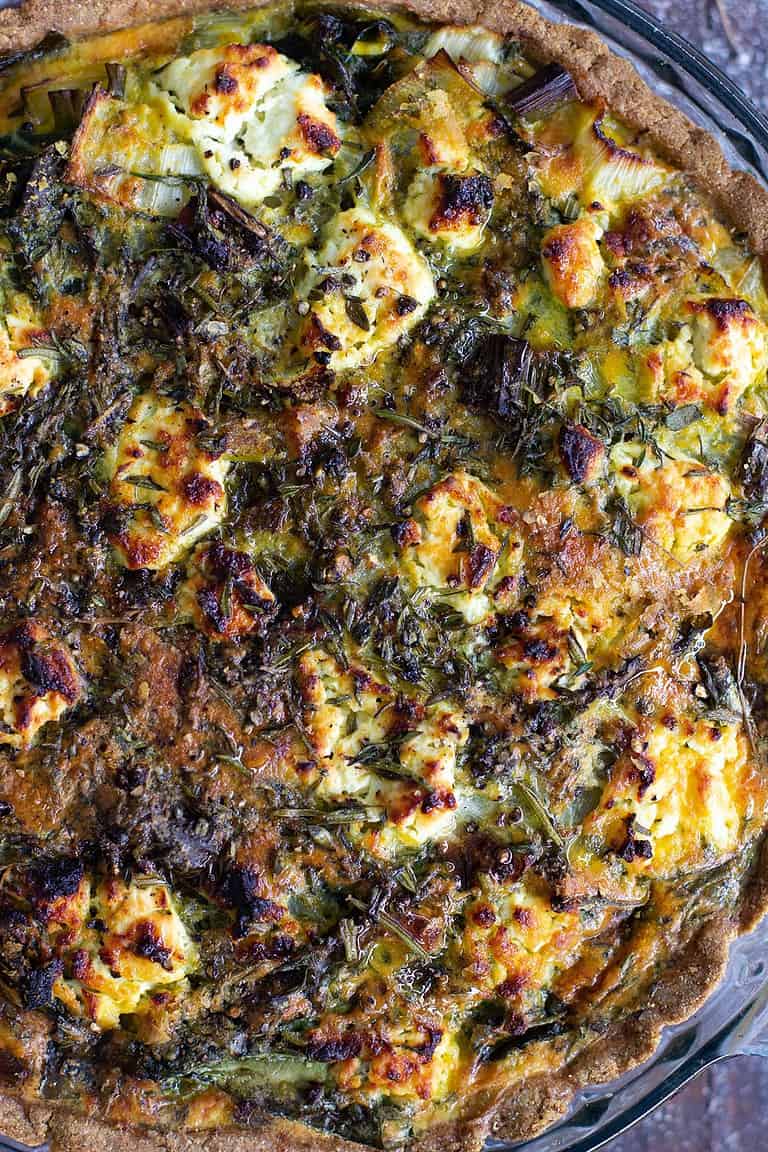 So yes, there is a bit more elbow grease in bringing a quiche together but boy is it worth it. There is nothing like all of those savoury flavours surrounded with the creaminess of the eggs, encased in a pastry filling. I'd also really encourage you after making this base recipe to explore other vegetable options as I often do. Seasonal greens work a treat, but so does many other vegetables like mushrooms, asparagus, roasted capsicum, leeks and well…the list goes on.
When it comes to the cheesy add ons, it's really a 'choose your own adventure'. Here I have the option of goats cheese, but you can add nut based cheeses or just stick with nutritional yeast. I'd also suggest adding a generous whirl of pesto to the top of the quiche before baking – delicious! xo
Need personalised nutrition advice catered to your needs?
If you are after personalised nutrition advice and dietary planning individualised to your health and dietary needs then contact us at The JCN Clinic with your enquiry. We are always happy to answer any questions you have!
gluten free silverbeet, spring onion & herb quiche recipe
serves

6

preparation time

90 min

cooking time

30 – 35 min
ingredients
// pastry //
1 1/2 cups sorghum flour
1 tablespoon psyllium husks
1/4 teaspoon salt
1/4 teaspoon pepper
1/4 cup extra virgin olive oil
2 eggs
// filling //
1 bunch silverbeet (chard), including stems – approx. 350g
1/2 cup chopped spring onions, whites and greens
3 tablespoons freshly chopped rosemary
1 tablespoon freshly chopped thyme
1/2 teaspoon salt
1/2 teaspoon pepper
8 eggs
1/2 cup nutritional yeast
1/3 cup plant based milk
1/4 cup goats feta or goats curd (optional)
method
Preheat your oven to 175c, fan forced.
Start with making the pastry. Combine the sorghum flour, psyllium, salt and pepper in a bowl and mix well. Make a well in the centre and add the extra virgin olive oil and the eggs. Mix well once again with a wooden spoon allowing the dough to come together. Now use your hands to knead the dough and bring into a ball. Wrap the pastry dough in a tea towel or recycled plastic zip lock bag and pop it in the fridge.
Now get started on the quiche filling. Use a sharp knife to remove the the stem from the silverbeet. Chop the stems up roughly and then roughly chop the silverbeet leaves.
Bring a large saucepan of water to the boil. Add the silverbeet stems and allow them to blanche for around 5 minutes, or until softened. Remove with a slotted spoon and place in a large sieve and set aside. Now add the silverbeet leaves to the water and blanche for 2 minutes then remove again with a slotted spoon and place in the large sieve with the stems. Set aside to drain (best to sit it over a bowl).
While the silverbeet is cooking bring a medium sized fry pan to a medium heat and add a drizzle of extra virgin olive oil. Add the chopped spring onions and gentle fry them to softened and starting to turn golden – around 5 minutes. Turn off the heat and set aside.
Now get your quiche egg mix ready. In another bowl combine the eggs, plant milk, salt, pepper and whisk really well to everything is incorporated. Add the nutritional yeast, rosemary and thyme and whisk again. Set aside.
Remove the pastry from the fridge. Place it directly into a shallow quiche dish and flatten it out with the palm of your hand to start. Essentially continue to use your hands to push the pastry out to cover the base and then up the sides of the dish. You may need to break bits off to put around the edges and then mould together in the joins.
When you are happy with the pastry place the quiche dish in the oven to blind back the pastry for 6 minutes, then remove and set aside.
Now to assemble! Give your silverbeet a good squeeze now its cooler to drain off any of the excess fluid. Take the quiche dish with the blind baked pastry shell and add in half of the blanched silverbeet. Now take half of the fried spring onions and scatter over. Repeat again with remaining silverbeet and onions.
Now gentle pour the egg mix over the top evenly distributed the mixture. You can use the back of a spoon to gentle push down on the silverbeet and onions to make sure they are nicely covered.
To finish, scatter with goats cheese if using (or even a nut cheese) and then dress with more nutritional yeast and any left over chopped herbs. Drizzle with some extra virgin olive oil and then pop in the oven to bake for 30 – 35 minutes. The quiche is done when it is firm to touch in the centre.
When ready, remove from the oven and enjoy immediately with a nice simple green salad dressed with balsamic vinegar.
This gluten free silverbeet, spring onion & herb quiche will last 4 – 5 days in the fridge well covered, otherwise freeze.
nutritional information for gluten free silverbeet, spring onion & herb quiche
Silverbeet (swiss chard) is a high source of vitamin A, K and C. Vitamin C is well known for its water soluble antioxidant activities, while Vitamin K plays a role in bone health through supporting bone formation. Vitamin A along with flavonoids beta-carotene supports mucosal membrane health, respiratory health and eye health.
Vitamin K found in silverbeet in abounding quantities is becoming more well known for its pivotal role in neuronal health. Vitamin K is essential for the synthesis of sphingolipids, an important component of brain cells that have cell signalling and communication functions. Many vital proteins are also vitamin K dependent within the central and peripheral nervous system. Vitamin K rich foods would certainly be advantageous in the diet of those prone to, or suffering from neuronal decline (eg. multiple sclerosis, dementia, alzheimers, parkinsons disease). (G. Ferland, 2012).
Jessica Cox is a qualified practicing Nutritionist with a Bachelor Health Science (Nutrition) and over 15 years of clinical experience. She is the founder and director JCN Clinic, published author and established recipe developer. Jessica is well respected within health and wellness space for her no fad approach and use of evidence-based nutrition.