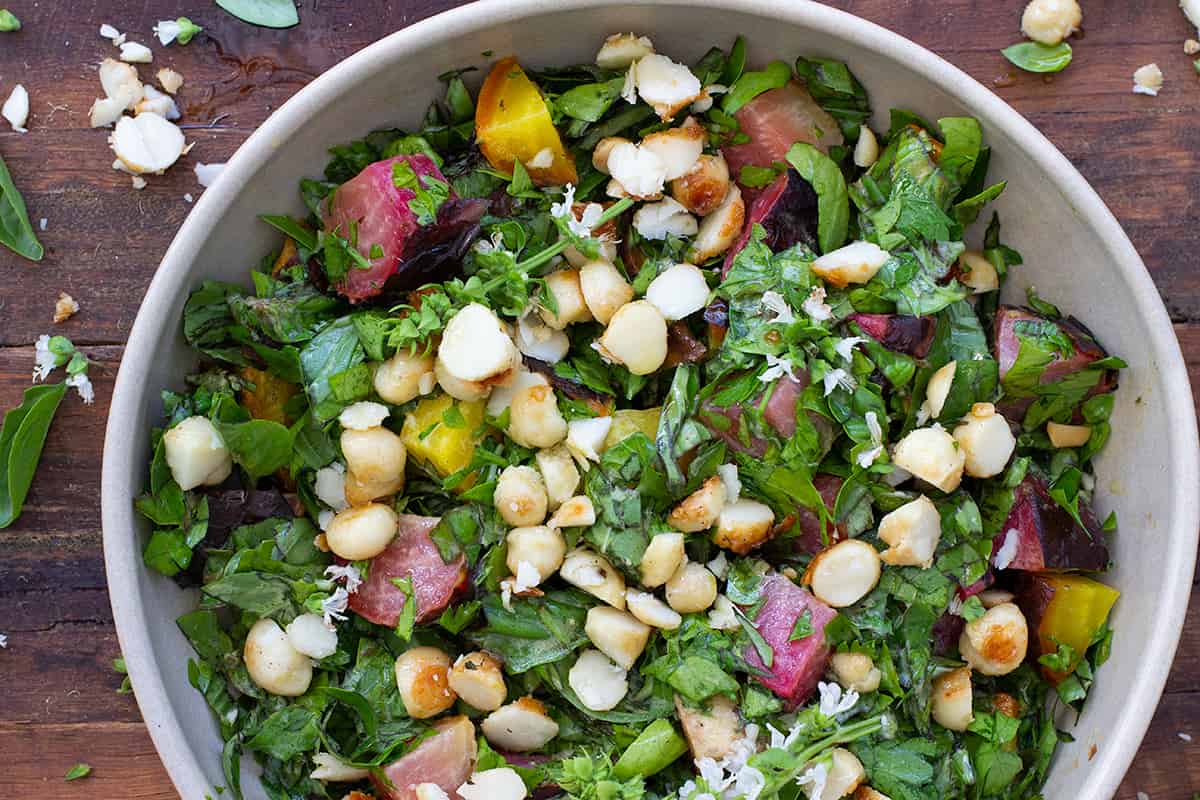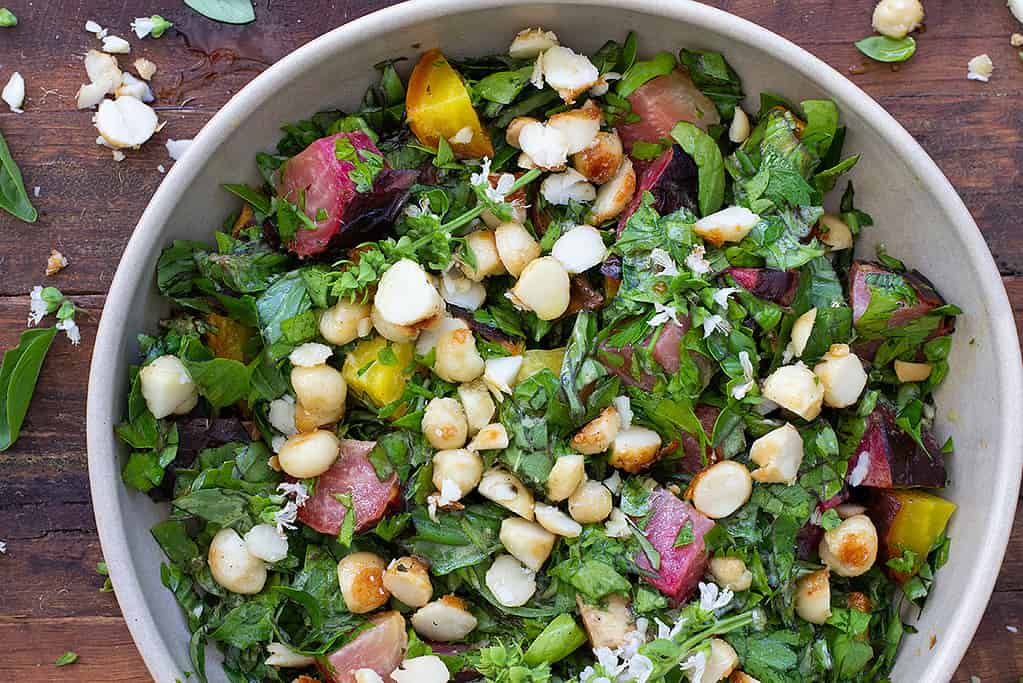 This beetroot, basil and parsley salad w honey macadamia nuts was driven purely by not only the seasonal ingredients at our new local markets, but also by what was literally left in the fridge. Since we've moved Dameon and I have stepped it up next level when it comes to creating a seasonal and more self sustainable lifestyle. At this point while we (Dameon) works hard at getting our seedlings going for our vegetable garden, planning the actual installation of the vegetable garden itself and also building the worlds most next level chook pen, we have been sourcing our produce to buy as local as possible.
Now this post isn't about virtue signalling. I'm not looking for brownie points or a pat on the back for living our best life in the public eye. Living a more self sustainable life is in my blood and I am innately passionate about it. I get that we all have our own levels of priorities and ability to invest in self sustainability, so I'm coming at this with no judgment.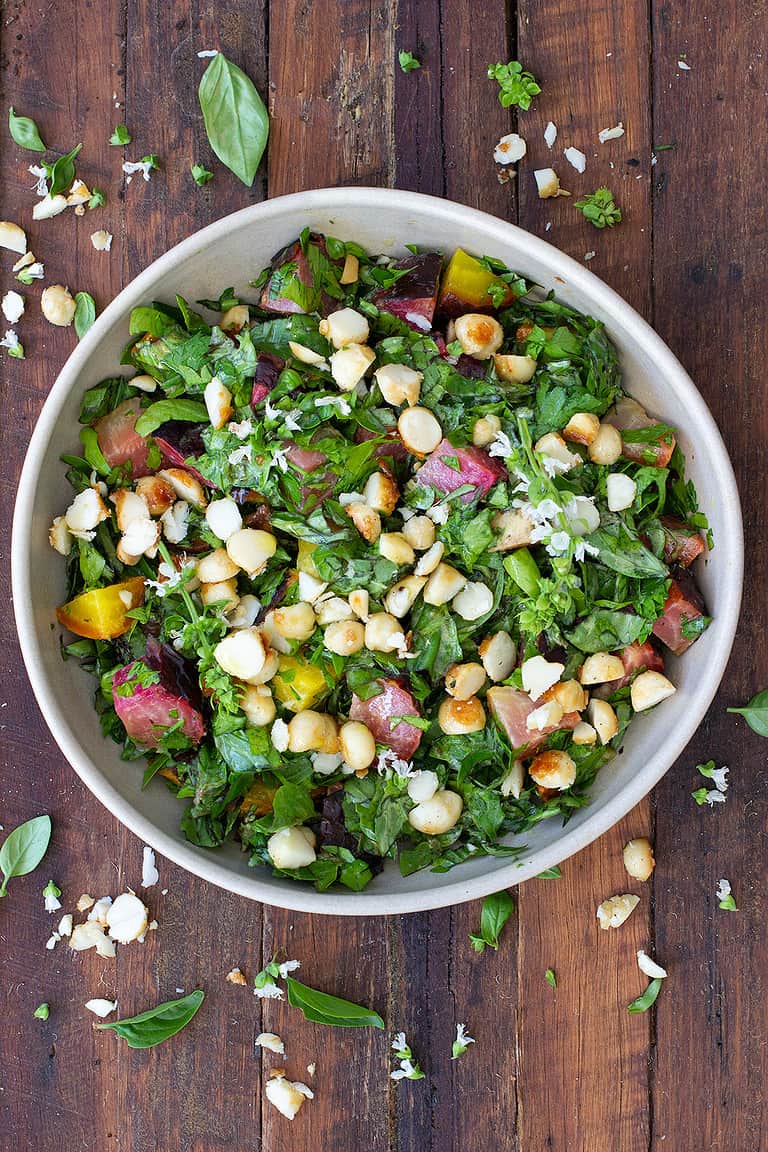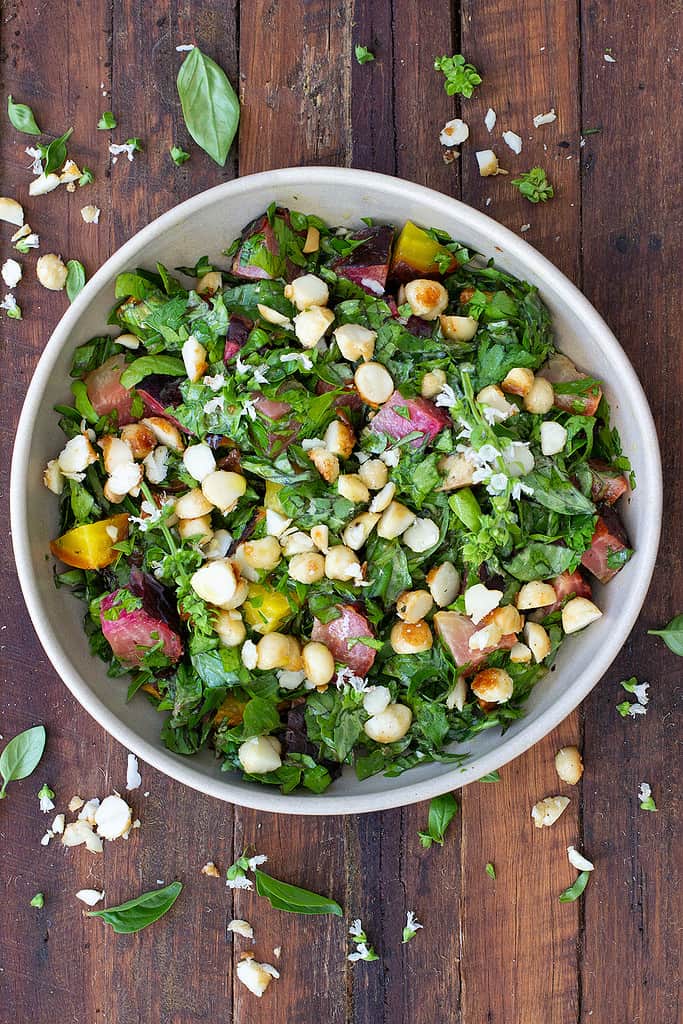 Ironically creating a life of self sustainability which in essence is about lowering your overall cost of living, often means investing a lot financially to get to that 'outside the box' place in todays society. For us, moving towards creating this lifestyle has meant first spending many years of hard work with renovating houses and building a business to be able to take the jump, without committing financial suicide. Now as we unpack in our new surroundings we are spending a lot to create the lifestyle we want – herbs and vegetables, seeds and seedlings, garden beds, dirt, chook pens etc. The list goes on. For many this type of spending would seem superfluous, but to us we can see the gain at the end that far reaches beyond the financial.
The other aspect with living a more self sustainable lifestyle in our Westernised society is that its not easy! You are butting heads with the system every single day. You come up against outside challenges and even internal challenges ever single day. I've come to learn that you need to figure out where the line in the sand is for you otherwise you can completely do your own head in.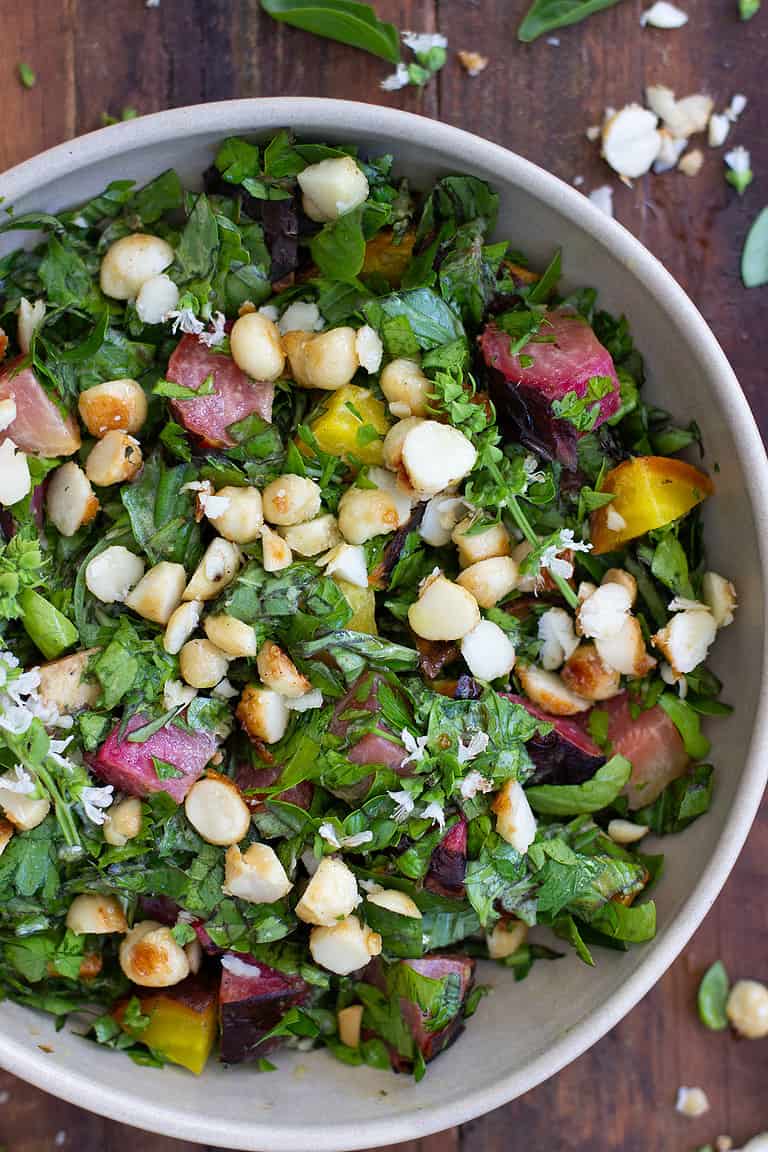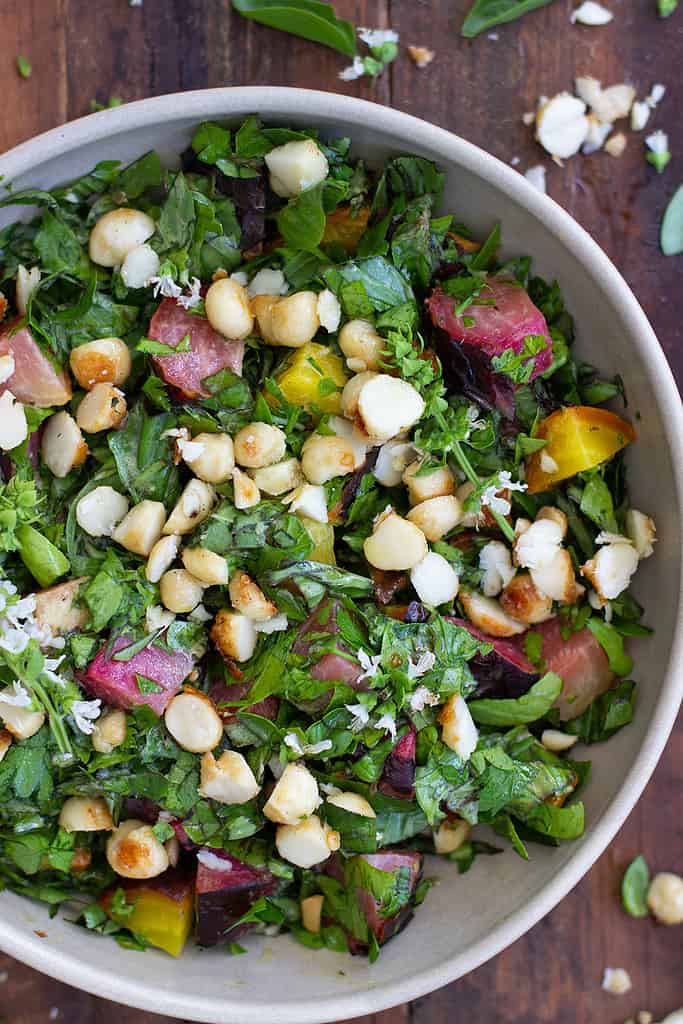 Case in point. I was at a new health food store in the past week with all my cloth bags ready to rumble and unfortunately this store didn't have the set up to support the use of your own bags. I had to make the decision after close to an hours drive whether to turn around and leave, or use their paper bags lined with plastic to get my bulk goods. After some internal debating and physical sweating (I get myself passionately worked up about these things) I decided to use my bags and then some of theirs, then make sure that when I got home I would store these new paper bags in my draws for ongoing use – i.e. not throw them out after one use.
It didn't end there. Moving to the Yarra Valley has also meant that I'm closer to The Vegan Dairy, some of my favourite products when it comes to alternative dairy free cheeses and products of the like. I really wanted to try their new fruit cheese, but found that instead of it being in their usual mini glass jars it was wrapped in plastic. Imagine a person standing in the cold isle starring at a block of cheese intensely, then putting it back on the shelf, then picking it back up, then putting it back. Then walking away. Then walking back and picking it and taking it with them to the counter feeling guilty/excited/mentally challenged.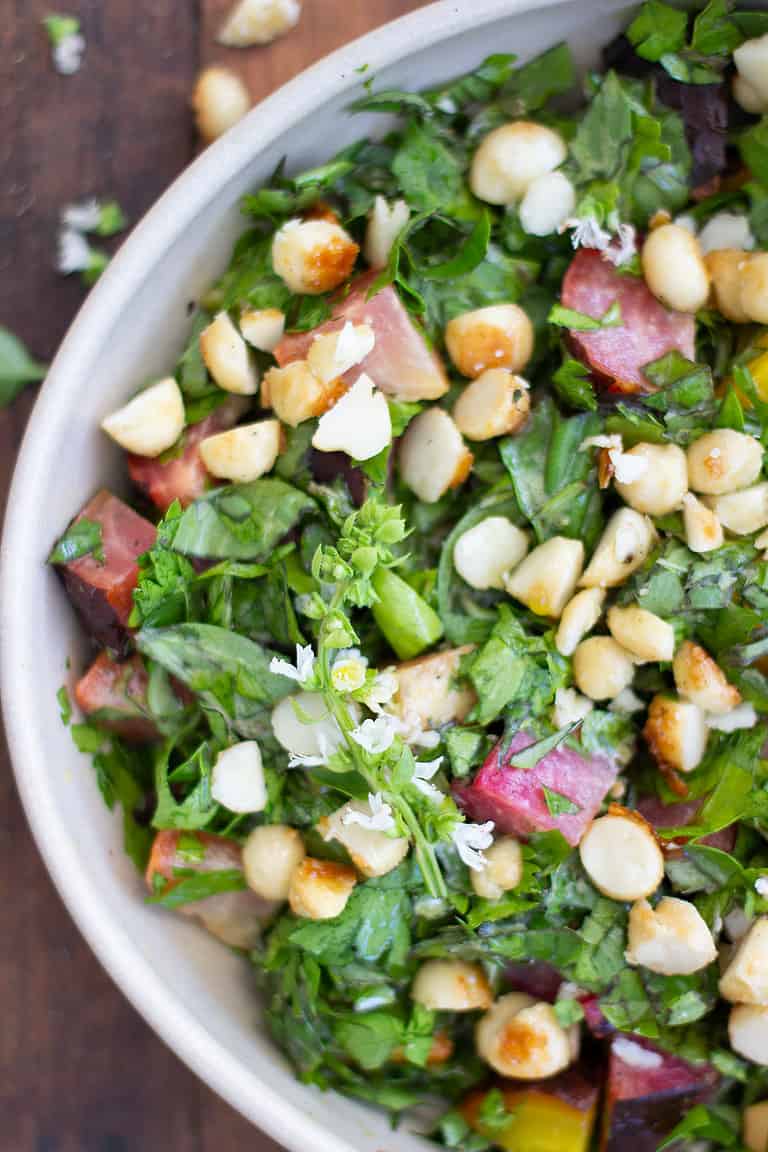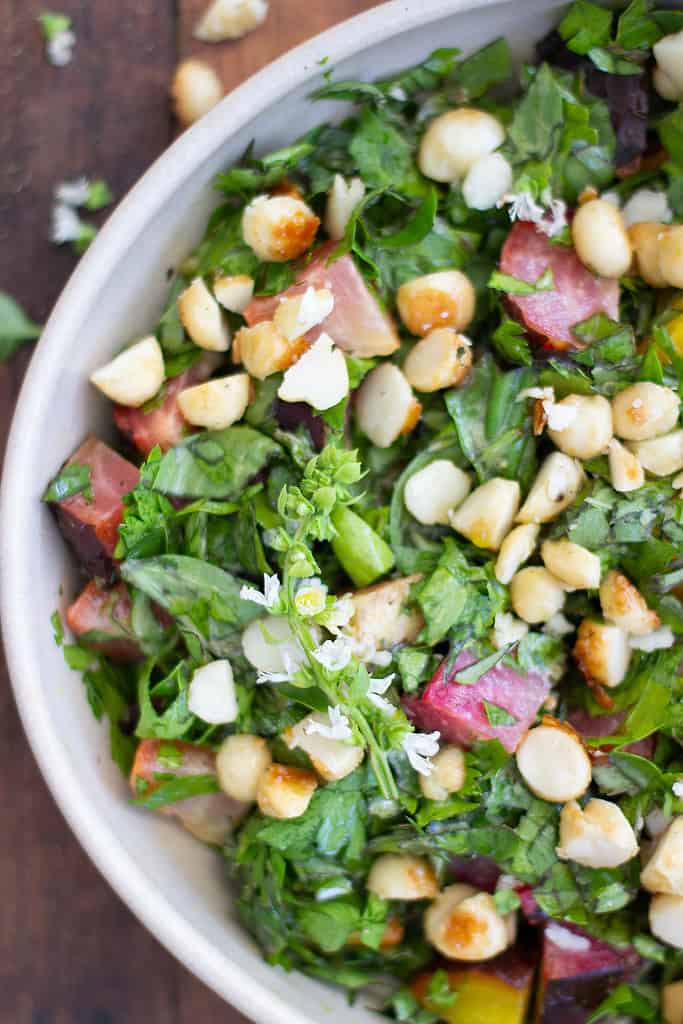 So you can image that there was a lot less stress that went into putting this Beetroot, Basil & Parsley Salad w Honey Macadamia Nuts. I got to pull together the most seasonal ingredients and toss them with beautiful extra virgin olive oil and tangy apple cider vinegar. This is the way I want to so dearly prepare food more and more as we build our life here. I want to be able to walk out to the garden and pull the beets, cut the herbs and one day pour our own olive oil. Not because it's trendy or a looks good on Instagram, but because it speaks dearly to my heart and soul – and for me is what life is about.
Like what you're seeing? Subscribe for new recipes and nutrition tips every week!
beetroot, basil & parsley salad w honey macadamias
serves

4 as a side

preparation time

20 min

cooking time

45 min
ingredients
600g medium sized beetroots (mixed colours if available)
1 cup tightly packed chopped parsley leaves
1 cup tightly packed chopped basil leaves
1/2 cup raw macadamia nuts
1 teaspoon honey
1/8th cup (2 tablespoons) apple cider vinegar
1/4 cup extra virgin olive oil + extra for roasting beets
1/8th cup (2 tablespoons) dijon mustard
generous pinch salt & pepper
method
Preheat your oven to 180c, fan forced.
Wash the beets well to remove any dirt. Cut off any dangly tail bits and the stalks, but otherwise leave them whole with the skin on. Place the beets on a baking tray and then coat them in some extra virgin olive oil and season with salt and pepper. Place the tray with the beets in the oven to roast for 40 – 45 minutes. Basically you want the beets nice and soft in the centre. To test if they are done, stick a butter knife into the top of one of the beets through to the centre. If it's ready it should slide in easy.
In the interium, place a small saucepan on the stove at a very low heat and add the macadamia nuts. Keep them moving with a wooden spoon or by just gently shaking the pan. Continue to pan roast them until they start to turn golden, this should take only 3 – 4 minutes. Once they are golden, add in the teaspoon of honey (careful, it can spit) and then use a wooden spoon to quickly coat the macadamia nuts in the honey. Keep them moving as its gets quite sticky. Turn the heat off and remove the pan from the oven and set aside.
Next, while the beets are still cooking, place the apple cider vinegar, extra virgin olive oil and dijon mustard in a small jar and season with salt and pepper. Place the lid on the jar and give it a good shake. Set aside.
Once the beets are ready remove the tray from the oven and let them sit for at least 10 minutes to cool a little and also soften in their skins further. When they have cooled down a bit and are looking extra wrinkle, take the beets and chop them into rough bite sized cube shapes. Leave the skin on the beets as this is extra fibre!
Place the chopped beets in a large serving dish. Now add the chopped parsley and basil. Take the jar with the mix of apple cider vinegar, evoo and mustard and pour over the beet and herb salad. Toss well ensuring everything is coated nicely.
Now take your macadamia nuts from the pan (they may be a bit stuck thanks to the honey, so just give them a good nudge with the spoon) then roughly chop them up. Scatter the chopped honey coated macadamia nuts over the beetroot, basil and parsley salad.
Before serving, drizzle with more extra virgin olive oil.
Store in an airtight container in the fridge for up to 4 days.
nutritional information
Beetroots are a rich source of folate, manganese and potassium. Beetroot is also a rich source of glycine betaine, a phytochemical compound. Betaine can help lower homocysteine levels (a cardiovascular risk marker in blood tests), which has been associated with promoting clotting and plaque formation detrimental to blood vessels. Betaine additionally supports the glutathione pathway of detoxification in the liver making it a fabulous choice for liver health.
Jessica Cox is a qualified practicing Nutritionist with a Bachelor Health Science (Nutrition) and over 15 years of clinical experience. She is the founder and director JCN Clinic, published author and established recipe developer. Jessica is well respected within health and wellness space for her no fad approach and use of evidence-based nutrition.