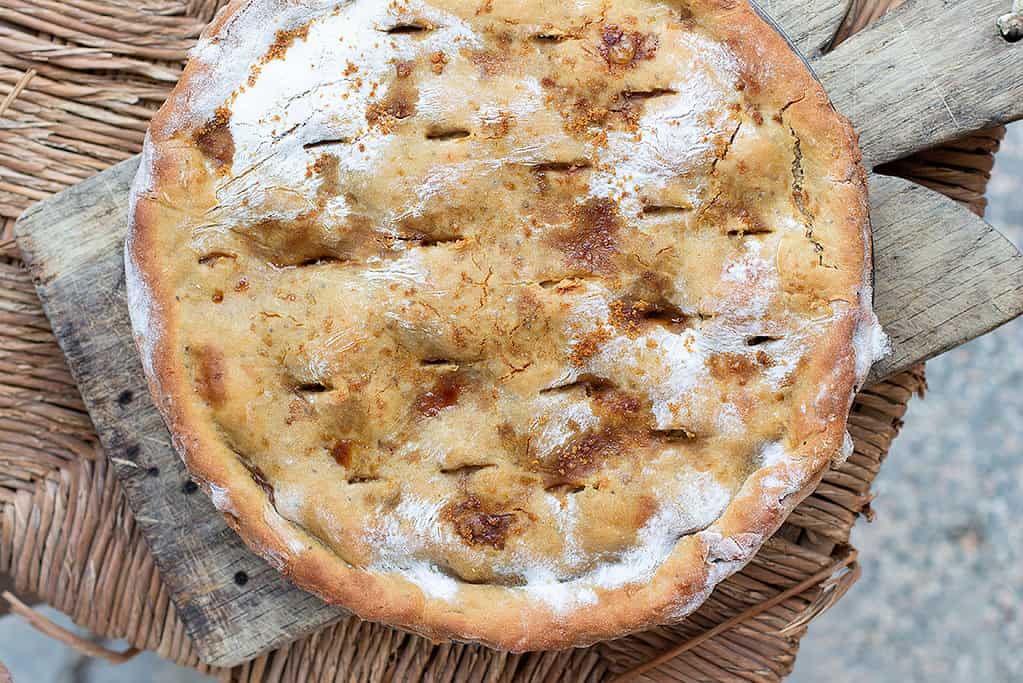 So this is one of the recipes I planned on sharing with you when I was away. I even got out the camera and photographed it in anticipation of putting the full blog post together. That might not sound like much of a chore, but with the relaxed level that I was at when baking this pie it was an effort, trust me.
While staying with our dear friend Enrico at La Selvatica in Nonantola we had the absolute pleasure of meeting his circle of friends, or really extended family. La Selvatica is about community, about keeping everything local and that includes the extension of a warm welcome to Enrico's home.
Each Monday night there is a gathering at La Selvatica where friends come with something to contribute to dinner and to enjoy an evening of each others company. These nights are not planned as far as what to cook and who is bringing what, they are simply a 'turn up with something' and let's see what we can make from it. This often means ingredients pulled from peoples gardens and homemade brews of alcohol dusted off for sharing.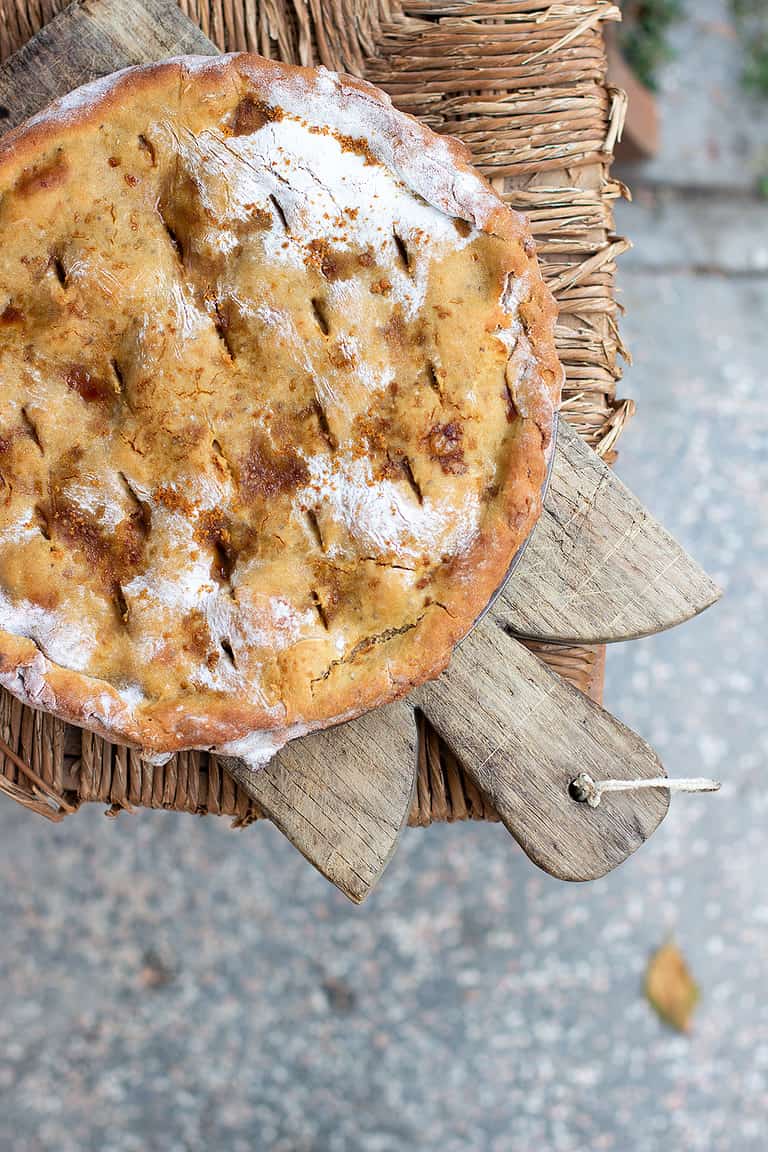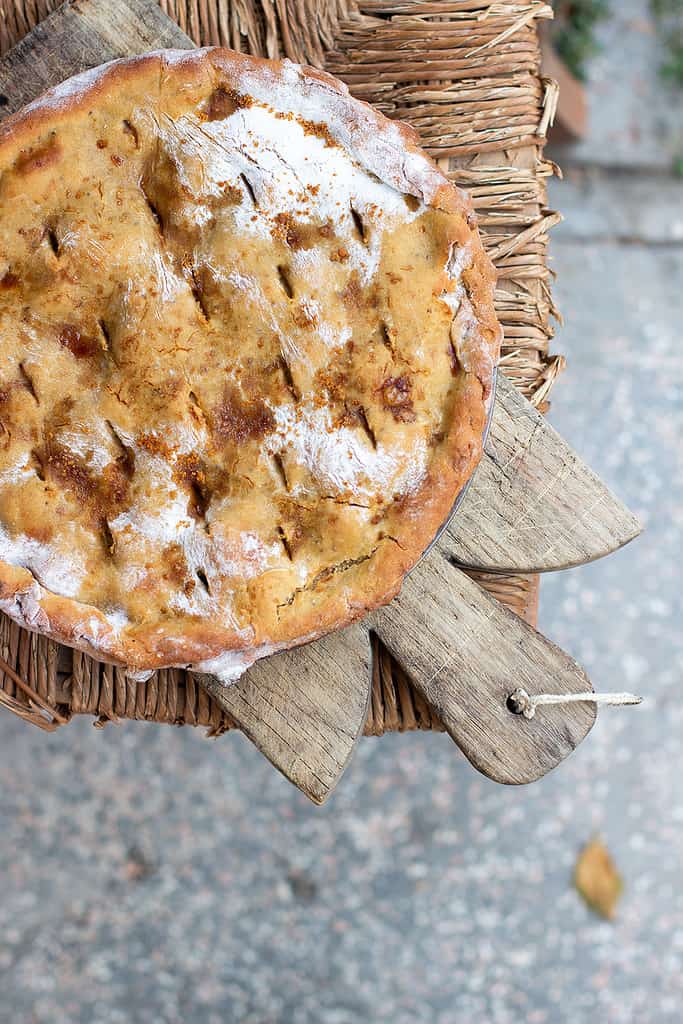 On this particular Monday I had baked this Apple Pie. The tree outside Enrico's door was covered in apples and they were screaming to be used. I had bought flours for baking bread and cakes so I had everything I needed. Abundent eggs from Enrico's chicken and of never ending supplies of extra virgin olive oil meant these staple ingredients where never an issue. Everyone who stays at Enrico's tends to leave something behind as far as food goes, so his cupboards are filled with spices and all the baking delights for someone like me. I don't think Enrico has a clue as to what is up there, he just knows that the his friends will raid it to make him delicious food and that is super fine by him.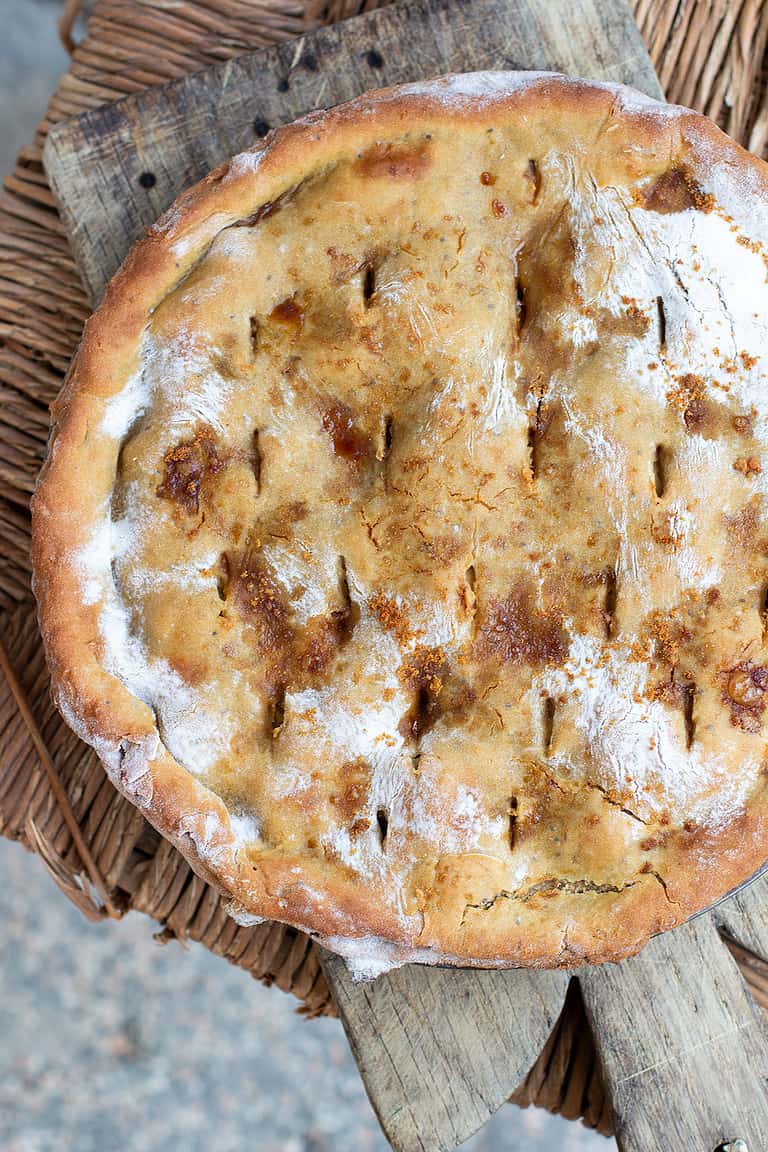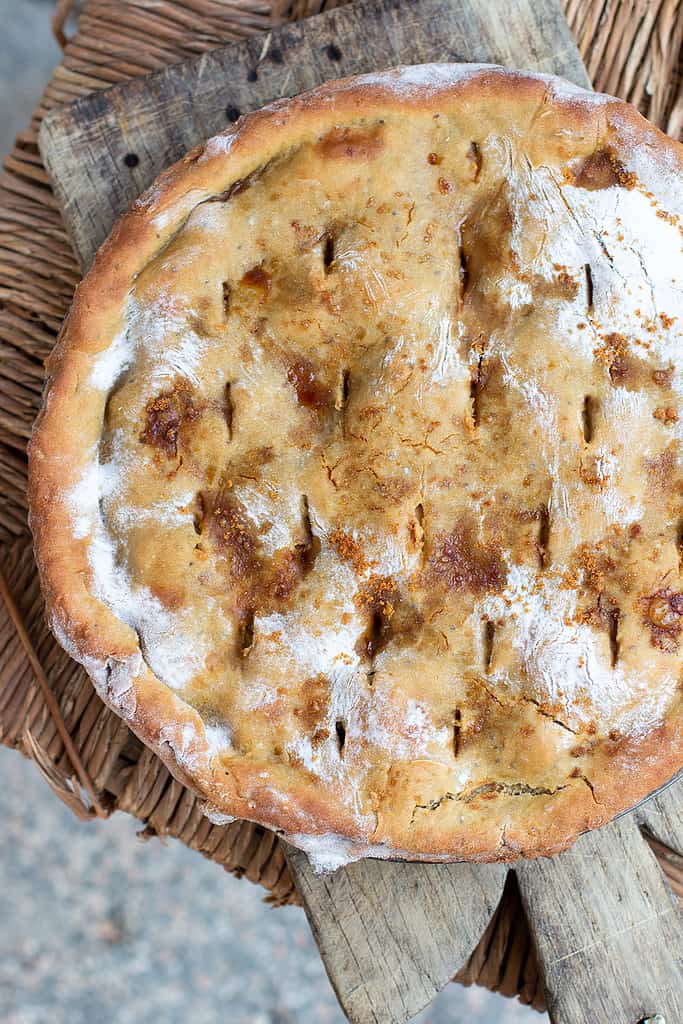 On this Monday the Apple Pie had finished its baking around midday and we all had to deal with the smell of it wafting through the house, which was hard, believe me. Everyone wanted to get into it but it was banned to touch until the evening rolled around.
You can imagine my nervousness at feeding a bunch of passionate foodie Italians my Apple Pie who live and breathe great produce from a foundation of permaculture. I mean each week posting recipes for you is always slightly nerve wracking; will you or will you not like it? But this guys, this is next level. When an Italian woman cuts into your Apple Pie to remove a piece and takes those first mouthfuls, you almost feel the undercurrents of a panic attack.
Luckily for me, I'd done a good job! The pie was cut up enthusiastically as you will see here with a bread knife, then served out to everyone at the table. That being said, no one passes on food in Italy, especially dessert.
To show you the level of care these beautiful people have for their produce, one of the woman asked me where the apples came from that I had used to make the pie. Once I told her, "off Enrico's tree out there" and pointed, she sighed a happy sigh and proclaimed that she would now try some. If I had bought the apples from the supermarket she was not interested. As simple as that.
I'm not sure if I can explain the delight I felt watching everyone dig into my Apple Pie that evening. When the Italian women look up at you, mouths full of those first big bites, eyes sparkling with approving joy and using their index finger to turn back and forth in their check (meaning delicious!) you feel like your heart is going to burst. "Buono Jessica! Buono!!" Was there ever a happier moment for this foodie?
Enthusiasm for meals is often followed by lots of questions, which I love as it means talking about creating meals! "Jessica, what flour is this?" "Jessica, is there butter?" Most of them knew I was not eating gluten or dairy so they were intrigued by how the pastry had come together. No detail is too much and for me it is the ultimate to not only explain ingredients but also to talk about how they are used in alternative style baking, in my crappy Italian!
Suffice to say this Apple Pie did not last long. Eating a freshly baked slice myself along with everyone else at that table that Monday evening at La Selvatica is a memory I will hold close forever.
Dameon and I left La Selvatica with cherished memories and solid friendships. It's hard to leave a place that feels so easily like home, and Enrico's home always feels like our home. We've connected with so many beautiful people there, including our dear friend Karin (hi Kaz if you are reading this!) along with Enrico's lovely family. People like this don't come into your life easily, so when they do you hold them close.
For us, leaving Italy was hard. Yes it's a beautiful place filled with so much to explore, eat and drink. However, more so now we feel we have become part of a community there. We feel connected to a 'family'. That is something you cannot buy or go sight seeing for. It is also something that is very hard to leave behind. Yes we have family and friends here in Australia who we love dearly, but when you make new connections they are not something that you can pack away when you return like your suitcases.
The positive of course is that we have life long friends! Not only in Nonantala but also in Brollo in Tuscany with Michelangelo and Silvia (you can read more about their stunning hospitality from our first trip here). That connection means that we will always visit time and time again. It might not be as regularly as we would like, but when we do we know those times spent together will be ever so precious.
For now, I have the glorious nature of food and it's ability to connect you. This Apple Pie does that spectacularly for me. It takes me back to those memories as I knead the dough, as I smell the cinnamon baking in the apples and when I cut into the olive oil 'buttery' crust.
When making this Apple Pie, I encourage you to use seasonal ingredients. Yes this is an 'apple' pie, but please use what fruits are at at your door step. For now that might be stone fruit and in the cooler months it might be a mix of apples and pears. Seasonal produce will always give you the best of flavour, and the best of compliments from an Italian.
Like what you're seeing? Subscribe for new recipes and nutrition tips every week!
apple pie
serves

makes 8 – 10 pie slices

preparation time

2 60 min

cooking time

25 – 30 min
ingredients
This recipe uses Maggie Beer's gluten free pasty, with adaptions below in method*
80g sorghum flour
40g brown rice flour
30g tapioca flour
1/3 cup rapadura sugar or coconut sugar
1 teaspoon cinnamon
1 cup water
2 teaspoons salt
2 free range eggs
90g (1/3 cup) extra virgin olive oil 5 medium sized apples, any type you like
1 stick cinnamon
6 cloves
method
*Maggie Beer's gluten free pasty is one that I come back to time and time again. I find it very forgiving for adaptions to suit dietary requirements and also what you have in your pantry. In this recipe you will swap the butter for the extra virgin olive oil and you will combine the sorghum, brown rice and tapioca flours to make the gluten free flour blend. Don't worry too much about not having the added xanthum gum, I find it works fine without it. I've also added the cinnamon and sugar to sweeten the pastry for the pie.
Preheat your oven to 190c.
In a large mixing bowl combine the sorghum flour, brown rice flour and tapioca flour with the sugar and cinnamon. Mix well and set aside.
In a medium sized saucepan place the water, salt and extra virgin olive oil and bring to a simmer.
Turn the water and oil mix down to a very low simmer and add in the flour mix, stirring with vigour! It will come together into a big sticky lump. Remove the saucepan from the heat and set it aside to cool a little.
While the pastry is cooling, cut the apples in half and remove the core with a knife. Keep the skin on, as there is lots of good stuff in there for your microbiota! Now cut the apples up into roughly diced pieces.
Place the apples in a saucepan and add about 1/2 cm of water to the saucepan, enough to just ensure as the apples cook that they will steam with this water and not burn. Add in the cinnamon stick and the cloves. Bring the apples to the boil and then turn down to a very low simmer and cover. Let the apples simmer for a good 20 minutes, stirring occasionally and adding a little more water if needed. The apples are done when they are nice and soft and falling apart.
While the apples are simmering, take your dough and either place it in a food processor if you have one or simply complete this next step in a bowl. Add one egg and mix well until incorporated into the dough. Add the other egg and mix again. The dough at first will be quite sticky but it will come together as you knead it.
Tun the dough out onto a well floured surface and begin to knead it. You will need to ensure the surface has lots of flour (I use more sorghum flour) and that your hands are well coated too. Knead the dough until its nice and shinny and no longer super sticky. Once you are happy with the dough, pop it on a plate and cover it with a tea towel and place in the fridge to rest for 15 minutes.
Once the dough is ready, take it from the fridge and cut it roughly in half, with one piece a little bigger than the other, as the base always needs little more dough. Start with the larger bit of dough and roll this out using a rolling pin that is covered liberally with flour. I often like to use two sheets of baking paper to roll the pastry dough out between to stop it from sticking to everything and causing a kitchen melt down. Basically roll it out until its the size of the bottom of a regular sized, pie dish with an extra 2cms to allow for pasty to go up the sides of the dish.
Carefully take the dough and place it into a lightly oiled pie dish. If you have used baking paper this can be done by removing the top piece of baking paper and then flipping the pastry over into the pie dish. Sounds easy right? Haha, good luck. I suggest asking someone to help you here if you are prone to getting angry in the kitchen really easy like me.
Ensure the base pastry lines the bottom of the pie dish and also comes up the sides. If you have excess you can always cut it off and the use it to patch fill any dodgy areas. Place the pie dish with the pastry base in the oven for 5 minutes to blind bake.
While the base in blind baking roll out the remaining pastry between two sheets of baking paper again, large enough to cover the top of the pie dish. Set aside.
Remove the pie dish from the oven and now take your stewed apples and carefully pour them into the pie dish. Remove the cinnamon stick and the cloves. Use the back of a spoon to even the stewed apples out in the pasty base.
Just before adding on the pastry lid, dip your finger in some water or left over juice from the stewed apples and run it around the edges of the pastry base where the lid will join, as this will help it seal.
Now take the rolled out pastry lid of the pie and carefully place it on top. You can use your fingers to pinch the pastry edges together and encourage it to stick to the base. Use a butter knife to poke some steam holes in the top of the pie. Sprinkle the top of the pie with a little extra rapadura or coconut sugar. Place the pie in the oven to bake for around 25 – 30 minutes, or until golden brown.
Remove pie and allow to cool in the pie dish, or at least give it a good 1/2 hour before cutting into it. Serve alone or with a drizzle of good honey or dairy free yoghurt.
nutritional information
Apples are a rich source of folate, choline, calcium, phosphorus and potassium. They also pack 4.4g fibre per medium sized apple making it a great food to keep you regular.
It's true what they say, an apple a day keeps the doctor away! Apples are also extremely rich in polyphenols and research suggest that some of these potent antioxidants found in apples can protect against oxidative stress – a major contributor to ill health. (Carrasco-Pozo et al, 2010) Polyphenols act as potent anti-inflammatory agents, antioxidants and help modulation gut bacteria species, all highly beneficial for gut restoration and building of mucosal integrity. More specifically (and thanks to the work of Dr Michael Ash) stewed apples have been hypothesised to increased regulatory T cell promotion in the digestive tract consequently changing dendritic cell regulatory function, thereby increasing oral tolerance. Think of dendritic cells like cells with long arms that reach through the intestinal wall to taste what is passing by inside the intestinal tract in the mucosal tissue. This increased 'oral tolerance' means these dendritic cells are more likely to provide a tolerance to food proteins instead of an over reactivity.
Jessica Cox is a qualified practicing Nutritionist with a Bachelor Health Science (Nutrition) and over 15 years of clinical experience. She is the founder and director JCN Clinic, published author and established recipe developer. Jessica is well respected within health and wellness space for her no fad approach and use of evidence-based nutrition.