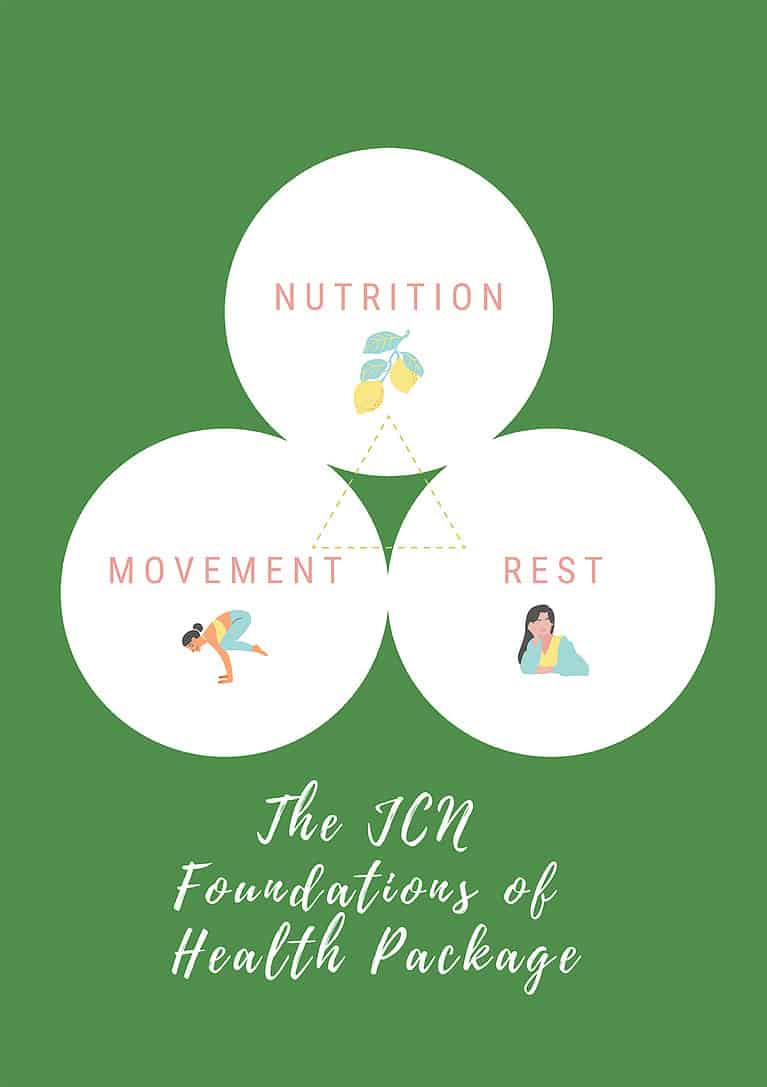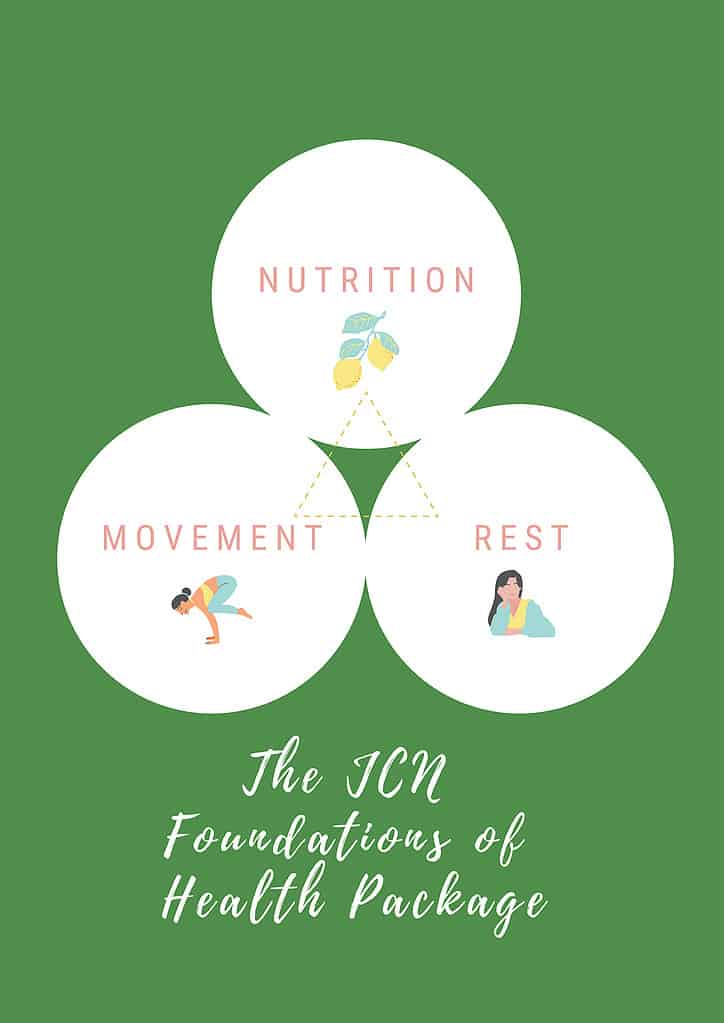 The JCN Foundations Of Health Package is aimed at teaching you what we call the foundations of healthy living that underpin a healthy lifestyle. At the JCN Clinic we see many a complex case where these foundational processes are already in practice. However, there are many of you out there who need direction and guidance when it comes to where to start. What's more, often when we see you apply the foundations we regularly see a drastic improvement in your overall wellbeing.
The three foundational pillars are:
1. nutrition
Learn what macro-balanced eating looks like, what a plant based approach means whilst encompassing a broad seasonal palate of ingredients without restrictions.
Learn what foods are rich in fibre and the diversity of options that you can include in your dietary intake to 'feed' a healthy gut.
Develop a eating style and habit that works for you that you can really work with as a long term lifestyle change.
2. movement
Great nutrition is supported by regular movement, and this looks different for everyone. Find a regular movement routine that works for you and build this into your weeks.
At The JCN Clinic we also have the additional option of providing you with a fantastic personal trainer and physiotherapists if required (online programs available).
3. rest
Great nutrition and regular movement will not give you anywhere near as much benefits without ample rest. Within this program we will help you work out how you can incorporate rest into your week/days.
Remember that everyone is different! Carving out rest time does not always mean meditation and yoga. We are open to endless options here.
Sleep is imperative in this area. Your JCN Nutritionist will work with you to develop more ideal sleep patterns and encourage healthy circadian rhythms.
This package is designed to fundamentally educate you. Our goal is for you to become not only confident with what to eat, but for you to create a foundational approach that is easy to keep consistent after the package ends. No longer will you be confused over the bombardment of social media dietary spam!
Of course at the end of this 12-week program our goal is for you to feel great! Generally if you do not have a solid foundational base then there is no way that you will not notice a difference when following this program. The JCN Foundational Package does not include functional testing or supplements, it is purely about creating a baseline of good health and showing you that feeling great is achievable (and enjoyable!) through nutrition.
jcn foundational package structure
Prior to your initial appointment you will fill out a comprehensive JCN New Client History Form that will enable your JCN Nutritionist to have ample information on your current health and dietary intake habits.
The package includes:
X1 Initial 1 hour consultation – your JCN Nutritionist will work with you to create a customised nutritional and lifestyle foundational base plan. Please also note that this initial plan is a starting point only. Our goal is to not overwhelm you, it is to educate you and have you grow week to week with obtainable goals.
This consultation will also involve lots of deep diving on our behalf into your daily routines to really get inside your personal habits, helping us create a realistic base for you to start with.
X5 30 minutes follow up consultations – each fortnight you will meet again with your JCN Nutritionist to build further foundational elements into your program. Real change takes time and consistency, so it is imperative that we support you through this program and gently create new concepts to create realistic long-term changes.
At the end of this 12-week program you will feel confident in moving forward! Our reward is to see you look back on what you have achieved with a sense of pride, but also a sense of 'that was easier than I thought!' and our favourite, 'healthy eating is delicious!'.
Weekly educational webinars – Free access for package members only to our JCN weekly webinar hosted by a JCN Nutritionists specifically catered towards building your foundational knowledge further.
Cost: x3 monthly instalments of $215.00 for the 12 weeks of the program.
Please note, this program is for entry level into healthy eating. If you already feel you have a solid nutritional base of the above and that your health issues run deeper then please contact us at the JCN Clinic to organise alternative assistants or guidance towards a more suitable package.
bookings
To make a booking, simply visit the JCN online booking system here and choose a time suitable for your Initial Consultation. Alternately, feel welcome to pop us an email at reception@jessicacox.com.au or contact us here with any questions, or to make a booking via email. This package is available nationally and internationally.
Nutritional consultations are covered by a variety of health funds, so please check with your insurer to see if you are eligible.
Jessica Cox is a qualified practicing Nutritionist with a Bachelor Health Science (Nutrition) and over 15 years of clinical experience. She is the founder and director JCN Clinic, published author and established recipe developer. Jessica is well respected within health and wellness space for her no fad approach and use of evidence-based nutrition.