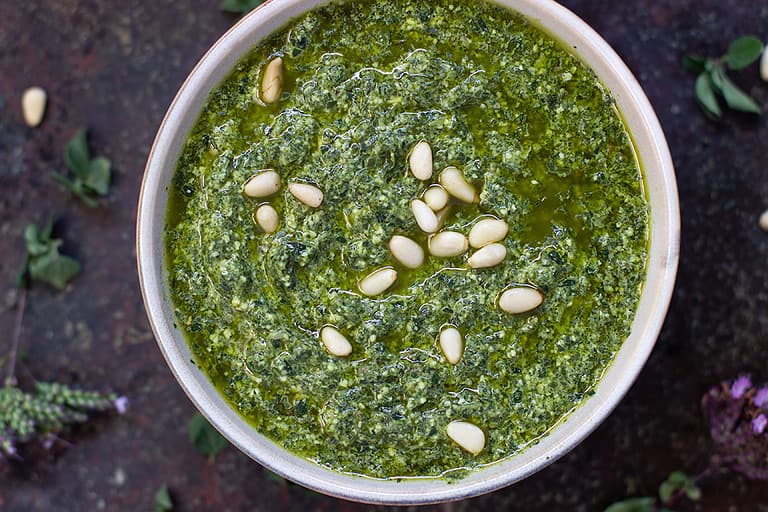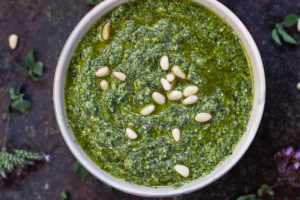 oregano and basil pesto recipe
This is one of those recipe creations that is really about pushing the boundaries of functional/medicinal foods. Pesto is nothing new, but oregano is a herb that is usually used sparingly in cooked dishes. It is certainly not a herb that one equates with eating in abundance, especially in its raw form. Hopefully this oregano & basil pesto recipe is going to invite you to step outside the box.
More commonly than not, when we deal with microbial overgrowth in the gut at The JCN Clinic with our clients, we use plant based oils. A very large percentage of the ingredients you find in supplemental antimicrobials are sourced from herbs, in particular the everyday culinary herbs such as rosemary, clove, cinnamon, thyme and oregano. Herbs are therefore one of our favourite functional foods to include in your day to day diet for their medicinal properties.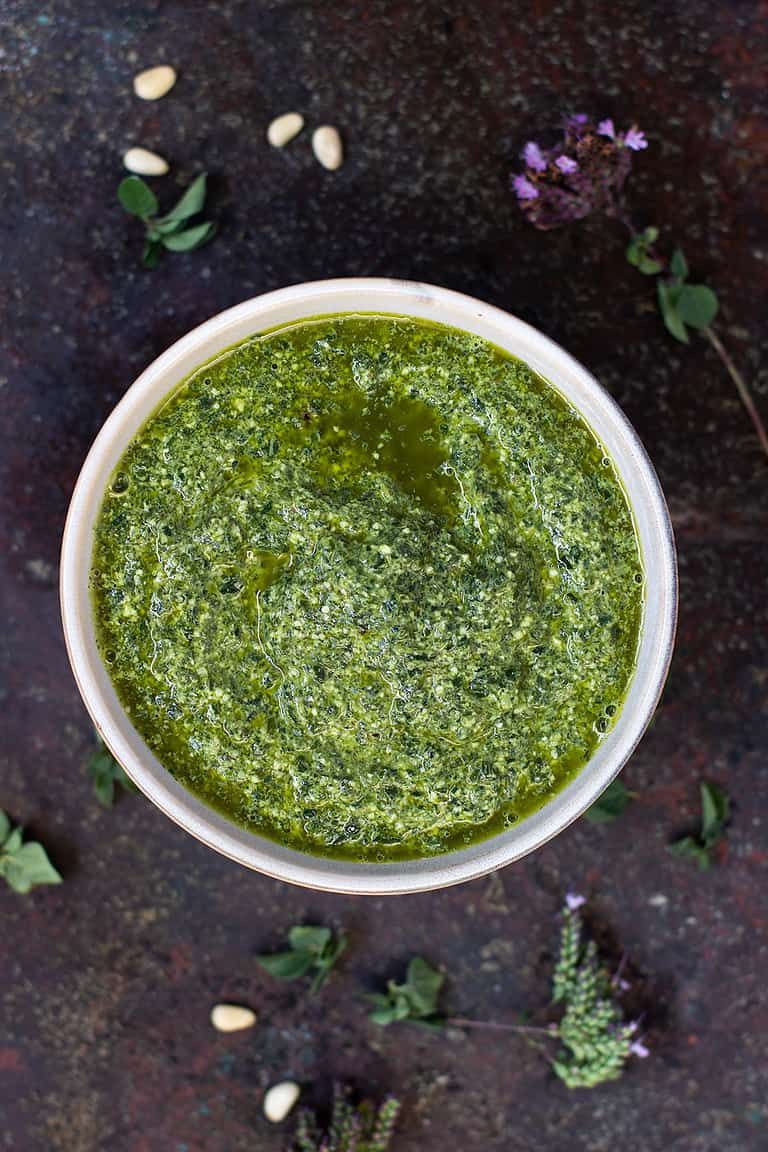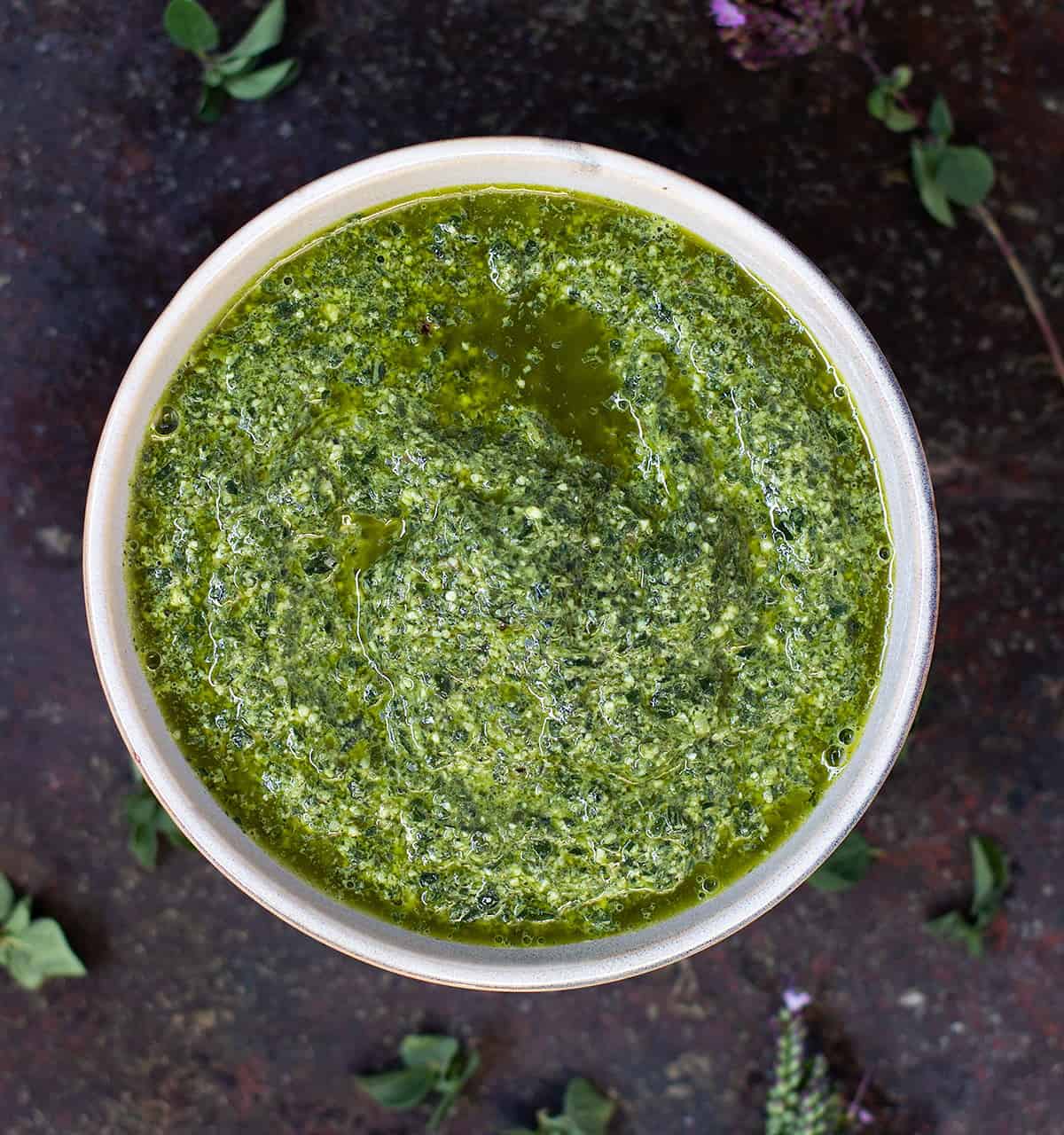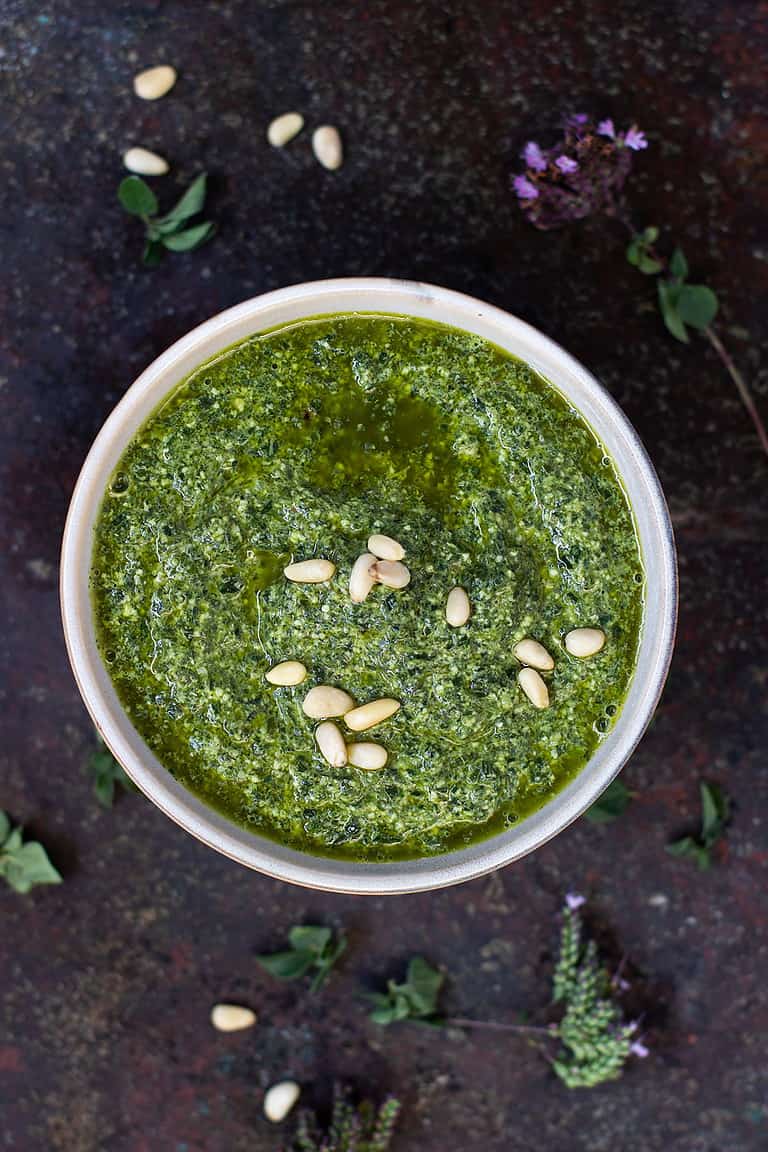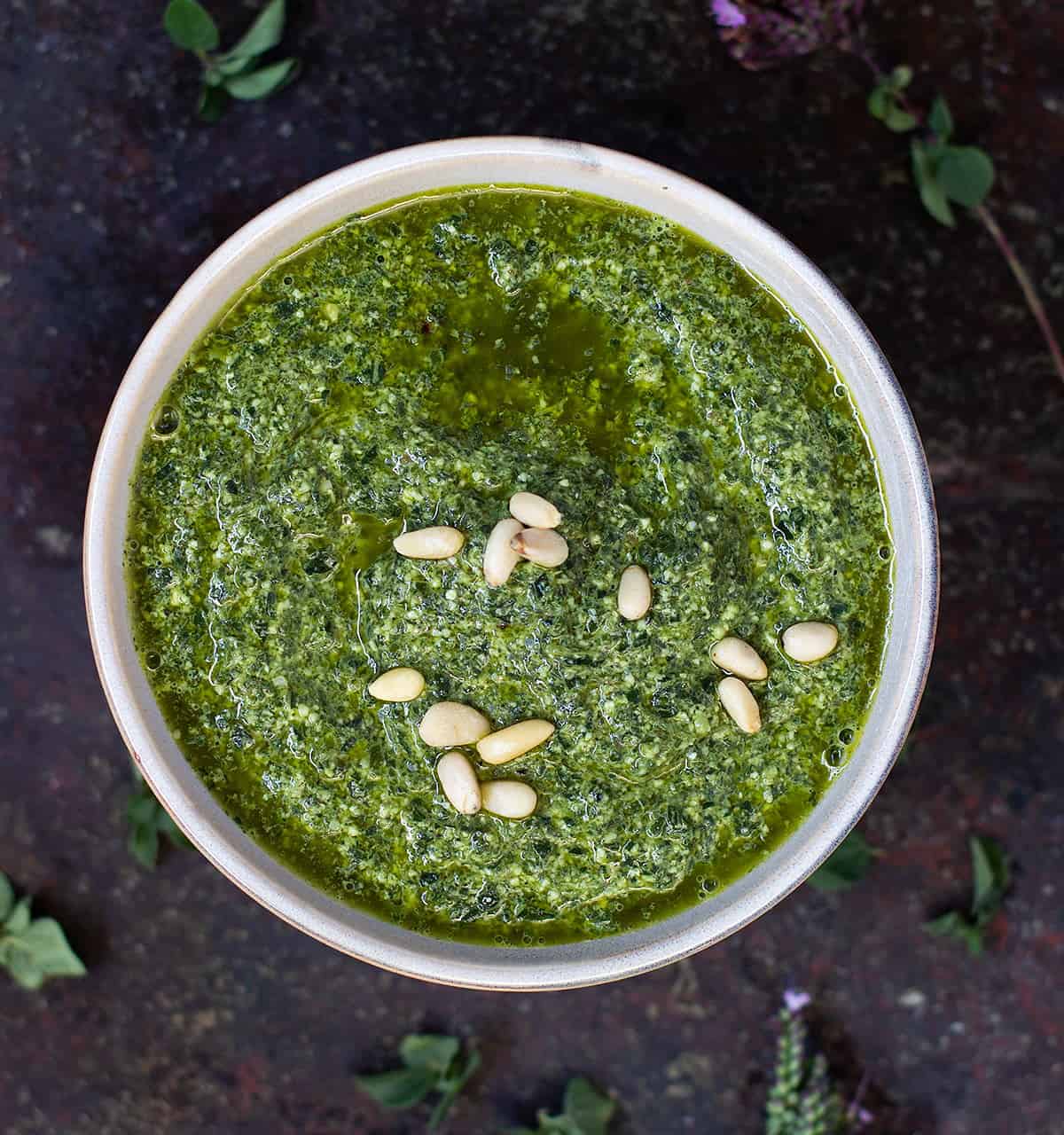 nutrients in oregano and basil pesto
This is also why I am such a huge advocate for treating herbs like leafy greens. We tend to see herbs as garnish in our culture, when we should be ideally using them more abundantly. Why stick to just baby spinach and lettuce when our salad greens can be enriched with the flavour and nutritional boost of fresh herbs. The majority of soft herbs can be used freshly chopped or torn. From the more well used parsley, coriander and basil through to freshly torn sage, oregano and marjoram. Some of the tougher herbs like rosemary and thyme can either be super finely chopped and used raw or adding in large amounts to cooked dishes. Some of my favourites here on the JCN website are my Sage & Anchovy Pork, Silverbeet & Dill Pesto and Summer Salad w Goji Berries.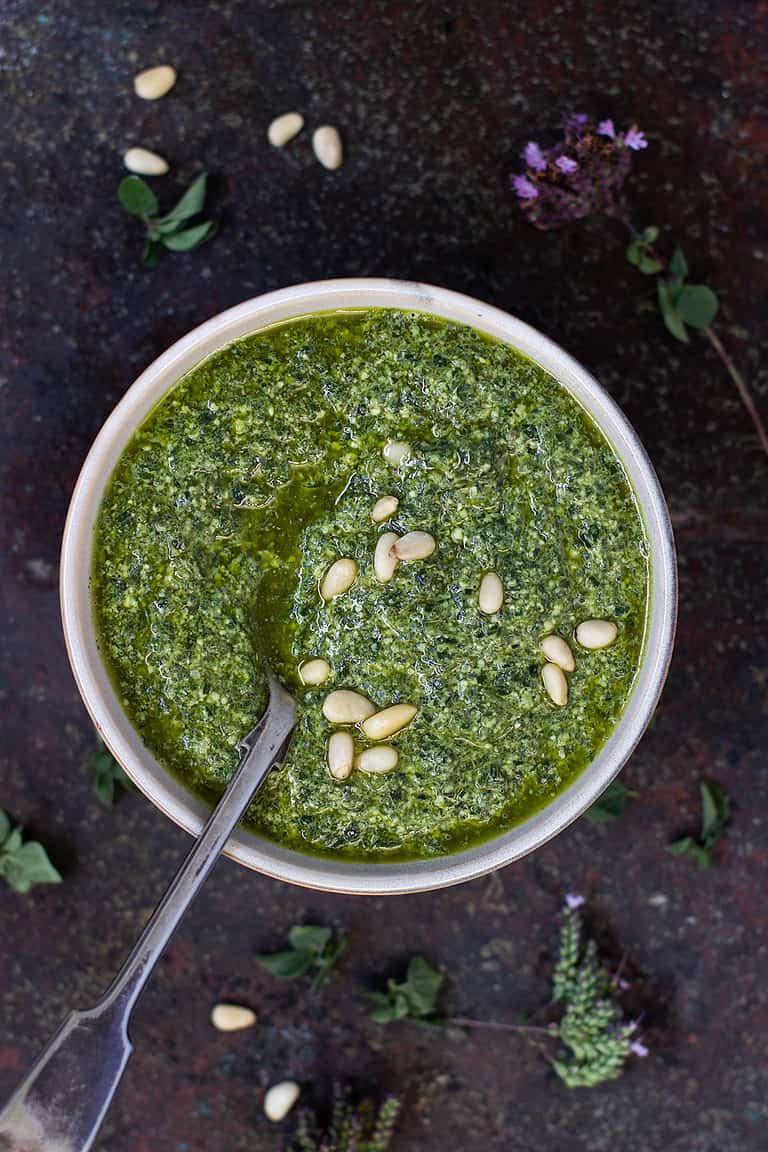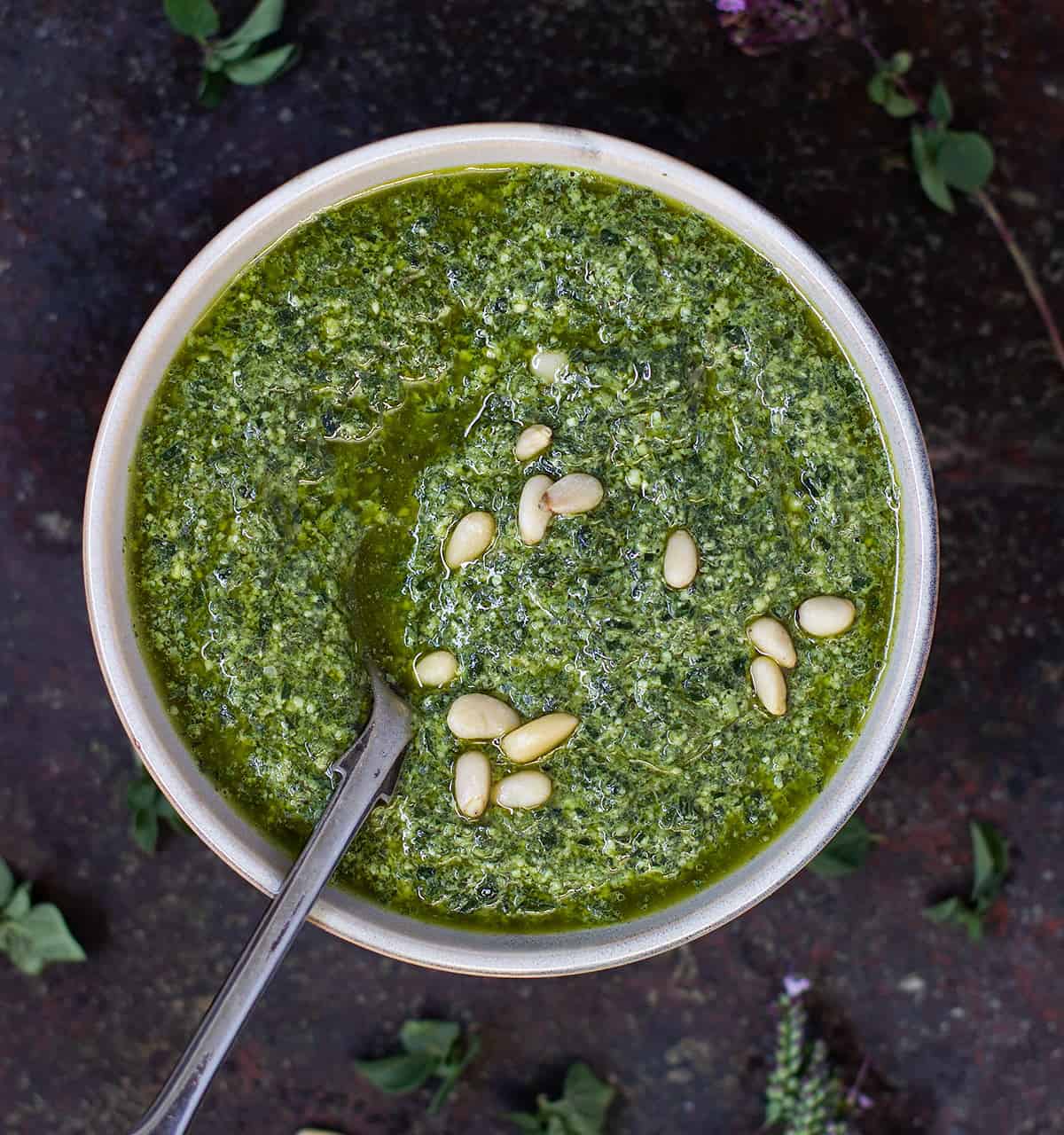 Oregano itself has been research extensively for its powerful antimicrobial activities. It is used clinically for removal of parasitic and bacterial overgrowth. It is also used consistently in the treatment of SIBO, especially for hydrogen and hydrogen sulphate overgrowth SIBO along with other potent volatileplant based oils. Oregano combined with other herbal antimicrobials has been found in studies to be as effective as treatment with the antibiotic Rifaximin. (1) Recent animals studies have also shown oregano oil increases intestinal barrier integrity, most probably through modulating intestinal bacteria and reducing inflammatory markers. (2)
Long term use of oregano oil as a supplement is not recommended, as this level of ongoing volatile oil is super potent and with time can effect many bacterial profiles within the microbiota. However, including oregano as a dietary source regularly is not only fine, but also highly recommended.
(1) Victor Chedid, et al 2014, Herbal Therapy Is Equivalent to Rifaximin for the Treatment of Small Intestinal Bacterial Overgrowth, Glob Adv Health Med.
(2) Yi Zou, Et al, 2016, Oregano Essential Oil Improves Intestinal Morphology and Expression of Tight Junction Proteins Associated with Modulation of Selected Intestinal Bacteria and Immune,Biomed Res Int
oregano & basil pesto
serves

2 cups

preparation time

15 minutes

cooking time

nil
ingredients
1 large bunch (55 grams) fresh oregano, stems included when weighing
2 large bunches fresh basil (100 grams), stems included when weighing
3 tablespoons lemon juice
1/4 cup pine nuts
1/2 cup extra virgin olive oil + an extra tablespoon if needed
2 tablespoons nutritional yeast
1 small clove garlic
salt and pepper to season
method
Remove the basil leaves and oregano leaves from their stems then place into a food processor with the remaining ingredients (besides the additionally tablespoon of extra virgin olive oil). Pop on the lid and blend well till a lovely pesto texture is reached. If you feel the pesto needs loosening up a little more then add the additional tablespoon of extra virgin olive oil. Taste and season again accordingly.
Place in an air-tight container and keep in the fridge for 1 week.
nutritional information
Cant use garlic? For a SIBO and FODMAP friendly version, omit the garlic and use garlic infused extra virgin olive oil. Nutritional yeast is in the majority not an issue with FODMAP sensitivity and SIBO.
This recipe is also tagged as nut free. Pine nuts contrary to their name are not a nut, they are a kernel. If you still have issues with pine nuts feel welcome to substitute in other seeds or nuts of choice.
more nutritious recipes here
visit our brisbane nutrition clinic for appointments here
Skype appointments here
Like what you're seeing? Subscribe for new recipes and nutrition tips every week!
Jessica Cox is a qualified practicing Nutritionist with a Bachelor Health Science (Nutrition) and over 15 years of clinical experience. She is the founder and director JCN Clinic, published author and established recipe developer. Jessica is well respected within health and wellness space for her no fad approach and use of evidence-based nutrition.