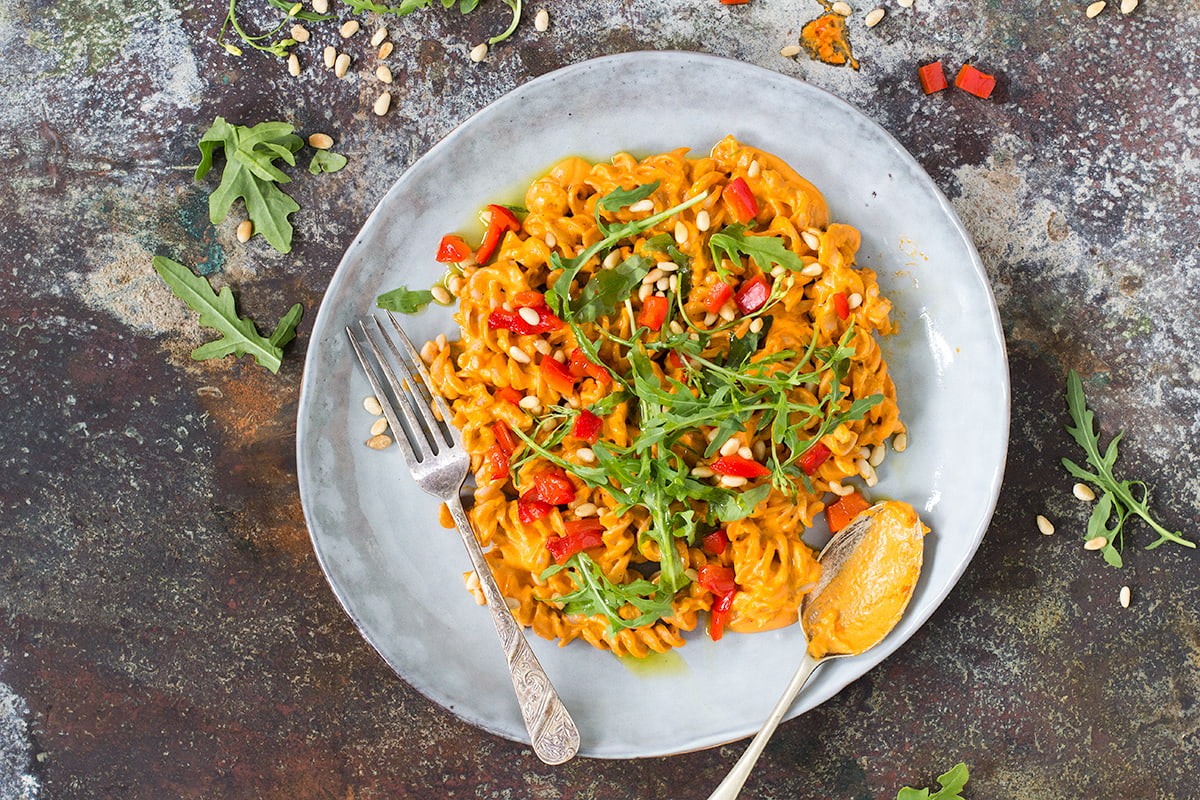 Its that time of the year where everyone seems a little out of steam and needs a something like this pasta with creamy capsicum roasted sauce recipe in their life. The wind down to Christmas turns over cogs in the brain wooing us with beckoning sleep in's and slow, simple days. Because we know it's coming our brain seems to shut down in anticipation and everyone just seems, well kind of 'over it'. Like clock work every year at this time I see the same behaviour in clinic with clients. They are a little less enthusiastic and have this glazed over dreamy look in their eyes, which I equate to half a foot in the door of pending holidays.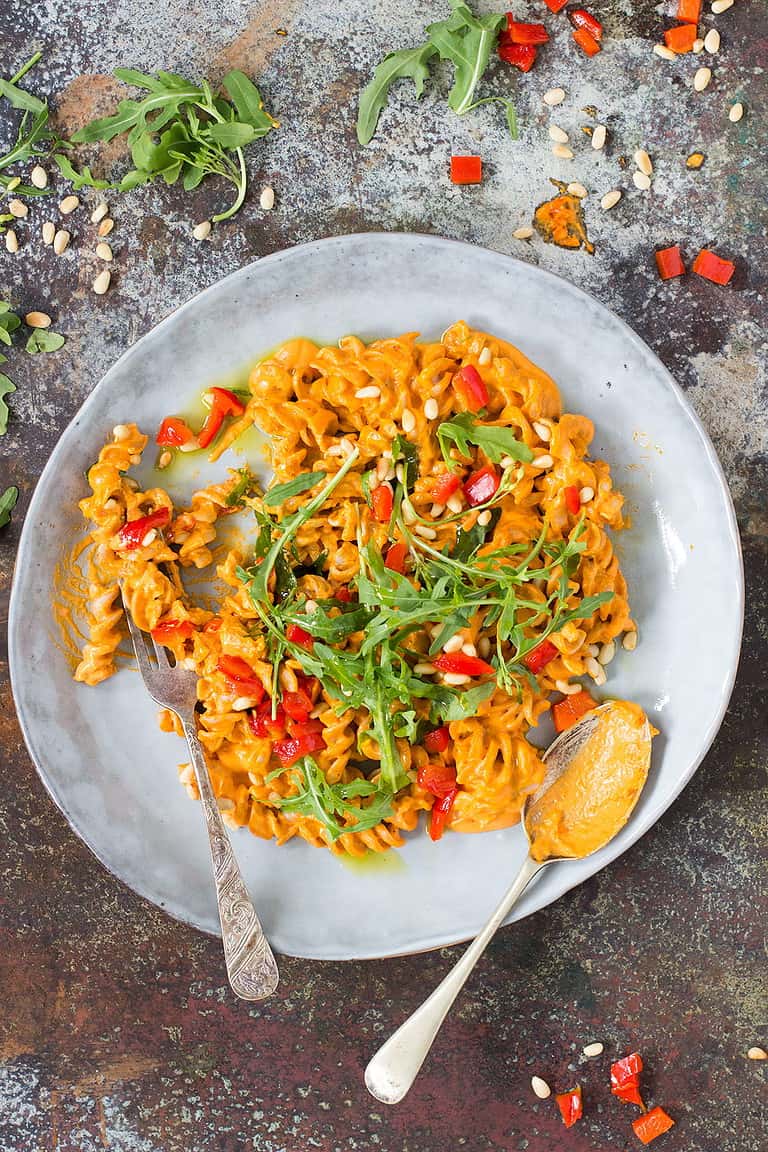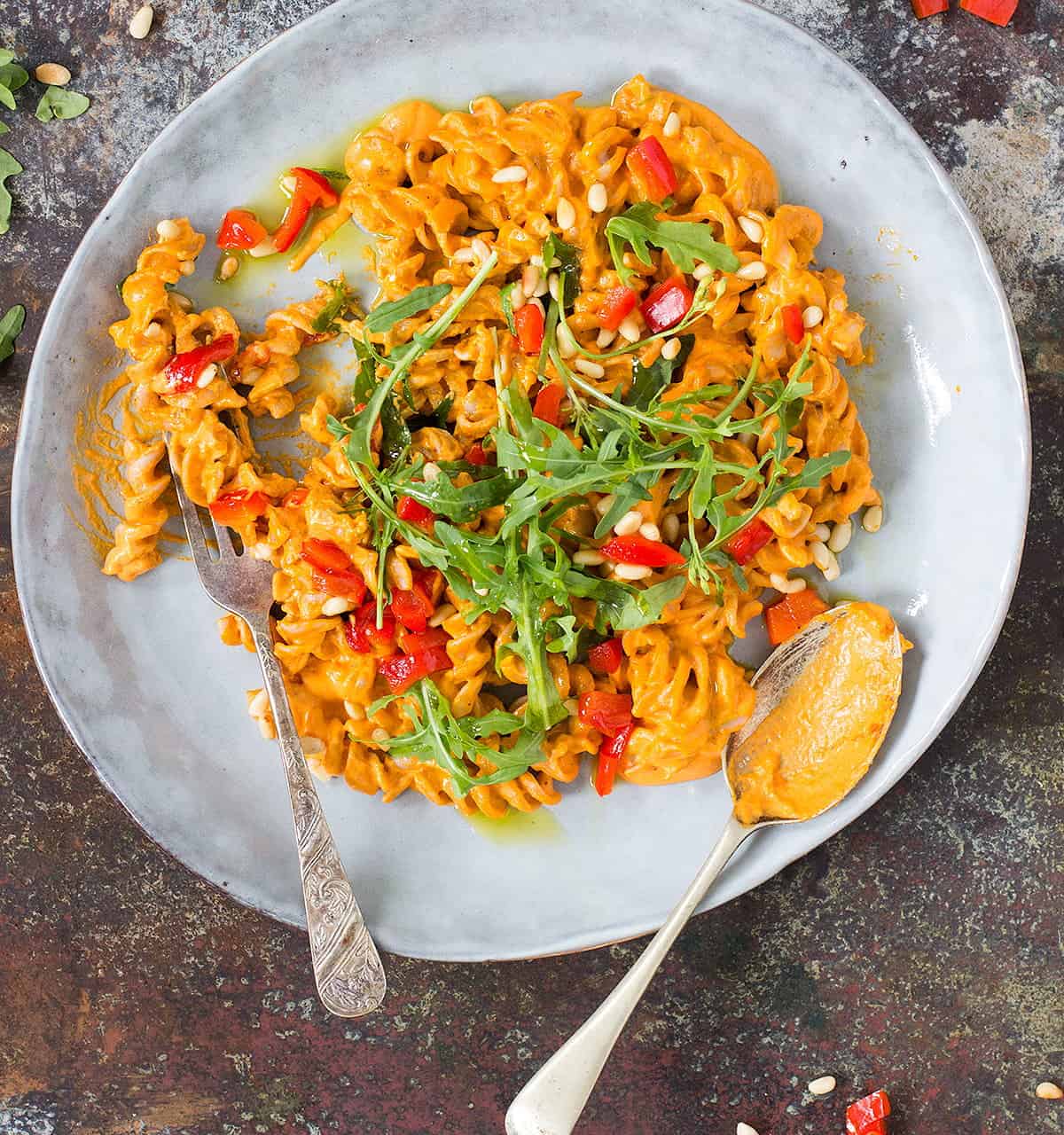 For me it's also a time of looking forward to a well-earned break. It's been an epic and exciting year with some expediential growth. With that comes some huge demands and a lot of work, but I wouldn't change it for the world. What I would continue to work on changing in the management of the business. We can get so overwhelmed with so much on our plate that sometimes its hard to see clear and know where to even start. For me, stepping back and refocusing is super imperative. Without it you get caught in the rat wheel just trying to keep up with putting out fires instead of working in a more productive manner.
Don't get me wrong; I've by no means got this down pact. Usually it's anywhere between a 3 – 6 month cycle where the business grows too big for its boots again and I can feel the edges of my sanity starting to fray. The point is, I now know the warning signs of this and more importantly know that its time to make some changes. If nothing changes then the same problems keep occurring. Sticking your head in the sand or telling yourself 'I'm too busy to deal with that' only makes the problem fester.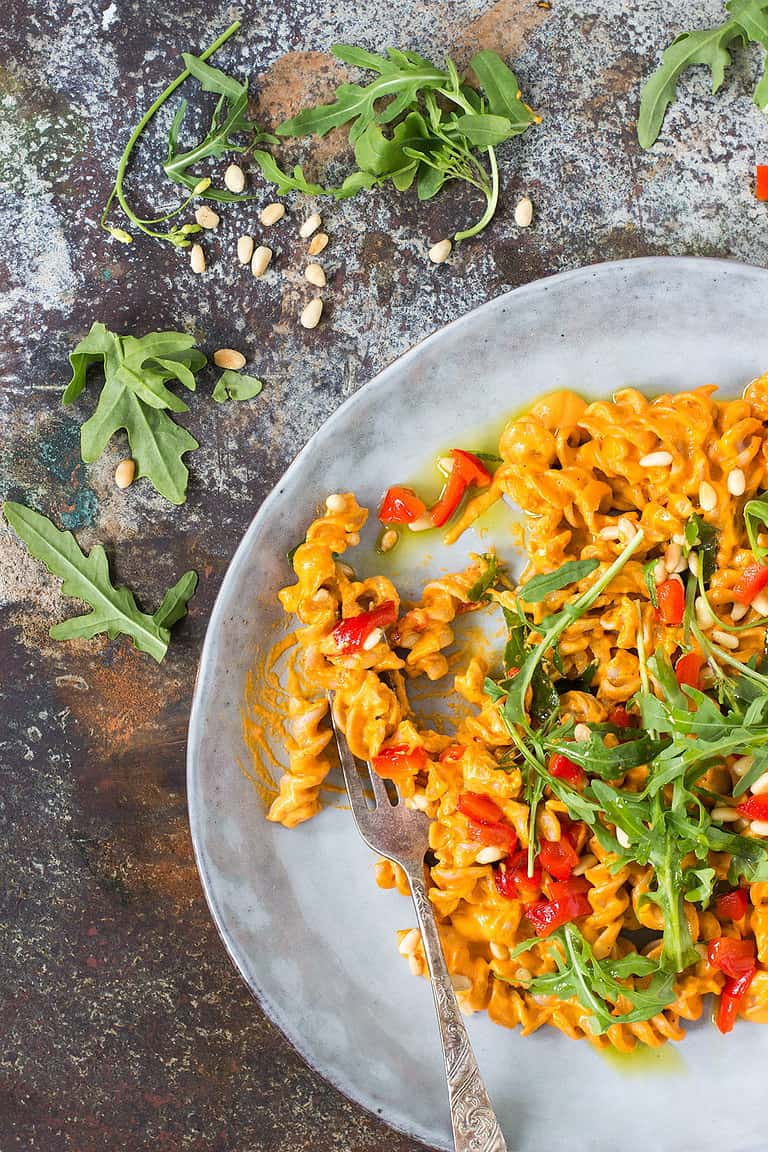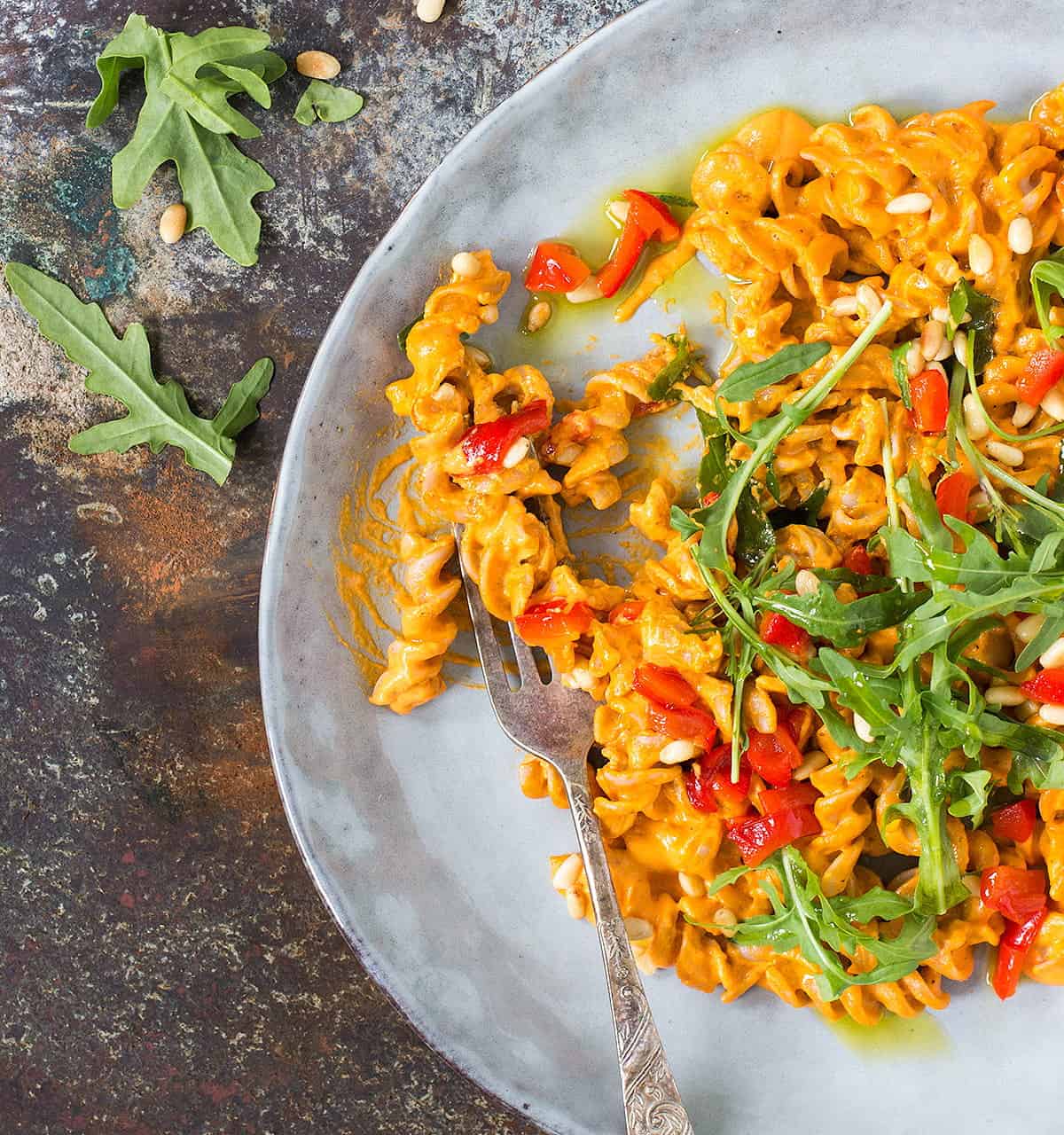 The other non negotiable I have learnt is time for yourself. This is something that I try to instil in my client's, as I believe no matter how 'busy' we all are there is always time to prioritise some time for you. Without some time for yourself your brain has no time to get off the adrenalin merry go round and you end up in a constant state of being over stimulated, leading to fatigue. For me it's my morning exercise. No matter how busy I am it's my promise to myself. At times I can feel the demanding business owner 'boss lady' (she can be a bitch) telling me to get up and go straight to my lap top instead, but I ignore her and give her the middle finger knowing that the hour of time that I take to get some fresh air and get my blood pumping will fundamentally make me a more likable and functioning human. The thing is, we sacrifice in the short term and then in the long term we suffer. No one wants to be around an insufferable whinging human.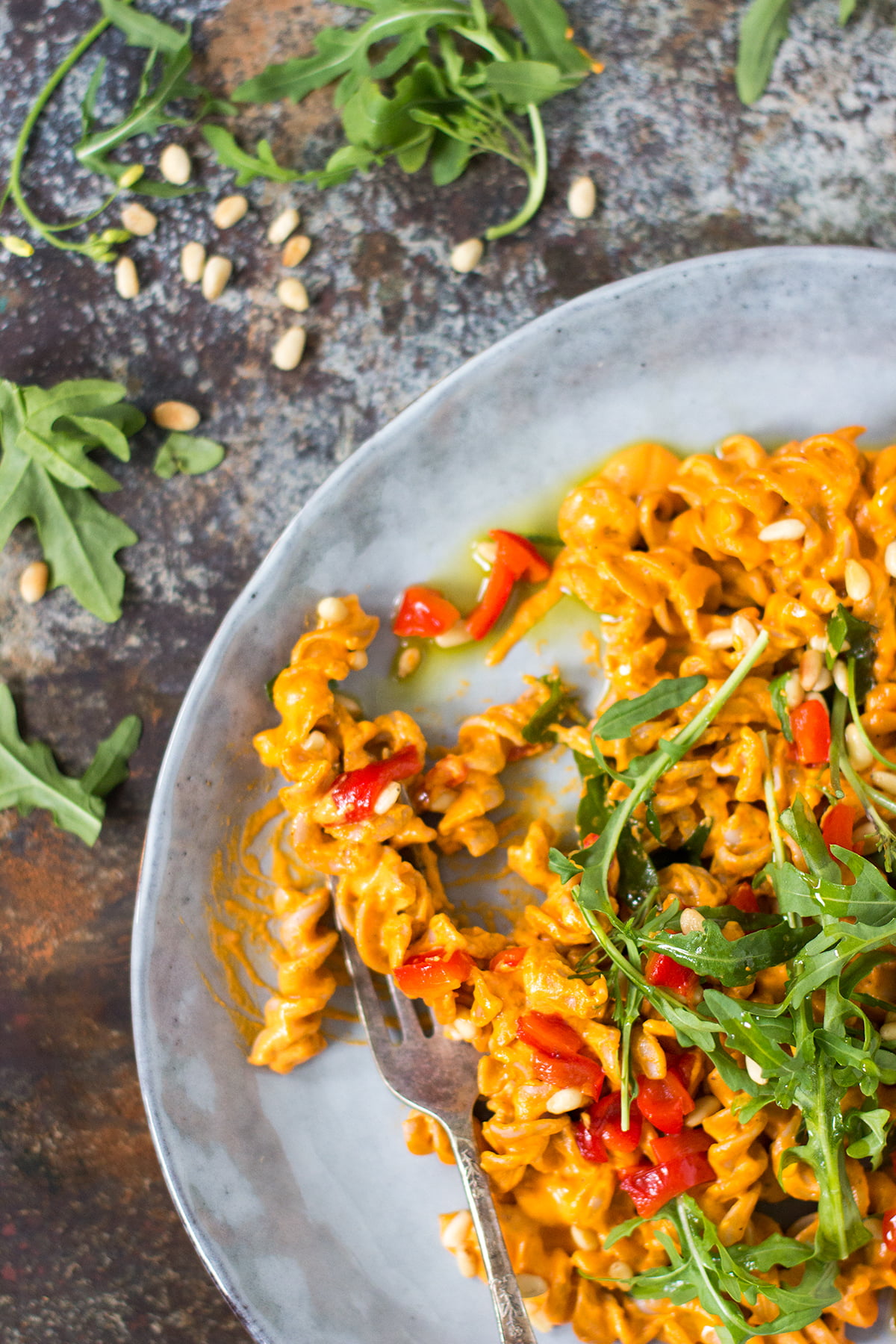 I also think its rather dysfunctional that we spend the year pushing ourselves with our jobs/careers ' living' for the weekend so we can have two days off to rest up before we push through a crazy week once again. We have work, families, kids, social events, social media all screaming for our attention. We hang out for the end of the year to all take some time off and unwind for a few weeks (if lucky) only to do it all again the following year. I feel like at some point our society got it all wrong. Coming from someone who loves what they do, I still think the disproportionate time between career and leisure is extremely f**cked up. Perhaps the utopian more balanced world I dream of is not achievable, but I guess that's why I'm heading to Italy soon to take advantage of siestas.
As for this pasta with creamy capsicum roasted sauce recipe, it was born out of a time of needing a quick and easy meal with not a lot of time to prepare. It encapsulates the type of food we need to nourish us but fuel us quickly without fuss. It is also super adaptable in regards to the proteins that you can add to it. We enjoyed it with prosciutto but it would be lovely with chicken and feta too. As always, I hope you love it as much as I do, and please look after yourself in the lead up to the holiday break. It can be a bit mental.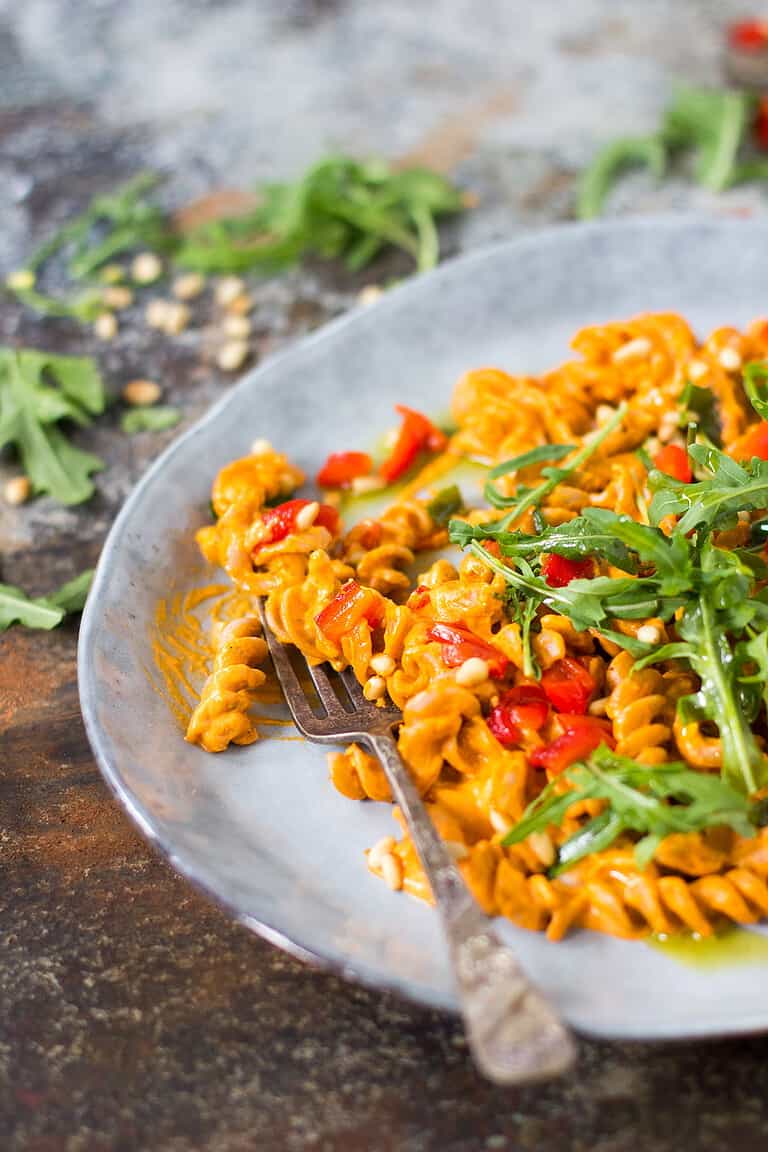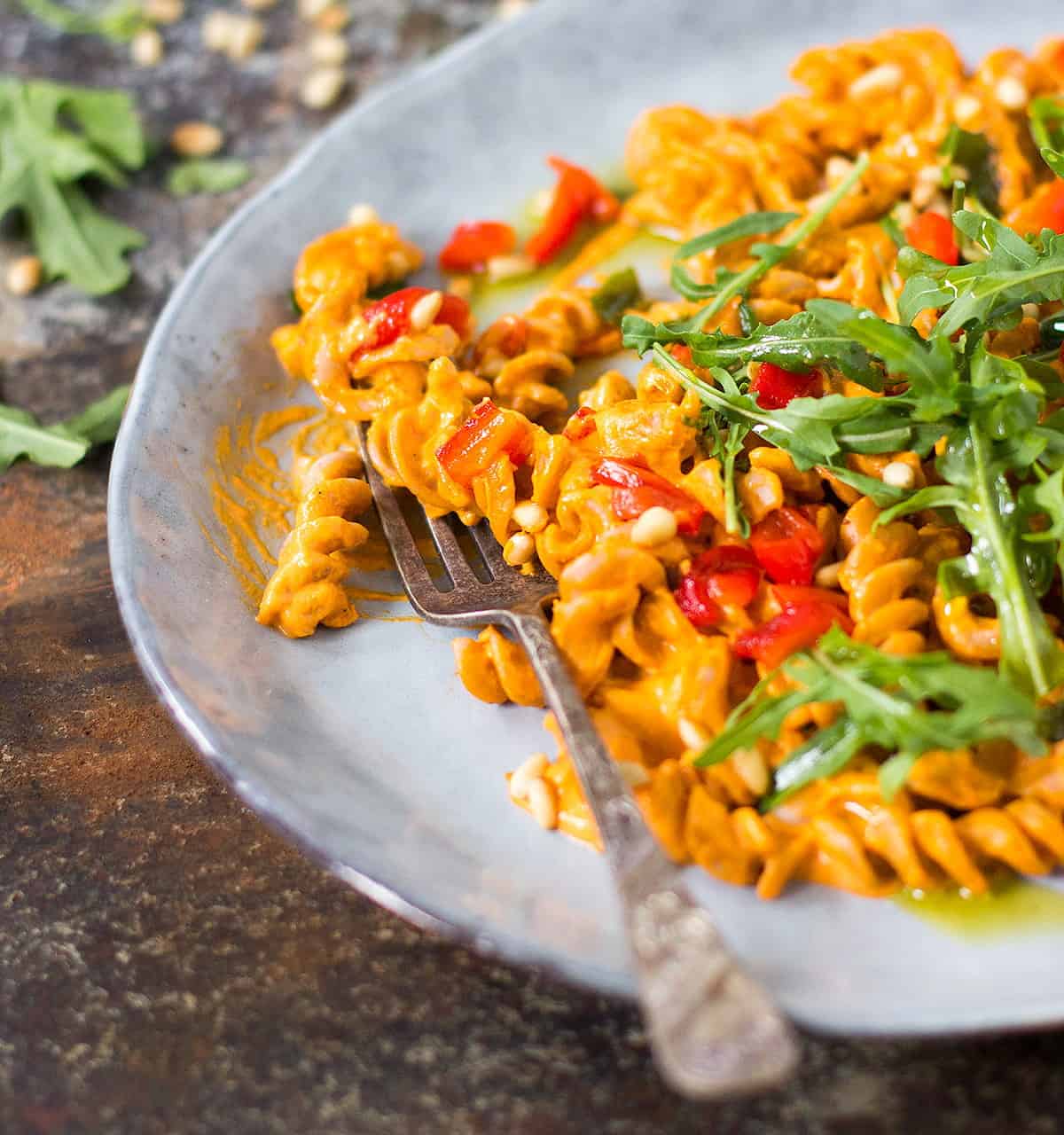 pasta with creamy roasted capsicum sauce
serves

2 people

preparation time

30 minutes + 2 hour soaking time for cashews

cooking time

10 minutes
ingredients
3 large red capsicums
1/3 cup cashews, soaked for 2 hours
2 tablespoons nutritional yeast (or parmesan if tolerated)
1/2 teaspoon sea salt
1/2 teaspoon pepper
1 small clove garlic (or 2 teaspoons garlic infused olive oil for FODMAP/SIBO friendly)
3 tablespoons lemon juice
2 tablespoons water
2 cups buckwheat pasta
2 tablespoons pinenuts
large handful of rocket
1/4 cup extra virgin olive oil + extra for roasting capsicums
method
Your cashews will ideally need soaking before starting this dish, but it can be done without the soaking if you like. Obviously it will make the recipe a lot quicker. Soaking makes the cashews softer and therefore the sauce creamier.
Begin by cutting your capsicums in half lengthways and coating the outsides of them with some extra virgin olive oil. Place them on a tray and under a hot grill. Leave them to blister and blacken, checking regularly. Once nice and black, remove and pop them in a bowl and cover with a plate to let them sweat a little for 5 minutes.
Now take the capsicums and peel off the blackened skin. It won't all come off perfectly but that's fine if some still sticks. Place 4 of the capsicum halves (this will leave you 2 halves aside still) into a blender with the lemon juice, cashews, nutritional yeast, garlic, extra virgin olive oil, salt, pepper and water. Blend till smooth and creamy. Set aside.
Bring a large pot of water to the boil and then add the buckwheat pasta. Cook till tender and then drain keeping about 3 tablespoons of the pasta water. While the pasta is cooking add the pine nuts to a small saucepan and toast till slightly golden on a medium heat for a few minutes then set aside.
Place a large deep dish pan onto a low – medium heat and then pour in the creamy capsicum sauce and add the pasta with the little bit of pasta water (this helps loosen the sauce a little). Stir through till warmed then you are ready to serve.
Roughly dice up the remaining capsicum then divide the pasta with creamy capsicum roasted sauce between two bowls and top with toasted pine nuts, capsicum, generous handfuls of rocket and a drizzle of extra virgin olive oil.
Please note, you can also top this pasta with added protein such as quality prosciutto, chicken or even some feta would be lovely.
nutritional information
Cashews are such a versatile nut. They provide creaminess to dishes and work in both savoury and sweet recipes. Cashews are high in minerals such as magnesium and manganese. Magnesium is vital for muscle relaxation therefore reducing tension related muscle spasms, aches and tension headaches. Manganese plays a pivotal role in liver detoxification.
This pasta with creamy capsicum roasted sauce recipe is rich in complex carbohydrates, vegetable fibres and great fats, though a little low on protein for those needing a little more sustaining meal. I find its a great light dinner for some with the plant based protein in the cashews and buckwheat pasta, otherwise its best topped with some extra meat based protein or some feta, or even a poached egg. Its ideal to use a more fibre dense pasta such as buckwheat to make this meal super sustaining, otherwise it will leave you hungry and youll be inclined to overeat the more fibre lacking white pastas so commonly used with gluten free pasta options.
Jessica Cox is a qualified practicing Nutritionist with a Bachelor Health Science (Nutrition) and over 15 years of clinical experience. She is the founder and director JCN Clinic, published author and established recipe developer. Jessica is well respected within health and wellness space for her no fad approach and use of evidence-based nutrition.