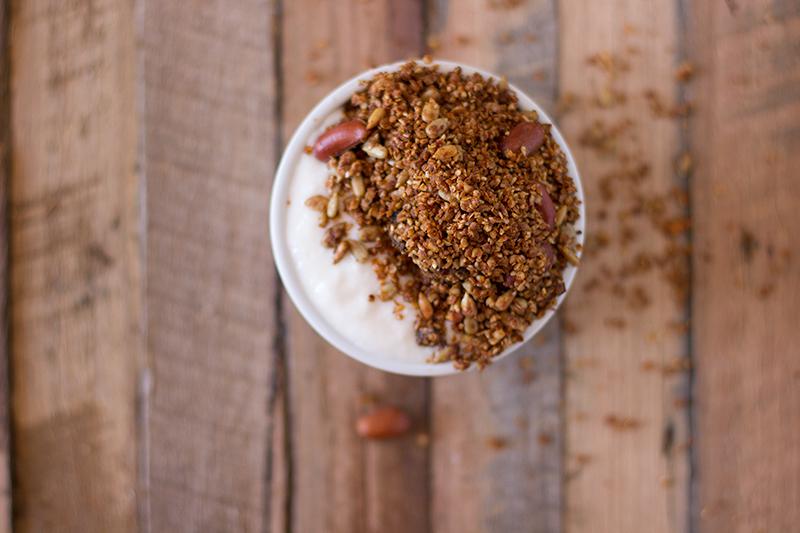 I risked breaking a bone or two for this salted peanut granola. The morning of this salted peanut granolas birth I decided that I simply just had to shoot it on the top of our new table in the making. We, and by we I mean my husband, is currently making this giant eight seater table from the old hardwood timber studs that once made up the insides of our now gutted and remodelled renovation.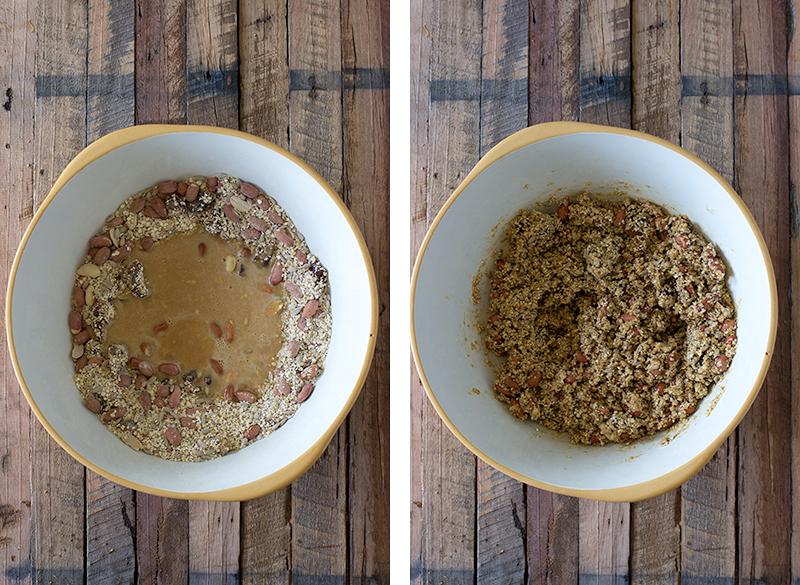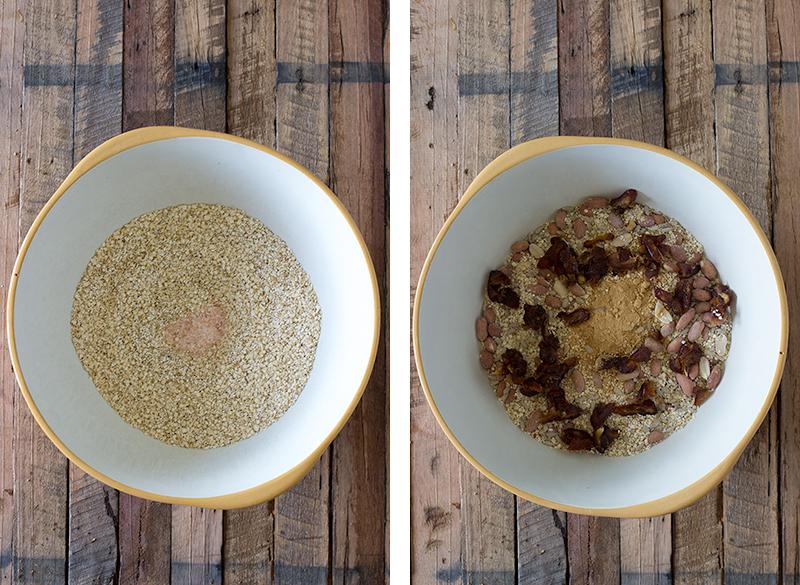 The old studs had been laying around the yard for over a year with the idea of this table in mind, attracting a plague of strange bugs in the interim that my husband was obsessed with chasing around the yard with fly spray (a futile activity if you ask me). Anyway, finally with the pressure of our first ever dinner party in the 'new' house looming, my husband kicked into first gear and started the enormous task of constructing the table.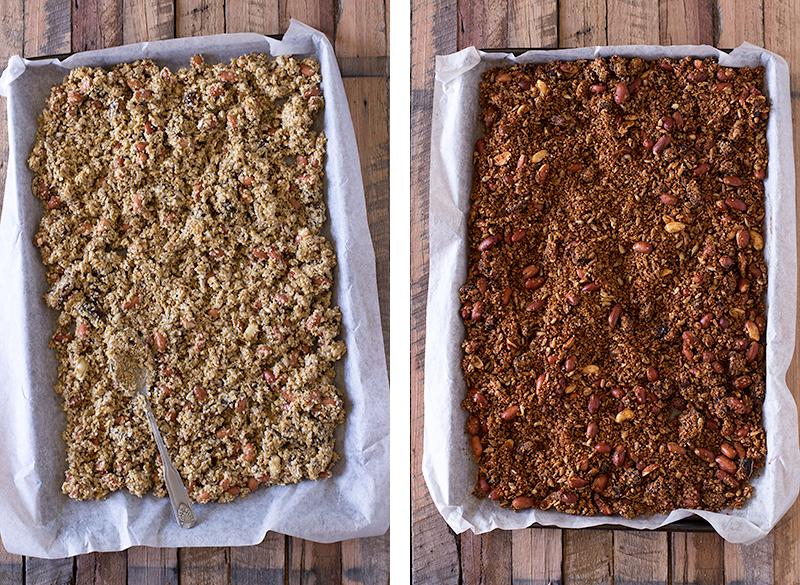 In a very short time (it seemed to me) with the use of the back of a pan truck, industrial clamps and a s**t load of glue we had a table top. I say we, but I was up in Maleny that day getting my hair lopped off. When I came home I was astonished by how quickly it had all come together.  Therefore, the next morning we set about the task of getting the table top into the house. Now, our new house design means we have a narrow hallway as you come through the entry. This means that large furniture like lounges and tables need to go out the double doors onto the deck. Oh wait, we haven't built the deck yet, so it's just a 2 metre drop to the ground.
You want to see something funny? Come sit on the street outside our house on weekends and watch us transport the furniture outside the back end of a house with a 2-metre drop below. The language gets rather colourful too.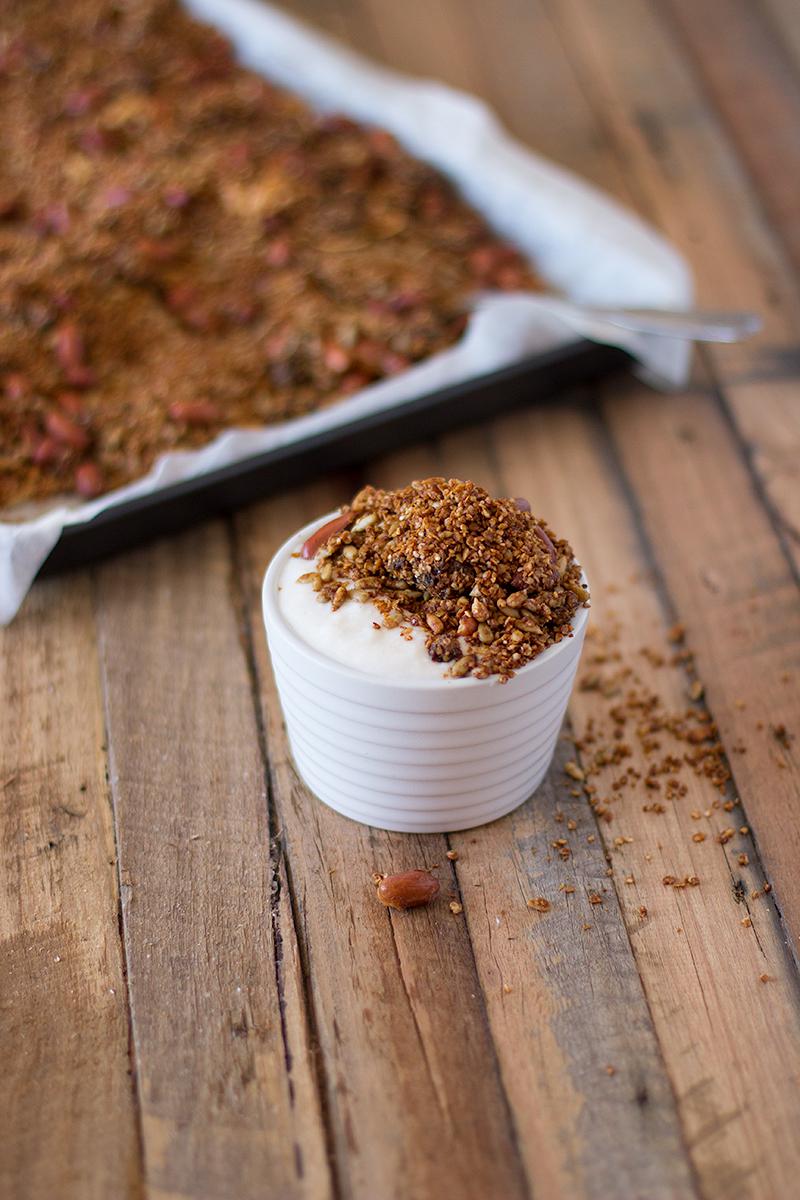 The table was another story all together compared to the rest of the furniture we had taken in and out this way so far. Hubbard (my husband – you may remember him from Hubbard's Soup) drove the truck around to the back of the house and between the two of us we managed to rotate it ready to lift up and ideally counter lever on the edge of the floor. We went to lift and all of my past year of BBG training (thanks Kayla Itsines) failed me. I might as well of been trying to lift the truck itself. After thinking over what to do and which friends where free to help us (none of them, either at work or hung-over), we got our neighbours over to help us. Between the four of us we somehow managed to get that big hunk of wood up and then push it on to the floor. With one last big heave its now currently resting on top of the old table, which means its quite high whilst it waits for its legs to be attached. This brings me be back to what initiated my story to start with. Risking breaking body parts from great heights.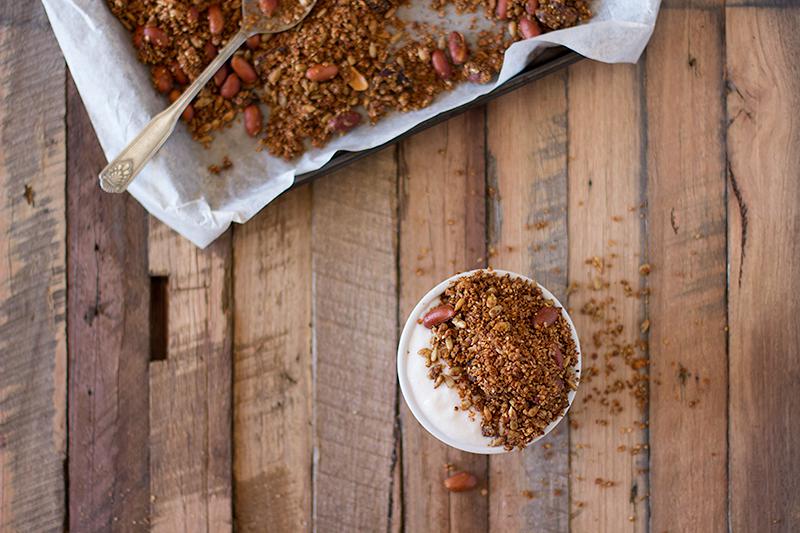 To get up high enough to bring you my beloved birds eye view imagery, the standard chair was not enough. I had to stack a stool on top of a padded chair and then deleteriously balance up on top of both with my head cemented against the ceiling. Hey it worked, and I am still in one piece.
So this salted peanut granola right. Well there is not much to say other than its awesome. I mean how can you go wrong when you put together salted caramel flavours with peanuts? The idea came to me after working on a recipe for some brownies for a lovely client, probably my way of getting dessert into breakfast really.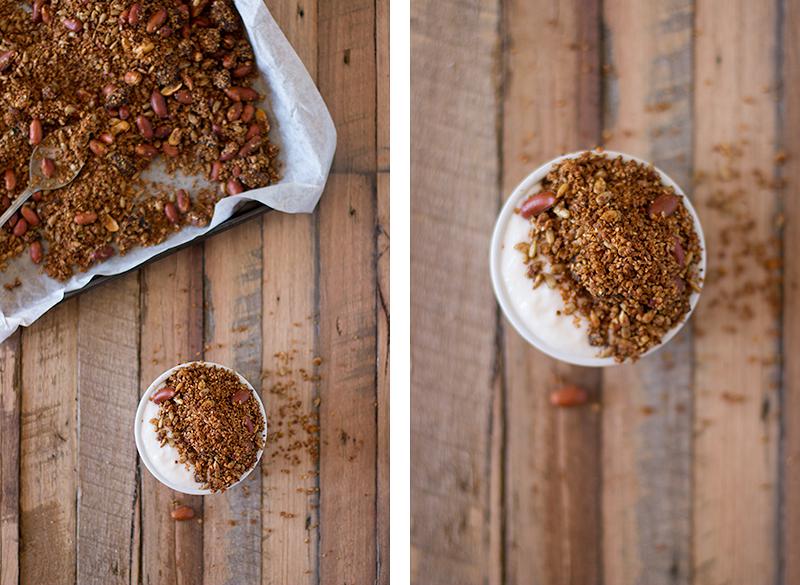 I know you will love this granola. You can use it as a base recipe and fiddle with it how you please. You can just use good old oats instead of getting all fancy pants with buckwheat and quinoa. You can sub out the peanut butter (gasp!) and use other nut or seed butters of choice. Go for it. x
salted peanut granola
serves

makes 6 cups

preparation time

20 minutes

cooking time

60 minutes
ingredients
1 and 1/2 cups quinoa flakes (or rolled oats if preferred)
1 and 1/2 cups buckwheat grits (buckwheat groats coarsely chopped up in the blender, or buy Bob Red Mills Creamy Buckwheat Cereal), otherwise simply use oats again
1 heaped teaspoon sea salt
1 heaped teaspoon mesquite powder (optional)
1 cup sunflower seeds
1 and 1/2 cups raw peanuts
1 cup medjool dates, pips removed and roughly chopped
1/2 cup macadamia nut oil (or coconut oil)
1/2 cup 100% peanut butter, salted if you want this extra salty like me
1/4 cup honey
1 teaspoon 100% vanilla extract
method
Preheat oven to 165c fan-forced.
In a large mixing bowl combine quinoa flakes, buckwheat grits (or just oats if using oats alone) with salt, mesquite if using, sunflower seeds, peanuts and dates. Mix with a wooden spoon until all the ingredients are well combined.
Now add to a small saucepan the macadamia nut oil, peanut butter, honey and vanilla extract. Place saucepan on to a low heat and stir the ingredients gentle heating them until they are well combined. Once everything is nicely melted together remove from the heat.
Make a well in the center of the dry ingredients and pour in the wet ingredients. Using a wooden spoon mix will until all of the grains, nuts, seeds and dates are covered evenly in the sticky delicious mixture.
Line a large baking tray with baking paper and pour the wet granola mixture out onto the tray. Use the spoon to push the mixture out evenly to a nice flat layer. Place in the oven to cook for around 60 minutes, however set the timer to go off every 15 minutes so you can stir the granola to ensure even cooking. The granola is cooked when it is all golden brown throughout. Please note, it will not be super dry or crunchy at this stage, it will need time to cool for this.
Remove granola from the oven and allow to cool on the tray. As it cools down it will become drier and crunchy in texture. To store your salted peanut granola, simply scoop up into a large jar or a sealable container and keep in the fridge. Enjoy with your favourite milk of choice or yoghurt, or even as a snack on its own.
nutritional information for salted peanut granola
Peanuts are actually part of the legume family, so strictly speaking they are not a nut, however lets call them a nut for familiarity purposes. Peanuts are rich in protein (around 15 grams per half cup making them one of the highest protein containing nuts around) and fats, especially mono unsaturated fats. Peanuts can withstand quite high temperatures, hence the use of the oil in high heat cooking. Peanuts are a great source of vitamin E, which thanks to its antioxidant activity also helps protect the natural oils within the peanut. They are also very rich in Vitamin B1, B3, folate, magnesium, copper, manganese, zinc and iron.
This salted peanut granola is abundant in fibre and rich in plant based protein due to the combination of the quinoa, buckwheat, peanuts and sunflower seeds. It also contains plentiful quality fats, especially monounsaturated fats well known for their anti-inflammatory and cardiovascular supportive qualities. Combining this granola with a yogurt of choice will generally provide you with a well-balanced meal or snack, however if you are having this granola post work out, especially after a resistance session you will require more protein. Id suggest stirring some quality protein powder through the yoghurt or perhaps having the salted peanut granola on top of one of my protein pancakes with yoghurt. Yum!
Jessica Cox is a qualified practicing Nutritionist with a Bachelor Health Science (Nutrition) and over 15 years of clinical experience. She is the founder and director JCN Clinic, published author and established recipe developer. Jessica is well respected within health and wellness space for her no fad approach and use of evidence-based nutrition.