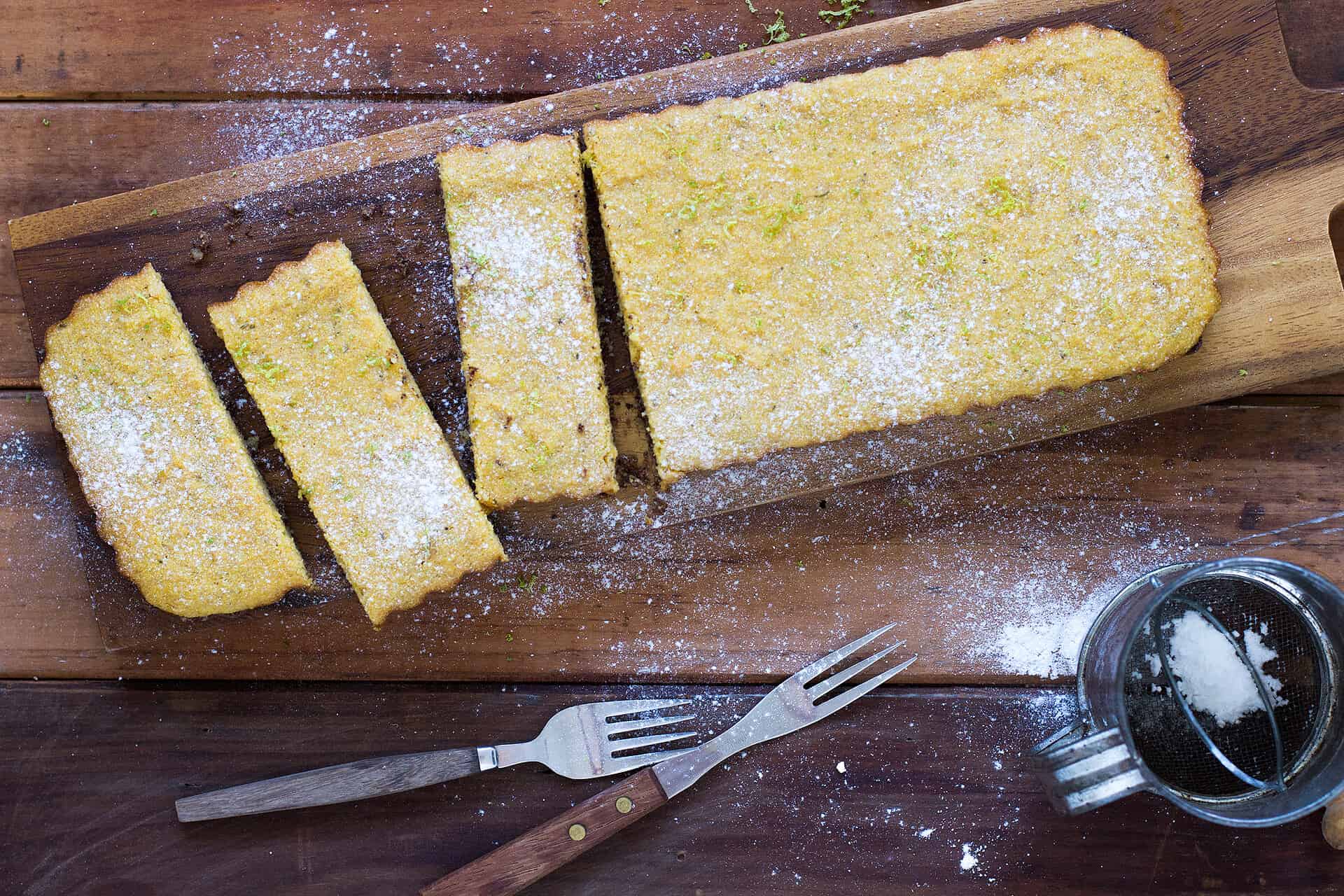 I'm not going to spend paragraphs talking about the weather, but seriously, how cold is it! You would think someone who grew up in country Victoria and spent four years in Canberra would be okay with the cold, but nope. I'm a big sook. My husband is from Invercargill, so he saunters about on weekends in shorts like it's the middle of spring. If my husbands brother is about (another Invercargill boy born and breed), and myself or anyone else complains about how cold it is, my brother in law takes great pride in announcing "its tropical", as he stands there in his thongs and shorts in the middle of winter. Crazy Invercargill people I tell you.
When it's cold I crave snacks like this mojito slice. Warming spices and sweetness wrapped in an envelope of baked goodness. For me it is goodbye crackers and hummus and cold chia puddings, and hello warmed muffins and slices. Hot scalding tea on the side is mandatory. My husband may think it still makes sense to eat his goodie goodie gum drops NZ ice-cream, but I certainly don't. (ps. This ice-cream should not be legal, its so wrong…sorry NZ followers).
This mojito slice strays a little (okay, a lot) from true mojito ingredients, however the lime, ginger and coconut come together in a reminiscent taste of this classic cocktail.  The polenta topping soaks up all the wonderful sour and sweetness of the lime and maple, which is then bought together with the creamy coconut. The rosemary and ginger add a dance of herbs and spice that brings this mojito slice alive. Each bite breaks through the soft crumble of the polenta into the firm, crunchy base flavoured with a hint of cacao from the cacao nibs.
The origins of this mojito slice came about from my union with GoodnessMe Box these past few months for their July Box of goodies now hitting doorsteps throughout Australia. The Mojito slice recipe found in the July Box is slightly different, and uses some of the ingredients found in the delightful box of goodies. Now that July is upon us I thought I would share the recipe with you all, GoodnessMe Box or not.
This slice wont last long. In saying that I'm not talking about it perishing. The fact is you will gobble a piece up daily until its gone, then go searching for crumbs. It's that delicious…trust me. If your taste buds are anything like mine, please make sure you enjoy it with a milky dandelion or chai tea on the side to wash down those sweet crumbly polenta grains. Perfection.
mojito slice
serves

10 – 12 slices

preparation time

40 minutes

cooking time

40 minutes
ingredients
// base //
1 cup sorghum flour
1/2 cup flaxseed meal
1/8th cup (2tablespoons) ground cacao nibs (optional, but delicious!)
pinch sea salt
75 grams cold coconut oil
2 tablespoons icy cold water
// filling //
25 grams coconut oil
3 tablespoons lime juice
zest lime
1 teaspoons finely chopped rosemary
1 cup polenta
2/3 cup sunflower seed meal (or almond meal)
1 cup maple or brown rice syrup
1 cup coconut cream
1 teaspoon ground ginger
method
Start by making the pastry base. Preheat your oven to 175c. In a medium sized mixing bowl combine the sorghum flour, flaxseed meal, ground cacao nibs (if using) and salt and mix well to combine. Now add in the cold coconut oil and rub into the mixture till you have a breadcrumb like texture. Finely add the icy cold water and bring to a dough using your hands. Form into a ball and leave for 10 minutes in the fridge.
Now take the dough and push into a tart tin until you have an even base. Refrigerate again for 10-15 minutes then place in the oven to cook for 20 minutes.
While the tart base is cooking make your filling. Combine the coconut oil, lime juice, maple or brown rice syrup and coconut cream in a saucepan over medium heat till combined. Now add the sunflower seed meal, ground ginger, polenta, rosemary, lime zest and stir well until all incorporated. It should be like a very wet polenta.
Once the tart base is done remove from the oven and pour in the tart filling. Place in the oven and bake for a further 20 minutes or until just set. Leave to cool in the tin for 10 minutes then removed and place on a wire wrack. Serve ideally warm on its own, or with a dollop of whipped coconut cream.
nutritional information for mojito slice
Polenta is a corn meal rich in carbohydrates. On its own it does not provide super high fibre density, so when using polenta it is good practice to combine it with some other fibre dense ingredients, along with some amino acid rich foods and quality fats to reduce the overall glycaemic load of the meal or dish. Often polenta is used alone as a breakfast porridge as an alternative to oats, and realistically unless this has some added components as aforementioned, the body is likely to burn through this meal quickly leaving you hungry again within an hour or under.
Polenta provides Vitamin A and B vitamins along with quite an impressive array of minerals inclusive of moderate levels of magnesium. Interestingly, studies have shown that processed sweet corn presents with higher antioxidant levels (especially vitamin C). Generally yellow corn is used to make polenta, which is high is phytochemicals such as lutein and zeaxanthin, important for eye health, whereas other coloured corns provide alternative phytochemicals (worth getting hands on them if you can). Corn also has a higher amount of insoluble fibre than soluble, the type of fibre that speeds up movement through the digestive tract acting like an intestinal broom. This makes it a useful food source for constipation and a sluggish bowel.
Limes, along with all citrus are a powerhouse of antioxidants and minerals. Using citrus regularly within your diet is definitely good practice (although a dentist may tell you otherwise!). All parts of citrus provide potent antioxidants inclusive of the white pith and the rind. Wash your citrus well then zest them right down to the pith. Another great idea is to quarter your citrus, remove the pips, and then chop it all up finely rind and all. Add this into warm salads or to roasting pans with meats and vegetables for loads of flavour.
Jessica Cox is a qualified practicing Nutritionist with a Bachelor Health Science (Nutrition) and over 15 years of clinical experience. She is the founder and director JCN Clinic, published author and established recipe developer. Jessica is well respected within health and wellness space for her no fad approach and use of evidence-based nutrition.