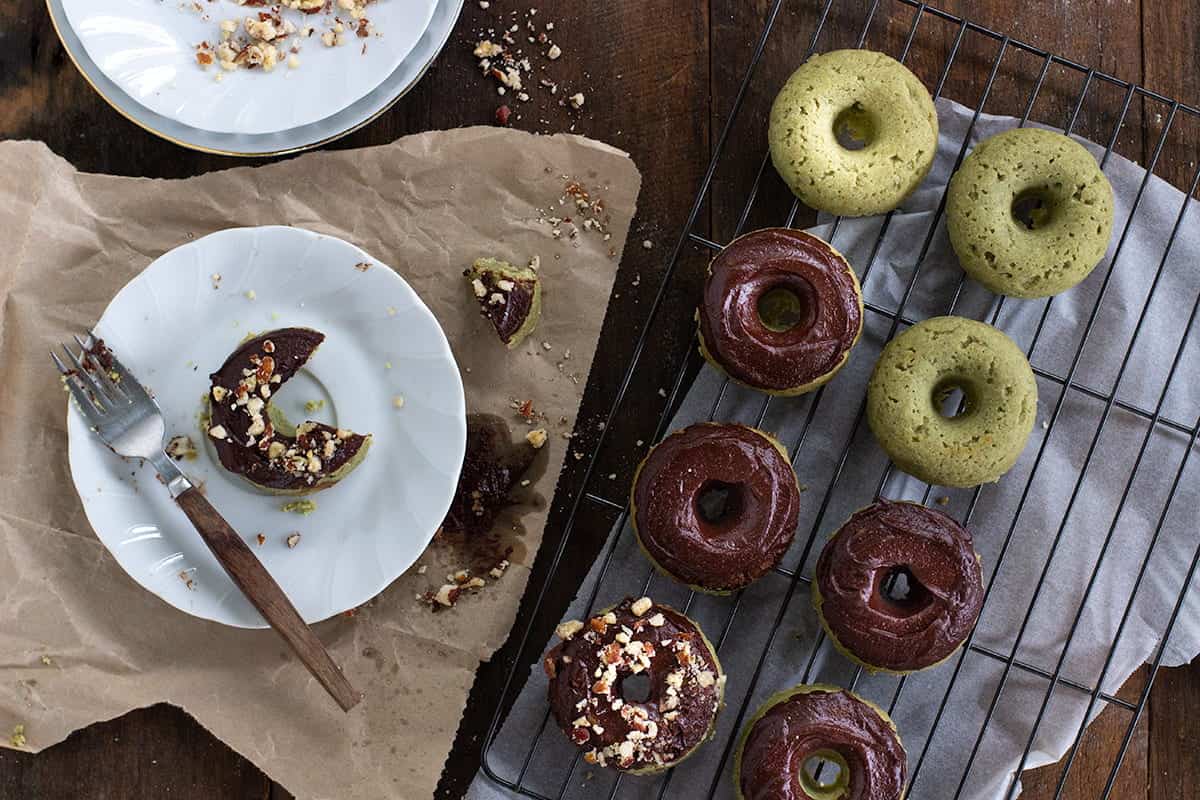 First I must apologise for three sweet recipes in a row. However, given it has been Easter and therefore a celebration time surrounded with all things sweet and chocolatey, I just had to share this recipe while there is still a bit of holiday buzz. Recently I received a request from Organic Burst to create a recipe using wheatgrass powder, so being one for a kitchen challenge I just had to step a little outside the box. For me, outside the box meant doughnuts. Doughnuts covered in a heavenly chocolate ganache adorned with crumbled hazelnuts.
Usually we associate wheatgrass with either a wheatgrass shot, a juice or perhaps a smoothie at best. Wheatgrass has an almost citrus taste to it along with a grassy earthiness, some say similar to green tea. This is why I chose to combine it with vanilla and coconut in these doughnuts, as the freshness of the wheatgrass really compliments these flavours. Think of a lemon, vanilla and coconut cake perhaps if you catch my drift.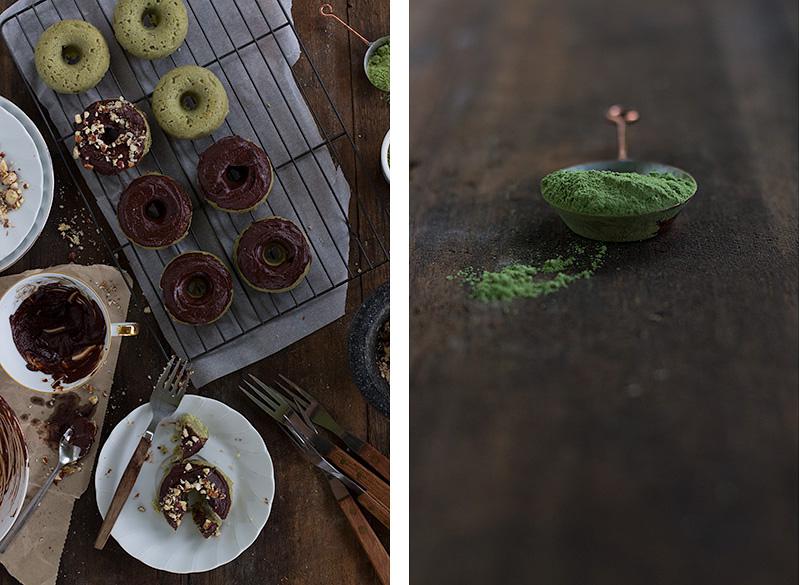 I first started using wheatgrass in my study years of nutrition in its powdered form in the mornings. I would mix it in with some lemon water or some juice and drink it down. I found it really refreshing and quite addictive in some ways. I guess there are worse things to be addicted to. While I was drinking wheatgrass for a pre breakfast boost my housemates were out the door with nothing at all. Perhaps just a strange glance at their female housemate preparing some odd looking breakfast. One of my housemates did jump on the healthier lifestyle bandwagon a few times with me, but he always went back to his old ways, as his 'all or nothing' approach had a foreseeable expiry date due to a lack of balance.
You see having superfood boosters, eating a superfood charged diet (I use the word diet in the sense of food intake, not a 'diet'), abstaining from alcohol and increasing your exercise all need to be approached with balance. If one approaches change with an all or nothing attitude then it just sets you up for a fall. To abstain from absolutely everything that may be deemed 'unhealthy' is like locking yourself up in a bubble from the world. It is also isolating and not good for your mental health. Additionally it can create food phobias, thus potentiating an even more restrictive intake.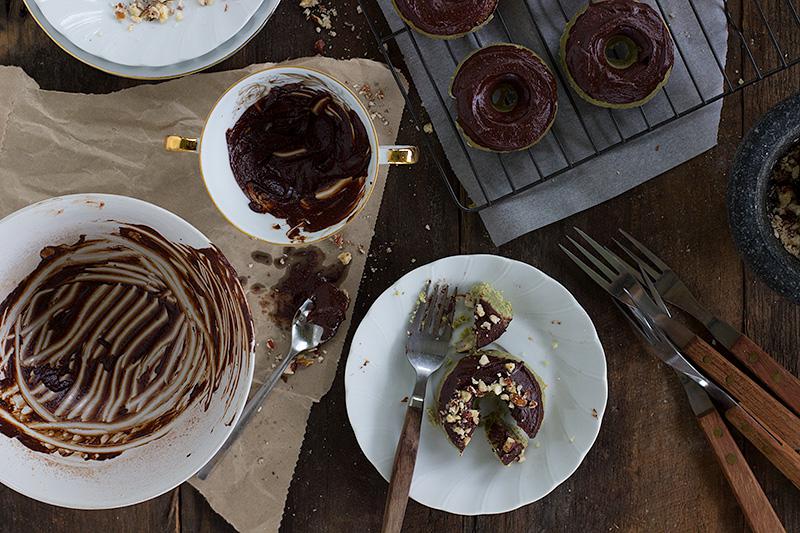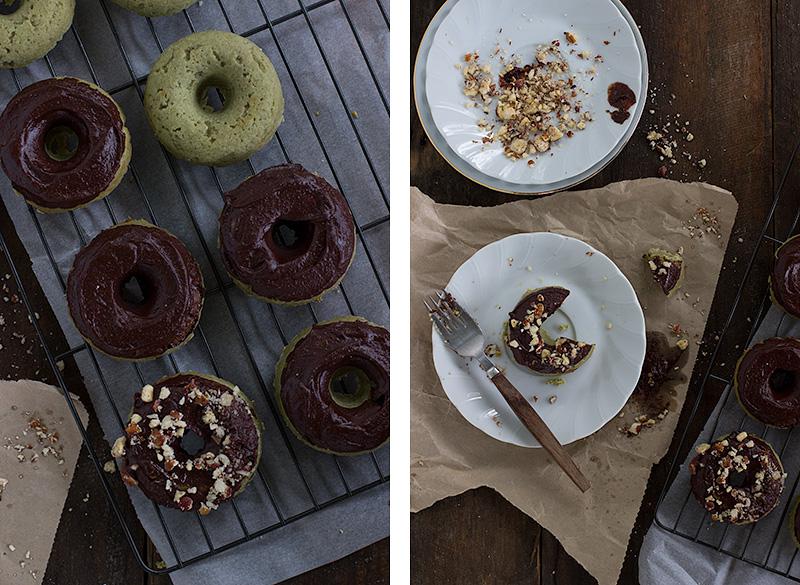 When you embrace the concept of change and aim for a healthier you, it needs to be approached with a realistic goal. Allow yourself that 10 – 20% of eating a meal or socialising with friends in a way that may not be strictly 'healthy'. If you want to go out with your friends occasionally and have a few cocktails or enjoy some coffee and cake then I can promise you the world will not open up and swallow you whole. It is okay to have a bit of fun and loosen the reins a little.
How does this all relate to wheatgrass? It doesn't per say, but I felt this topic needed to be talked about. I see so much restrictive eating and stressful eating on social media forums and in clinic, so as a qualified nutritionist it's a topic that I wanted to chat to you about.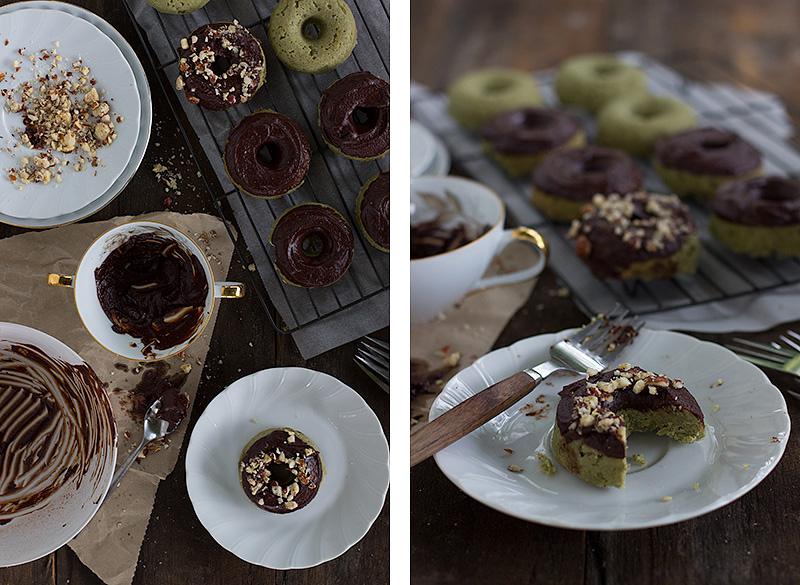 As for these doughnuts, well they are blissful. After baking them I bought them into my work and our podiatrist helped me devour them literally over a couple of days. We talked about how to eat them at their best. Straight from the fridge, or slightly heated to make the doughnut itself slightly softer. Should we heat the doughnut, and if so, just how much to make sure the ganache is not compromised? Important conversations were had over these doughnuts I am telling you.
I really do hope you enjoy these wheatgrass baked doughnuts with chocolate ganache if you choose to make them. As always feel welcome to adapt them. The wheatgrass is not mandatory, but it is a fun addition, and having fun is a big part of what life is all about.
wheatgrass baked doughnuts w chocolate ganache
serves

9 baked doughnuts

preparation time

20 minutes

cooking time

20 – 25 minutes
ingredients
1/2 cup sorghum flour (or buckwheat flour, oat flour or spelt flour)
1/4 cup coconut flour
1/4 cup brown rice flour
2 teaspoon baking powder
1/2 teaspoon cream of tartar
1/2 teaspoon baking soda
4 teaspoons wheatgrass (or matcha powder)
3/4 cup rice milk
1/2 teaspoon apple cider vinegar
1 teaspoon vanilla extract
4 tablespoons maple syrup or honey or rice malt
1/4 cup coconut oil
2 tablespoons ground chia seeds + 1/4 cup water (or 1 free range egg)
// chocolate ganache //
2 tablespoons raw cacao (or cocoa powder)
2 tablespoons coconut oil
1 tablespoon cocoa butter (or butter or dairy free spread)
1 tablespoon maple syrup
handful crushed hazelnuts
method
I've used a doughnut baking tray to make these doughnuts. You could use a muffin tray if you don't have a doughnut pan and cook these as muffins.
Heat oven to 180c. In a saucepan heat wet ingredient inclusive of coconut oil, maple syrup, rice milk and vanilla extract. If using chia instead of an egg add the chia meal and water to the saucepan too. Once everything is combined set the mixture aside.
Combine remaining dry ingredients then add the warmed wet chia mixture and mix well bringing to a wet dough. (Add a little more milk if needed). If you are using an egg add it now with the wet mixture.
Spoon the mixture into a greased doughnut pan and bake for 20 – 25 minutes.  Let cool for 3-4 minutes in the doughnut tray then carefully remove and place doughnuts on wire wrack to cool.
Whilst doughnuts are cooking make your ganache by combine ingredients in a small bowl. When doughnuts are cooled, dip doughnuts into the ganache and smooth out with a knife. Finish by dipping the ganache covered doughnuts into crushed hazelnuts.
These doughnuts are best eaten on the day of baking, otherwise refrigerate for 3 days or freeze. Let them come again to room temperature or warm briefly to soften the doughnut.
nutritional information for wheatgrass baked doughnuts w chocolate ganache
These doughnuts provide complex carbohydrates, which is far removed from store bought gluten free doughnuts. They also have minimal natural sugars and rely on the creamy coconut and vanilla for their naturally sweet flavour. Because of this they are super filling, so one is more than enough as a snack with a cup of tea. I wouldn't have them after dinner either as you would be too full! Unless of course you have had an afternoon work out and are quite hungry.
Chlorophyll (a major component of wheatgrass) is naturally an anti bacterial agent. Studies show it has the ability to raise blood haemoglobin levels (it has a similar biochemical structure to haemoglobin) and it has also been shown in studies to chelate heavy metals such as Iron. (S. Mukhopadhyay, A. Mukhopadhyay, P. R. Gupta, M. Kar, A. Ghosh) 2007, The Role of Iron Chelation Activity of Wheat Grass Juice in Blood Transfusion Requirement of Intermediate Thalassaemia, Blood, American Society of Hematology)
Wheatgrass is cultivated from the first green shoots of wheat seeds. Though it originates from wheat it does not contain the components of wheat that so many are reactive to. Wheatgrass contains high amounts of chlorophyll, which benefits the liver and is a 'blood cleaner'. Wheatgrass is abundantly rich in vitamin E and B vitamins and also minerals such as zinc, copper and manganese. Such nutrient density gives it it's claim to fame for supporting blood cell development and liver health. Wheatgrass is also alkalising in nature, which is useful for treating acidic conditions such as gout and many digestive conditions.
Studies have also looked at wheatgrass and its ability to raise not only haemoglobin but total protein & albumin. There has been significant findings in its ability to do so which from my perspective is quite exciting for ill health and convalescence . (S. Dey eta, 2006, Effect of wheat grass juice in supportive care of terminally ill cancer patients A tertiary cancer centre experience from India, Journal of Clinical Oncology)
Jessica Cox is a qualified practicing Nutritionist with a Bachelor Health Science (Nutrition) and over 15 years of clinical experience. She is the founder and director JCN Clinic, published author and established recipe developer. Jessica is well respected within health and wellness space for her no fad approach and use of evidence-based nutrition.