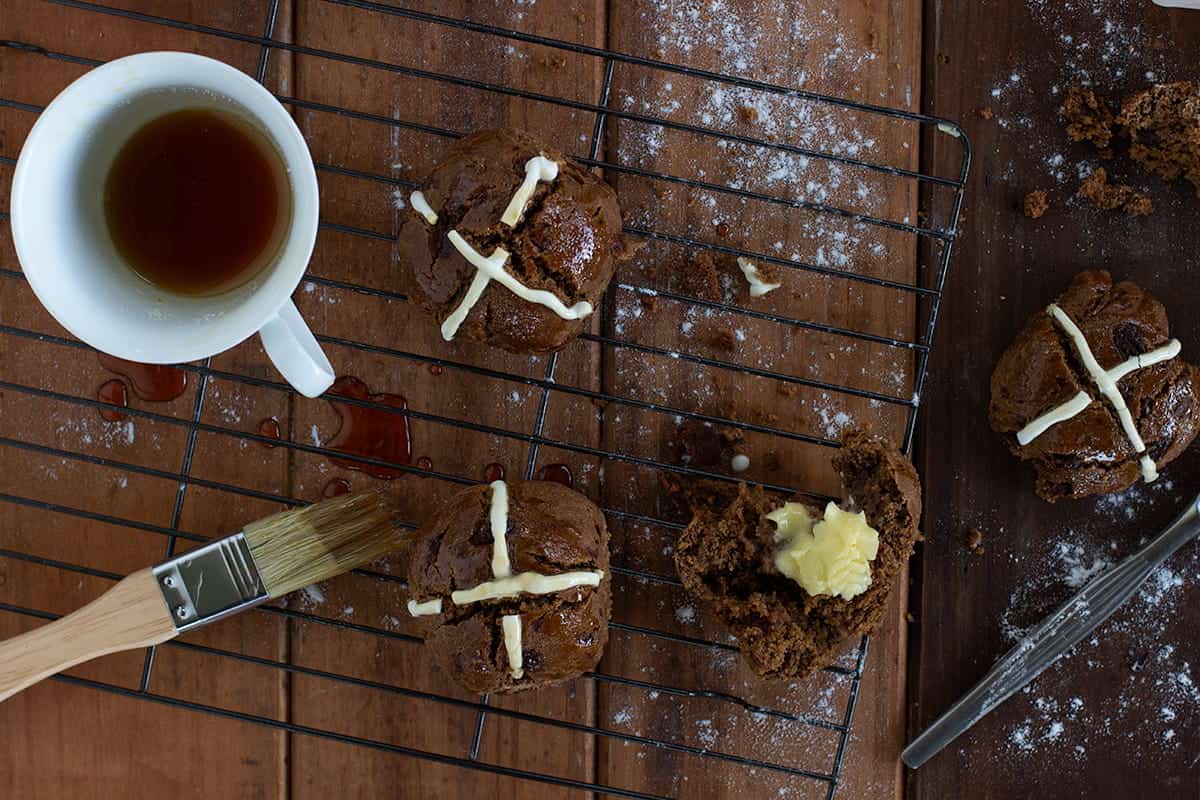 I can't take the credit for this idea. I stole it from my mum after picking her brain about her hot cross bun recipe as I do each Easter.  I grew up with my mum's baking, inclusive of her home made bread being the most pleasurable food experience hands down. Even today when asked my 'last meal on death row' I always say my mums bread straight out of the oven.
Mum always made standard grainy bread (if you could even use the word standard) and often a malt loaf along side. The malt loaf was always sweetened with the intensity of liquid malt and molasses, which left the bread with an unquestionable unique texture. The bread almost bordered on cake like, but not quite. The bursts of the dried fruit were delicious explosions of moisture that collectively created one of my favourite food memories to date.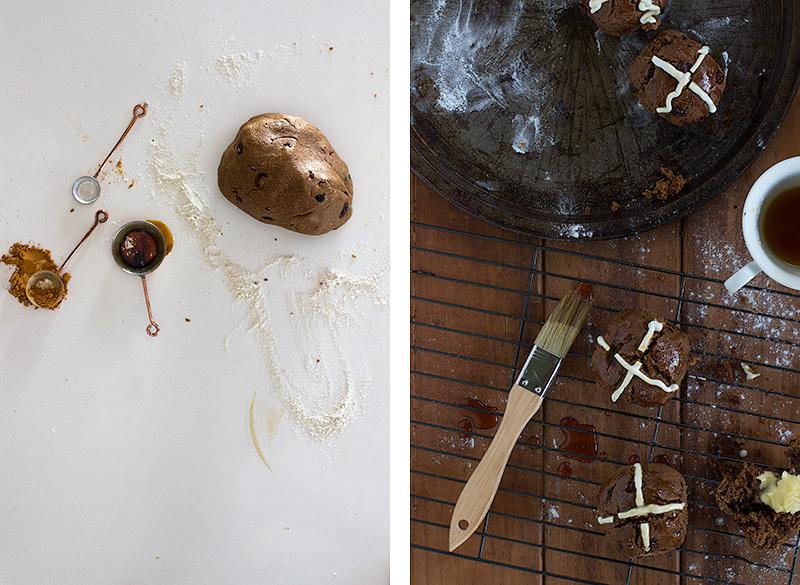 Then there were her hot cross buns *insert deep sigh*. As a result of these hot cross buns it's not even worth me buying hot cross buns at Easter from a shop. Nothing compares, as I've been truly spoilt. Even the year she accidently glazed them with salt instead of sugar I still cut off the lids as finely as possible and devoured them over the camp-fire (oh p.s. hot cross buns are best toasted over the hot flames of a camp fire then spread liberally with butter).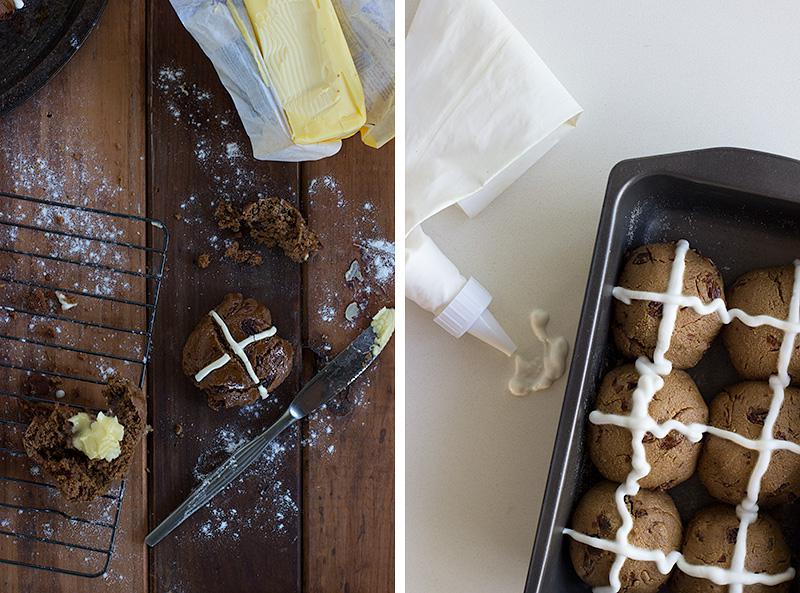 So as previously mentioned, for this recipe I stole the idea unashamedly from my Mum to combine both the hot cross buns and the malt bread in one delectable union, dense and sweet malt bread with spiced hot cross buns. The result is hot cross buns bursting with flavour and aroma. The oat flour used brings a wonderful texture without being too dense and still provides enough stretch to give a rise to the dough.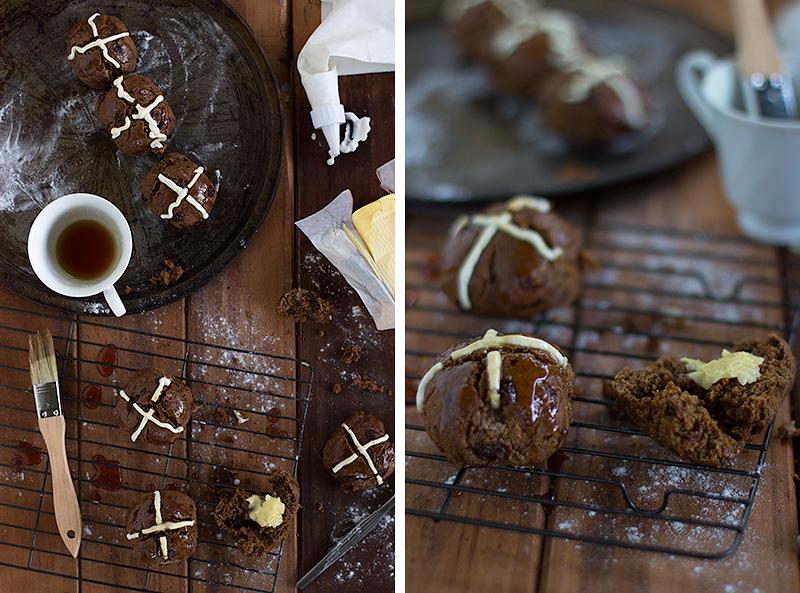 Like the scones posted last week these hot cross buns are at their best when eaten fresh from the oven. Otherwise they are brilliant sliced open, toasted and adorned with organic butter or honey. Personally I think there is nothing like butter on hot cross buns, so if you're dairy tolerant then do it for me!
malt hot cross buns
serves

makes 6 buns

preparation time

10 minutes plus 1-2 hours rising time (or overnight)

cooking time

25-30 minutes
ingredients
250 grams oats, blended to a flour (or oat flour, spelt of wholemeal flour)
1 sachet of instant dried yeast or 2 teaspoons
70 ml warm water
1 teaspoon honey
1/2 teaspoon salt
2 teaspoon cinnamon
1 teaspoon five spice powder
1/2 teaspoon ground cloves
100gm organic raisins
2 tablespoons liquid malt
2 tablespoons molasses
25gm coconut oil
// crosses & glaze //
1/4 cup oat flour or buckwheat flour
4 tablespoons water
1 tablespoon honey
1 tablespoon malt
1 teaspoon water
method
This recipe is modified from hub-uk malt loaf.
Place warm water and yeast in a small bowl with honey and stir to combine. Set aside to let the yeast develop and bubble up to become foamy.
Meanwhile in a large bowl combine oat flour (or flour of choice), spices and salt. Stir through raisins.
In a saucepan heat the malt, molasses and coconut oil until runny and combined. Make a well in the centre of the dry mixture and add in the warmed malt mixture. Pour in the yeast mixture and stir everything together with a wooden spoon to bring to a dough. If the dough seems too sticky then just add a little extra flour and conversely if it seems too dry add a little warm water.
Turn out the dough onto a floured surface and knead well until the dough is no longer sticky, around 3-4 minutes. Now divide the dough into 6 balls and then place on an oiled baking tray or inside a bread or cake tin. Cover with cling wrap and a tea towel and leave in a draft free warm place to rise. This will take around 1 to 2 hours depending on the weather. Ideally they will double in size, but if the don't quite get there its not a worry either. (It's also worth mentioning that you can place the buns in the fridge overnight to rise. They will slowly rise through the night hours even in the fridge).
Pre heat the oven to 180c. Now that they have risen its time to add your crosses. Mix the oat or buckwheat flour and water to make a paste. Put the mixture inside a piping bag and pipe on crosses to your buns.
Place the hot cross buns in the oven and bake for 25-30 minutes or until golden brown. While baking make your glaze by combining the honey, malt and water and heating to combine. When the hot cross buns are ready remove them from the oven and glaze while still warm with some heated honey mixture to give a sticky sweet finish.
nutritional information
These hot cross buns are filled with complex carbohydrates thanks to the use of oats. This makes them not only an ideal snack but also a great start to your day with some added protein dense toppings or a smoothie on the side.
Malt and molasses are wonderfully rich in B Vitamins. Molasses also provides good amounts of iron which makes it a great source of vegetarian or vegan based iron. If you have never tasted either of these I suggest tasting a little before using as it may not be to your liking. You could substitute the molasses for honey if you like to reduce the intensity of the flavour.
If you're intolerant to yeast you could try adding 4 teaspoons of baking powder and 1 teaspoon of bicarb soda to the mix instead of the yeast. This option would mean you could add these straight into the dry ingredients and skip the yeast soaking step. Just add the 75ml water in with the warm malt mixture instead. I have not done this myself but I imagine they would work quite well (famous last words!).
Jessica Cox is a qualified practicing Nutritionist with a Bachelor Health Science (Nutrition) and over 15 years of clinical experience. She is the founder and director JCN Clinic, published author and established recipe developer. Jessica is well respected within health and wellness space for her no fad approach and use of evidence-based nutrition.