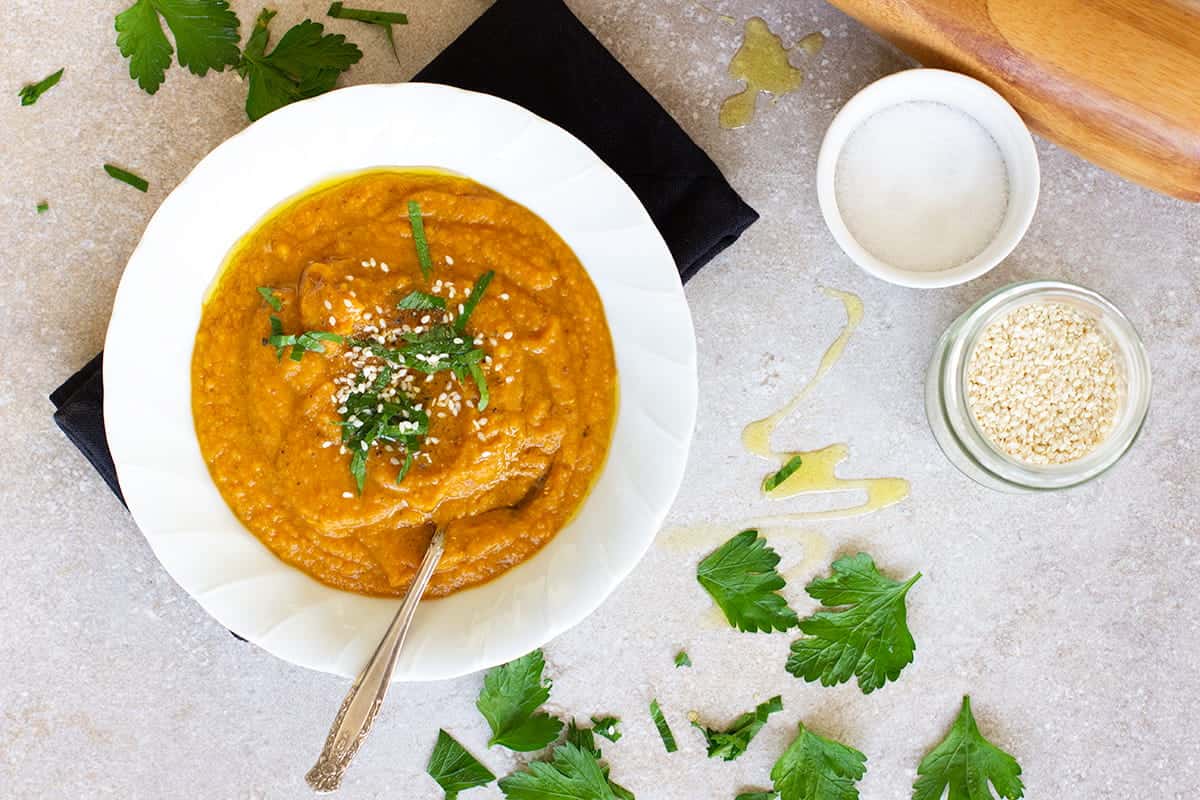 Personally, nothing warms me to the core more than a bowl of hearty soup at this time of the year. This pumpkin & lentil soup is a warming vibrant soup that can be prepared with the ease of a slow cooker. Simply leave all the ingredients to merge into one flavourful soup while you sleep, or whilst you work through the day.
I prefer soups to have a little texture to keep the palate entertained, so if you like, as I have done here, drizzle the soup with olive oil and add some textural crunch with some sesame seeds and fresh herbs. You may also like to add some additional creaminess with a good dollop of yoghurt or coconut cream.
pumpkin & lentil soup recipe
serves

5 – 6 serves

preparation time

15 minutes

cooking time

1 hour – 8 hours, depending on method
ingredients
900gm butternut pumpkin roughly cubed, skin and seeds removed
1 large carrot, cut into large pieces
1 clove garlic
1 onion, skin removed and roughly diced
1 cup red lentils
4 cups vegetable or chicken stock, msg free
1 teaspoon celery seeds
1 teaspoon turmeric
1/2 teaspoon nutmeg
salt and pepper to season
//optional//
1/2 cup  coconut cream
extra virgin olive oil to drizzle
method
Place all ingredients into a slow cooker and leave overnight or for at least 8 hours. Alternatively, place all ingredients in a large saucepan and bring to boil, then simmer for 1 hour or until vegetables are softened and falling apart.
Remove the soup mix from the slow cooker and place in a blender and blend to well combined. Taste soup and season as needed. If you feel the soup requires more liquid, simply add more stock or some water. If desired, add in natural yoghurt or coconut cream and blend.
Serve warm topped with freshly chopped parsley and sesame seeds.
nutritional information for pumpkin & lentil soup
Turmeric is a potent anti inflammatory and antioxidant. Turmeric also stimulates the gall bladder therefore aiding bile production.
This pumpkin & lentil soup provides sustaining protein and fibre thanks to the addition of the lentils. Many vegetable soups lack protein which leaves you feeling hungry earlier and craving sweets.
Celery seeds provide high levels of calcium. Celery seeds are also a diuretic therefore aiding fluid retention. This makes them quite useful for conditions such as gout.
Jessica Cox is a qualified practicing Nutritionist with a Bachelor Health Science (Nutrition) and over 15 years of clinical experience. She is the founder and director JCN Clinic, published author and established recipe developer. Jessica is well respected within health and wellness space for her no fad approach and use of evidence-based nutrition.