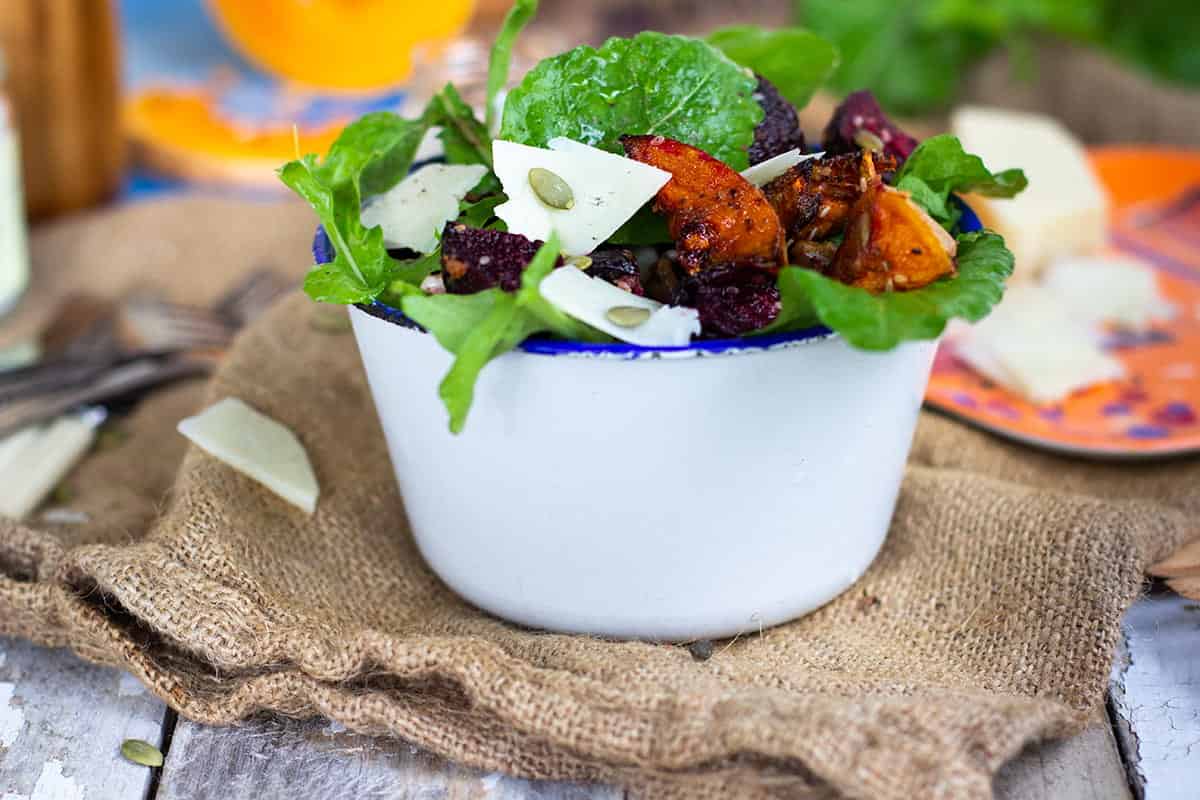 One of my favourite foods to roast is legumes, as they have such lovely starches that are released under heat. Cannellini beans are the star of the show when it comes to such starches. As they roast they crisp up like crunchy bits on well roasted potatoes. Better still, as the beans are tossed through the rest of the vegetables in this roast pumpkin, beet & cannellini bean salad, their starches generously coat everything in their path, creating a lovely textural crust.
This roast pumpkin, beet & cannellini bean salad can be served warm or cold and is best as a side dish to protein such as chicken or lamb. It could also be used as a vegetarian meal and served scattered with crunchy tempeh or tofu, or pan fried haloumi. Left overs can be easily packed up and taken for lunch the next day with a can of springwater tuna or salmon.
roast pumpkin, beet & cannellini bean salad recipe
serves

4 people as a side

preparation time

10 minutes

cooking time

45 – 50 minutes
ingredients
4 medium sized beets cut into quarters
1/3 butternut pumpkin cut into wedges (with pips attached)
1 can cannellini beans, well rinsed
1 heaped teaspoon celery seeds
1 heaped dessertspoon sesame seeds
1 heaped dessertspoon pumpkin seeds (pepitas)
1/3 cup thickly shaved pecorino
olive oil
2 handfuls rocket leaves
method
Preheat your oven to 200c. On a large baking tray place the pumpkin, beets, cannellini beans, sesame seeds, pepitas and celery seeds. Drizzle liberally with olive oil and toss well coating everything. Season with salt and pepper.
Place in the oven to roast for 45 – 50 minutes, tossing vegetables approximately half way through. Once cooked through, the vegetables should be tender and browning and the beans will be crispy and starchy.
Take a salad bowl and combine the entire contents of the tray with the fresh rocket. Toss well and drizzle with some extra olive oil. Scatter with shaved pecorino and serve.
nutritional information
Cannellini beans are part of the legume family. They are a source of carbohydrates and protein making them a smart choice for vegetarians. Cannellini beans are a rich source of fibre and provide good levels of folate and iron.
Celery seeds are a high source of calcium. Just 1 tablespoon of celery seeds provides 115mg. If you are not a fan of the flavour, perhaps try cumin seeds or fennel seeds instead.
Rocket is a rich source of phytochemicals such as indoles, thiocyanates, sulforaphane, and isothiocyanates. These phytochemicals have been shown to counter carcinogenic effects of unhealthy oestrogen substrates. Rocket is also a bitter herb that helps stimulate appetite and bile flow.
Feel free to use this salad as a base and experiment with other root vegetables such as fennel, sweet potato and swede. This salad is also lovely drizzled with a zesty aioli.
Jessica Cox is a qualified practicing Nutritionist with a Bachelor Health Science (Nutrition) and over 15 years of clinical experience. She is the founder and director JCN Clinic, published author and established recipe developer. Jessica is well respected within health and wellness space for her no fad approach and use of evidence-based nutrition.