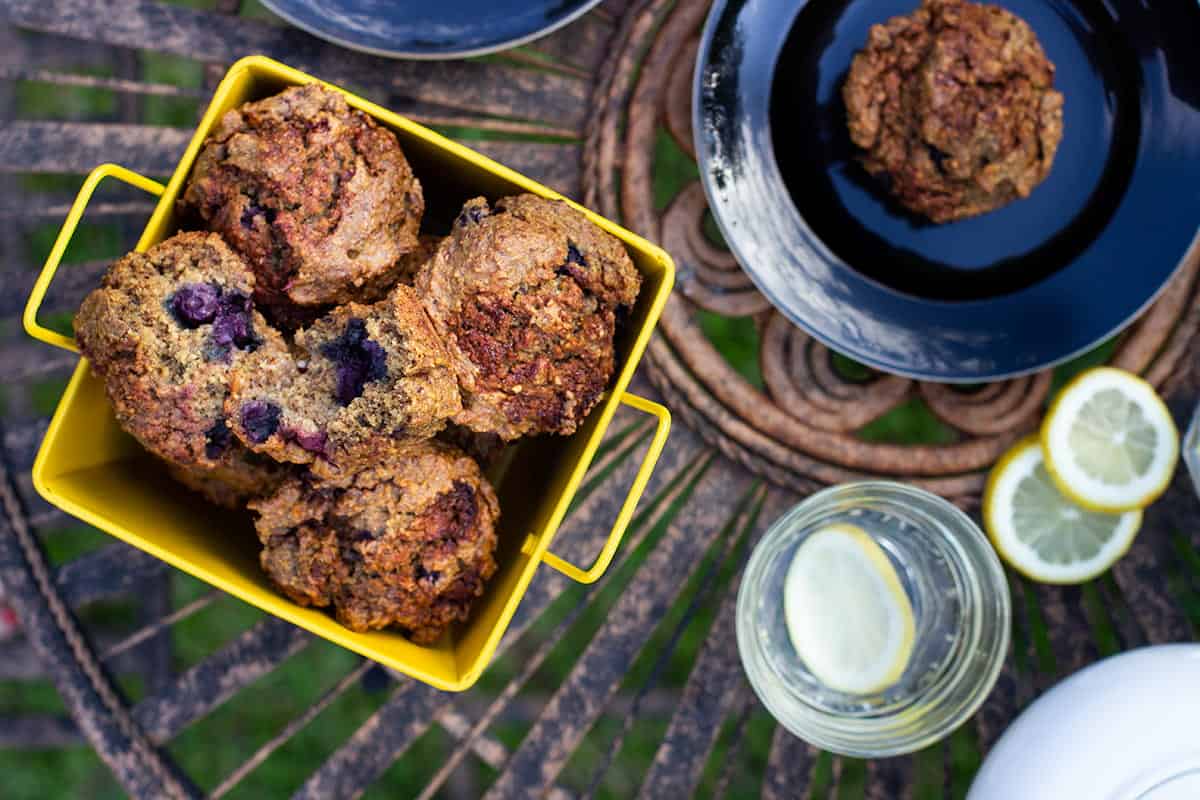 Wholegrain muffins filled with the natural sweetness of mango puree and berries. These rye, oat and flaxseed berry muffins are a meal on their own thanks to the nourishing complex carbohydrates found in the oats and rye, along with the sustaining protein and essential fats in the flaxseed meal and olive oil. Enjoy them warmed on their own, or split in half and drizzle with your favourite spreads.
rye, oat & flaxseed berry muffins recipe
serves

9 – 10 muffins

preparation time

15 minutes

cooking time

35-40 minutes
ingredients
1 1/2 cups rye flour
1 1/2 cups oat flour (ground up oats or oat bran will do)
1/2 cup flaxseed meal
2 teaspoons baking powder
1 teaspoon bicarbonate soda
1 cup pureed mango and peach (I used a 50/50 mix)
1/2 cup olive oil
1 1/4 cups rice milk
1 cup frozen berries
carob syrup (optional)
method
Preheat your oven to 180c and grease a standard size muffin tray.
Combine all dry ingredients in a mixing bowl. In a seperate bowl, combine all your wet ingredients. Make a well in the centre of the dry ingredients and add in the wet mixture. Mix till just combined, then fold through the berries.
Spoon batter in to muffin tins and then if using, drizzle each muffin with carob syrup.
Place in the oven and bake for 35-40 minutes or until a skewer inserted comes out clean. These muffins will be quite moist naturally.
nutritional information for rye, oat & flaxseed berry muffins
These rye, oat and flaxseed berry muffins are not hugely sweet. If you prefer a sweeter muffin, reduce the olive oil to 1/3 cup and add 1/4 cup of maple syrup.
Rye and oats are both wheat free grains rich in fibre. These grains are lower in gluten than wheat, however they are not suitable for gluten intolerance or coeliacs. To make these muffins gluten free use 1 & 1/2 cups of quinoa flakes in place of the oats and 1 & 1/2 cups of gluten free flour of choice instead of the rye flour.
Other fruit purees can be used instead of mango or peach. Try pear or banana for alternatives. You can buy tinned fruit in natural juices and just puree this if easier.
Rye flour is an excellent source of B vitamins along with minerals Iron, Zinc and Selenium. These minerals are integral for optimal thyroid function and immune health.
Jessica Cox is a qualified practicing Nutritionist with a Bachelor Health Science (Nutrition) and over 15 years of clinical experience. She is the founder and director JCN Clinic, published author and established recipe developer. Jessica is well respected within health and wellness space for her no fad approach and use of evidence-based nutrition.