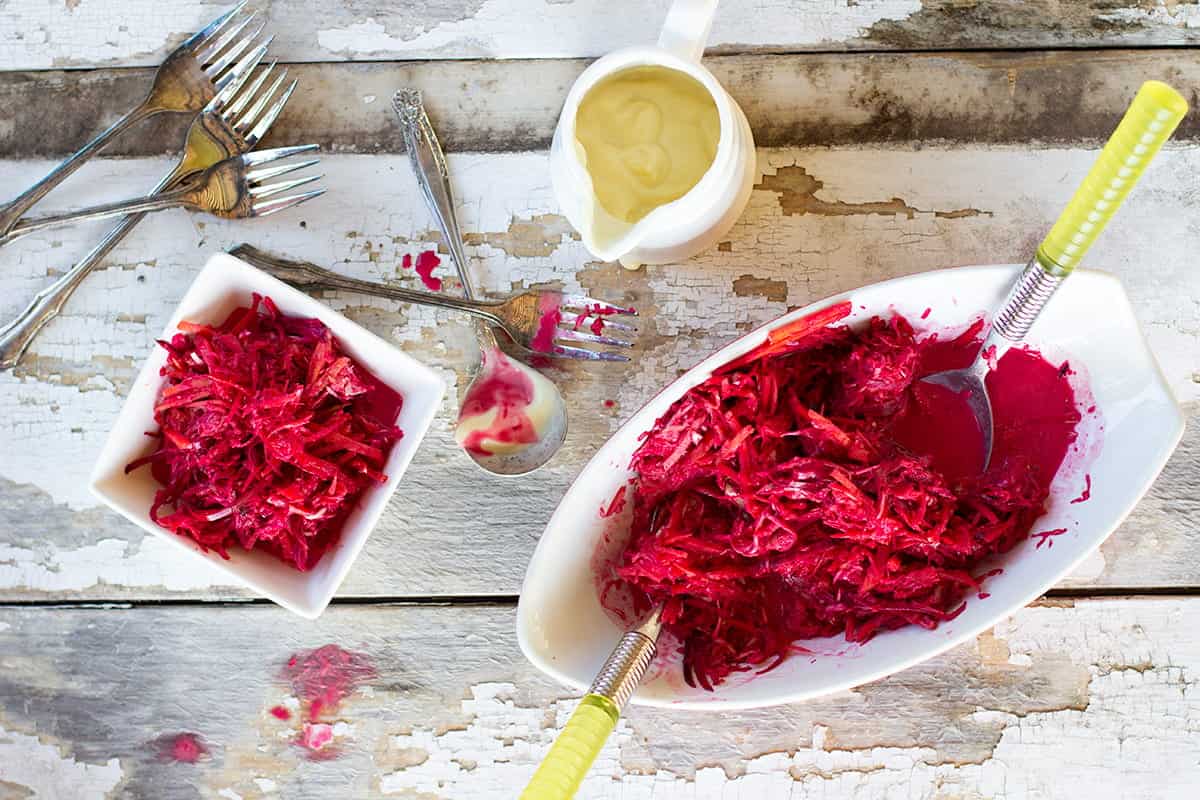 This beetroot coleslaw is a unison of beetroot, sugar loaf cabbage and carrots coated with a light and zingy mayonnaise dressing. The mustard and the horseradish lighten up the dish and bring a lively punch to the everyday traditional coleslaw. As this coleslaw rests and oozes its juices into the dressing you will find a lovely vibrant pink colour will develop. Such vibrant colours can only mean a plethora of nutrients and phytochemical's!
My gorgeous Instagram peers expected me to dress this salad with tahini thanks to my ongoing obsession with this sesame seed paste. However I think the mayonnaise brings a lighter finish to the dressing that carries well. However, if you are egg intolerant you could easily replace the mayonnaise with a fifty fifty mix of hulled tahini and silken tofu.
beetroot coleslaw recipe
serves

4 -5 people

preparation time

10 minutes

cooking time

nil
ingredients
1 1/2 cup julienned beetroot (or grated)
1 1/2 cup julienned carrot (or grated)
1 1/2 cup julienned sugar loaf cabbage (or grated)
juice 1 lemon
1/2 cup mayonnaise (wonderful with homemade mayo)
2 tablespoons malt vinegar or apple cider vinegar
3 teaspoons dijion mustard
2 teaspoons pickled horseradish (optional)
method
Mix the julienned beetroot, carrot and cabbage together in a large mixing bowl with the lemon juice. This will stop the vegetables from oxidising and going brown.
In a separate bowl, combine the mayonnaise, dijon mustard, vinegar and horseradish and mix well. Pour over the vegetables and stir through coating the vegetables thoroughly.
Serve straight away or cover and allow to sit for the colours to develop and the juices to leech out of the vegetables into the dressing.
This coleslaw will keep in an airtight container in the fridge for 3 days.
nutritional information for beetroot coleslaw
Cabbage is an abundant source of the amino acid glutamine. Glutamine is vital for many roles in the body such as intestinal cell health, neurotransmitter function (especially useful for anxiety and stress), replenishing glycogen stores post work out and muscle recovery just to name a few.
Coleslaw is a nutrient packed side dish that contains a substantial amount of fibre, vitamins and minerals. To keep your meal balanced, enjoy coleslaw with a protein side such as meat, fish or legume based patties.
Beetroots are a rich source of folate, manganese and potassium. Beetroots also contain betaine, a phytochemical that is useful for cardiovascular health. Betaine also supports the glutathione pathway of detoxification in the liver making it a fabulous choice for liver health.
Jessica Cox is a qualified practicing Nutritionist with a Bachelor Health Science (Nutrition) and over 15 years of clinical experience. She is the founder and director JCN Clinic, published author and established recipe developer. Jessica is well respected within health and wellness space for her no fad approach and use of evidence-based nutrition.