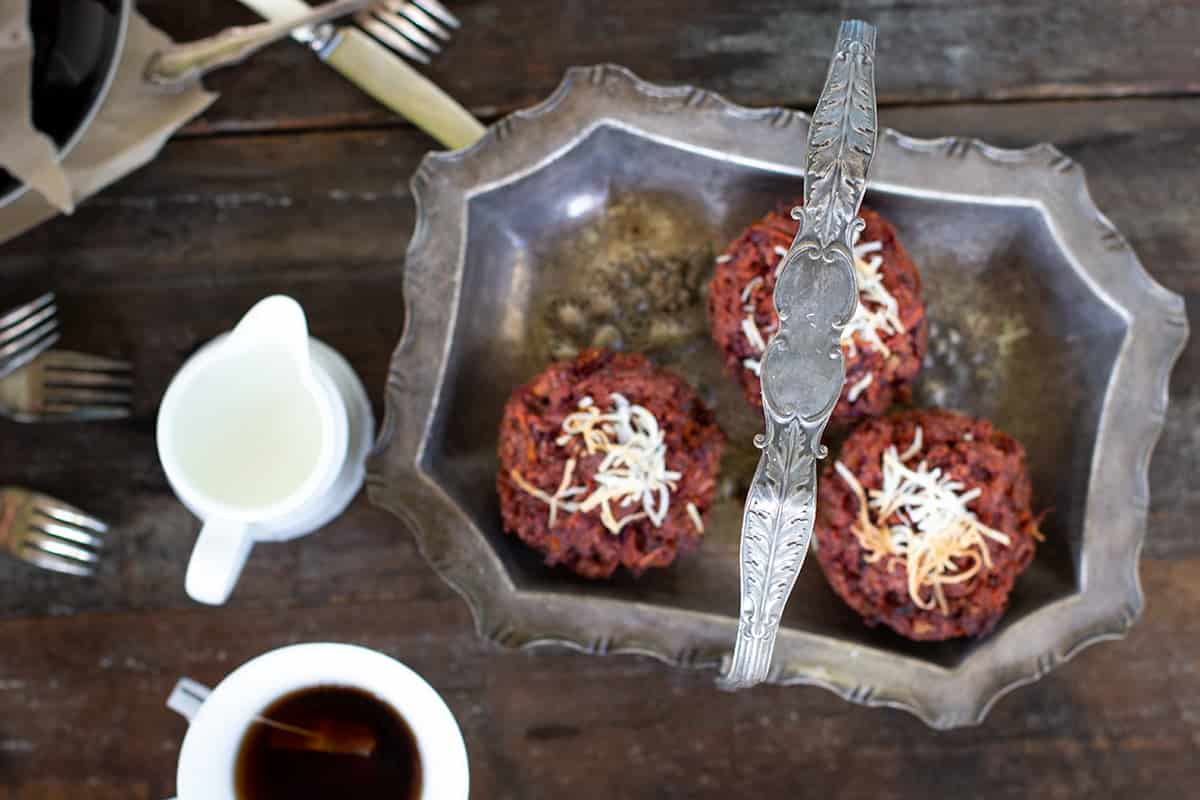 These jumbo carrot, beetroot & coconut breakfast muffins have been one of my most popular posts to date. I think its because they are not only delicious (they are tasty as), yet they are also really easy to make. The sweetness of the cooked vegetables brings natural sugars meaning that less maple and honey is needed in the batter than you would expect. I love these fresh from the oven, cut open and slathered with tahini.
These jumbo-sized muffins are also an alternative to a quick breakfast aside from the common smoothie. Smoothies are great, yet sometimes we just want something we can sink our teeth into and have a good old chew. You can also make them regular muffin sized and then use them for snacks instead of a meal as such. They freeze really well so this makes them perfect for a mid week bite on the go.
These jumbo carrot, beetroot & coconut breakfast muffins are very moist and almost border on a pudding like consistency, so keep this in mind when you are baking them. This texture makes them fabulous for heating and serving with a dollop of yoghurt or banana ice cream.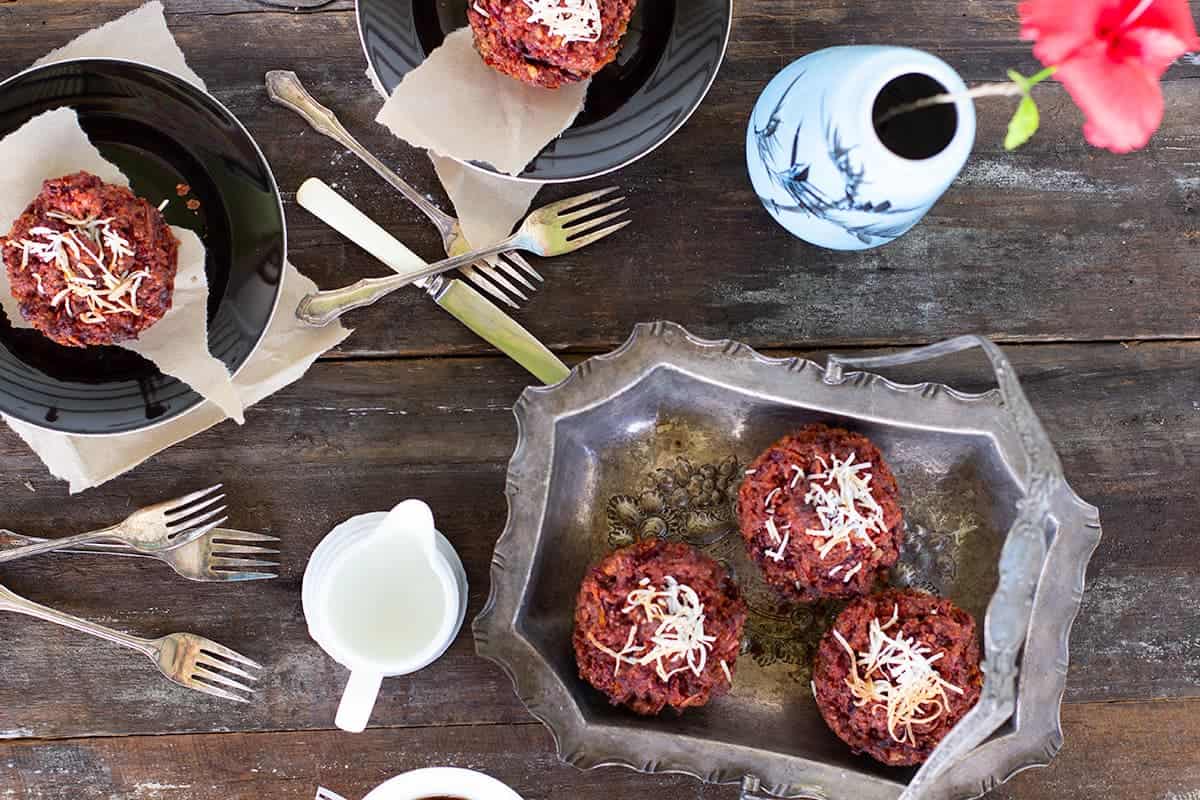 jumbo carrot, beetroot & coconut breakfast muffins recipe
serves

6 jumbo muffins (or 12 small muffins)

preparation time

10 minutes

cooking time

50 – 60 minutes
ingredients
1 cup sunflower seed meal (or almond meal if preferred)
1/2 cup organic desiccated coconut
1 1/2 cups quinoa flakes
2 teaspoons baking powder
1 teaspoon cinnamon
pinch salt
1 cup grated carrot
1 cup grated beetroot
2 tablespoons chia seeds
1 cup of plant based milk
1/2 cup maple syrup
1/2 cup extra virgin olive oil
method
Preheat your oven to 180c fan forced.
Place milk, oil, maple and chia seeds in a saucepan on medium heat and bring to a simmer. Once simmering turn off and set aside. (This will help the chia seeds become more gel like).
In a large mixing bowl combine the  sunflower seed meal (or nut meal), coconut, quinoa flakes, baking powder, cinnamon and salt. Mix well. Add the grated beetroot and carrot and mix till well combined.
Make a well in the center and pour in the wet ingredients. Mix till just incorporated and then let the mixture sit for 5 minutes, as it will soak up some of the liquid. The mixture should still be quite wet, but not oozing out liquid. If you are worried it is too wet then simply add some more quinoa flakes.
Grease a jumbo muffin tin and sprinkle some extra seed meal or some linseed meal on the base of the muffin tin holes to stop them from sticking. Spoon mixture into the muffin tin holes. Bake for around 50 – 60 minutes, or until they feel firm to touch with a bit of bounce.
Once out of the oven allow to cool in the tins completely. This will allow the muffins to shrink away from the side a little and make them easier to get out. Once cool, carefully lift them out of the muffin tin with a knife. These muffins are quite moist and may crumble a little as you do so. Just use this excuse to nibble on the crumbs! Store in a plastic container in the fridge.
To serve simply eat as is or warm and slice in half and top with your favourite toppings. Lovely served with whipped coconut cream.
nutritional information for jumbo carrot, beetroot & coconut breakfast muffins
Carrots are a rich source of vitamin C, vitamin A and betacarotene. We all know carrots are fabulous for eye health, however these nutrients also make carrots useful for respiratory health and boosting the immune system.
Beetroot is a rich source of glycine betaine, a phytochemical compound. Betaine can help lower homocysteine levels within the blood. High homocysteine levels can promote clotting and plaque formation detrimental to blood vessels.
Seed and nut meals are a rich source of fibre and essential fats. The best seed and nut meals are those that you grind yourself so the oils are freshly released and have not had time to oxidise. Simply blitz up seeds and nuts in your blender or coffee grinder.
To make a more traditional carrot cake style muffin, simply use 2 cups of grated carrot and omit the beetroot. You could also add chopped walnuts or hazelnuts if desired.
Jessica Cox is a qualified practicing Nutritionist with a Bachelor Health Science (Nutrition) and over 15 years of clinical experience. She is the founder and director JCN Clinic, published author and established recipe developer. Jessica is well respected within health and wellness space for her no fad approach and use of evidence-based nutrition.