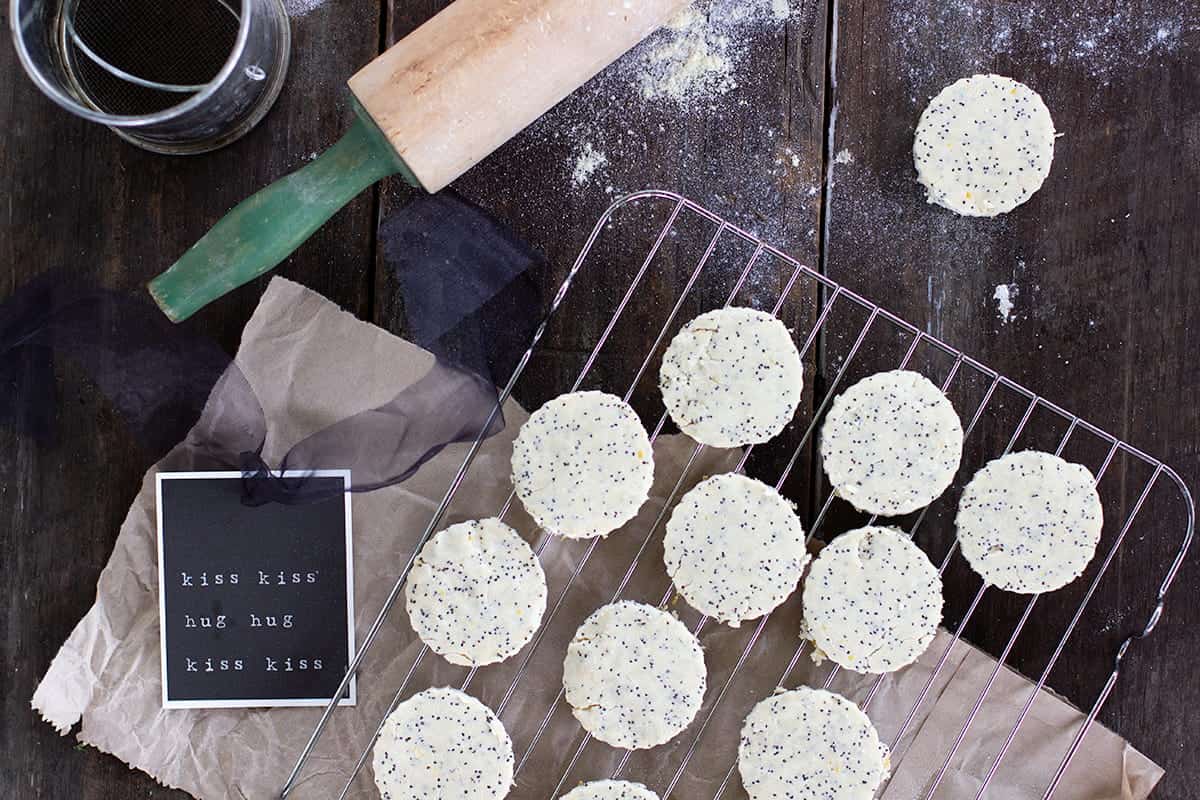 gluten free vegan shortbread recipe
Gorgeous gluten and dairy free lemon & poppy seed shortbread that taste like the real deal! These 'buttery' gems use coconut oil to give a luscious mouth feel. The added millet flour creates extra bite without disrupting that shortbread texture that is so well loved. The maple used creates the sweetness, however the burst of lemon zest in each bite helps reduce the need for a higher amount of sweetness usually found in shortbread. Of course if you do not like the lemon zest and would like to keep them more traditionally, simply omit.
lemon & poppy seed shortbread
serves

1 dozen, give or take biscuit cutter size

preparation time

30 minutes

cooking time

30 – 40 minutes
ingredients
1/2 cup arrowroot
1/4 cup millet flour
3/4 cup white rice flour
good pinch sea salt
1/4 cup poppy seeds
zest half lemon
tablespoon xanthium gum
3/4 cup virgin coconut oil (you may need more depending on dough)
1/4 cup maple syrup
method
Sift the flours into a large mixing bowl. Add the salt, poppy seeds, lemon zest and xanthium gum.
Mix the oil into the dry ingredients so that it's the consistency of tiny crumbs (pulse in a blender or use your hands). Add the maple syrup and mix in. At this stage it may be easier to use your hands too. Get in there and knead it together. If the mixture seems to dry add a little more coconut oil.
Shape the dough into a ball and let chill in the fridge for 15-20 minutes or until solid.
Take the dough from the fridge and press out till about 1 cm thick with your hands. Use a rolling pin to finish. The dough will be a little crumbly so don't worry if it tries to break. Just massage it back into shape with your hands.
Take a cookie cutter and cut out your shortbreads. Use a butter knife to carefully move the shortbread to your baking tray. Once you have cut out all the shortbreads you can from the rolled dough, mush it back together and press out again. Continue this process till all the dough has been used.
Bake at 155c degrees for 35-40 minutes, checking at the 20 minutes mark every 7-8 minutes to ensure they have not burnt. (These shortbreads need to be baked in a slow oven so they do not burn). Allow the shortbreads to cool on the tray for around 5 minutes then transfer to a wire wrack.
These cookies are lovely warm from the oven however they do keep well in an airtight container in the fridge.
nutritional information
The millet flour helps reduce the high GI content of these shortbreads. There is still a higher ratio of rice flour however, so these lemon & poppyseed shortbreads are are best in Christmas spirit moderation.
If you do not want to use lemon zest you could either leave it out completely or play around with adding other flavours such as vanilla or lavender.
The low amount of maple keeps the sugar content in these shortbreads minimal. However, depending on the palette I recommend tasting the mixture whilst raw and adding a little more maple is desired.
Jessica Cox is a qualified practicing Nutritionist with a Bachelor Health Science (Nutrition) and over 15 years of clinical experience. She is the founder and director JCN Clinic, published author and established recipe developer. Jessica is well respected within health and wellness space for her no fad approach and use of evidence-based nutrition.