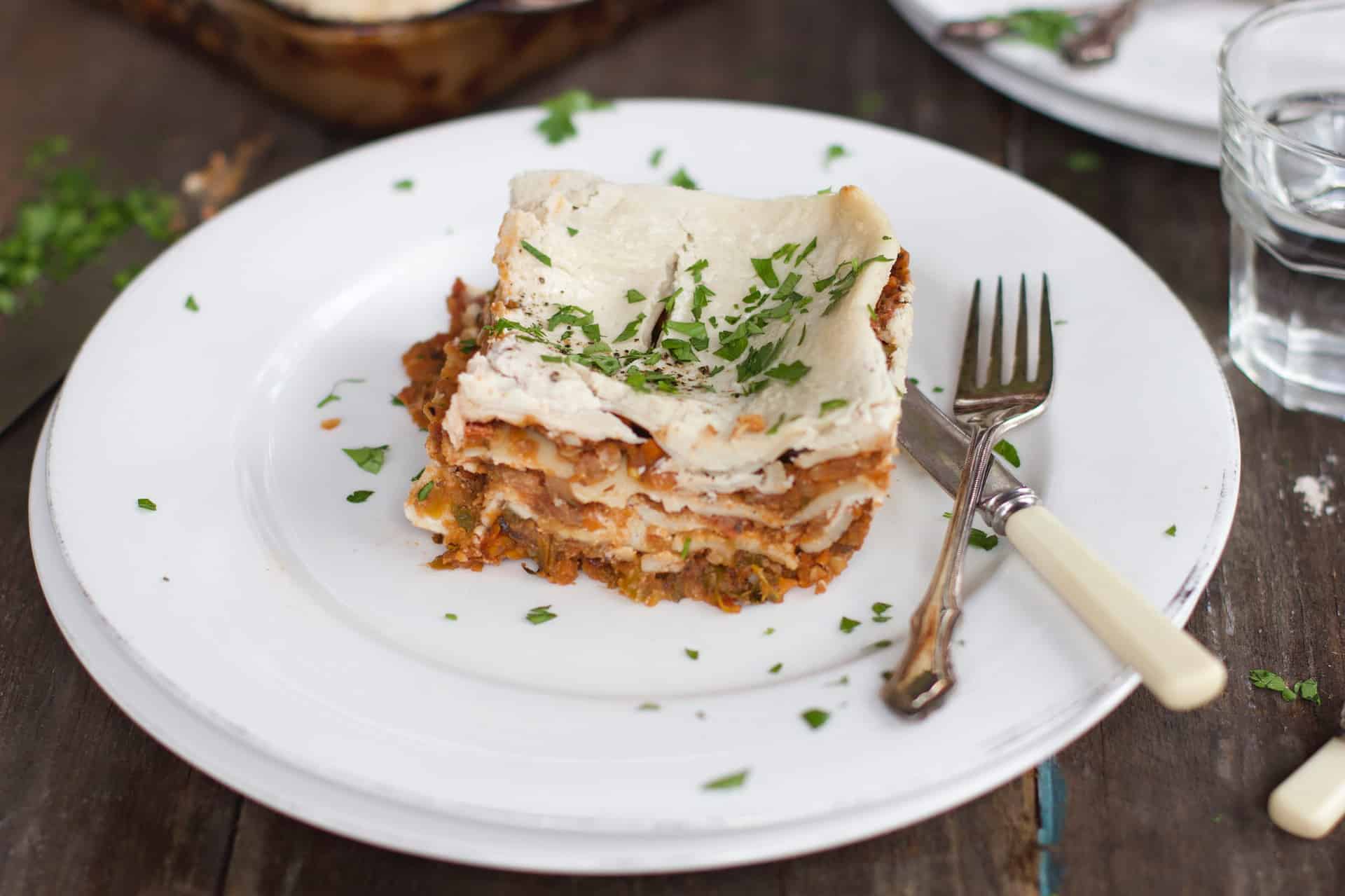 Imagine a meat free lasagna that any carnivore would be happy to eat. Picture it with a creamy sauce that blends and oozes with a rich tomato and red wine braise. This gorgeous vegan lasagna will give you all of that and more.
Not only is this vegan lasagna free of meat, it is also dairy free. Instead of the classic béchamel sauce of milk, flour and butter, in this vegan béchamel cashews are used to create a luscious alternative. I promise you this vegan lasagna could be served up to any skeptic and they would devour it without any recognition of its vegan status.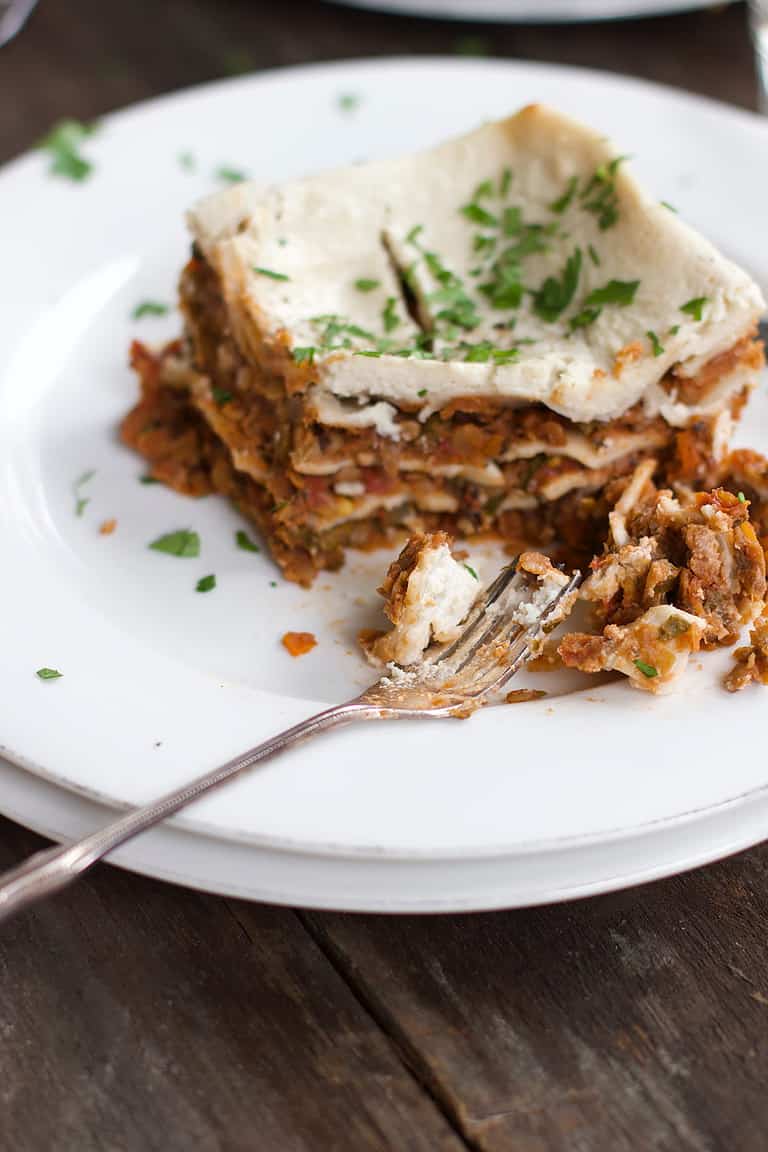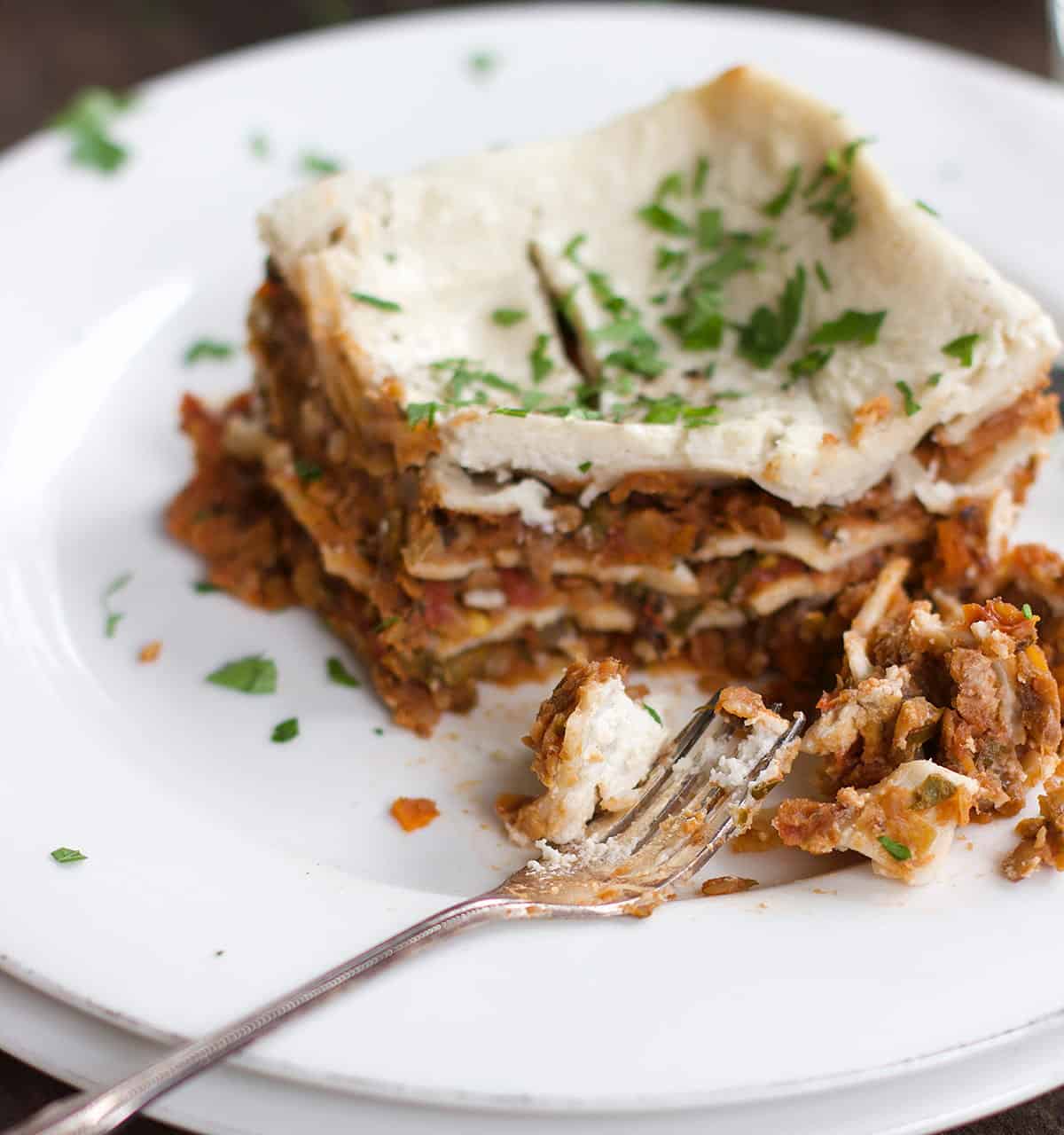 vegan lasagna
serves

6 -8 people

preparation time

90 minutes

cooking time

40 minutes
ingredients
2 cloves garlic, roughly chopped
1 small carrot diced
1 small onion, chopped
1 stick celery, diced
2 field mushrooms, diced
2 tablespoons tomato paste
1/2 cup red wine
1 cup vegetable stock
1 cup red lentils
1 can crushed tomatoes
1 red capsicum, diced
2 bay leaves
handful chopped curly leaf parsley
tablespoon each chopped oregano and thyme
1 heaped teaspoon dried oregano
salt and pepper for seasoning
béchamel sauce:
2 cups cashews
2 cups good quality vegetable stock
4 cloves garlic, *pre roasted for 10 minutes until soft inside skin.
1 packet of gluten free lasagne sheets (or wholegrain spelt if gluten tolerant)
method
Heat a large saucepan and sauté garlic, carrot, celery and onion till transparent. Add capsicum and mushrooms and sweat down. Add in the tomato paste and stir through well for 3-4 minutes. If a slight crust develops on the bottom of the saucepan this is fine. Add the red wine to deglaze. Now add canned tomatoes, stock and lentils and bring to boil and then turn to simmer. Lastly, add bay leaves, all herbs & salt and pepper.
Simmer for 1 hour with lid on, stirring frequently adding more liquid if necessary. Once lentils are softened, turn off heat and set aside.
To make the cashew béchamel, place cashews in a blender with stock and roasted garlic squeezed from its skin. Blend to a creamy sauce. Set aside.
Before assembling the lasagna, pre cook the GF lasagna sheets in boiling water as per packets instructions to help the cooking process and to ensure there will be no hard pasta through the lasagna once baked.
To assemble, place some lentil braise in the bottom of a baking dish. Top with pre-cooked lasagna sheets and then follow with a layer of cashew béchamel sauce. Continue this layering process. There should be enough cashew béchamel to do one layer in the middle of the lasagna and one to finish. Finish the lasagna with a layer of the cashew béchamel sauce and top this with cracked pepper and a drizzle of olive oil.
Bake in a moderate oven 180c for 30 – 40 minutes until heated through and the cashew béchamel starts to slightly brown. Lovely served with a green side salad.
*To roast the garlic, place the garlic cloves in an 180c oven for around 10 minutes. The garlic cloves are done when you can squeeze them in their skins and they have become deliciously mushy inside.
nutritional information
This dish in high in vegetarian protein due to the lentil and nut content. This makes it a fabulous source of sustaining energy. Use this lasagna as a pre packed lunch with a light green salad. This lasagne will reheat with no concerns at all.
If you do not require a gluten free lasagna, substitute the gluten free lasagna sheets for spelt or wholegrain pasta sheets. You could also omit the pasta altogether and use eggplant slices to make a moussaka.
Cashews are a rich source of mineral, in particular manganese, copper, selenium and zinc. This makes cashews an ideal snack choice for blood sugar balance as these nutrients play a key role in insulin binding.
Jessica Cox is a qualified practicing Nutritionist with a Bachelor Health Science (Nutrition) and over 15 years of clinical experience. She is the founder and director JCN Clinic, published author and established recipe developer. Jessica is well respected within health and wellness space for her no fad approach and use of evidence-based nutrition.