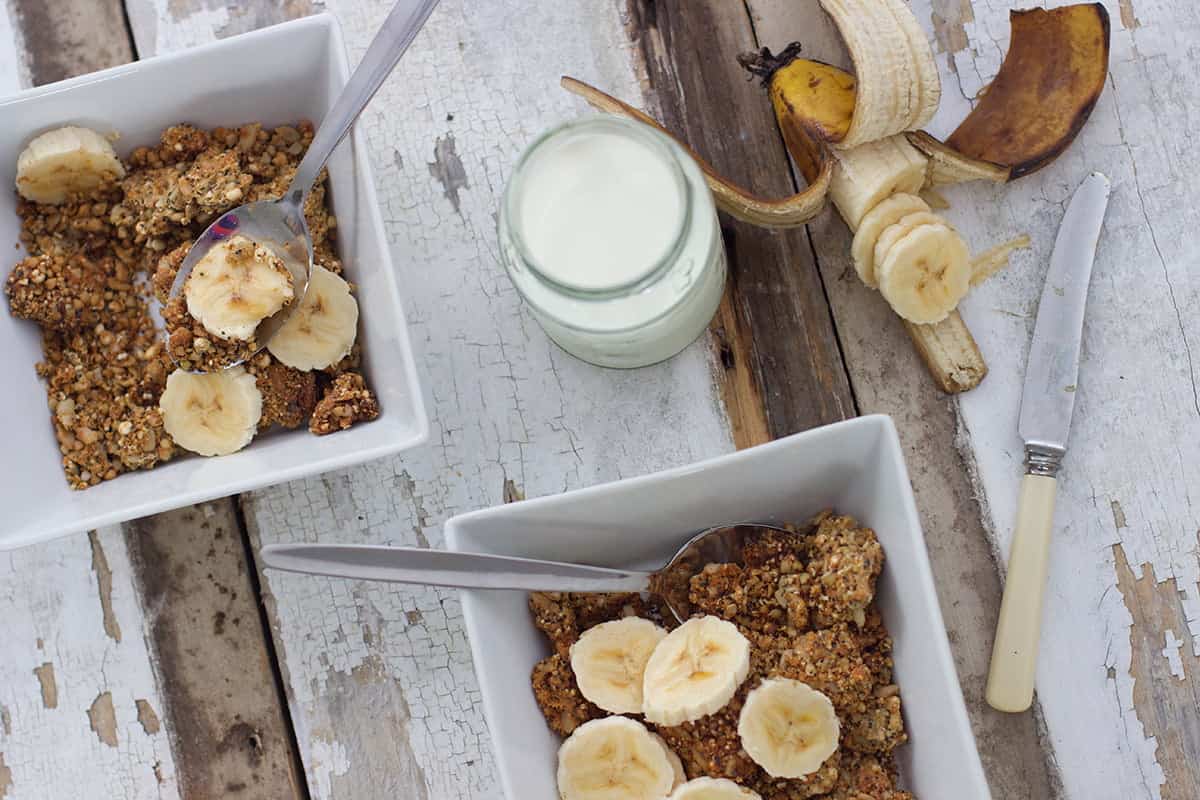 This Vanilla Maple Granola is a tried and true recipe in not only my kitchen, but the kitchen of many clients. Once you have made this granola it becomes a must have staple, as you find yourself craving it first thing in the morning, or even crunching on it as that perfect afternoon snack. There is something about the maple vanilla sweetness against the nutty crunch that is to die for.
This recipe can also be made into muesli bars. Simply cut the mixture whilst still warm into muesli bar sizes once it is out of the oven, instead of crumbling for granola when cooked.
vanilla maple granola
serves

1/2 cup per serve

preparation time

10 minutes

cooking time

30 minutes
ingredients
1 1/4 cups mixed gluten free cereals (combination of buckwheat groats, millet puffs, amaranth puffs, rice flakes)
1/3 cup sunflower seeds
1/3 cup poppy seeds
1/3 cup chopped cashew nuts (or suitable nut of choice)
1/3 cup plain flavoured rice/pea/hemp protein powder
1/4 cup maple syrup or rice malt
1/2 cup cashew nut butter (or suitable nut paste or seed paste if needed)
1 teaspoon pure vanilla extract or powder
1/4 cup cold pressed macadamia nut oil
method
Preheat the oven to 180c.  In a large bowl combine cereals, seeds, nuts and protein powder.
Place the maple syrup, nut or seed paste, macdamaia nut oil and vanilla into a saucepan on the stove and melt together.
Once all of the wet ingredients are melted and combined pour them  into the dry mixture and stir through. Use your hands to bring everthing together.
Tip mixture onto a square 20cm baking dish and press down till firmly packed. Bake in the oven for 30 minutes or until lightly browned.
Allow the granola to cool and then break up into rough pieces. Store in an airtight jar in the fridge till ready to use.
To serve, place in a bowl and top with banana or other seasonal fruit of choice. Lovely with with a creamy milk of choice or yoghurt.
nutritional information
This granola is packed with sustaining protein due the the addition of protein powder, nut pastes and protein rich grains. Due to this, you will not need as much per serve as you would a cereal or muesli.
You could also experiment with adding some spices to the mix such as cinnamon, nut meg or star anise. This would be lovely in the warmer months then topped with some warmed milk.
Granola also makes a fantastic snack on the go. Simply pop some in a container and nibble away at it as needed.
Jessica Cox is a qualified practicing Nutritionist with a Bachelor Health Science (Nutrition) and over 15 years of clinical experience. She is the founder and director JCN Clinic, published author and established recipe developer. Jessica is well respected within health and wellness space for her no fad approach and use of evidence-based nutrition.