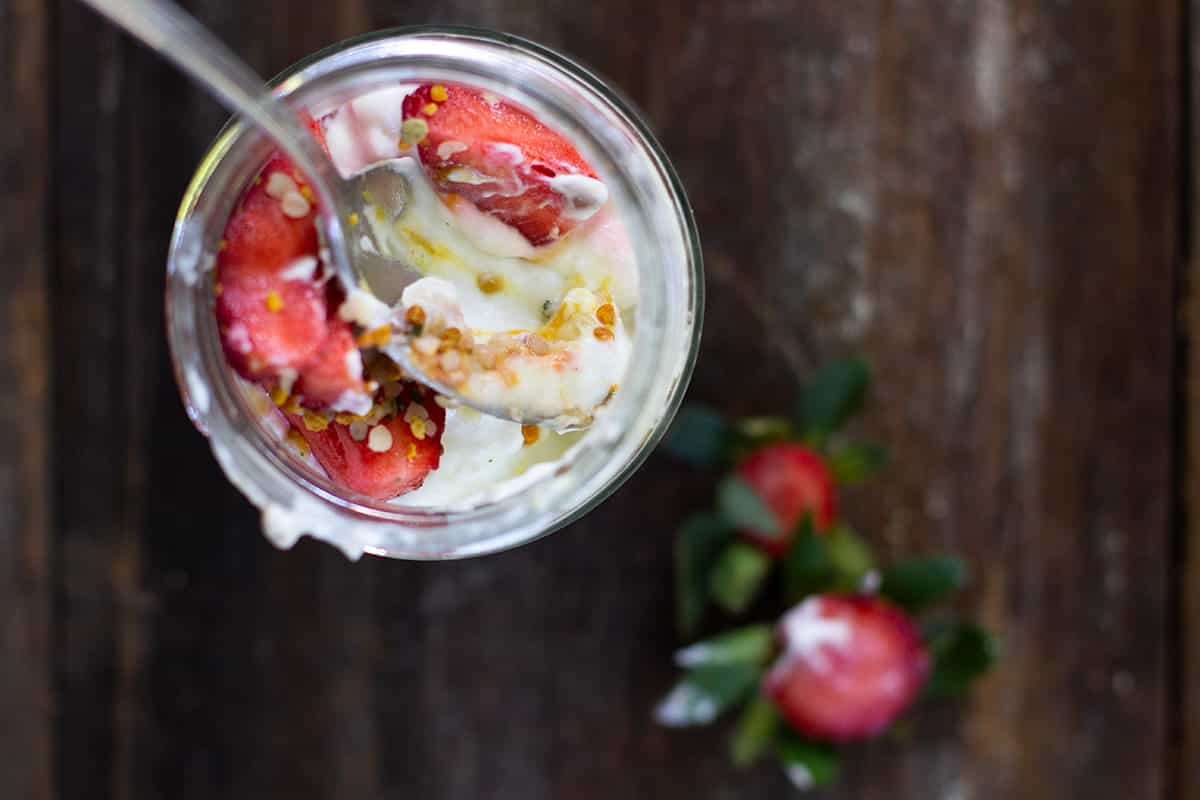 The idea of this on the go bircher muesli is to create an easy weekday meal that can be portable if needed. There is of course the 'ideal' option of eating at home, but let's face it, for many of us that simply isn't going to happen. Big works days and morning work outs mean many of you are out of the house before the sun rises.
For those of you on the go, this 'on the go' bircher muesli can be taken pre packed with you to the gym or office. You then have the option to eat it as is, or add some extra bits and bobs as toppings. Generally bircher has added grated apple, however I have left this out to keep the base recipe fresher for longer.
on the go bircher muesli
serves

4 people

preparation time

5 minutes, plus overnight soaking

cooking time

nil
ingredients
1/2 cup quinoa flakes
1/2 cup flaxseeds
1/2 cup pecans, chopped
1/2 cup shredded organic coconut
1/4 cup sunflower seeds
1/2 cup rice milk
1/2 cup water
1/2 cup sheep's yoghurt (or yoghurt of choice – coconut for dairy free)
teaspoon vanilla extract
1 teaspoon lemon juice
method
Mix all the ingredients in a large mixing bowl. After adding the liquid, the mixture should seems quite sloppy. If you think you need more liquid then just add a little more milk or water.
Either spoon the bircher mixture into a sealable container so that you can scoop out as needed, or, spoon into jars that can be stored in the fridge as individual serving sizes as pictured here.
Leave bircher covered overnight in the fridge to soak up all the liquid. It will be ready to eat first thing in the morning.
On serving, add more yoghurt, fresh fruit and other goodies that you desire. Here I have used bee pollen and hemp seeds for an extra boost.
nutritional information
Bircher is a fabulous start to the day. It provides a complete balance of sustaining complex carbohydrates from the quinoa, there is plentiful protein from the yoghurt, nuts and seeds (and of course quinoa again!) along with beautiful essentially fats in the coconut, nuts and seeds.
Sheep's yoghurt is generally tolerated better by those with milk sensitivities. This is due to the protein in the sheep milk being smaller, and easier to absorb. Sheep's milk is rich in calcium and is the perfect substitute for cows yoghurt. You can of course use cow's yoghurt if tolerant, or even coconut yoghurt. However, if using coconut yoghurt be aware that this will not provide the same level of protein.
This bircher muesli is a great base. However you can go to town with additional add ons. Go for fresh seasonal fruit, fresh ground seed meals such as LSA and flaxseed meal, hemp seeds, bee pollen, goji berries, organic prunes, grated apple or pear, cinnamon, nutmeg and star anise just to name a few!
Jessica Cox is a qualified practicing Nutritionist with a Bachelor Health Science (Nutrition) and over 15 years of clinical experience. She is the founder and director JCN Clinic, published author and established recipe developer. Jessica is well respected within health and wellness space for her no fad approach and use of evidence-based nutrition.