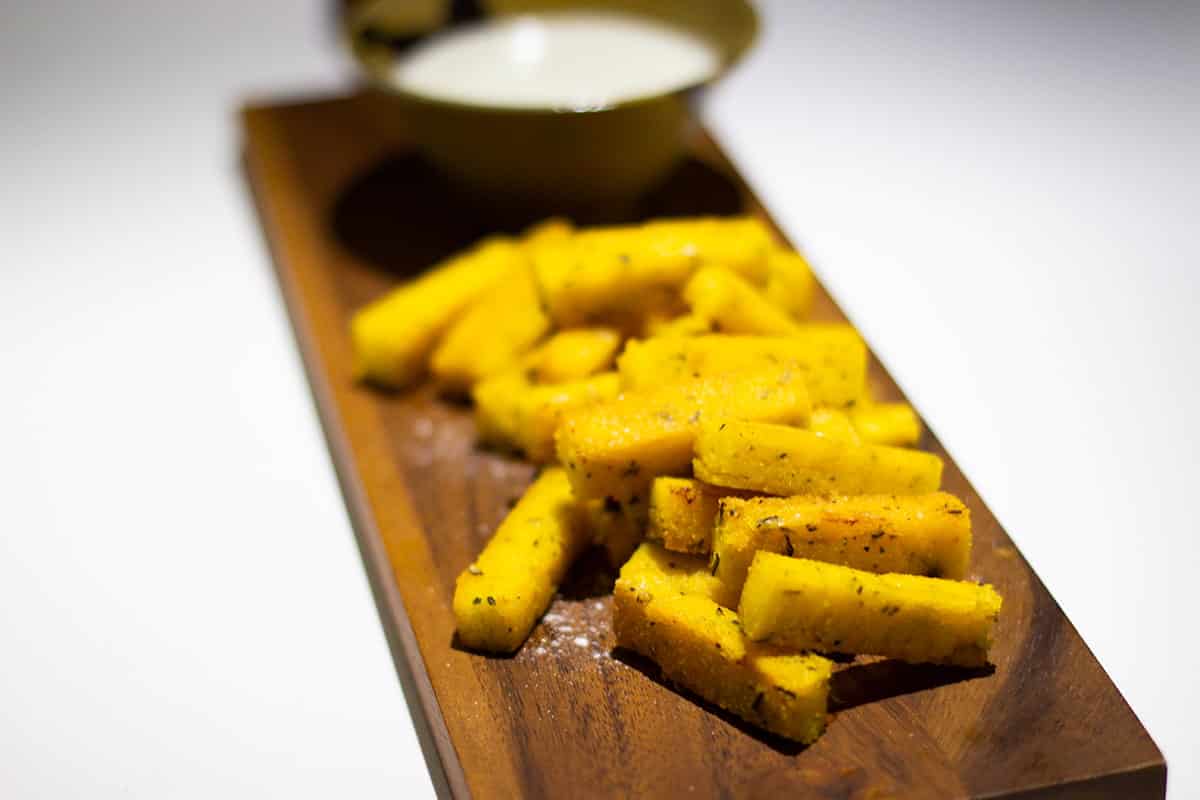 Polenta chips are a great alternative to fries and are a really good medium for carrying flavours of herbs, cheeses and marinated vegetables. Polenta is naturally gluten free and when cooked in this way gives a delicious crunch. This recipe is adapted from Produce to Platter, Jens Schroeder.
polenta fries with lemon and goats cheese sauce recipe
serves

serves 4

preparation time

15 minutes, plus 3 hours setting

cooking time

10 minutes
ingredients
500 ml water
200g fine polenta
30g grated pecorino cheese
2 tablespoons finely chopped rosemary
2 tablespoons finely chopped oregano
splash of truffle oil (or extra virgin olive oil)
1 tablespoon sea salt
// lemon and goats cheese sauce //
50g chèvre cheese
20g diced hard goats cheese
zest one lemon and juice
splash sweet vermouth (optional)
Salt and pepper to season
method
Boil water and add the polenta, stirring until smooth. Add the grated pecorino and chopped herbs with seasoning. Stir through and add either the olive oil or truffle oil.
Place the polenta into a pre oiled tray and smooth out till flat. Pop in the fridge for around 3 hours to set.
Once set, cut polenta into chips, long rectangular shape is great) and pan fry in rice bran oil until golden. Serve with lemon goats cheese sauce.
Lemon and goats cheese sauce:
Put all ingredients in a blender and blend till smooth and creamy.
nutritional information for polenta fries with lemon and goats cheese
Truffle oil is quite pungent, so if you don't like the flavour use olive oil.
The cheeses used in this dish make it a cows milk free, creamy snack. You could use blue cheese in the cheese sauce if you like as this would marry well with the truffle oil.
Polenta is a corn meal. If you are intolerant to corn you could use buckwheat polenta from health food stores.
Jessica Cox is a qualified practicing Nutritionist with a Bachelor Health Science (Nutrition) and over 15 years of clinical experience. She is the founder and director JCN Clinic, published author and established recipe developer. Jessica is well respected within health and wellness space for her no fad approach and use of evidence-based nutrition.