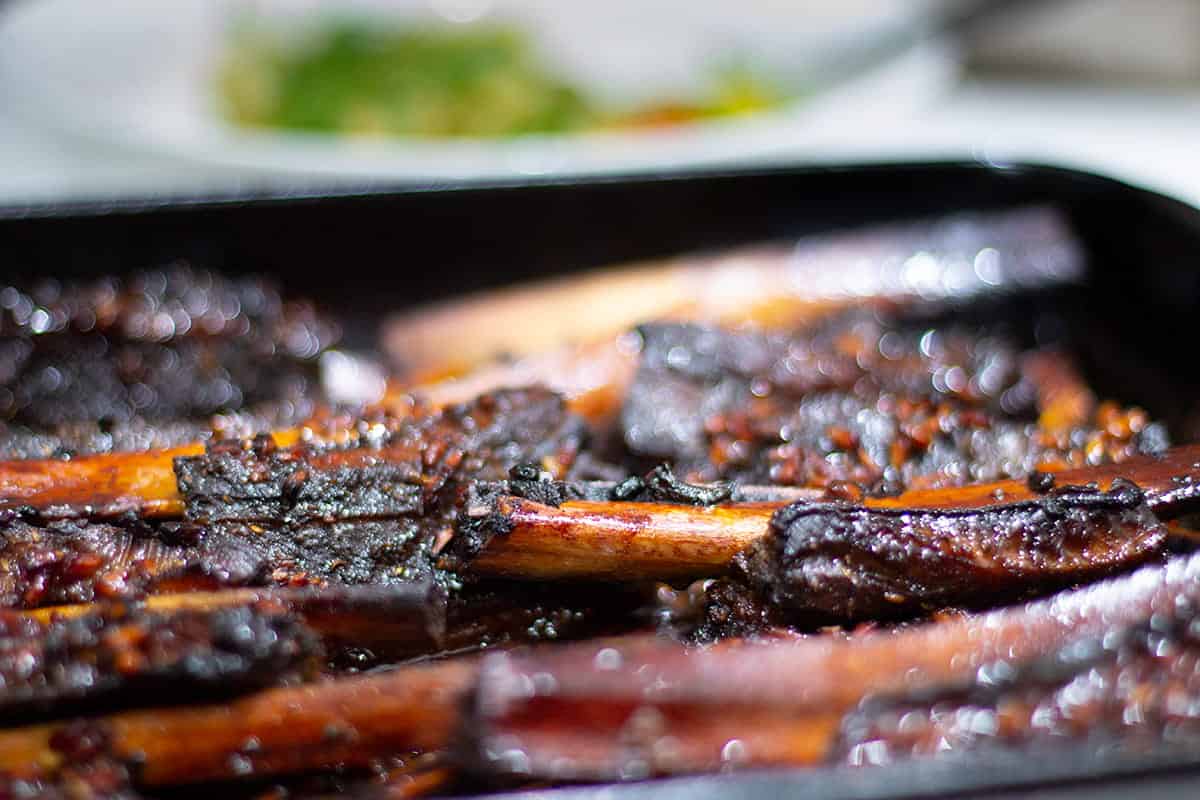 Such true winter food! I know it's hardly winter here in Brisbane, but being a bit of a sook in the cold I tend to find myself gravitating towards hearty food rather quickly. For me true heartiness comes from slow cooked meats that melt away from the bone. If there is a sticky sauce to accompany such luscious melting meat then I am truly in heaven. Personally I find there is nothing like slow roasted meats on a cool night to warm you from the inside out.
These slow cooked ribs are cooked in warming spices and the fire red juices of pomegranate. The pomegranate seeds roast up in the sweet braising liquid and create wonderful pops of flavour in the mouth. The use of both the maple and pomegranate molasses gives the sugars that create the caramelisation on the meats and the blackened colour to the dish making it a real show stopper.
The sweetness of these pomegranate ribs are best balanced by a warm citrusy salad such as this warm caramelised fennel, orange and tomato salad along with the pickled radish. I strongly suggest you cook these up for those that you love and enjoy it around the dinner table on a night when it's drizzling outside. Truly magical.
This recipe is adapted from Donna Hay.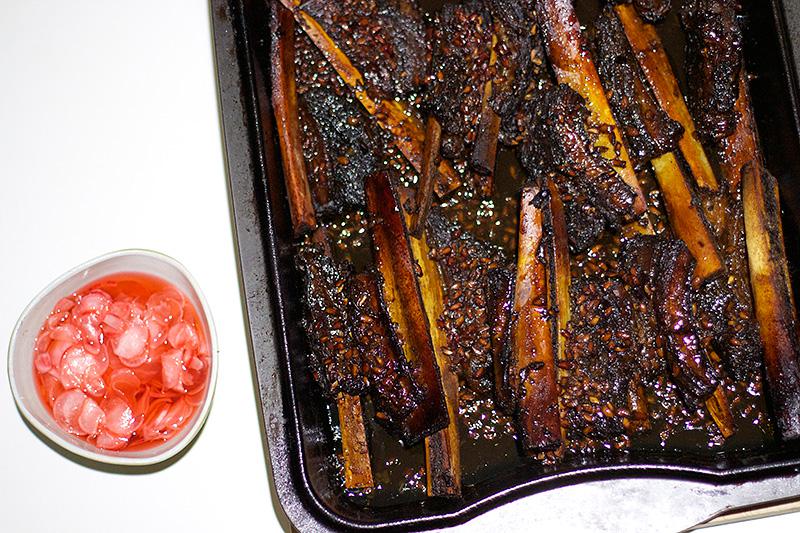 slow cooked pomegranate beef ribs recipe
serves

4-6 hungry people

preparation time

30 minutes

cooking time

3 1/2 hours
ingredients
2 teaspoons coriander seeds
2 teaspoons cumin seeds
1 teaspoon moroccan spice blend
4 cloves garlic, crushed
1 tablespoon extra virgin olive oil
sea salt and pepper
2 kg beef ribs, preferably organic
2 sticks cinnamon
2 pomegranates
1 cup maple syrup
1/2 cup pomegranate molasses
1 cup water
pickled radish:
200g radishes, thinly sliced
1 cup white vinegar
1/3 cup organic sugar or rice syrup
method
Preheat oven to 180c. Place spices in a mortar and pestle and grind to a powder. Add oil, salt and pepper, garlic and bring to a paste. Rub mixture over ribs. Place the ribs in a baking dish with the cinnamon sticks.
Combine in a bowl the pomegranate seeds and juices, pomegranate molasses, maple syrup and water. Pour the mixture over the ribs. Cover the baking dish with al foil or a tight lid and bake for 3 hours. Check half way and baste ribs with juices. After 3 hours, remove the foil or lid and cook uncovered for a further 30 minutes. The ribs will go quite black, however this is just the sugars caramelising.
While the ribs are cooking make the pickled radishes. Combine in a bowl the radishes, sugar or rice syrup and vinegar. Stir well and let infuse for at least 20-30 minutes.
Serve ribs with pickled radish and zesty citrus salad.
nutritional information for slow cooked pomegranate beef ribs
Pomegranates are a rich source of vitamin C and have potent antioxidant activity. If you are yet to experiment with them then this is the dish to do so with! This fruit has such a wonderful citrus yet almost berry like flavour, so perfect to add to a savoury dish.
Cumin and coriander are heating spices that warm the digestion in the winter months. Coriander is also used in herbal preparations to assist digestive health and gentle detoxification.
The polyphenols in pomegranates have been associated with improving blood flow and reducing atherogenic plaques, highlighting this fruit as potent cardiovascular protective food.
Jessica Cox is a qualified practicing Nutritionist with a Bachelor Health Science (Nutrition) and over 15 years of clinical experience. She is the founder and director JCN Clinic, published author and established recipe developer. Jessica is well respected within health and wellness space for her no fad approach and use of evidence-based nutrition.