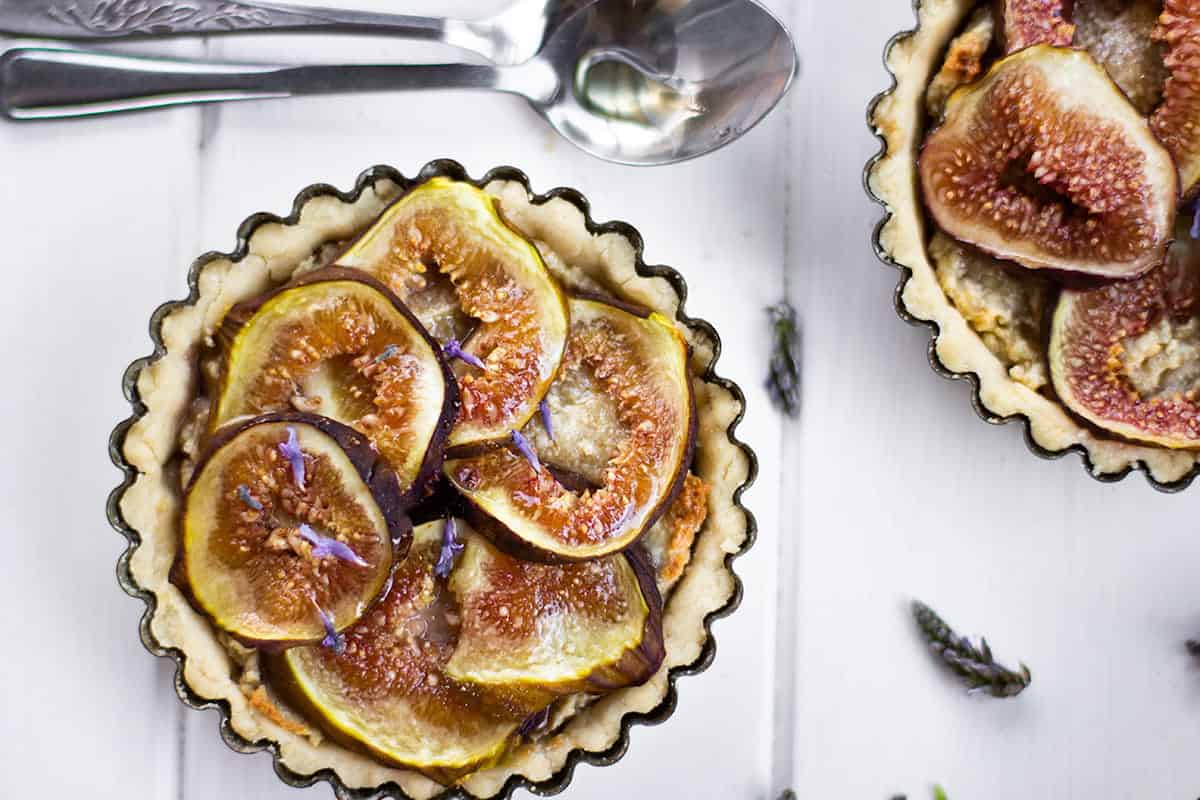 These gooey, almost caramel like tarts are too good for words. I made these tarts for a casual dinner party for my fiancé and his mate who are by no means into alternative foods (although my fiancé is gaining a fast appreciation and education in nutrition as the years go by). The luscious figs that grace the top of the tarts with their delightful sweetness compliment the creamy centres perfectly. Of course, if figs are not in season it is easy to swap them for other fruits such as stone fruits, pears or apples.
These lavender and fig tarts use egg yolk only, which makes them quite well suited to those who suffer from egg white intolerances. In most cases, it is the whites of the eggs that are are problematic from an intolerance perspective (due to the protein in the white), which in turn leaves the creamy yolk available for uses in dishes such as this. The lavender in these tarts is also an addition that you may have not dabbled with before. If you don't have fresh lavender in the garden you can purchase dried lavender for culinary uses from most good deli's or health food stores. Again, it can be omitted altogether or swapped for other herbs, such as lemon thyme or even a hint of rosemary would be lovely.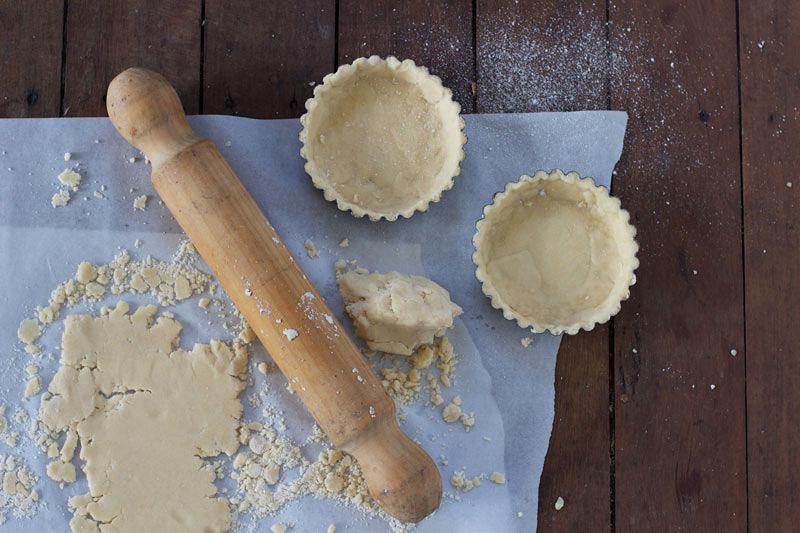 This weeks lavender and fig tarts post is dedicated to my fiancé Dameon, who turns the big 40 this week. When I first met him he would have thought I was serving some strange and foreign dessert dishing up these tarts. Now however, through our years together he has not only learnt to expect such creations, but to enjoy them (well, with added cream or ice cream of course). He has also become a sponge for the nutritional banter I share with him, and as a result, proudly educates others with the new found knowledge he holds, much to my amusement and pride.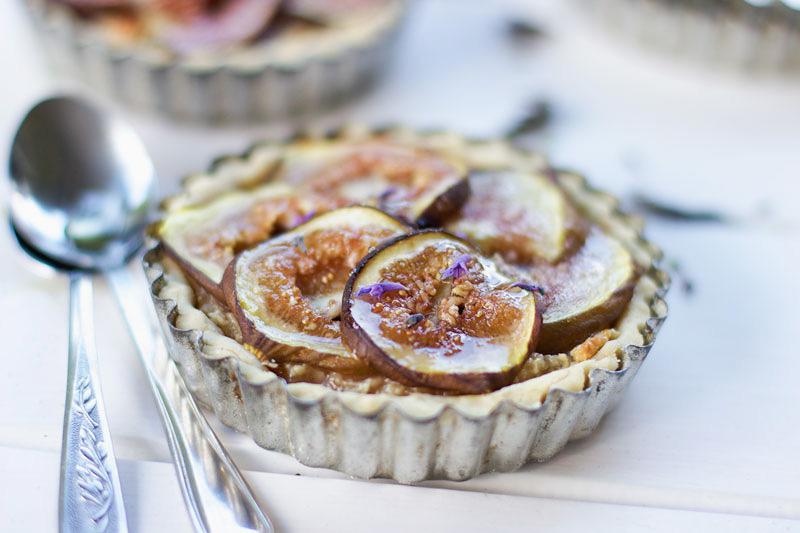 Hubbard, thank you for being my rock over the years of developing my business and encouraging me to launch my passion into this website and beyond. Your pride and belief in what I do are forever uplifting and a driving force beneath my wings. xo
lavender and fig tarts recipe
serves

makes 4 tarts

preparation time

2 hours

cooking time

30-40 minutes
ingredients
1 cup gluten free flour blend (1/3 potato flour, 1/3 tapioca, 1/3 brown rice flour, teaspoon guar gum) plus a pinch of salt
65g cold coconut oil
1 egg yolk (washed gently if intolerant to whites)
1/4 cup ice water
// cashew filling //
2 cups raw cashews
1/4 cup maple syrup (plus extra for 2 – 3 tablespoons for topping figs – or you could use rapadura or coconut sugar)
1 teaspoon dried lavender flowers or 3 teaspoons fresh flowers
1 egg yolk
1/2 teaspoon vanilla extract
4 figs
2 tablespoons lavender honey (or raw honey), gently warmed until liquid
lavender flowers or fresh lavender sprigs for garnish
method
Mix flour and salt in a bowl with coconut oil and rub together with hands till mixture resembles bread crumbs. Add egg yolk and a minimal amount of ice water until you can gather and shape the dough into a ball. Wrap in plastic, and refrigerate for 1 hour.
After the hour has passed, roll out and line individual tart tins that have been greased and floured. Prick all over with a fork and place in freezer for at least half an hour.
In the meantime, blitz the cashews in a food processor. Add maple syrup, lavender flowers, egg yolk and vanilla extract, pulsing until mixed.
Preheat oven to 180c. Remove crust from freezer, line dough with foil, and fill with dried beans or baking weights (holds dough down and prevents from bubbling up during baking). Bake for 20-25 minutes, just until the borders turn pale gold. Remove from oven, remove weights and foil, and set aside.
Now delicately spread the cashew mixture into pre cooked pastry shells. Slice figs lengthways and arrange fig slices in a fan slightly overlapping into a circle. Sprinkle with 2-3 tablespoons of rapadura sugar, coconut sugar or a drizzle of maple syrup. Bake for approximately 30 minutes, until the figs are slightly darkened, and oozing.
Remove from oven, and drizzle evenly with the warmed honey. Sprinkle with additional lavender flowers. Serve with either coconut ice cream, cashew cream or goats curd.
nutritional information for lavender and fig tarts
These tarts can be made nut free by using sesame seeds or sunflower seeds in place of the cashew nuts. They can also be made low fructose by using maple syrup instead of honey.
Lavender has calming properties which may help sooth an over stimulated nervous system.
These tarts are very low in sugar and naturally high in protein and essentially fats. The perfect dessert! Of course, they are still quite 'calorie dense', so enjoy them as you would any dessert…in moderation.
Jessica Cox is a qualified practicing Nutritionist with a Bachelor Health Science (Nutrition) and over 15 years of clinical experience. She is the founder and director JCN Clinic, published author and established recipe developer. Jessica is well respected within health and wellness space for her no fad approach and use of evidence-based nutrition.