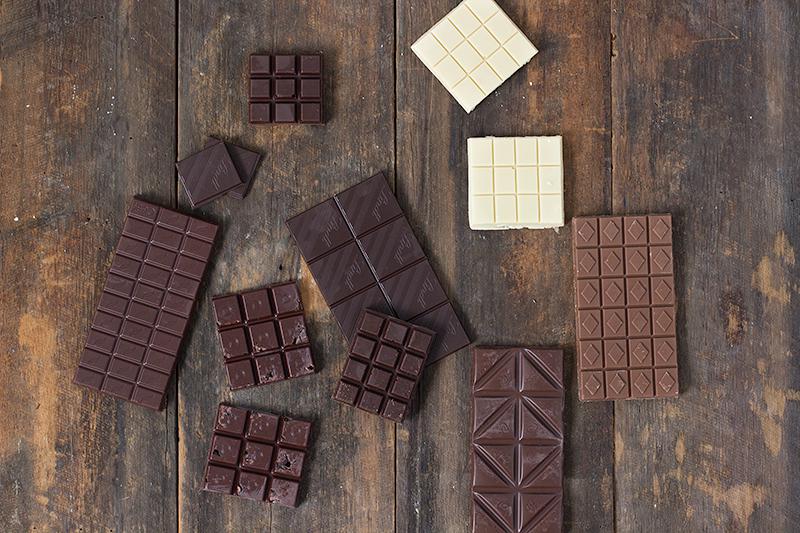 With Easter just around the corner (seriously didn't my family just leave after Christmas a few weeks ago?) I thought it was an apt time to look at a breakdown of the best, and shall we say not so best, dairy free chocolates on the mainstream market. I haven't gone into health food stores or online shopping for this as I wanted to keep it in the easy access pile for many of you. To be honest, majority of the best chocolates are now online or being sold in good health food stores and I'll include a footnote at the end of this article highlighting some of the finest. For now though we are going to focus on what you can pick up at your local supermarkets. As always, we will look at flavour, ingredients, nutrition and intolerance friendly capacity of each product. Let the choc-o-thon begin!
Lindt 85% cocoa extra dark
Ingredients: Lindt contains cocoa mass, fat reduced cocoa powder, cocoa butter, demerara sugar, natural bourbon vanilla beans.
Nutrition: The sugar content of Lindt 85% is quite low compared to some of our other contenders. Even though it contains sugar and no artificial sugar, the sugar content overall is quite low. This can be seen when viewing how far down the ingredient list sugar sits. The high cocoa content makes this chocolate quite strong and generally harder to overeat as a result.
Demerara sugar is a large grain sugar and has a toffee like flavour. It is slightly less refined than white sugar, yet still quite comparable nutritionally. Lindt 85% has around 2 grams sugar per serve (equivalent to 1/2 teaspoon), which is 2 squares. Saturated fat is at 5.6 grams, which helps mitigate the blood sugar spike.
Lindt also do a 90% dark chocolate, which contains similar ingredients, though uses straight sugar instead of demerara sugar. 2 squares of 90% Lindt contain only 1.3 grams of sugar (1/4 teaspoon sugar) and 6.6 grams of saturated fats. This chocolate by far is one of my favourite on the mainstream market.
Intolerances: Lindt 75%, 80% and 90% dark chocolate are all gluten and dairy free along with being suitable for vegans. They are also free from soy and nuts. Caution should be made with any flavoured variations, as these will contain dairy often in the form of butter fat.
Available: Most major supermarkets stock this brand.
Taste: This is one of my personal favourites, especially the 90%. I love the dark earthy taste and the minimal sugar. It does not leave you feeling sick or like scratching your face off from too much sugar. I love the bourbon vanilla beans used too, it has quite a lovely toffee, vanilla like flavour overall.
As for the rest of the JCN Clinic team, Carissa finds the 85% a bit bitter and bland and feels it needs a hot creamy drink with it, while Anna likes it. They both prefer the 90% like me and find it smoothie and creamier in general.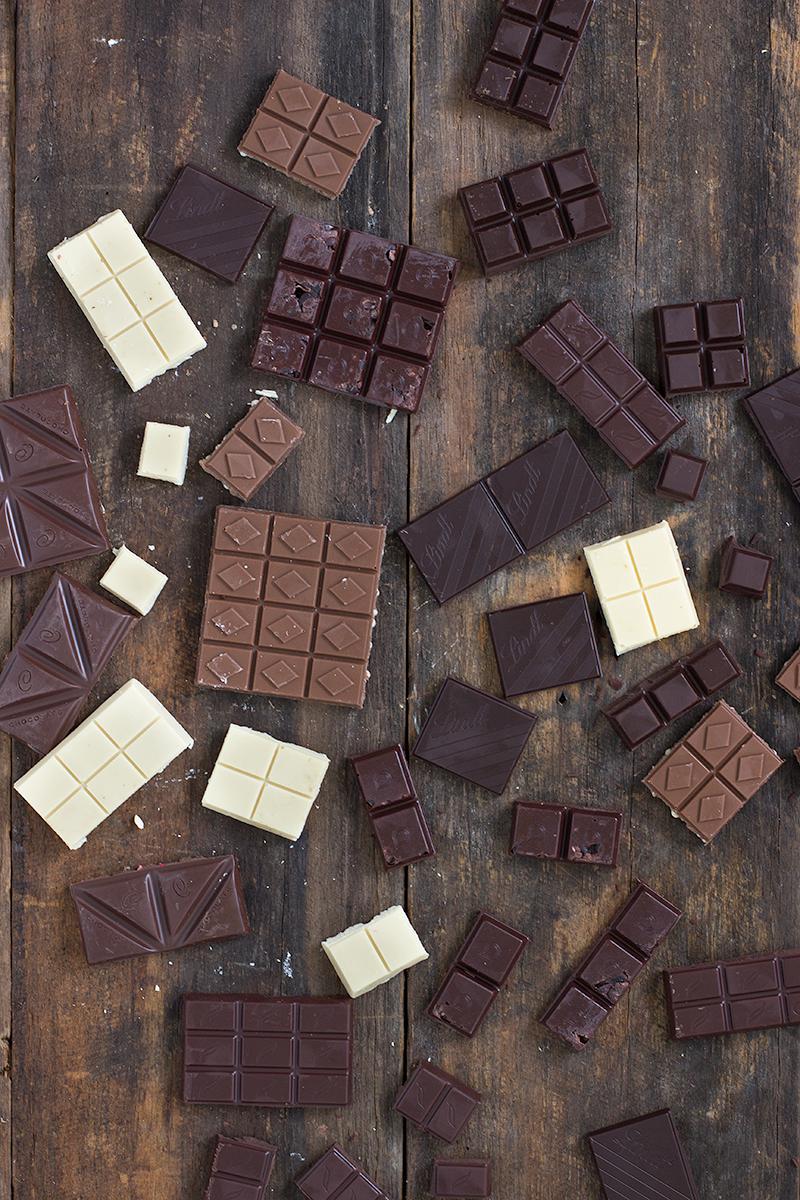 Sweet Williams 'sweet as' no added sugar rice crackle
Ingredients: Sweet Williams chocolate is made of malitol, cocoa butter, soy flour, puffed rice, inulin, sunflower lecithin, natural flavours and stevia.
Nutrition: Malitol as a sugar alcohol and therefore a carbohydrate. We do not absorb all of the calories per say in malitol but we do absorb some, around half the amount in comparison to regular sugar. Mailitol can commonly have laxative like effects in relatively small amounts, depending on tolerability. It may also upset your digestive system and cause cramping and gas. It has less calories as such as regular sugar and for that reason is often used in 'low or no sugar' products.
Sweet Williams contains 540kj per serve (serving size is 25grams) and 0.4 grams of sugar which is very low for those looking to avoid sugar specifically.
Intolerances: The chocolate contains soy, which may be problematic for some. It also contains malitol, which is a sugar alcohol. Those following a FODMAP protocol may have issues with this chocolate. Sweet Williams is dairy and gluten free.
Available: Sweet Williams is available from IGA supermarkets and some Woolworths.
Taste: This Sweet Williams rice crackle chocolate isn't that great to be honest. Carissa and Anna both agreed saying it 'tasted like stale rice crackers'. Carissa even said quite adamantly that it tasted like 'old boat smell'.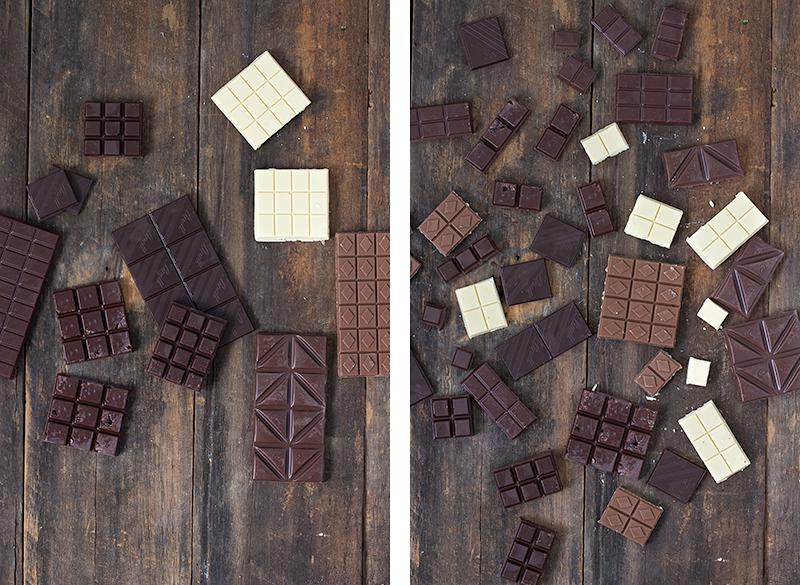 Need personalised nutrition advice catered to your needs?
Contact us at JCN Nutrition Clinic to make an enquiry
Well naturally no added sugar dark chocolate – rich dark
Ingredients: Well Naturally rich dark contains cocoa mass, cocoa butter, polydextrose, erythritol, soy lecithin, natural flavour, stevia.
Nutrition: Well Naturally is another brand that offers a 'sugar free' alternative using artificial sweeteners. The sweeteners used her are stevia and erythritol. Stevia is a ground herb extract that is commonly used without issues in many foods and supplements. Erythritol is another sugar alcohol with a flavour palate similar to sugar and is only partially absorbed into the blood stream (majority is excreted in urine and stool). It can be slightly gentler on the digestion that mannitol, though caution should still be issued with eating large amounts. Polydextrose is also an indigestible soluble fibre that passes through the digestive tract and is used to create low calorie bulk to a product to compensate for the reduction of sugars. It helps create a more luscious mouth feel due to the lack of the regular ingredients.
3 pieces of Well Naturally dark chocolate (around 13 grams) contains 0.1 grams of sugar, which is basically nothing. It contains 3.4 grams of fibre due to the added polydextrose and the saturated fats are around 3.5 grams. Interestingly this brand registered trans fats, which are the fats we want to avoid.
Intolerances: Well Naturally rich dark is also gluten free and vegan friendly. It does contain soy lecithin if you are highly reactive to soy. Erythritol and stevia are certainly more gut friendly artificial sweeteners than some of the other options. I would prefer these to mannitol for instance. Erythritol may be an issue for those sensitive to sugar alcohols and following a strict FODMAP diet.
Available: Most major supermarket stores.
Taste: I actually don't mind this for a chocolate that has been artificially sweetened. Often the sweeteners can taste metallic leaving an unpleasant taste in your mouth but this brand seems to have a good mix that reduces this. Perhaps it's also the added polydextrose making it more palatable! It is definitely odd eating a chocolate that is so far removed from what true chocolate is. Carissa and Anna both thought this chocolate had an artifical taste and that classic stevia aftertaste. It was not a favourite.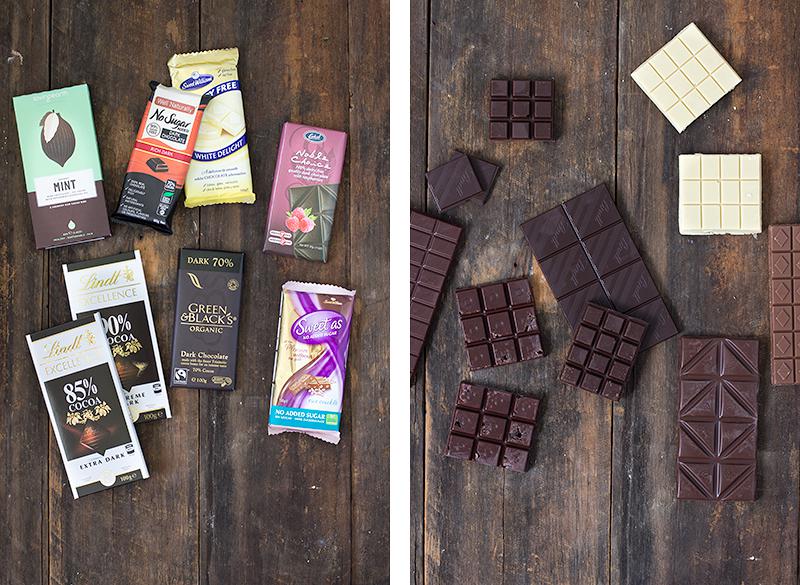 Eskal Nobal Choice 100% dairy free dark chocolate with raspberries
Ingredients: Eskal Nobal Choice contains evaporated cane juice, unsweetened chocolate, cocoa butter, freeze fried raspberries, roasted soy flour, soy lecithin, pure vanilla extract.
I find this product confusing in that it is chocolate, but it contains the ingredient chocolate…is this just me?
Nutrition: The sugar content in this Eskal chocolate is very high. You can see this from the listing of the ingredients, as evaporated cane juice is the first ingredient and therefore the main ingredient. This means that around 3 – 4 pieces of this this chocolate (approx. 20grams) will contain about 12 grams of sugar equivalent to 3 teaspoons of sugar. That is quite a lot compared to our other choices and a wicked sugar dump.
Intolerances: Eskal is dairy, gluten and egg free though does contain soy flour. Definitely a chocolate to avoid when working on your gut health and honestly not ideal as your regular chocolate choice.
Available: Eskal is found in IGA supermarkets and some Coles supermarkets.
Taste:I find this chocolate super sweet! My husband has bought this for me because its dairy free but honestly the sugar content is just too much (sorry babe). I'd have 1 square and feel that horrible sugar feeling you feel when you do not have sugar in your diet. The freeze-dried raspberries are a nice touch though. It could be a good stepping-stone chocolate for those with intolerances who are adamant about including a more 'normal' chocolate option.
As for the JCN team on this one, Carissa and Anna thought this chocolate tasted like Crazy Clarks imitation Cadbury chocolates that you pick up for $2 that just don't cut it.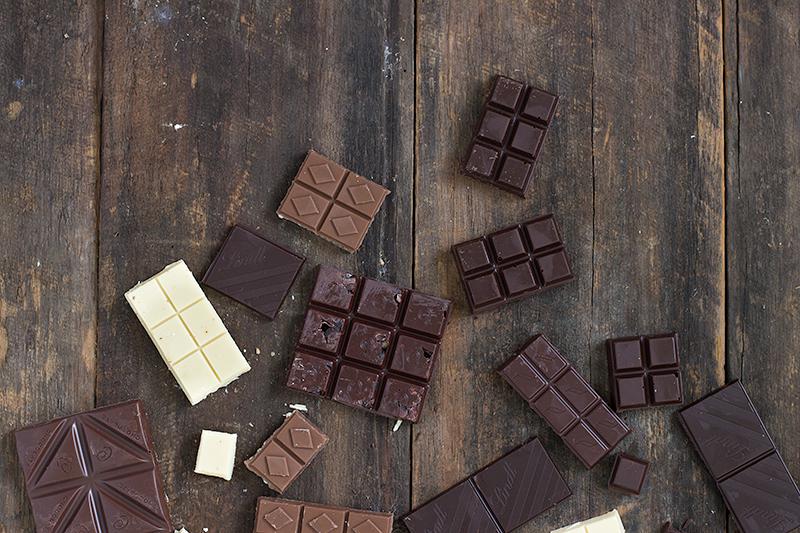 Sweet Williams dairy free white delight
Ingredients: Sweet Williams white chocolate contains cane sugar, cocoa butter, rice flour, soy flour, inulin, sunflower lecithin, natural flavours.
Nutrition: This Sweet Williams white chocolate is very high in sugar as you can see by cane sugar listed as the first ingredient. I do appreciate however that this version of Sweet Williams is more natural in its ingredient content, that being there are no added bulking fibres or mannitol.
The sugar per serve is 13 grams for around 6 pieces, which is quite a generous serving size! I'd say 2 pieces would be enough for most without getting a sickly overload. That would be more around 4 grams of sugar per serve (1 teaspoon of sugar). There are no trans fats and saturated fats are similar to the rest at 4.4 grams per serve.
Intolerances: This white chocolate by Sweet Williams is also gluten free and vegan friendly. It does contain soy flour contributing to a higher level of soy than just soy lecithin on its own. It also contains inulin, which would be problematic for those following a FODMAP diet or a low reactive gut health diet.
Available: Most supermarkets stock this brand in the health food section.
Taste: Very sweet! This is too much for me but I have had it melted into a dessert and it was divine done that way. A good special occasion or dinner party chocolate. Carissa and Anna also found this white chocolate very sweet but essentially not that bad for what it is. They both agreed it doesn't taste like white chocolate but would be good for baking as an added ingredient.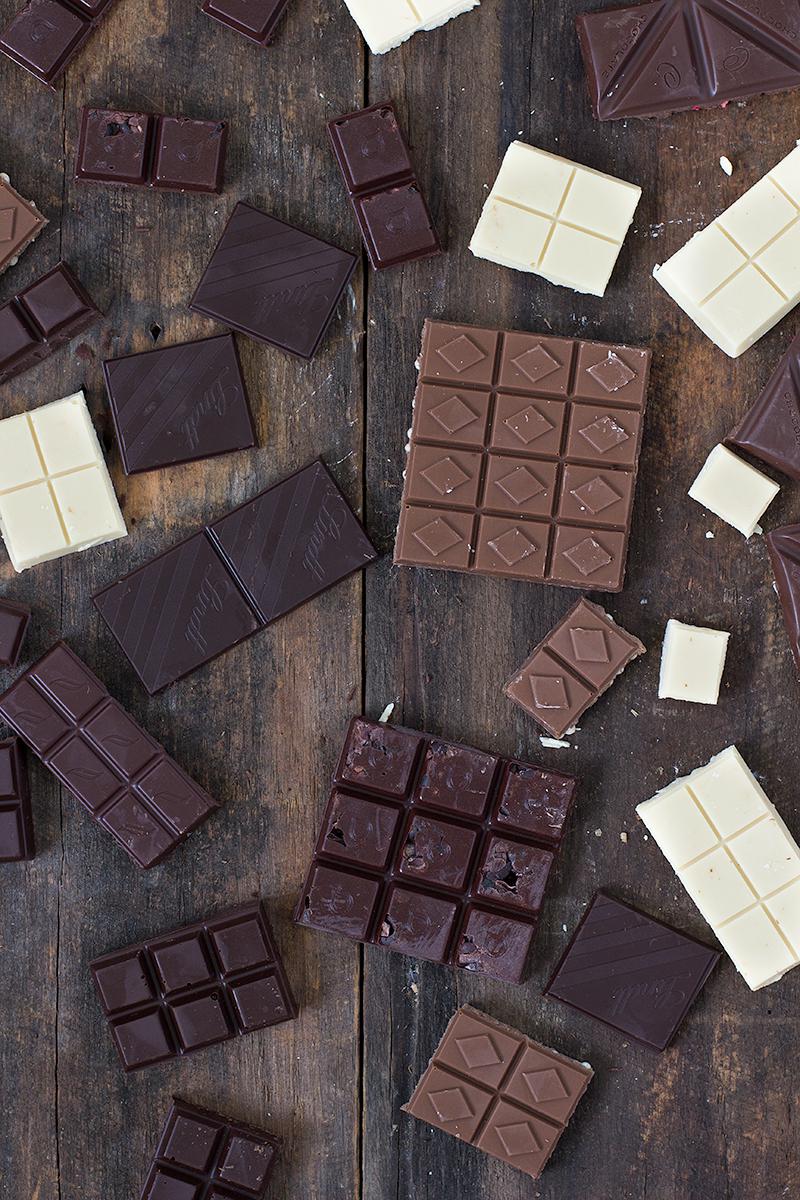 Loving Earth Organic Mint Dark chocolate 72%
Ingredients: Loving Earth contains cacao (72%), virgin cacao butter, cacao powder, raw cacao nibs, raw agave nectar, peppermint essential oil
Nutrition: Loving Earth chocolates contain quality ingredients that are sustainable sourced as fair trade and are also organic. The ingredients are therefore free of exposure to pesticides and are of premium quality.
Per serve, around 2 squares (I'm sure you would all eat more than that) you will consume 213kj and 2.4 grams saturated fats. Sugar intake for 2 squares is 1.8 grams, which is quite minimal at around ½ teaspoon of sugar. Polish off a row and you are pushing up around 4 -5 grams of sugar, which is probably as far as you want to go ideally. The agave nectar does not spike blood sugars quite so quickly as regular sugar and the sugar absorption is also somewhat combated by the fat content in this chocolate in regards to its overall glycaemic load.
Intolerances: Loving Earth is wonderful for intolerances. Besides being dairy and gluten free it is also vegan, soy free and often nut free. This peppermint flavour is also free from coconut for those of you who need to avoid it or dislike the prominent flavour.
The agave nectar may be problematic for those highly sensitive to FODMAP's due to the fructose (inulin) content. Loving Earth also stipulate that they source quality agave, however if you are after more information directly from them you can find this here.
Available: Loving Earth can be found in some IGA supermarkets.
Taste: This would be also be one of my favourites. Its not too sweet and the quality ingredients really shine through. The high amount of cacao butter really makes it creamy and luscious. I also love the peppermint oil to cut through the richness. For me its worth paying a bit extra and I love that it is fair trade. As for the JCN team, this Loving Earth chocolate is the favourite. Both Anna and Carissa find it creamy but not too sweet with a really good balance overall.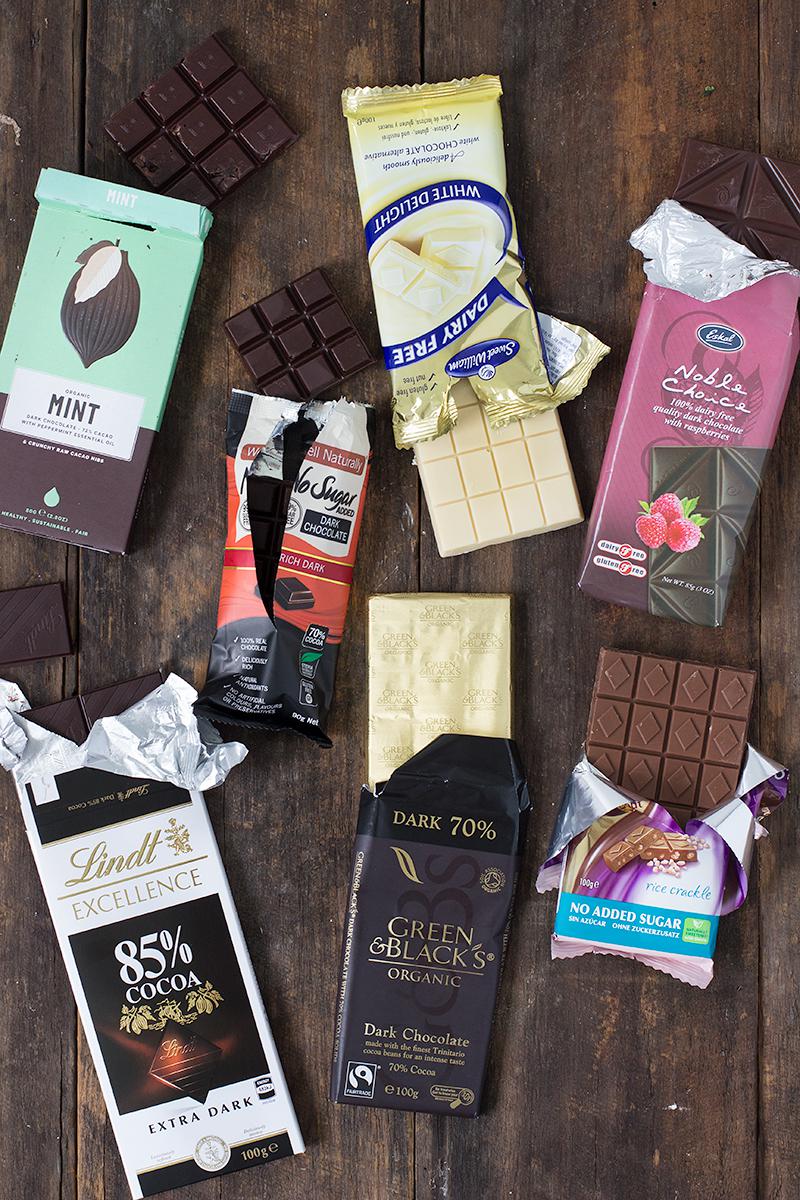 Green & Blacks Organic Dark 70%
Ingredients: Green & Blacks Organic Dark contains organic cocoa mass, organic raw sugar, organic cocoa butter, soy lecithin, organic vanilla extract. It should also be noted that these ingredients are also fair trade.
Nutrition: First off, similarly to Loving Earth this chocolate is wonderful in that the ingredients are fair trade and organic. The serving size of this chocolate is 25 grams or 7 pieces, which I think is way too much! I'd say 3 -4 pieces would be a more regular serve. Therefore, at this serving size this chocolate gives you 3.5 grams of sugar equivalent to just under 1 teaspoon and 3 grams of saturated fat. In comparison to Lindt this is a little more sugar, especially when looking at the 90%. However if you are only have 1 -2 squares this chocolate would be a good choice due to its organic, quality ingredients.
Intolerances: Green & Black's dark chocolate is gluten, dairy, egg and nut free. It contains minimal soy present in soy lecithin. It does not contain any artificial sweeteners or inulin's.
Available: Green & Blacks is available from most major supermarkets.
Taste: This is one of my favourites too as it is not too sweet and has a lovely smooth vanilla texture. It certainly is sweeter than Lindt 90% which is my personal favourite out of these chocolates, but if sticking to just 1 -2 pieces it is quite delicious! Carissa also found this one a bit sweet but thought it would be good with a herbal tea.
…and more
As I mentioned above, some of the best chocolates can be found in health food stores and online these days. Often these chocolates are being made as a labour of love by hand and the results are sublime. Here is a list of some of our stand out favourites:

Please note this is a fluid and ever-changing list very much adaptable and influenced by bribery. Feel welcome to leave your comments below on any stand outs we have missed and need to try. xx
Jessica Cox is a qualified practicing Nutritionist with a Bachelor Health Science (Nutrition) and over 15 years of clinical experience. She is the founder and director JCN Clinic, published author and established recipe developer. Jessica is well respected within health and wellness space for her no fad approach and use of evidence-based nutrition.