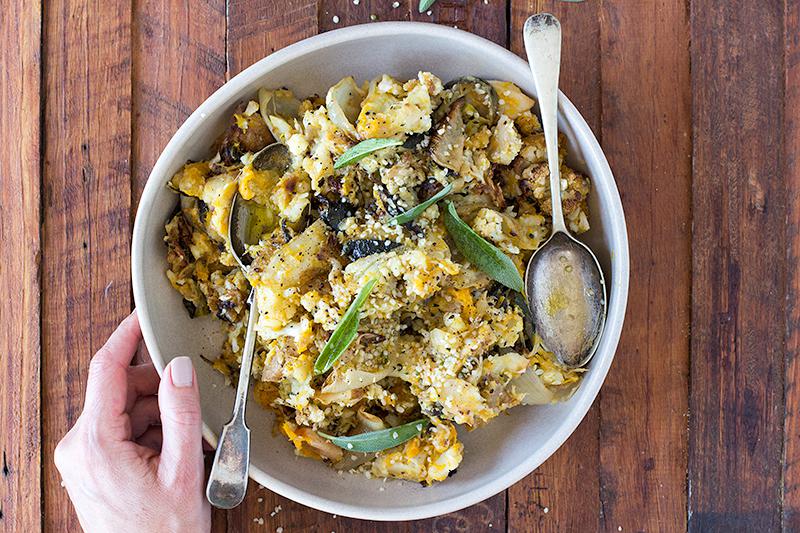 My sister introduced me to roast veggie mash. I can't quite believe I had never thought about it, but once she showed me the light I was sold. I remember it was a really hot Cairns summer (shock!) and we were still roasting vegetables because she is a roast veggie addict like me. She basically just cleaned out the vegetable crisper with anything she could find, dosed it in extra virgin olive oil and into the oven it went. She also instructed me on the fact that it's meant to be rustic when you mash it, and this is a rule I have followed to the tee.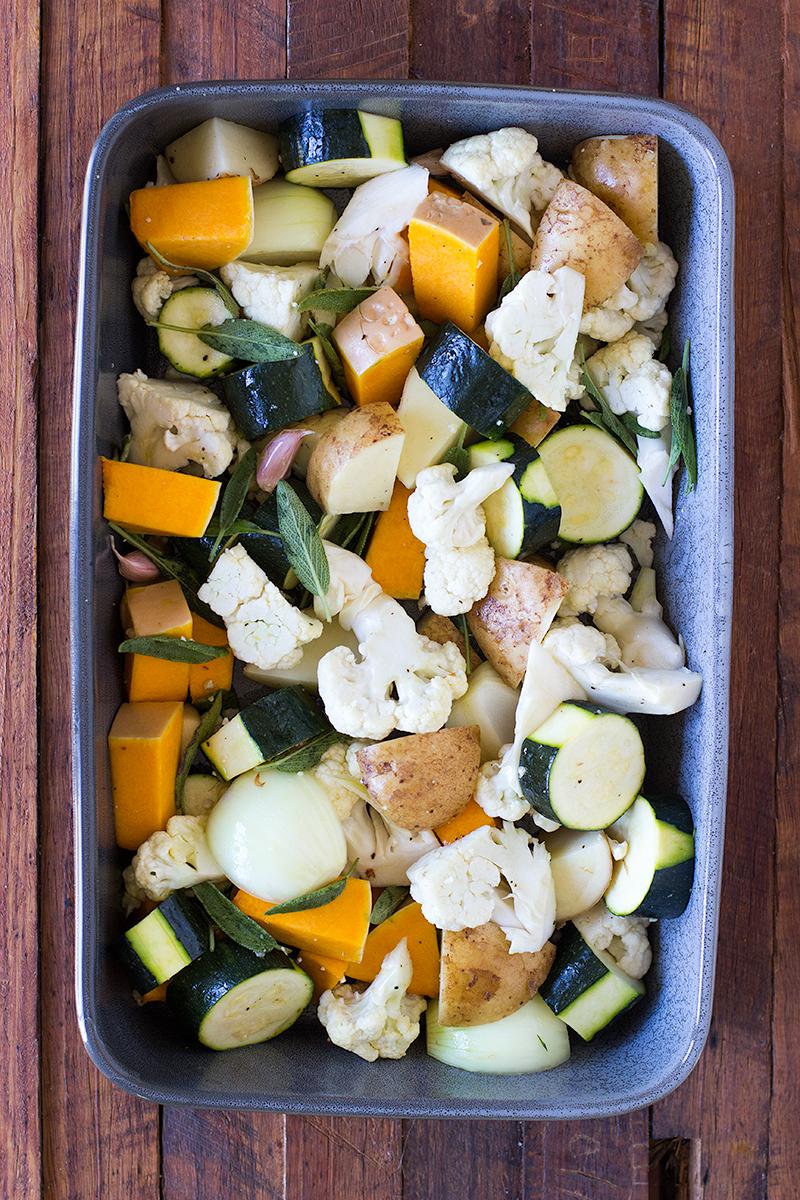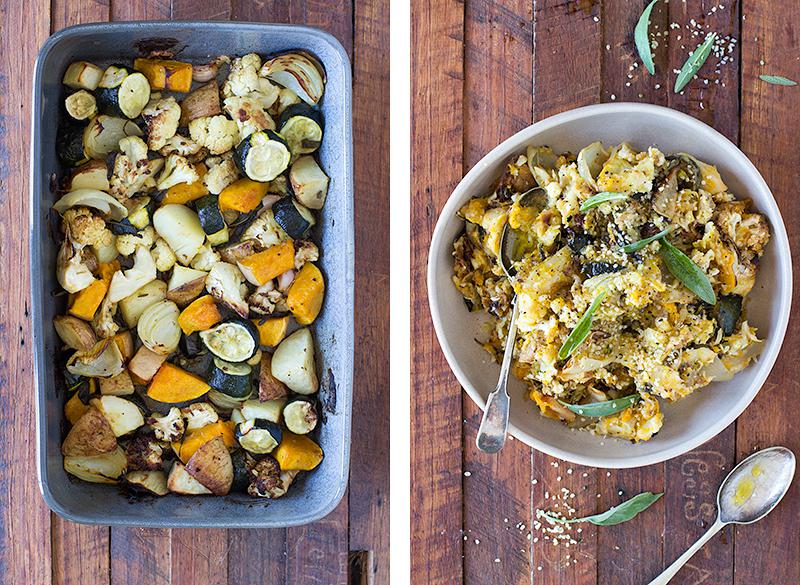 Have you guys been to Cairns? It's one of those places that I had a preconceived notion of in my head. For some reason I imagined this barren landscape, lots of dirt and quite flat. Maybe I'd watched too many cliché outback films. Cairns is the opposite. It's ridiculously lush, green and tropical, with astounding mountains that remind me of New Zealand. Outside of summer (and give or take some of Spring), Cairns is a beauty, with warm days that permeate your soul and cool nights that require just a snug warm blanket to drift off to sleep.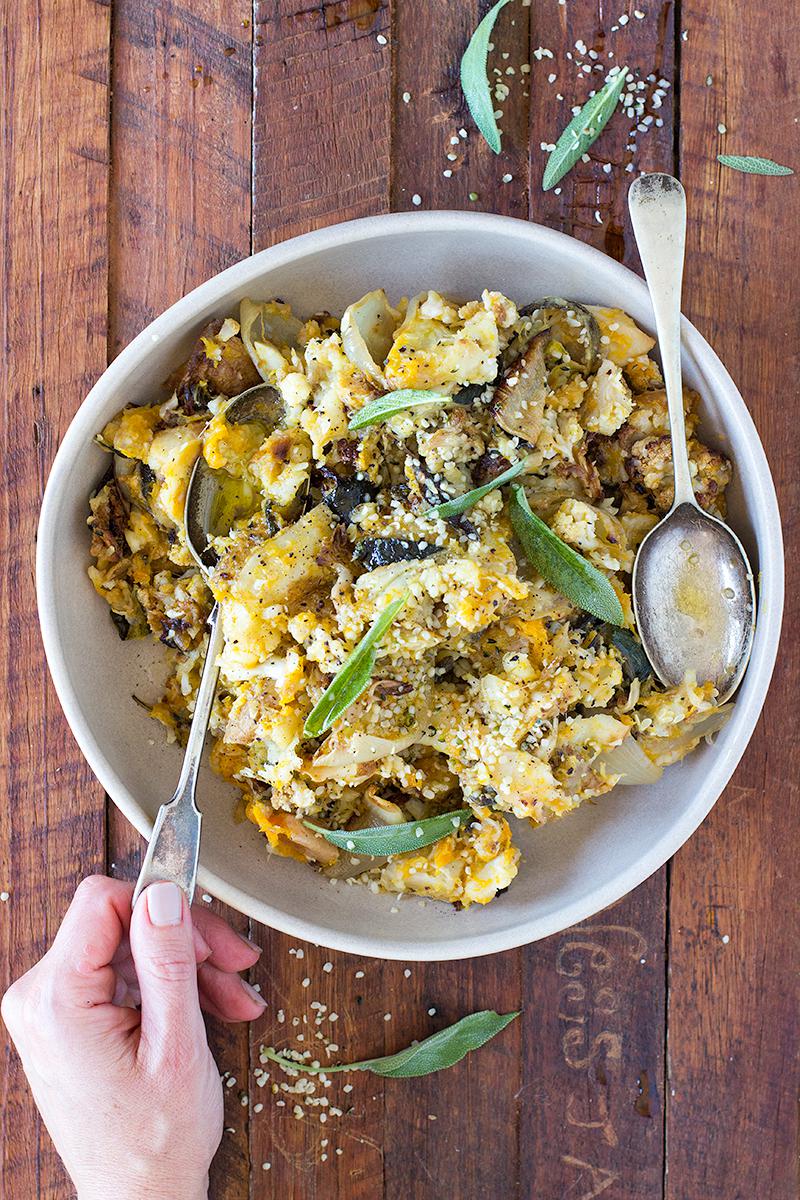 Then comes Summer. Summer, excuse my French, is a bitch. Summer in Cairns killlllllsssss meeeeee! I like the warm weather; I have seriously acclimatised to it after a solid 15+ years in Brisbane. BUT Cairns is next level. The humidity robs you of your breath and it's like an oppressive weight that won't budge off your shoulders. My brain feels like it's filled with cotton wool until the sun goes down. To the point that during the day I start to feel a little batty with thoughts of 'I must be coming down with something?!', then the sun sets and the heat abates (slightly) and the cotton wool goes away. Oh, the heat. Of course.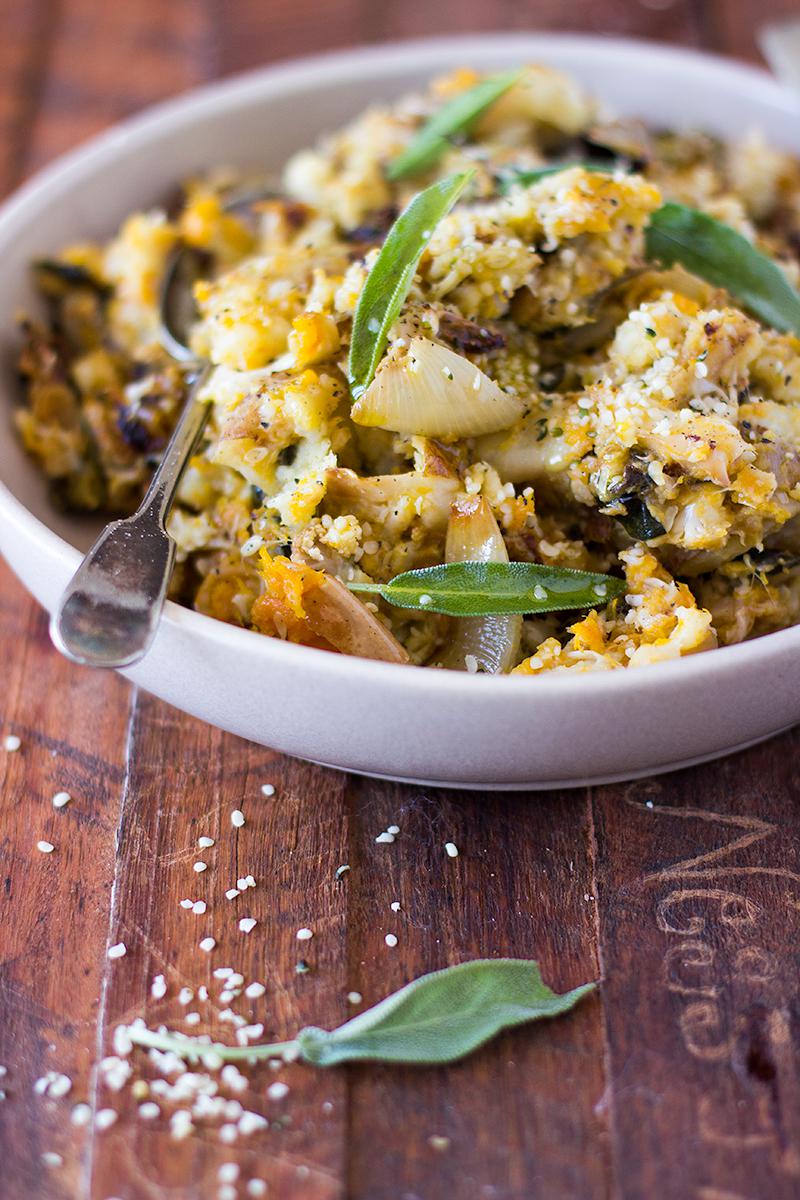 My sister, her hubby and my niece are completely used to it. To them it's 'just a bit hot'. My niece in particular still runs about in full tutto, Elsa t-shirts and even some funky leggings without the least sign of distress as her aunty melts into the kitchen floor. One summer I went for a run with my sister around five-ish in the afternoon, as the heat of the day had passed (apparently). After about two to three blocks I felt this tightness in my chest that was super unfamiliar. I kept running a bit longer then realised I was having trouble breathing! I stopped, walked a bit and found that my breath came back. I started running again but nope; there was that tightness again. The air was literally too oxygen starved for me! As for my sister, she bounded off down the street like the super star warrior she is. I was like, 'I'm walking', this is bullshit.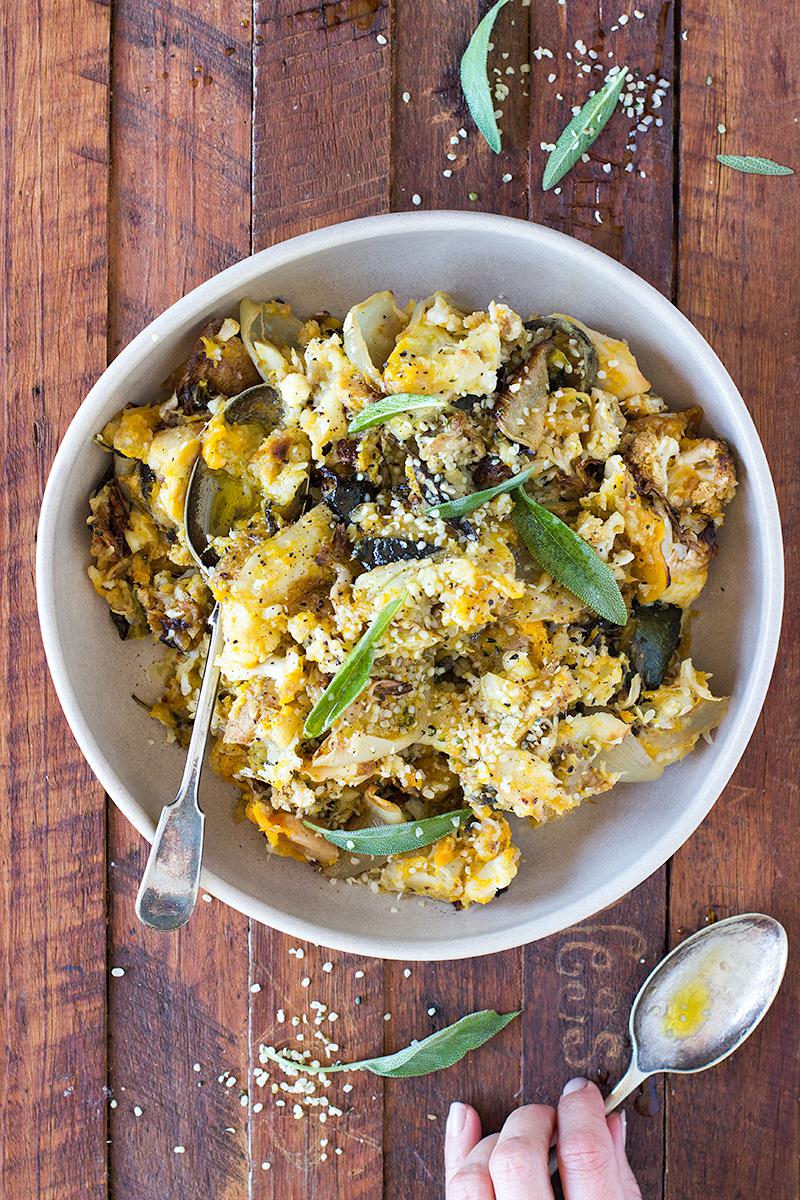 So I guess making roast veggie mash in the heat for my family makes sense. With a dish like this that is so ridiculously easy and gives so much bank for it's buck, it's hard to put it aside. Needless to say I have now adopted it into my repertoire and we enjoy it regularly. We chop and change the vegetables a lot but the standards that really make it work are the sweetness of the pumpkin with the caramelised onion. I find the cauliflower and zucchini really give it some creaminess too. Honestly though, go to town with what you want to use because it's a winner any way you choose.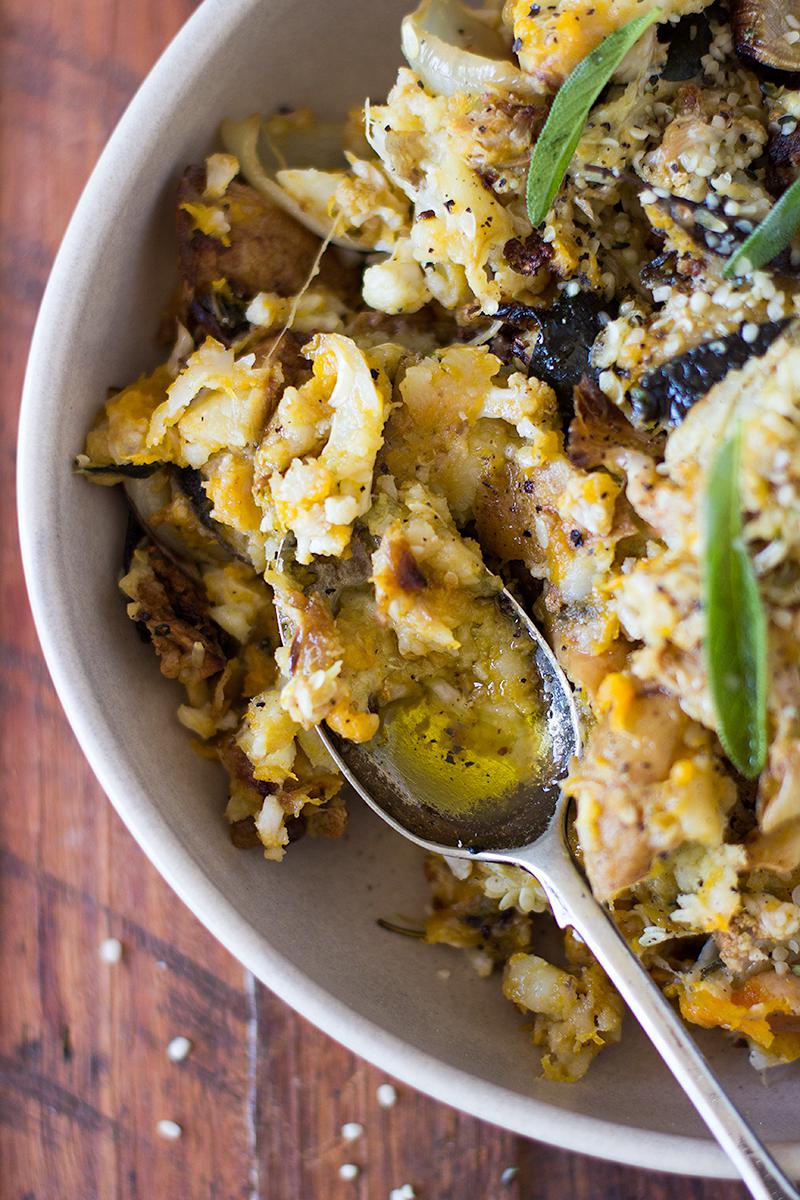 roast veggie mash
serves

serves 4 as a side

preparation time

10 minutes

cooking time

1 hour & 20 minutes
ingredients
1/2 medium sized cauliflower (approx 500g)
1 medium onion
2 large zucchini
approx 350g / 2 medium potatoes, skin on
300g pumpkin, skin on
6 garlic cloves, skin on
1 handful fresh sage (optional)
4 tablespoons extra virgin olive oil
salt and pepper to season
method
Preheat your oven to 200c.
Cut up cauliflower into large florets. Dice pumpkin, and potato into large pieces. Remove the skin form the onion and into quarters. Cut the zucchini into large chunks, about 3cm thick. Place all the vegetables into a large baking dish including the garlic cloves in their skin. Add in the leaves of the fresh sage if using. Season well with salt and pepper then add 2 tablespoons of the evoo and toss everything well to coat in the oil and seasoning. Place in the oven.
After 40 minutes remove the baking dish and add the remaining 2 tablespoons of evoo and toss everything again. Place back in the oven for another 40 minutes, or until the vegetables are lovely and tender and beginning to go golden.
Remove the baking tray from the oven. When not too hot to handle, pick out the garlic cloves and squeeze them so that all the soft garlic comes out on top of the vegetables. Repeat this for all the garlic cloves.
Use a large spoon or spatula to take out the vegetables from the baking dish being careful to get all of those delicious crunchy bits stuck to the dish. Place the vegetables into a large bowl or even a saucepan. Now use a potato masher to mash them to a nice rustic blend. You want it to have pieces of onion, sage leaves and potato skin and so forth still in the mash, it's not the sort of mash that should be smooth.
Once you are happy with the texture of the mash taste for seasoning and adjust if needed. You can serve immediately, or re heat it gently if needed.
This roast veggie mash is divine with fish and a large handful of peppery rocket.
nutritional information
This recipe is highly adaptable. To make it low FODMAP and/or suitable for SIBO diets omit the garlic and onion and roast the vegetables in garlic infused olive oil. If you can tolerate, use the green ends of spring onions too. Swap the vegetables that you need to for other vegetables of choice such as eggplant and capsicum in place of the root vegetables. Aim to get something with some starch in there though such as some parsnip or pumpkin, as this will give the mash the texture and bulk it needs.
Cauliflower is rich in vitamin C, Vitamin B6 and folate. Cauliflower is also part of the family of vegetables that contain the phytochemicals known as sulforaphanes, indoles, isothiocyanates and thiols. These compounds have been shown to exhibit the ability to down regulate the production of adverse types of oestrogen. These plant-based compounds also support the natural detoxification processes of the liver.
The garlic and onion in this recipe are potent forms of prebiotics, providing fuel for your microbiota. Often those with gut issues in the earlier stages cannot tolerate garlic and onion, but with treatment and time these foods really should be bought back into your diet. Not only do they provide beneficial fuel for bacteria, they are also naturally antifungal, antibacterial and anti-inflammatory.
Jessica Cox is a qualified practicing Nutritionist with a Bachelor Health Science (Nutrition) and over 15 years of clinical experience. She is the founder and director JCN Clinic, published author and established recipe developer. Jessica is well respected within health and wellness space for her no fad approach and use of evidence-based nutrition.