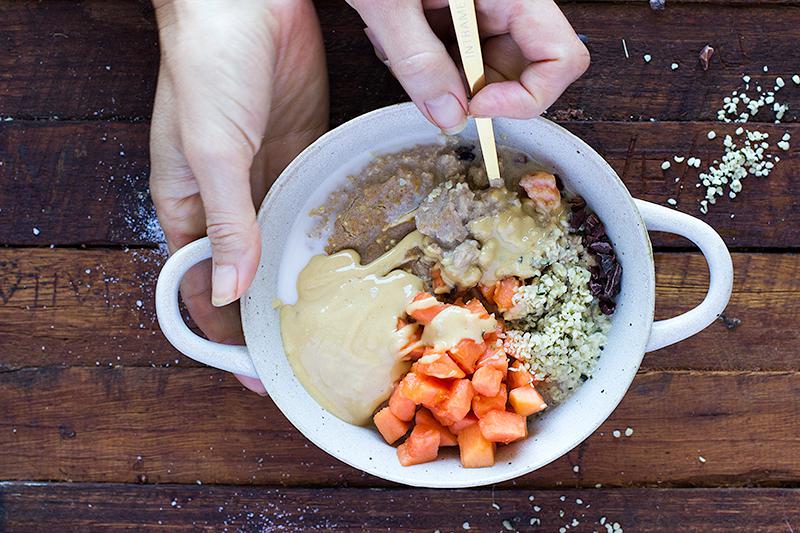 This porridge made its debut on Instagram literally months and months ago. I included the recipe with the post and it was a hit straight away, shared and made all over the world! Obviously bringing the recipe to the website was a must, so I've buckled down and made it happen this week just in time for the cold snap of winter.
This Salted Caramel Porridge is made with millet, which means it does require some time to make. If you are looking for a quicker version you can see my notes about using some alternative grains that will bring the time back to the standard 5 minutes or under that one usually expects from a porridge. However, I'd really like to encourage you to slow down and make this porridge with millet to enjoy a more relaxed start to the day, even if its waiting until the weekend.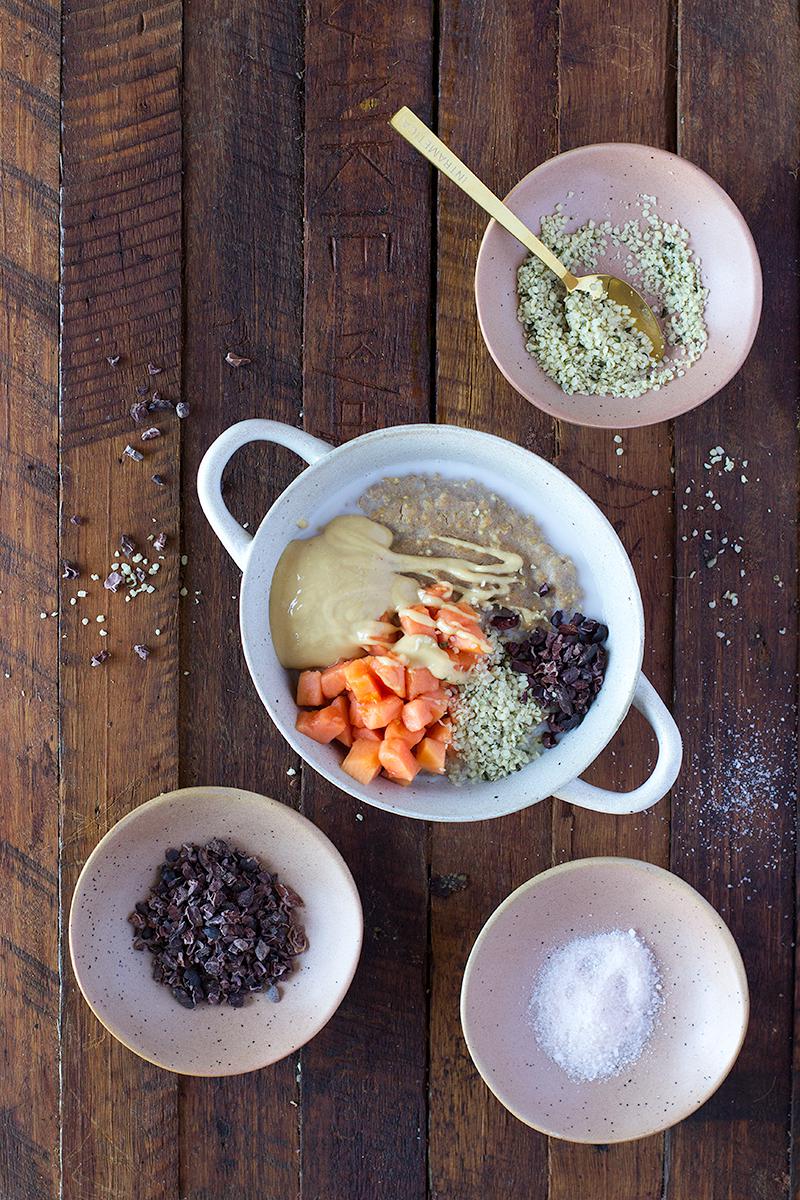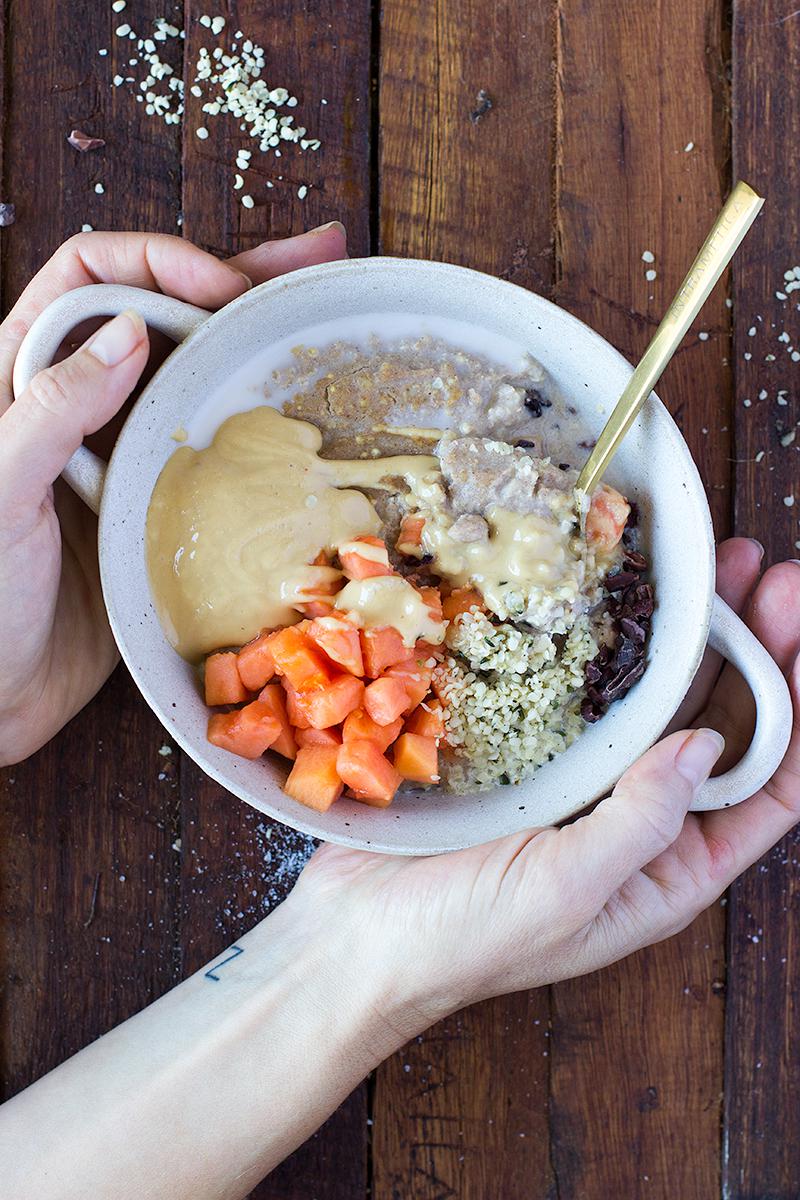 We are all living life at such a hectic pace these days. We aim to jam the day with as much as we can from the time our head leaves the pillow to the time it drops back down again. When we do stop to eat we are either on our computers or phones stimulating our brains with information instead of stopping to savour the taste of what we are eating.
Believe me, I am not preaching from an almighty place of having this one figured out. I'm guilty as charged at scrolling through Instagram while eating my breakfast (on the train, listening to a podcast at the same time). I do know better, but my type A brain often wins the fight for getting shit done more than stopping and just eating. The thing is, when I do stop and really focus on each bite the flavour of what I am eating is so much more pronounced. My mind is more present on what I am devouring instead of what I am reading/listening too.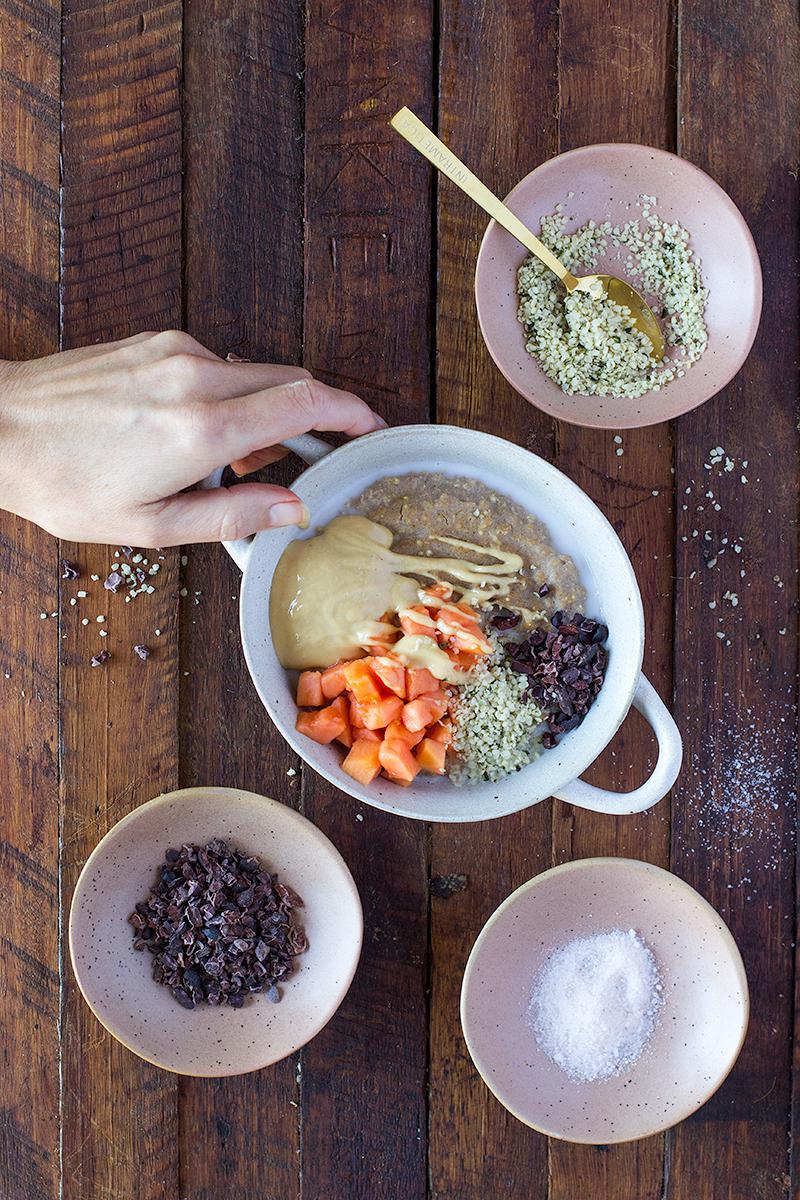 Mindful eating is hardly a new thing and I have certainly written about this topic before. My goal in bringing it up again is to note that it is a work in progress. We all know that stopping and being connected to what we are eating is better for us. It allows our nervous system to focus on supporting digestive secretions and muscular contractions of our intestinal tract. All of the data and the education though can be pushed aside by the rush to work or the desire to fit in a work out/meeting/catch up. The more we remind ourselves to stop and eat, the more we actually start to do it and see it become part of our weekly routine.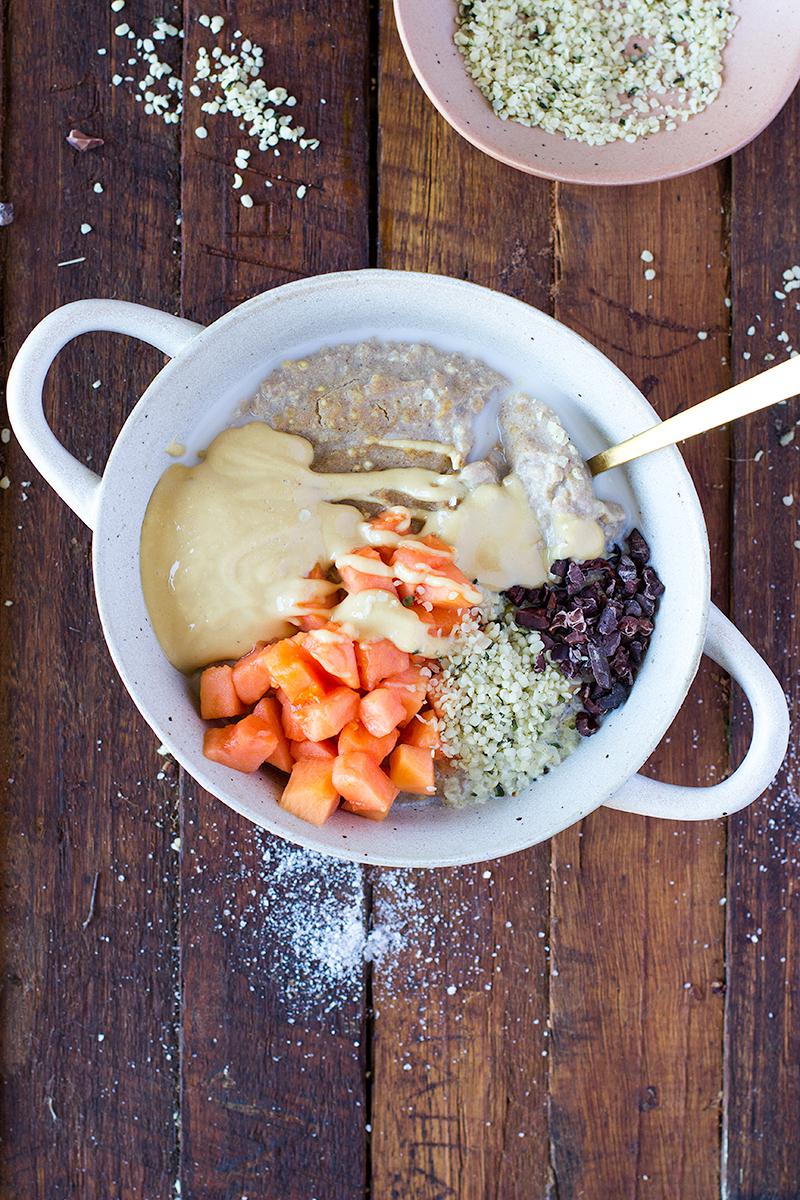 To play the devils advocate however, lets not at the same time get too obsessive about it. I'm obviously keen to encourage behaviour that supports our nervous system, digestion and reduces our stress levels, but I also recognise that trying to be perfect about this is going to create obsessive behaviour. Chewing each mouthful for 20 – 30 bites religiously is a recipe for disaster when it comes to obsessive relationships with food. Let's just keep it real and be okay with dinner on the floor watching Netflix if it unwinds you more than talking it out with the kids over the dinner table.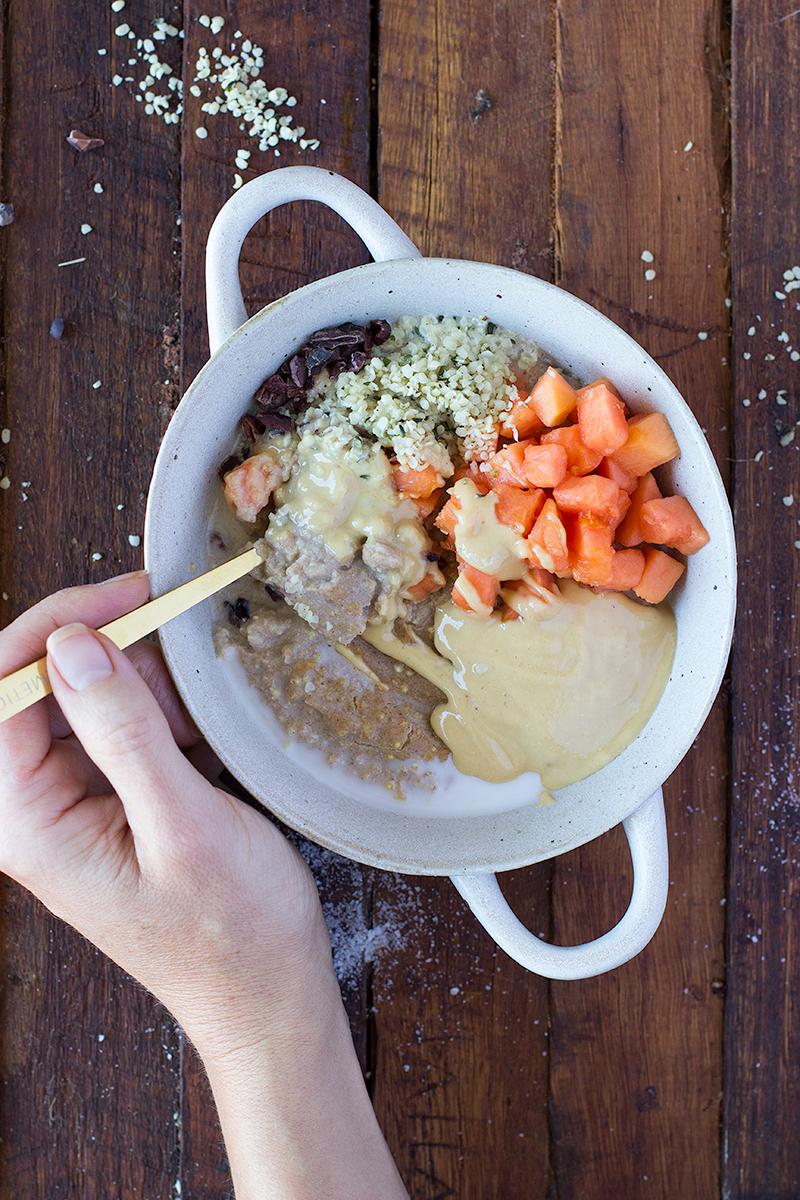 So now that I've shared my schizophrenic thoughts on mindful eating, lets get back to the porridge at the centre of this post shall we? There isn't a lot to sell you on here. I mean salted caramel. Does anyone really not like this flavour? I've juiced it up with texture and complimentary flavours such as peanut butter, hemp seeds and cacao nibs with a fresh sweet burst of seasonal papaya.
Adapt away as I always say with this recipe. Use other nuts in place of cashews, such as macadamias or sesame seeds for a nut free version. Top it with what happens to float your boat. Let me know your thoughts below though, no matter how you choose to enjoy this Salted Caramel Porridge with as I forever love hearing from you.
salted caramel porridge w hemp seeds, papaya + peanut butter
serves

serves 1

preparation time

2 minutes

cooking time

20 – 25 minutes
ingredients
2 tablespoons millet
1/2 banana
1/2 teaspoon salt
2 tablespoons cashews
1 & 1/2 teaspoons macca powder
1/2 teaspoon cinnamon
1/2 teaspoon vanilla powder or pure vanilla extract
1 cup water
// to serve //
1 tablespoon hemp seeds
1 tablespoon pure peanut butter
1/4 cup diced papaya
2 teaspoon cacao nibs
method
If you want a quicker porridge, use oats in place of millet. For those needing a speedy gluten free option use quinoa flakes or buckwheat grits.
Place the millet in a small bowl and cover with water. Leave overnight to soak (if you don't have time to do this, just rinse the millet well first).
Drain the millet and wash well with fresh water. Place the millet into a small saucepan ready for making the porridge.
Place the cashews in the blender with the water, cinnamon, macca powder, vanilla, banana and salt then blend till creamy and well combined.
Pour the cashew banana liquid into the saucepan with the millet. Now heat the saucepan to a medium heat and stir to combine. Bring to the boil and then turn to a low simmer, covering with the saucepan lid. Leave the porridge to simmer on a very low heat, stirring often as the millet takes up the liquid. This will take around 20 – 25 minutes until the millet is softened. If it becomes too thick for your liking add a little more water or almond milk.
Once the porridge is done pour the porridge into your serving bowl. Top with papaya, peanut butter, hemp seeds, cacao nibs and finish with a drizzle of almond milk if desired.
nutritional information
Papaya is rich in papain, a natural digestive stimulate that aids digestive enzyme function (specifically protein). Papain has proteolytic properties, meaning it cleaves protein bonds and breaks proteins down into more simpler peptide chains and then to singular amino acids. This makes it a useful medicinal food for helping breakdown biofilm (bacterial encasings) along potentially mutagenic cells.
Millet provides a wonderful mix of carbohydrates and protein in a grain base. Just cup of millet (approximately 50 grams) contains 5 grams protein and 23 grams complex carbohydrates. Millet is also quite abundant in magnesium and phosphorus and manganese. When combined with the cashews in the milk, 1 tablespoon of hemp seeds (providing 6 grams of protein) and nut butter the plant based protein increases again. However, if using this porridge post work out I'd recommend adding a tablespoon of some quality plain flavoured protein powder (or even an egg) to stir into the porridge at the end to boost the protein content, as the millet combined with the nut/seed based protein of the hemp and peanut butter may not be enough.
Jessica Cox is a qualified practicing Nutritionist with a Bachelor Health Science (Nutrition) and over 15 years of clinical experience. She is the founder and director JCN Clinic, published author and established recipe developer. Jessica is well respected within health and wellness space for her no fad approach and use of evidence-based nutrition.