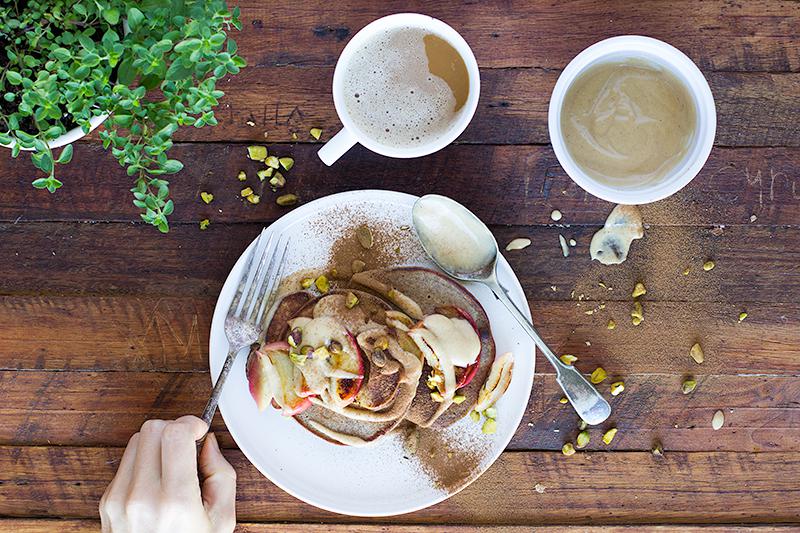 Sometimes when I have a bit of a mental block about what I want to bring to you each week recipe wise, I ask my husband for some ideas. Usually this is open slather to get a bombardment of ludicrous ideas that results in no help at all, but quite a few laughs. Like wise, sometimes when I have a recipe down packed that I want to share with you but feel like my blogging brain is a little fuzzy, I have been known to ask Hubbard what I should write about. You would think I would have learned by now to not ask.
Last nights response was:
Write about seagulls. Seagulls that eat hot chips. A seagull called Trevor that eats hot chips. Trevor has one black wing and one white wing and ruffled feathers from the high winds because he lives in Invercargill. Trevor also gets sunburnt (expect on his black wing) because he flies all the way to Dunedin for the sun and gets burnt on the way.
See what I mean? How does ones brain even spout this so effortlessly? It's an ongoing mystery to me but also a never ending source of entertainment.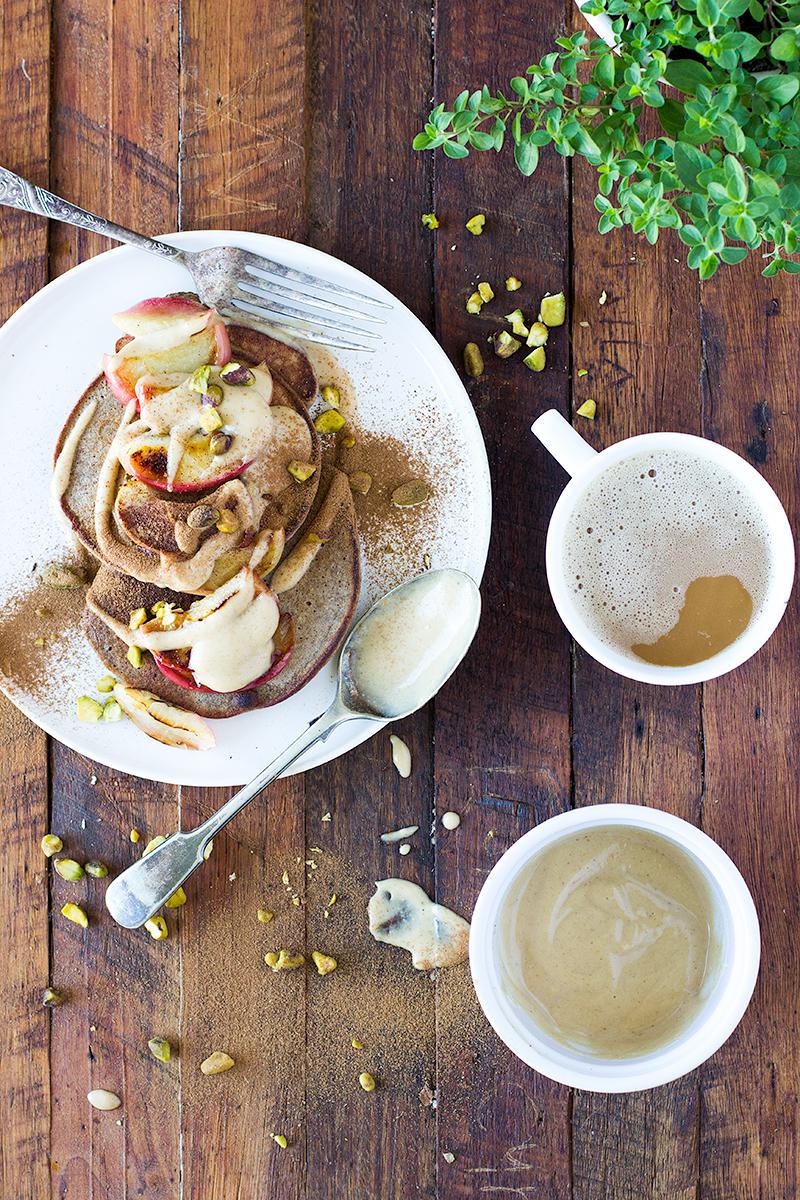 So yeah, seagulls. What do they have to do with apple pancakes? Not much. I am guessing seagulls would devour these apple pancakes though if given half the chance but that is not going to happen anytime soon. My actions post shooting these pancakes was somewhat seagull like. No more than 1 minute after taking the final image had I swooped on in with a knife and fork and inhaled them. I'd spent too much time looking through the lens at that drip of macadamia caramel sauce to last much longer.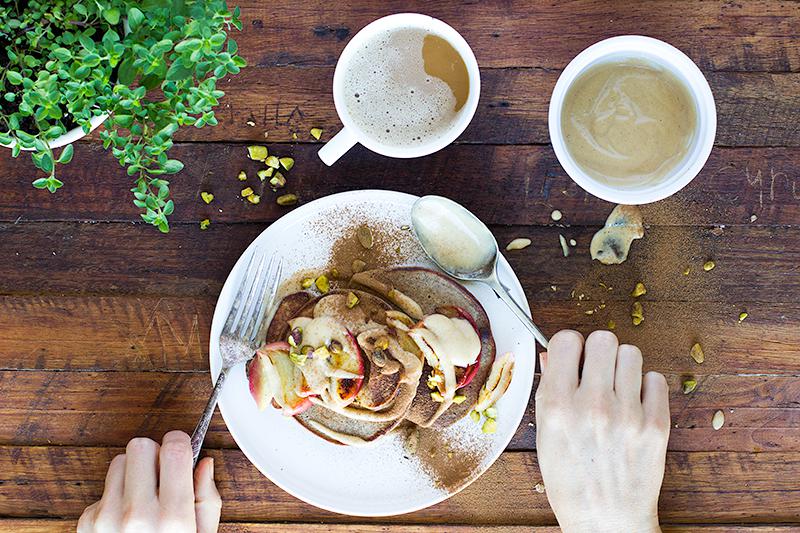 I know I have an abundance of pancake recipes already here for you, but I'm a pancake woman through and through, so expect them to keep coming in a multitude of shapes, sizes and flavours. These ones were inspired by some seasonal organic apples that I had ready to use.
Apples are one of those fruits that many people with gut issues tend to steer clear of. They are quite high in fructose and pectin providing an abundance of fuel for bacteria. This is well and good for those with a healthy gut, yet for people hosting misfits of bacteria and yeast these lovely prebiotics can cause loads of gastrointestinal distress. As a practitioner specialising in gut health, as soon as someone tells me apples turn their gut inside out alarm bells start ringing regarding dysbiosis and potential SIBO.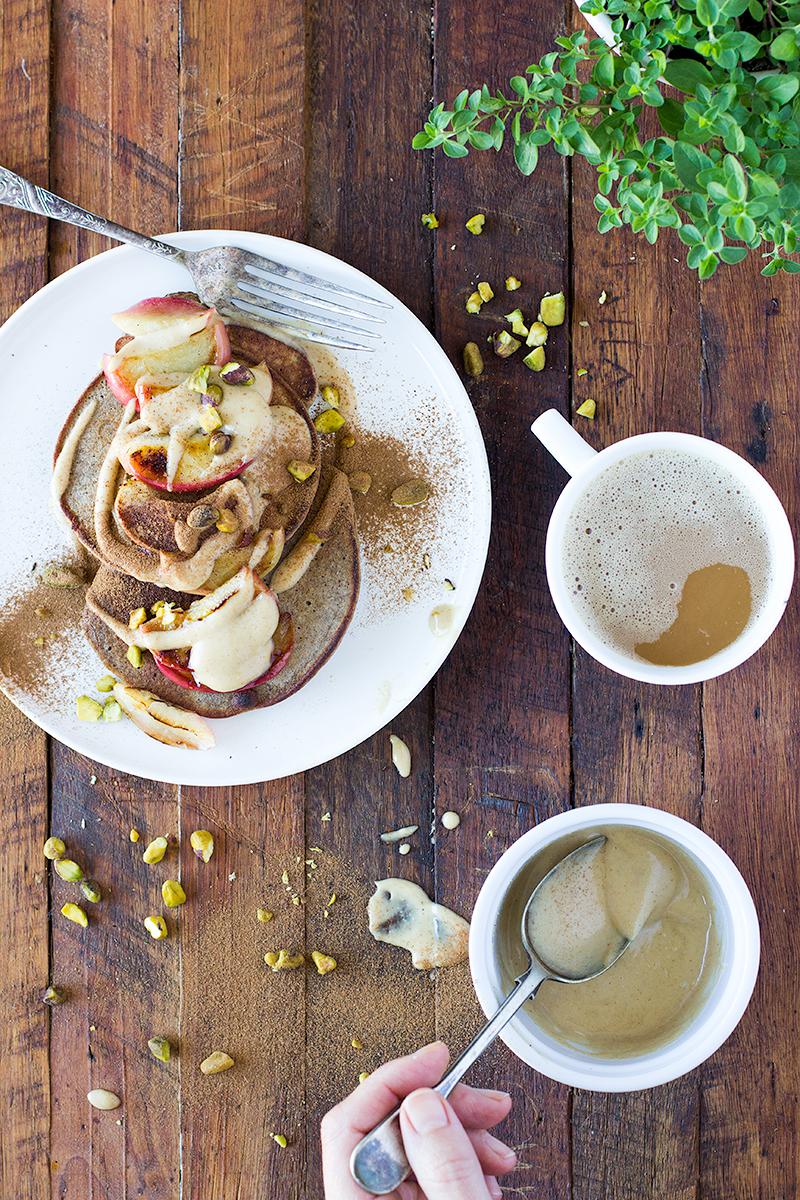 Now as always (and reiterated time and time again), we don't just cut these foods out forever and go on our merry way. We deal with the problem. For more on this topic you can read last week's blog post rant. However, also very interesting to note (if you are a nutrition nerd like me) is that stewed or cooked apples are often tolerated very well by those reactive to raw apple. This is because the stewing of the apples breaks down the starches, therefore making the apple easier on the digestion. Furthermore, stewed apples are even more rich in pectin, whilst also providing a high source of soluble fibre acting as valuable fuel for our bacteria.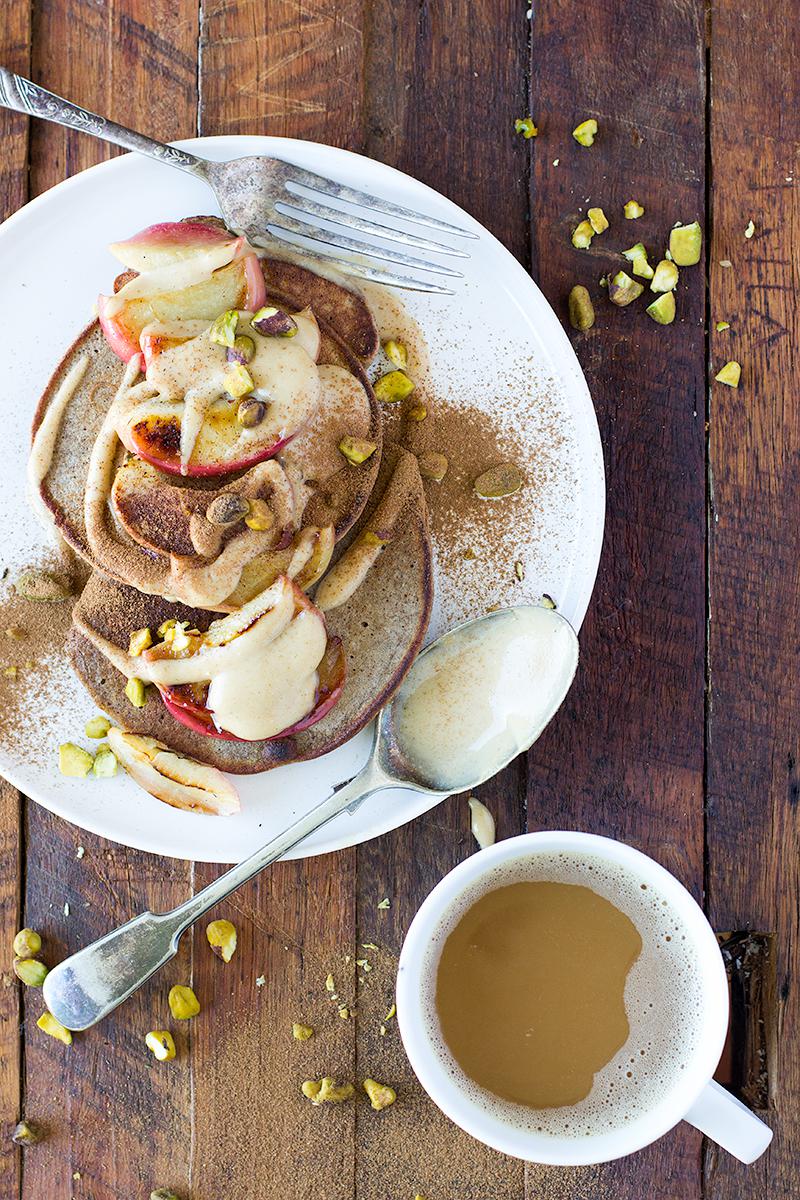 Apples are also extremely rich in polyphenols, which act as potent anti-inflammatory agents, antioxidants and help modulation gut bacteria species, all highly beneficial for gut restoration and building of mucosal integrity. More specifically (and thanks to the work of Dr Michael Ash) stewed apples have been hypothesised to increased regulatory T cell promotion in the digestive tract consequently changing dendritic cell regulatory function, thereby increasing oral tolerance. Think of dendritic cells like cells with long arms that reach through the intestinal wall to taste what is passing by inside the intestinal tract in the mucosal tissue. This increased 'oral tolerance' means these dendritic cells are more likely to provide a tolerance to food proteins instead of an over reactivity.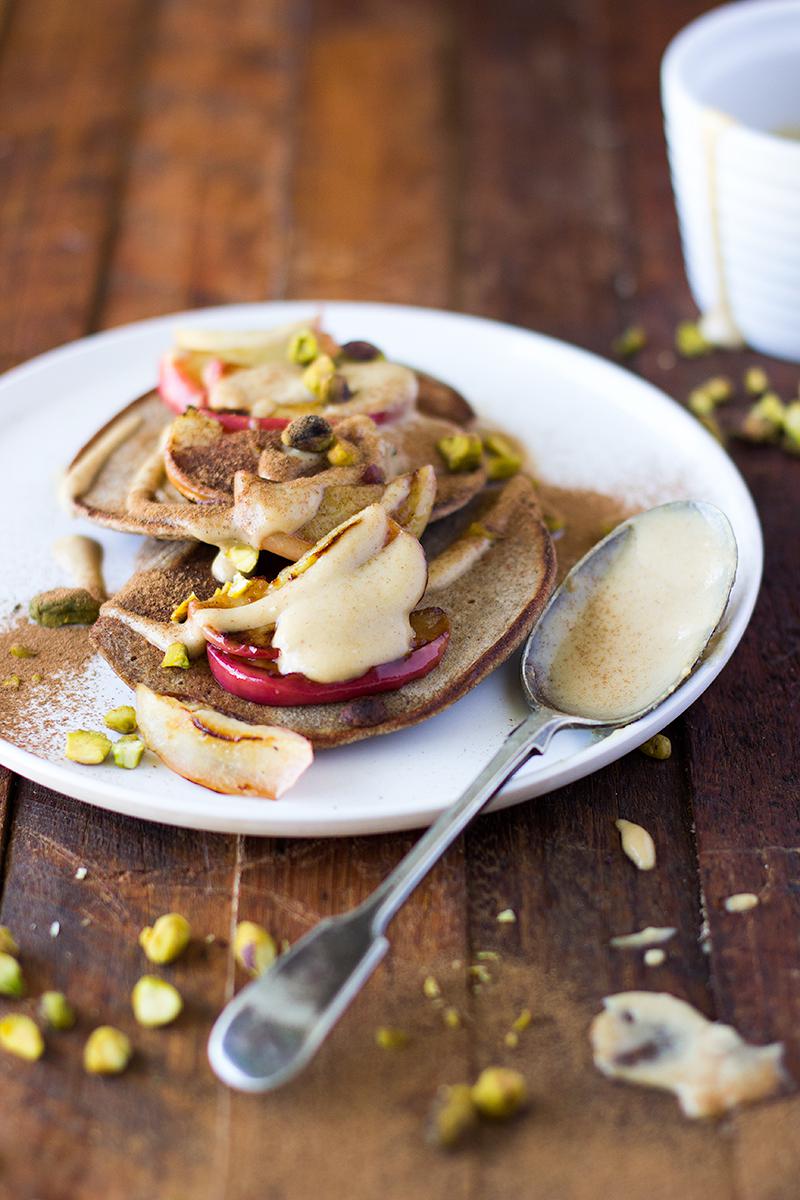 At the end of the day of course it is always about what works best for you. I implore you however to try these apple pancakes (or some stewed apples) and see how they go for you. It's so easy to put a food in the 'no pile' when working on your digestion. No one wants to be a seagull surviving just on hot chips. We must always remember our gut is an evolving living environment constantly adapting. Challenging and diversifying our diet is imperative to building and maintaining robust digestive health.
apple pancakes w caramel macadamia sauce
serves

serves 1

preparation time

10 minutes

cooking time

10 minutes
ingredients
1 medium sized apple, preferably organic
3 tablespoons buckwheat flour
1/2 teaspoon cinnamon
1/4 teaspoon ground cloves
1 free range egg
1 tablespoon almond milk (or milk of choice)
// caramel macadamia sauce //
1 & 1/2 tablespoons macadamia nut butter
1 teaspoon mesquite powder
1/2 teaspoon macca powder
pinch of salt
1 teaspoon pure maple syrup
1 tablespoons almond milk (or milk of choice)
1 tablespoon chopped pistachios to serve
method
Place in a blender or food processor buckwheat flour, ½ of the apple (core removed), cinnamon, ground cloves, egg and almond milk (if you do not have a blender simply grate the apple first then combine the ingredients in a small mixing bowl).
Heat a frying pan to medium heat and add a generous lug of extra virgin olive oil. Pour in your pancake batter to give you two pancakes, allowing the pancakes to gently cook. Once bubbles begin to form on the top of the pancakes you know it is time to flip them over. Once flipped, allow the underside to cook for a minute or two before removing from the heat. Set aside and ideally keep warm by covering them ( or place them in the oven).
Slice the remaining half of the apple. Add a little more extra virgin olive oil to the pan and add the apple slices allowing them to soften and caramelise to a golden brown colour. While cooking the apples you can make the caramel macadamia nut sauce by combining the macadamia nut butter, mesquite, macca, salt, maple syrup and almond milk in a small mixing bowl. Whisk till you have a lovely smooth sauce.
To serve, top the pancakes with the pan-cooked apple slices then drizzle over the caramel macadamia nut sauce. Top with chopped pistachios and a dusting of cinnamon.
nutritional information
If you require an egg free pancakes, you could use a chia egg or flax egg in replacement of the eggs. This is simply 1 tablespoon of chia seeds/flaxseeds to 3 tablespoons warm water per egg. The pancakes will be denser as a result, so you may want to add a little raising agent like baking powder or a pinch of bicarb soda to the batter.
Apples are a rich source of folate, choline, calcium, phosphorus and potassium. They also pack 4.4g fibre per medium sized apple making it a great food to keep you regular.
It's true what they say, an apple a day keeps the doctor away! Apples are loaded with Polyphenols and research suggest that some of these potent antioxidants found in apples can protect against oxidative stress – a major contributor to ill health. (Carrasco-Pozo et al, 2010)
Jessica Cox is a qualified practicing Nutritionist with a Bachelor Health Science (Nutrition) and over 15 years of clinical experience. She is the founder and director JCN Clinic, published author and established recipe developer. Jessica is well respected within health and wellness space for her no fad approach and use of evidence-based nutrition.