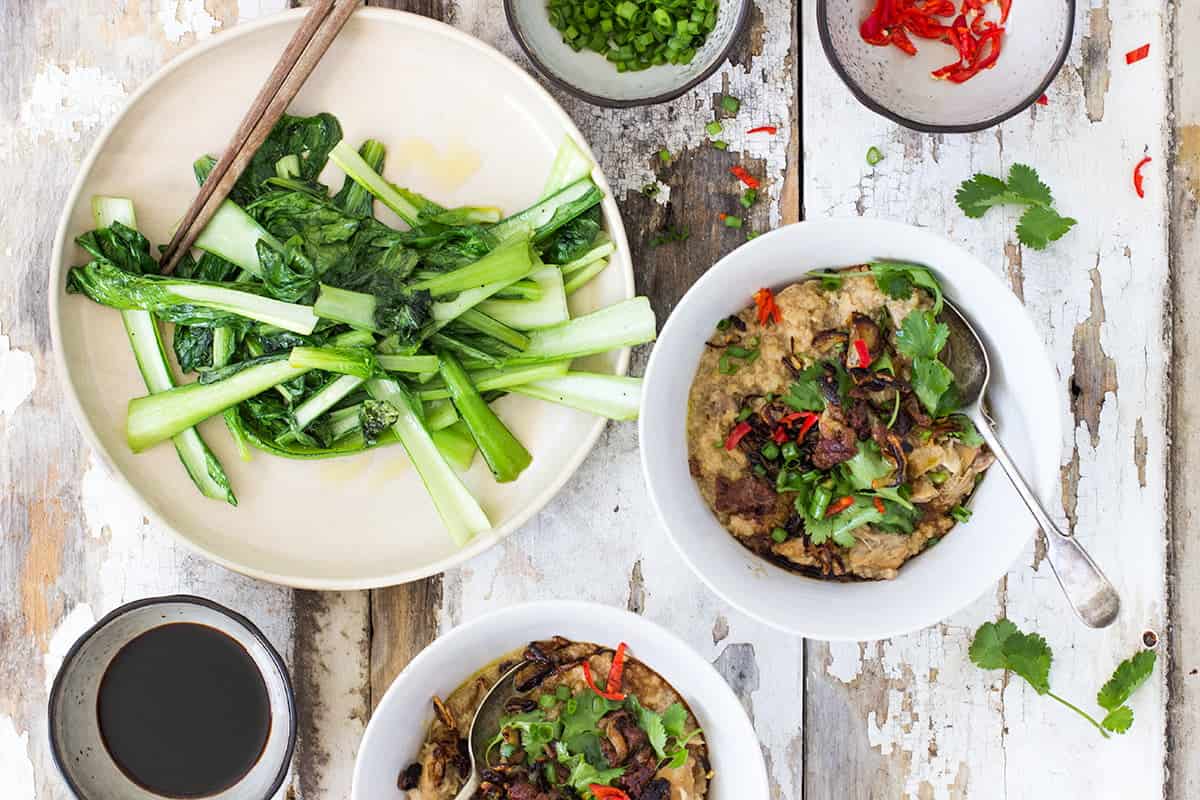 I'm pretty pumped about this Chicken & Brown Rice Congee recipe. I'm an avid fan of congee and the concept of a savoury breakfast. Congee is super easy to digest as everything is slow cooked and incredibly broken down. It is traditionally a comfort food of Chinese cuisine origin and has been used medicinally in times of convalescence.
My soft spot for Asian style savoury breakfasts developed after travelling in my early twenties around Thailand, Singapore and Malaysia. It was there that I fell in love with dishes like roti canai, nasi lemak and pad thai to start my day. I found them deeply satisfying and bringing them back home with me into my own kitchen (along with a nasty  gastro infection mind you) helped me keep a toe in the door of some amazing life changing culinary months.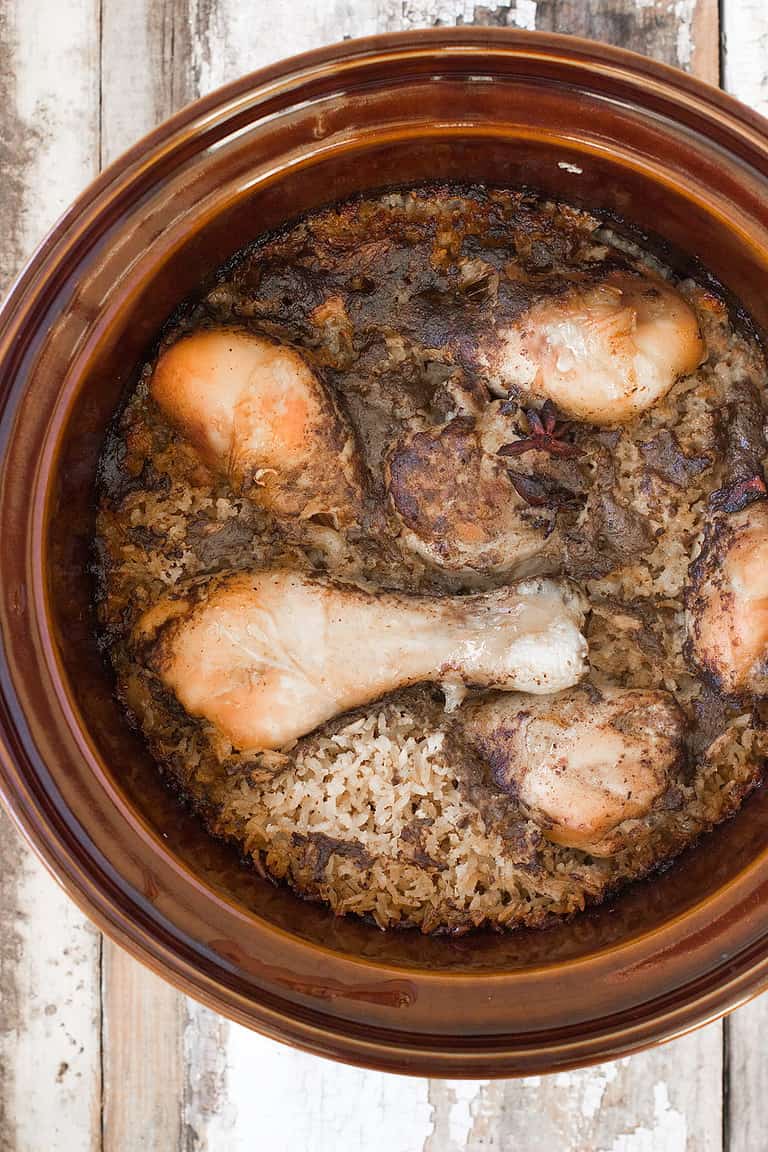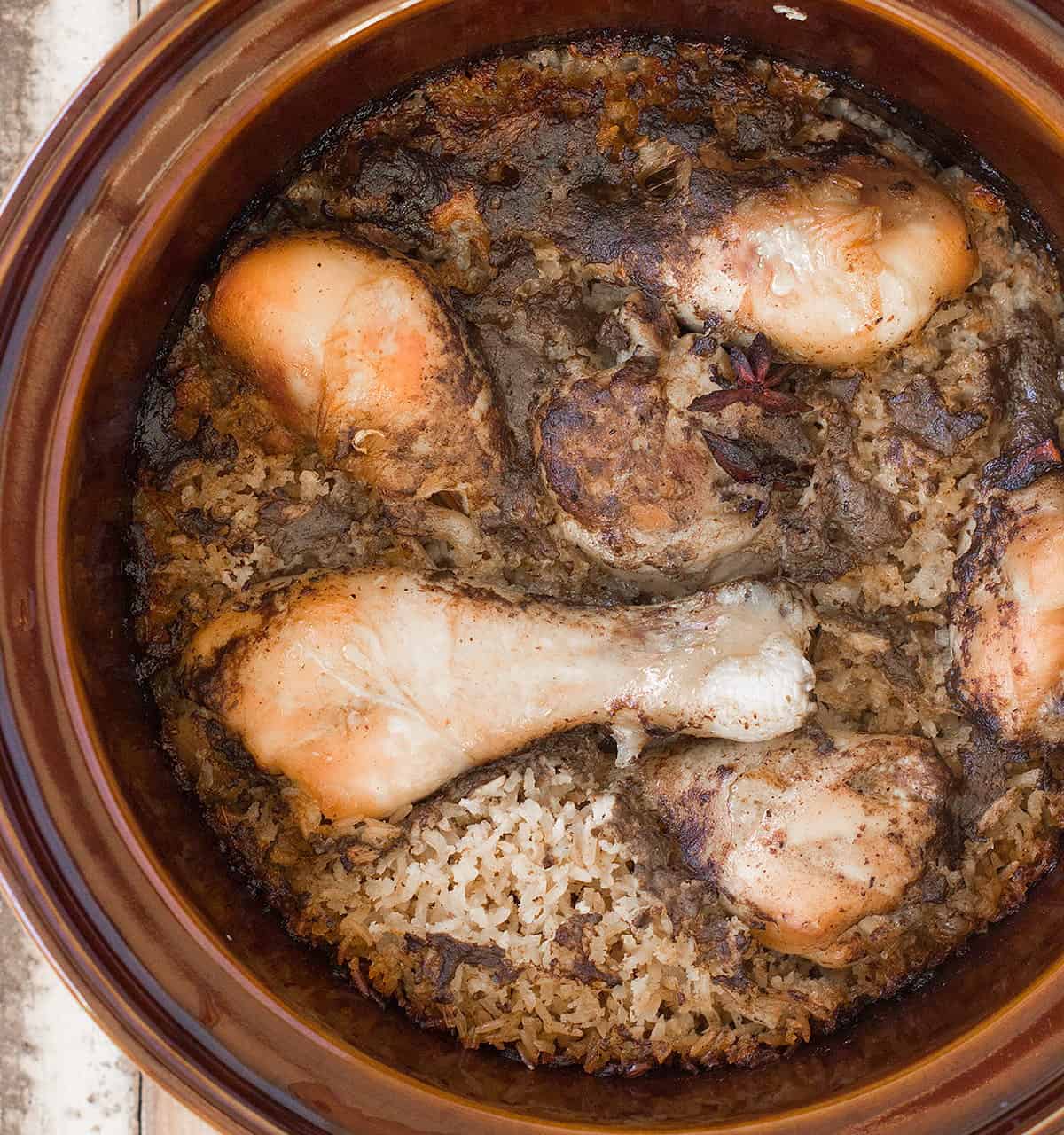 Lucky for my housemate (and dear friend to this day) along with my boyfriend at the time, they got to enjoy the fruit of my recent endeavours as such. Any chance we had where the three of us where not working or off to uni first thing in the morning, we would gather in the kitchen while I prepared us breakfast (well they would sit and chat baiting me with 'is it ready yet Coxy?' and 'look at her dainty hands' (pronounced 'harnds' ) by my housemate Mya, who till this day still loves to rile me up with this phrase. Mya would also keep us entertained while I cooked with the most impeccable impersonations you have ever seen. Her New Yorker impersonation is flawless.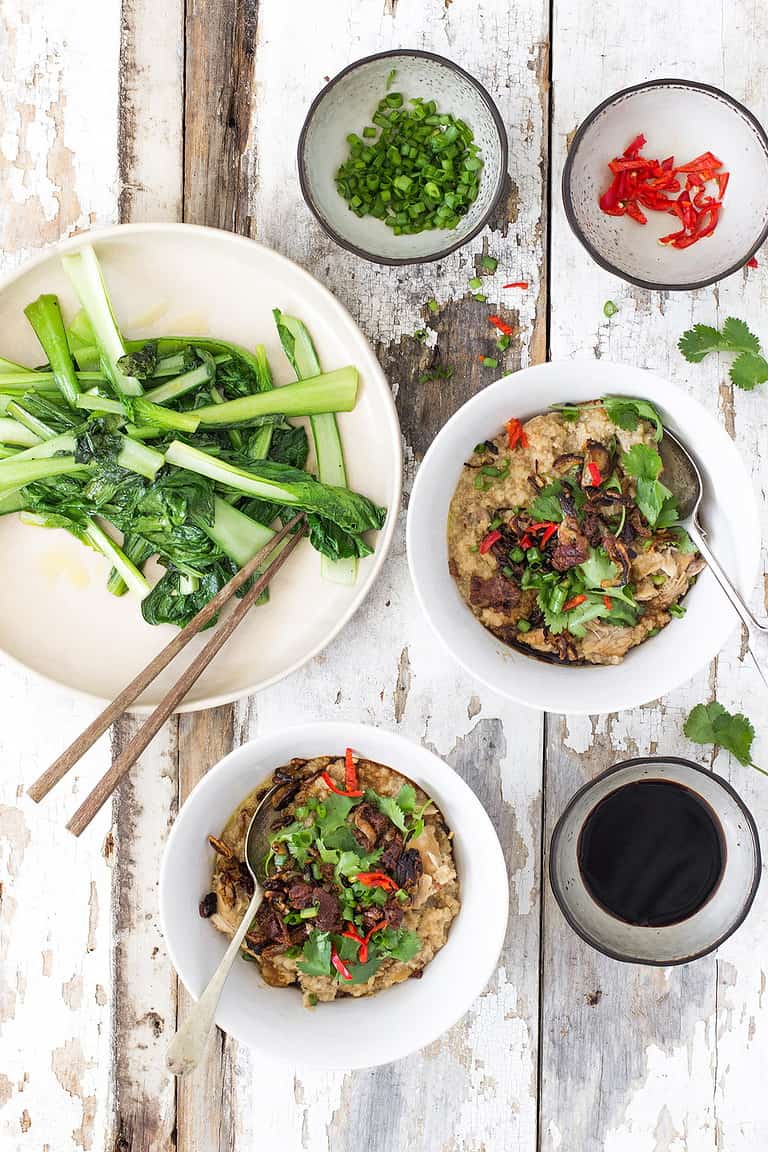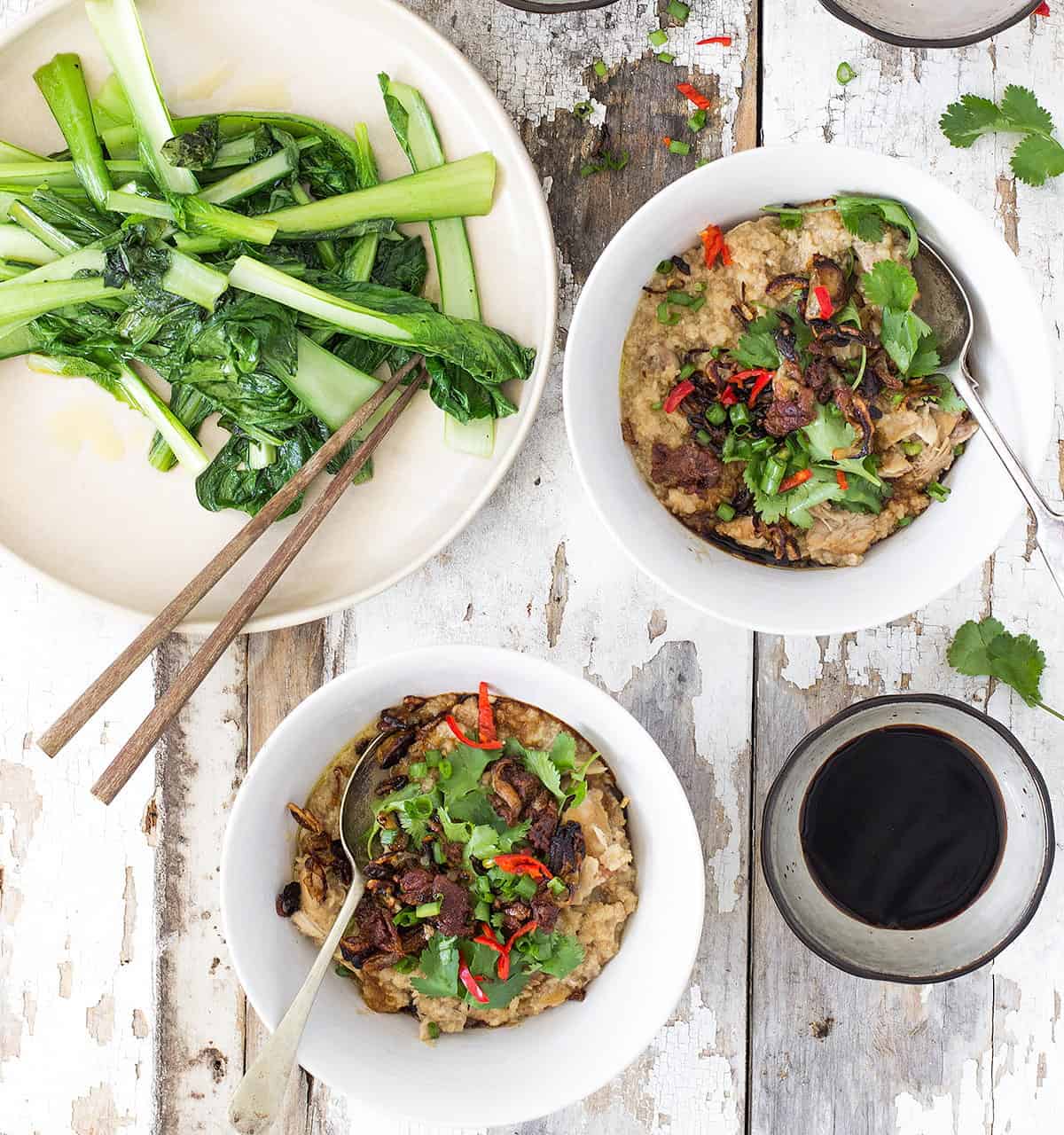 Most commonly I would whip up my Pad Thai but this was closely followed by my Turkish Breakfast (I'd also just got back from Turkey – aka more gastro) so the influences were coming from all over by this point. Sometimes I'd do more western style breakfasts like pancakes or french toast, however no matter what was on the morning menu I would make a point of dishing it out with precision (frustratingly never on matching plates because #grouphouseliving), then presenting it like something ready for Masterchef with my 'dainty harnds'. We would then all sit around the table and devour it slowly as we chatted away the morning, often hours literally passing by between conversations that fluctuated from in-depth and soul searching to just down right hilarious.
How does life go so fast?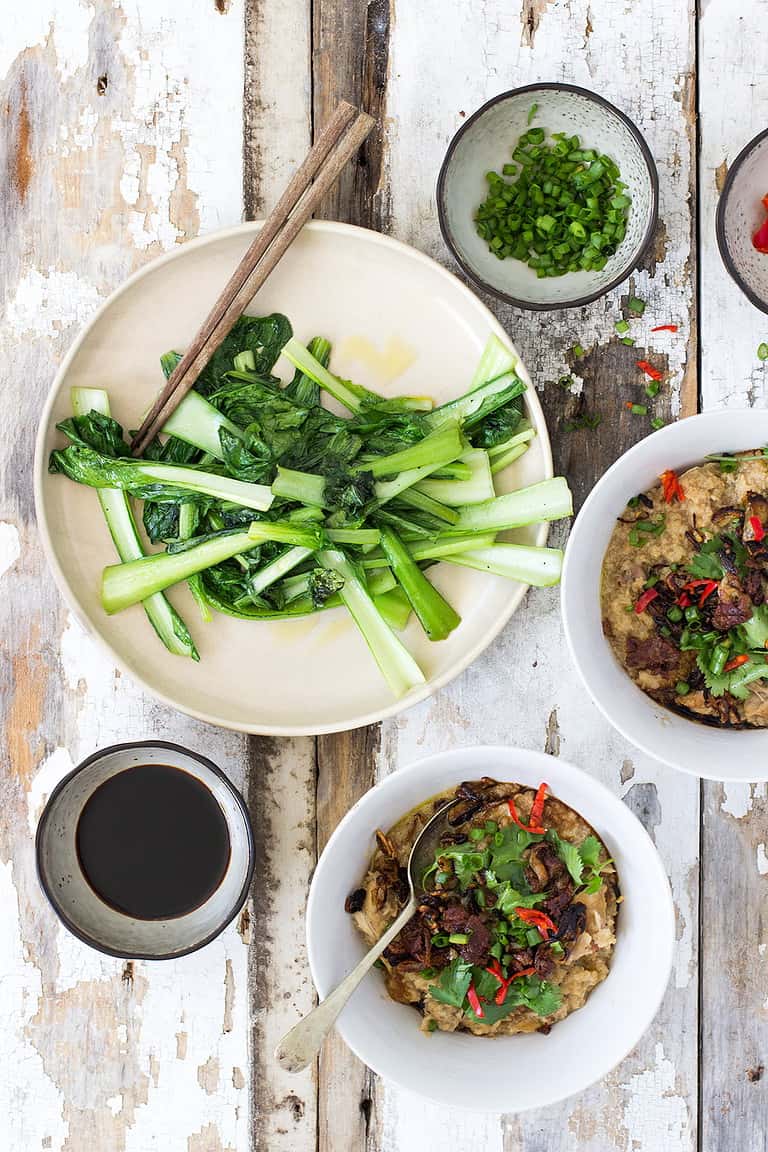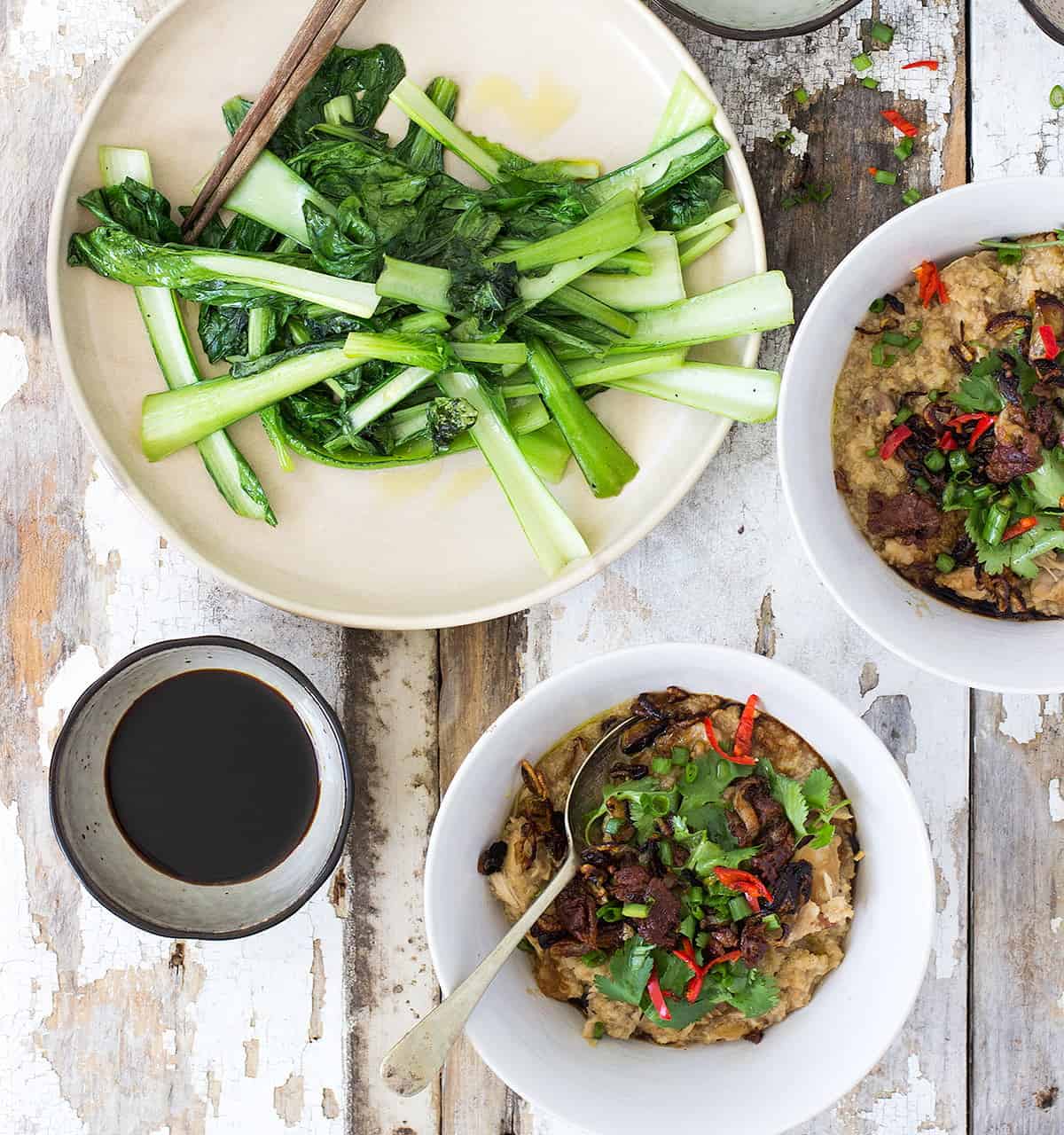 Fast forward 10ish ( 😉 ) years and here I am still obsessed with a delightfully presented dish that celebrates those flavours I adore so much. The Pad Thai of earlier years has become the congee of present day. All that has changed really in the kitchen sphere is a deeper passion and knowledge base of food and an improvement in matching dinnerware.
Before I wrap this up let me just share the most important aspect of this dish with you. The secret to a good congee is quality ingredients. With minimal components in the congee itself there is nowhere to hide. Use a cheap watery stock and you will end up with an mediocre congee. Like a great Italian meal, congee requires respect of ingredients used in a way to highlight their own characters and flavours. For this recipe I actually used my own homemade chicken broth, but there are brands out there that you can buy if you want something quicker. Respect the congee and it will respect your tastebuds. xx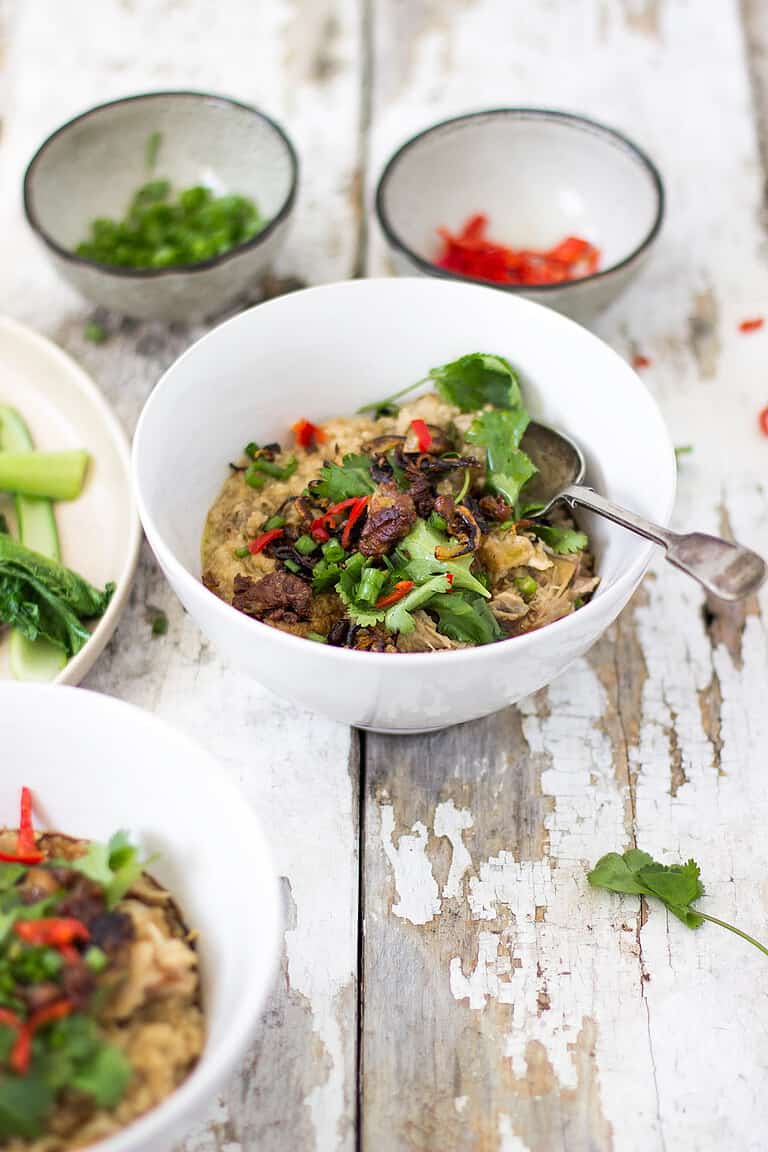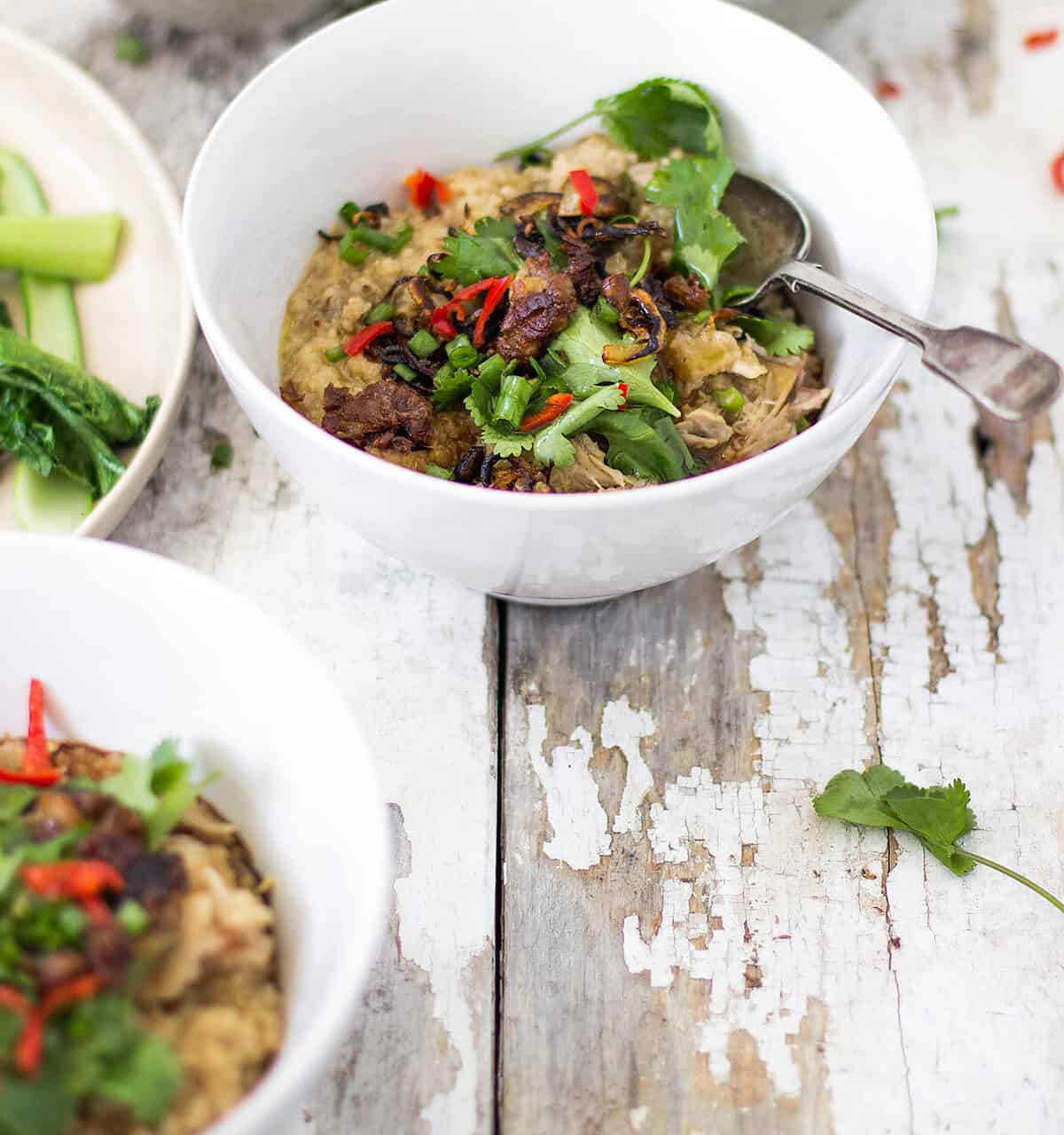 chicken & brown rice congee
serves

serves 6

preparation time

20 minutes + overnight in slow cooker

cooking time

10 – 12 hours
ingredients
1 kg free range chicken drumsticks, skin on
2 litres quality chicken stock
1 cup basmati brown rice (or regular brown rice)
1 tightly packed tablespoon freshly chopped ginger
1 teaspoon pepper
1 star anise
// to serve //
1 enshallot, finely sliced
1 bunch coriander, leaves picked
1 red chilli, finely sliced
1 large bunch pak choi
2 spring onions (green ends only), finely sliced
tamari & sesame oil to taste
method
Place chicken drumsticks, rice, chicken stock, star anise, ginger and pepper in a slow cooker and cover. Leave overnight for at least 10 – 12 hours on a low heat setting. If you do not have a slow cooker you can place in a large saucepan instead and turn to a very low simmer for around 1 hour.
The congee is ready when all the rice has become glutinous and broken down into a rice consistency and the chicken is falling off the bone. Remove the chicken drumsticks and take off the meat and chicken skin, setting aside the bones and cartilage (I like to freeze these for stock later). Place the chicken meat and any juices back in with the congee and stir through. Set the skin aside.
When ready to serve prepare your toppings by frying up the enshallots in some olive oil till really brown and crispy, along with the chicken skin (this is not essential but its frigg'n delicious). This will take roughly 4 – 5 minutes. Now pan sear the pak choi in a hot pan with some olive oil and add a dash of sesame oil when the enshallots and chicken skin are close to finished.
Serve congee topped with wilted pak choi, coriander, chilli, shallots, crispy enshallots and chicken skin then season to taste with tamari and sesame oil.
nutritional information
Congee is a savoury rice dish often used for convalescence. The rice is slowly cooked till it is entirely broken down and the starch is released into the water creating a soft porridge consistency. Commonly the rice is cooked in a stock base, which one can equate to the goodness of the popular bone broths of present. This end results is a dish rich in nutrients, easy to digest and full of gut healing goodness thanks to the amino acids and collagen present in the broth.
To make this congee SIBO friendly, simple use a stock base free of garlic and onion then top the congee with the recommended greens, coriander, chicken skin and chilli. Season instead with some sea salt and then top with some pan-fried sunflower seeds till crunchy and golden brown.
Make this congee vegetarian/vegan by using a vegetable broth and omitting the chicken. Serve topped with crispy tempeh or tofu with the other toppings. You could also add silken tofu to the congee itself towards the end of cooking.
Jessica Cox is a qualified practicing Nutritionist with a Bachelor Health Science (Nutrition) and over 15 years of clinical experience. She is the founder and director JCN Clinic, published author and established recipe developer. Jessica is well respected within health and wellness space for her no fad approach and use of evidence-based nutrition.