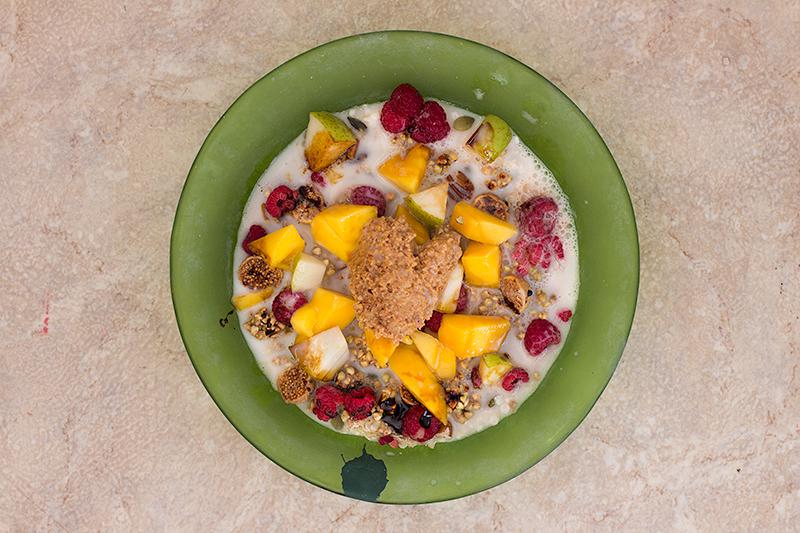 As soon as the weather warmed up I instantly found myself craving a good bircher. My interest in steaming hot pancakes and hot porridge dissipated, and I longed for a cooling breakfast to put a bounce in my step for the day ahead.
Bircher is like porridge's cousin. It's a genetic milkshake of similar ingredients, yet expressed in a different way. Traditionally bircher muesli's are made with oats soaked overnight in yoghurt or milk with grated apple and cinnamon. This traditional variation is very delicious, yet for those with gluten and dairy intolerances it can be problematic. Creating a really good alternative bircher with loads of creaminess and the right texture is not as easy as one might think. Quinoa flakes just don't seem to cut the mustard; they do not hold enough texture and have a slight bitterness. Brown rice flakes however are more neutral in flavour and still hold texture to the bite.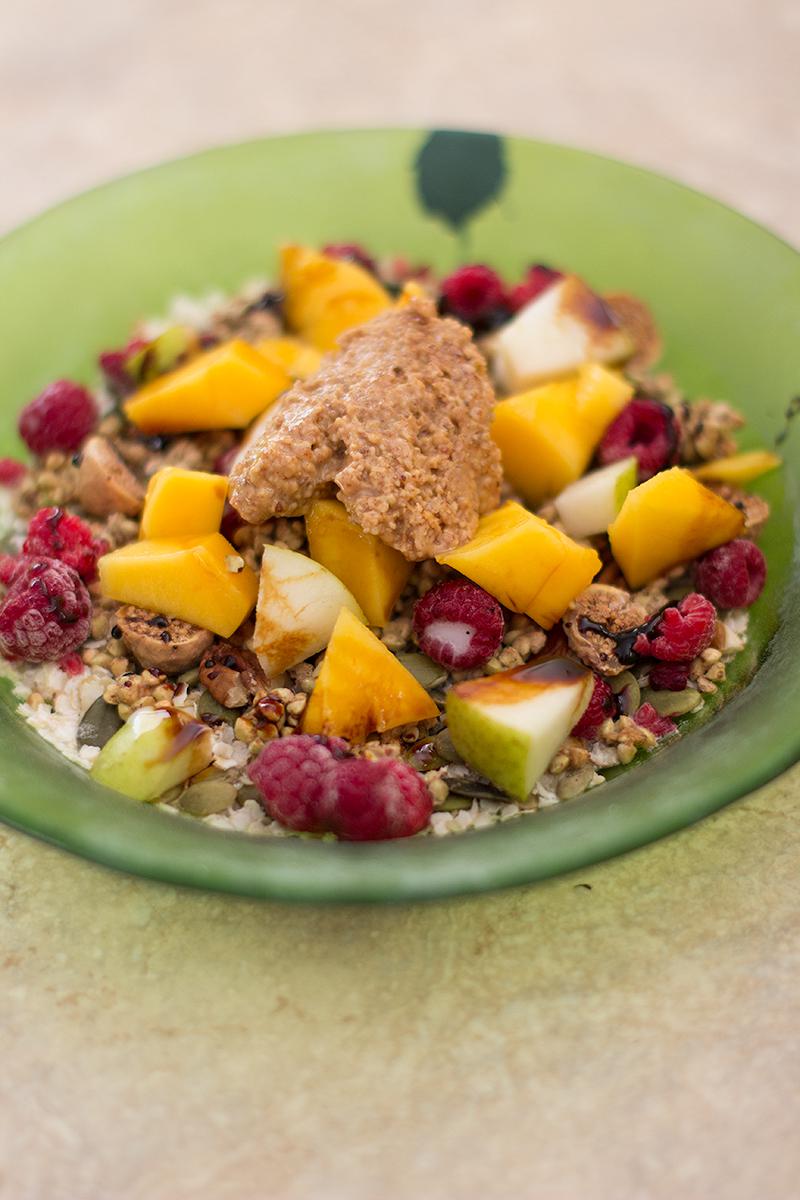 Instead of using yoghurt to create creaminess this recipe uses almond milk combined with a hefty dollop of peanut butter. When swirled together the nut butter and almond milk with the rice flakes create that creamy deliciousness that bircher is known for. Once topped with seasonal fresh fruit and crunchy buckini's this bircher really comes into it's own.
The second awesome thing about bircher muesli is that it can be prepared in advance. The soaked grains can be kept in a bowl or even in a jar for a portable breakfast on the go. All that is required in the morning is some fresh fruit, your nut butter and crunchy bukini's and off you go. Furthermore, fruit can be added the night before if you like, along with your nut butter so you can just grab your breakfast without any fuss at all.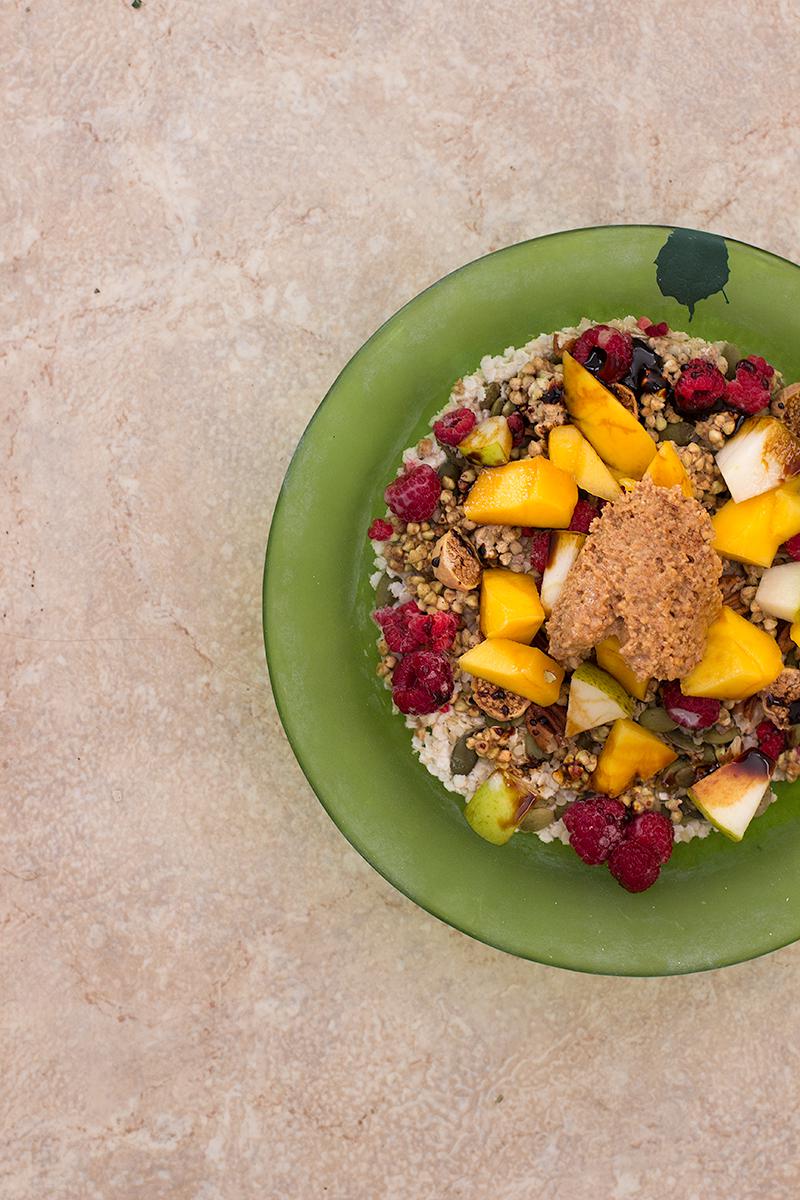 Of course this bircher is highly adaptable, so try it with other seasonal fruits and nut or seed butters. For crunch you could use chopped nuts, seeds, cacao nibs and you can soak you bircher in soymilk, coconut milk, goat milk or even sheep yoghurt. Try adding fresh spices such as cinnamon and nutmeg, even some grated carrot. Realistically it's about creating the flavours that you like, which makes birher muesli such a versatile breakfast option.
bircher muesli w mango & berries
serves

serves 1

preparation time

5 minutes + overnight soaking

cooking time

nil
ingredients
1/3 cup brown rice flakes or quinoa flakes
1/3 cup almond milk or dairy free milk of choice
1 teaspoon vanilla extract
1 heaped tablespoon berries ( I used raspberries)
1/4 mango cheek, roughly cubed
1/4 pear, cubed
2 – 3 chopped dried figs
1 heaped teaspoon molasses
1 heaped teaspoon pure peanut butter
1 heaped dessertspoon of buckini's (optional)
method
Begin this recipe the night before, or at least 1 hour before serving.
Place the brown rice flakes, vanilla extact and almond milk in a bowl and stir till combined. Cover and place in the fridge overnight to allow the rice flakes to soak up all the liquid.
In the morning, take out of the fridge and top with berries, fresh mango, buckini's, dried figs and a good dollop of peanut butter. Finish with a drizzle of molasses before serving.
nutritional information
This bircher provides a little plant base protein thanks to the addition of the nut butter and any nuts or seeds that you choose to add to the top of your bircher. To amp up the protein further you could use a combination of flakes suggested here and some lupin flakes, which are very high in protein. You could also stir through some natural protein powder if you like.
Molasses is a rich source of plant based iron. The flavour of molasses is quite malty without a lot of sweetness. To increase the plant based iron options further you could also add some chopped up dried apricots to the bircher.
Jessica Cox is a qualified practicing Nutritionist with a Bachelor Health Science (Nutrition) and over 15 years of clinical experience. She is the founder and director JCN Clinic, published author and established recipe developer. Jessica is well respected within health and wellness space for her no fad approach and use of evidence-based nutrition.