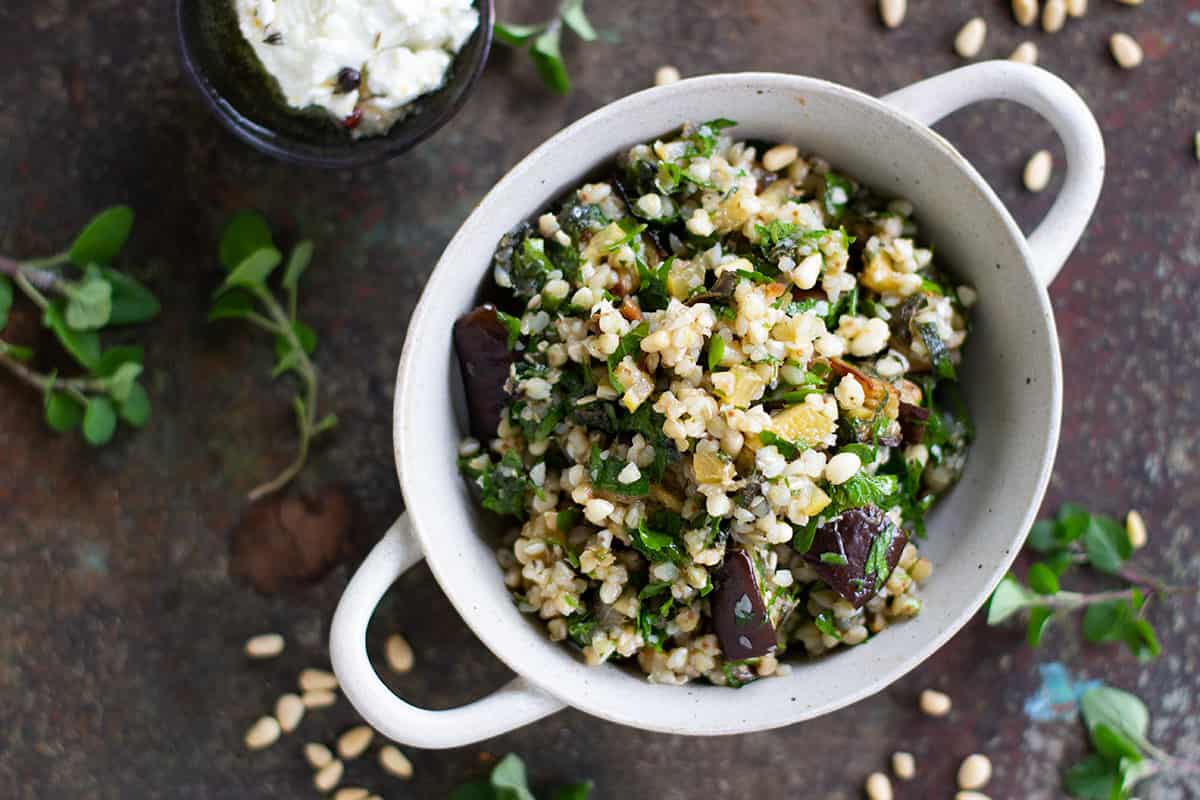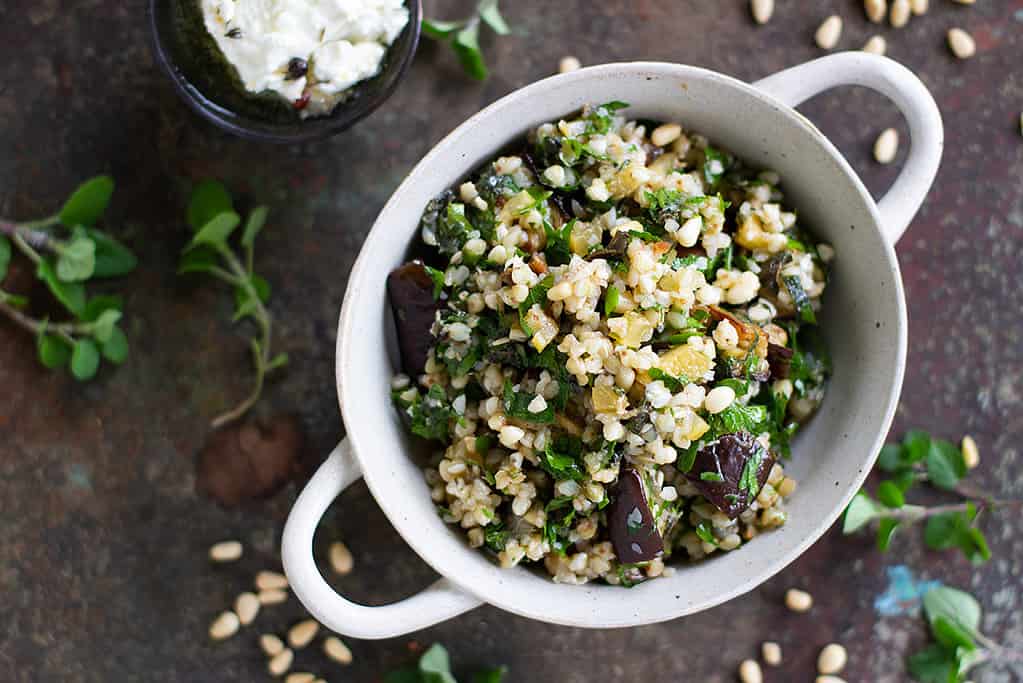 If I had to pick my favourite grain (or pseudo grain if being specific) then it would hands down be buckwheat. I adore it's nutty texture and its larger grain size with similarity to bulgar wheat. It is more robust than quinoa or millet and holds up well texturally with dressings. A buckwheat salad is a common go-to in our household, often influenced by what's in season and what's in the fridge. I find you can take any vegetable and leafy green combo to toss through cooked buckwheat then just ensure you have a lovely dressing to bring everything together. That is absolutely how this Moroccan Eggplant & Lemon Buckwheat Salad came about.
Now is that time of the year where all the dormant herbs and greens are shooting off again. For our garden this means ample fresh growth of herbs like parsley and oregano featured in this salad. Oregano might seem like an odd herb to use in this way, but it works a treat and is more subtle than you would think. You can also find oregano used in this fresh way in my Cucumber & Lemon Salsa in e.a.t and in my Oregano & Basil Pesto. Oregano is a potent phytochemical and studied extensively for it's antibacterial, anti-fungal and anti-parasitic benefits. For this reason I am always on a mission to encourage and educate my clients more at The JCN Clinic to use oregano more plentifully.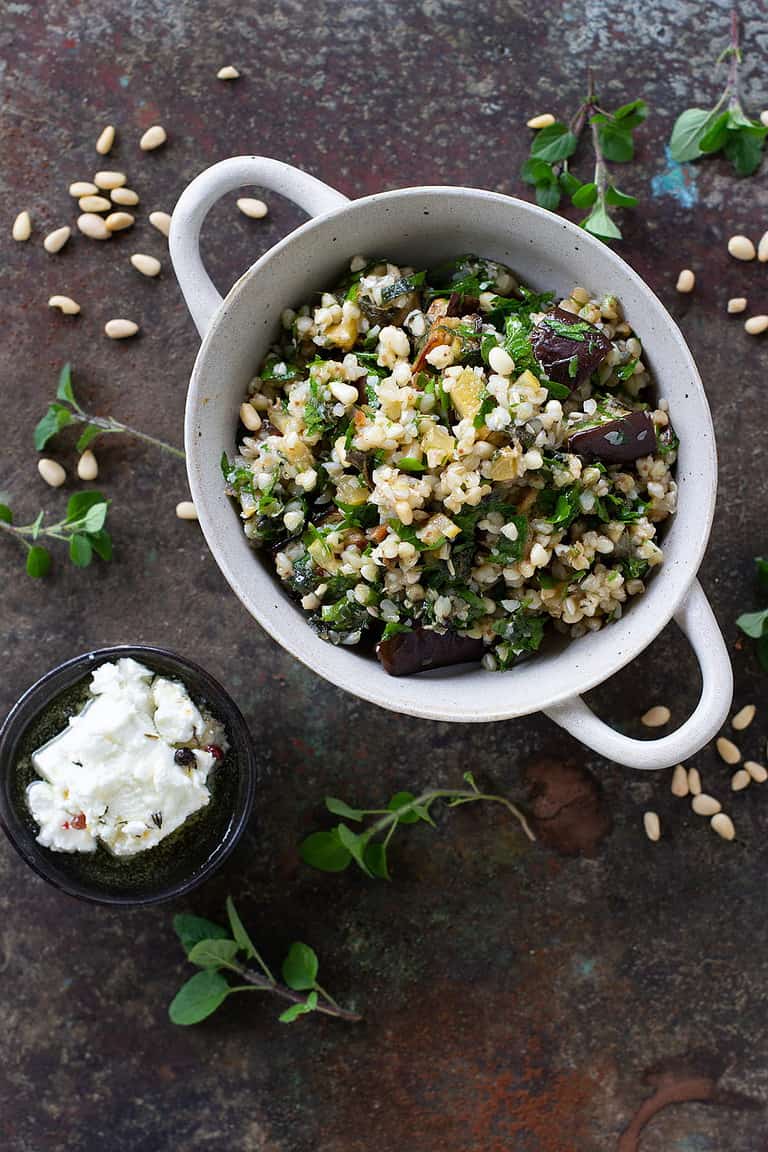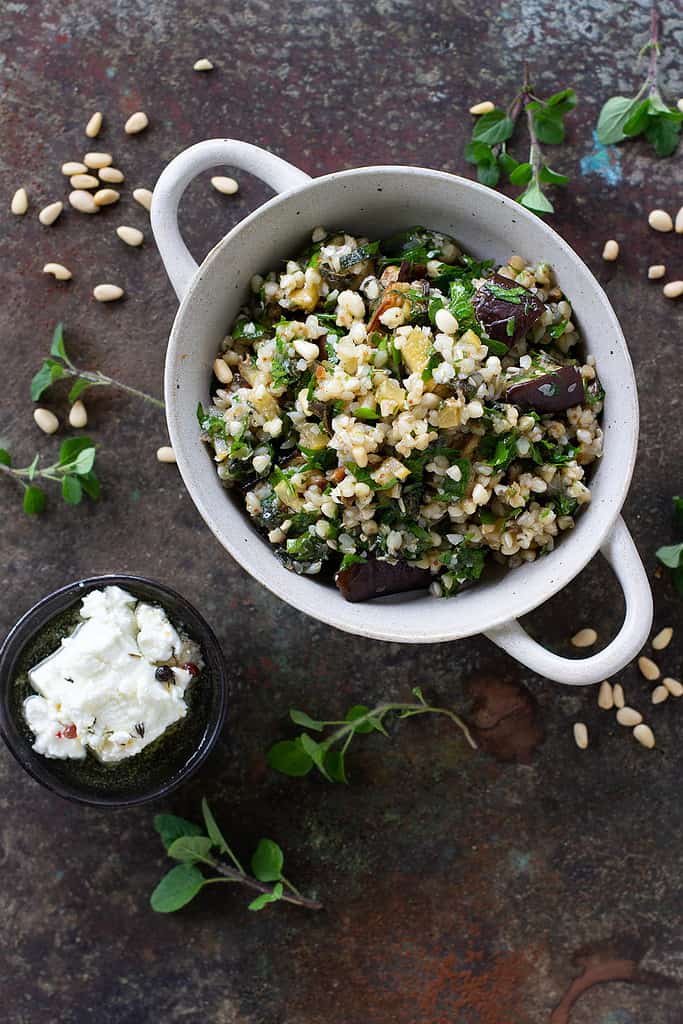 We are at a point where we have flipped from being stingy and mindful of the use of all our preserves from last summer to the realisation that before we know it's 'go time' for bottling and preserving again. Seeing all the Spring blossoms turning into budding fruits is creating a sense of urgency. I feel this ridiculous race against the fig tree each day to eat all the bottles of figs from last years pick in readiness for this years looming pick. This has put the pressure on pulling out the preserves and really amping up their utilisation. Every lunch has a side of pickled veg and most salads now are getting the same treatment. One of my favourite super simple combo's in fact is pickled beets, grapefruit or orange, kale, chopped walnuts and an easy evoo and apple cider vinegar dressing.
This Moroccan Eggplant & Lemon Buckwheat Salad therefore has the divine and flavourful hit of preserved lemons. As you will see in the recipe notes you can substitute this for lemon zest, but honestly if you have not tried preserved lemons before please do! They are pretty easy to buy and last for ever (well almost – I am sure at some point they turn but yet to see it yet!)
Like what you're seeing? Subscribe for new recipes and nutrition tips every week!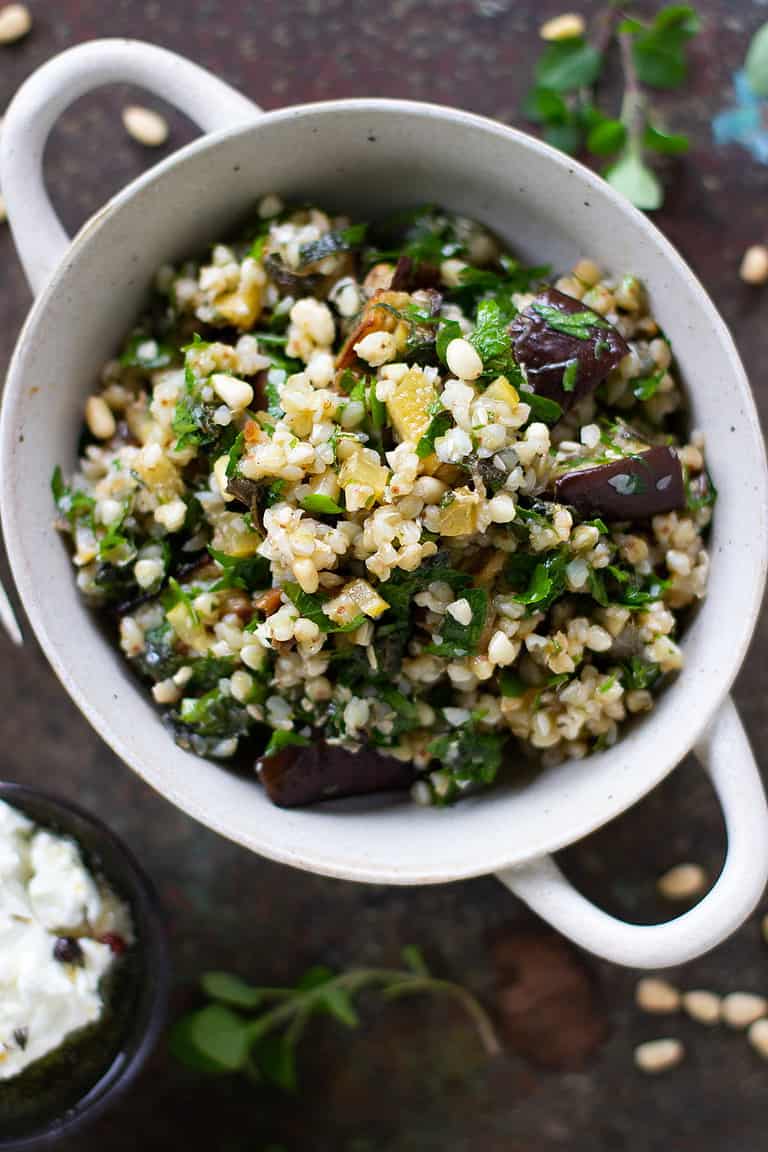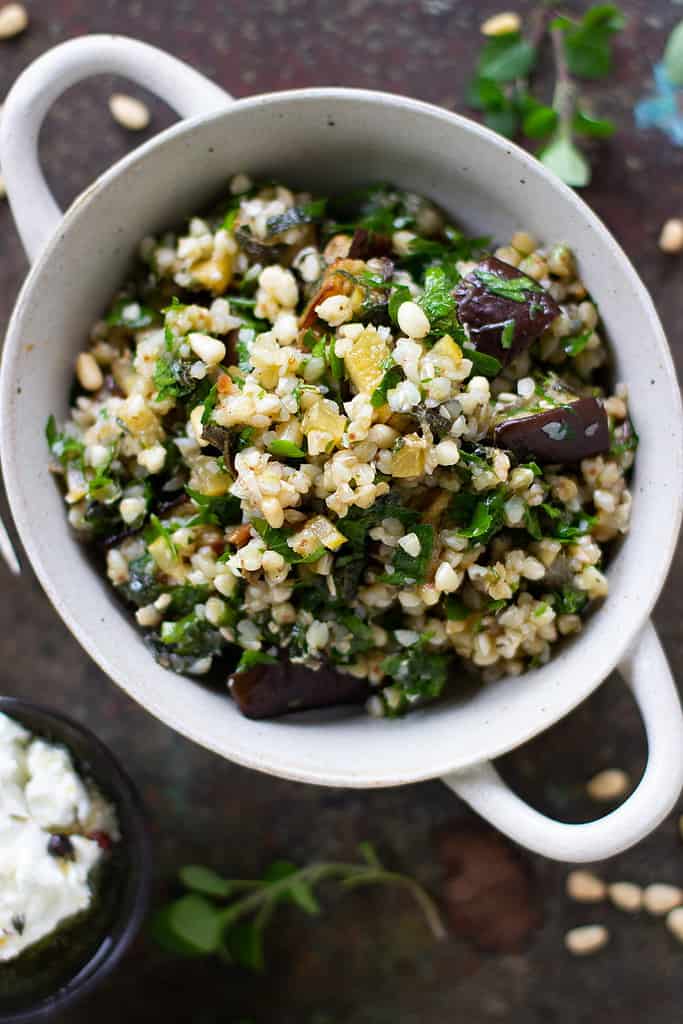 substitutes for low fodmap
I always like to provide some easy swaps for low fodmap as many of you are here for gut friendly recipes as you are navigating your gut treatment protocols. I know many of our JCN clients get food plans from our JCN Nutritionists and Naturopath with recipes like this one included, however they have been individualised with adaption notes on how to modify the ingredients to suit their requirements.
Therefore, some easy adaptions are:
Omit medjool dates completely
Swap medjool dates for 1/2 cup of roughly cubed papaya
Swap medjool dates for 1/2 cup of roughly cubed orange
Find buckwheat a bit iffy? Use millet instead
As always, please let me know how you find this recipe, I love hearing from you and your feedback always helps others find these recipes! xo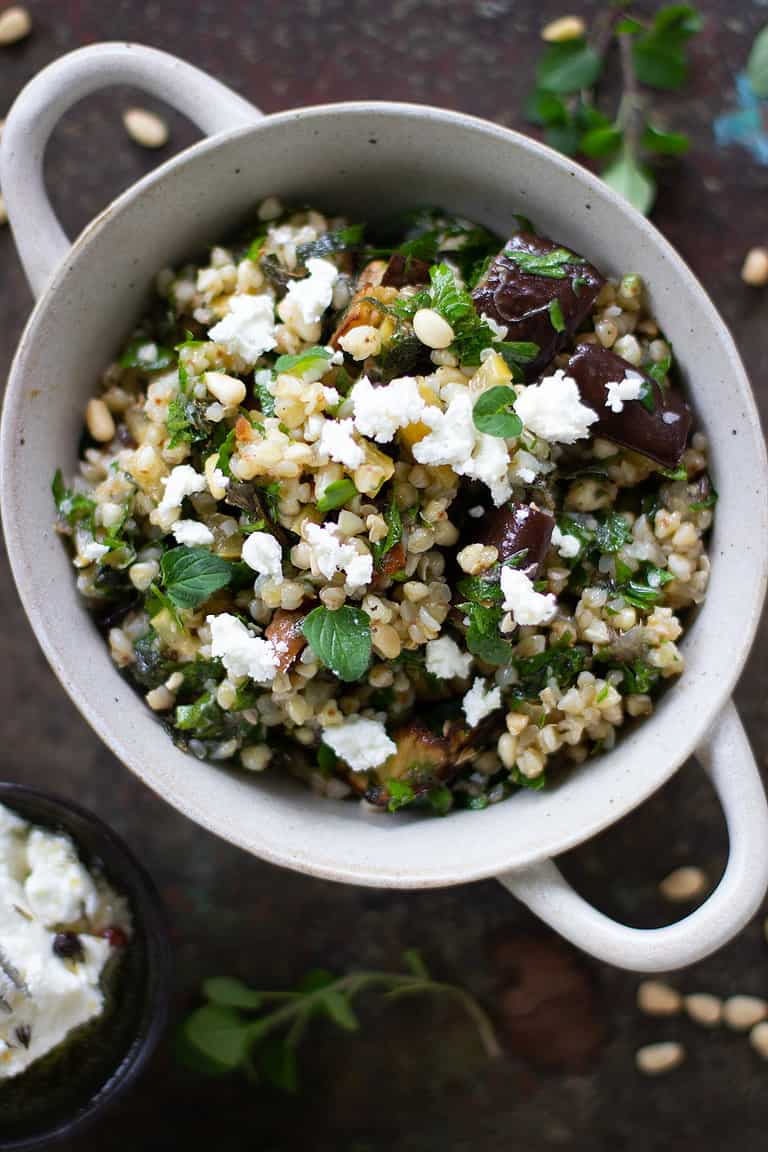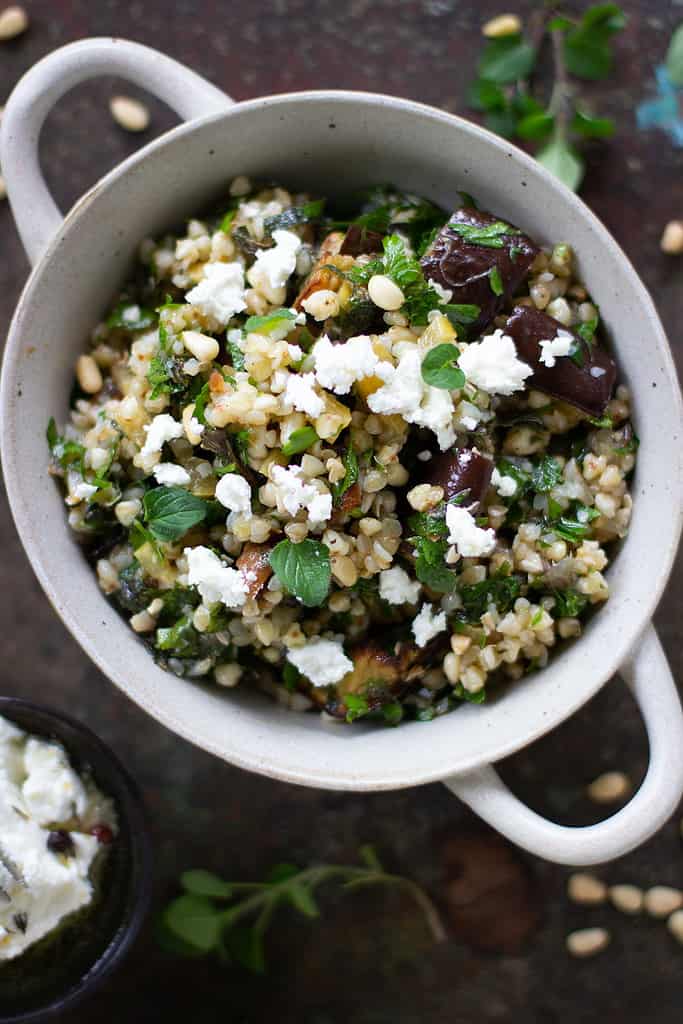 Need personalised nutrition advice catered to your needs?
If you are after personalised nutrition advice and dietary planning individualised to your health and dietary needs then contact us at The JCN Clinic with your enquiry. We are always happy to answer any questions you have!
moroccan eggplant & lemon buckwheat salad
serves

4 as a side

preparation time

30 min

cooking time

30
ingredients
1 large eggplant
1/2 cup buckwheat groats
2 quarters of preserved lemons, pith removed (or zest of 1 large lemon)
1 tightly packed cup chopped parsley leaves
1/3 cup tightly packed oregano leaves
6 medjool dates
2 tablespoons pine nuts
1 teaspoon cumin powder
2 tablespoons apple cider vinegar
2 tablespoons extra virgin olive oil
salt and pepper to season
120g soft goats cheese (optional)
method
Preserved lemons really do make this dish pop so I encourage you to buy some. They last forever in the fridge and are wonderful in many dishes (some ideas above in the blog post). Otherwise, as instructed you can use lemon zest in its place.
Pre heat the oven to 180c fan forced.
Cut the eggplant into approximately 2cm cubes. Place on a baking tray and season well, then toss with a little extra virgin olive oil to coat all the pieces well. Place the tray in the oven to bake for 30 minutes, checking at the 20 minute mark to toss around for even cooking. The eggplant is done when it is softened and golden.
Place a medium size saucepan filled half way with water. Add the buckwheat groats and bring to the boil. Allow the buckwheat to boil till just tender, around 5 – 7 minutes (check some by getting a few groats out of the water with a spoon). When the buckwheat is cooked drain through a colander and rinse well with boiling water. Set the buckwheat still in the colander aside over the empty saucepan to drain.
In the interim, dice the persevered lemon and remove the pips from the medjool dates and slice up. Roughly chop the parsley and the oregano.
Once the eggplant is cooked, take a large salad bowl and add the eggplant to the bowl. Along with the eggplant add the cooked buckwheat, preserved lemon, chopped herbs, dates, pine nuts, cumin powder, apple cider vinegar, extra virgin olive oil and season well, then toss till well combined. Taste for seasoning and adjust if needed.
To serve, divide between plates and crumble over goat feta if using. Enjoy with your protein of choice, lovely with lamb!
nutritional information for moroccan eggplant & lemon buckwheat salad
This Moroccan Eggplant & Lemon Buckwheat Salad provides a nutritious side dish to your protein of choice. This salad is rich in fibre and antioxidants thanks to the fresh herbs, lemon peel and eggplant.
Nutrition Information (includes goat cheese)
| | |
| --- | --- |
| Calories/KJ | 418 cal/1748 kj |
| Total Fat | 19g |
| Saturated Fat | 6g |
| Total Carbohydrates | 58g |
| Sugars | 34g |
| Fibre | 11g |
| Protein | 12g |
Jessica Cox is a qualified practicing Nutritionist with a Bachelor Health Science (Nutrition) and over 15 years of clinical experience. She is the founder and director JCN Clinic, published author and established recipe developer. Jessica is well respected within health and wellness space for her no fad approach and use of evidence-based nutrition.