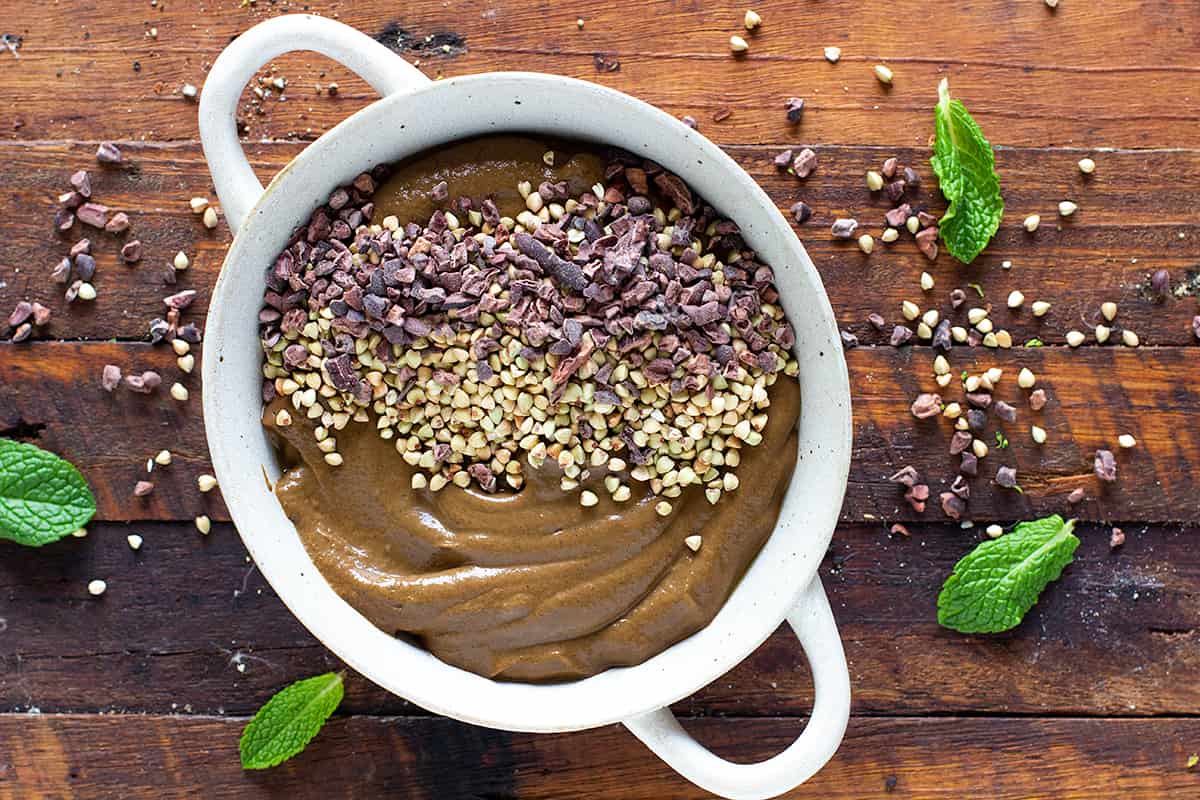 This weeks recipe post was a toss up between carrot chips and this smoothie bowl. Quite extreme ends of the spectrum I know. As usual I left it up to the influence of produce at our local market. On the day I was struck by the abundant bunches of new season mint alongside beautiful purple carrots. In the end, the smoothie bowl won as it's easier for a one-handed person to blend stuff as opposed to chop stuff.
As always, when it comes to enjoying a smoothie based meal I'm fanatical about macronutrient balance. I have previously written about how to create a balanced smoothie bowl here, as it is super common for people to make smoothies with way too much fruit domiance with little protein or complex carbs. Interestingly, this Chocolate Mint Smoothie Bowl is actually fruit free entirely and sweetened with just a few medjool dates. Usally this choc-mint flavour profile is often made with a few drops of peppermint essence, where as I am using fresh mint to amp up the nutritional ingredients.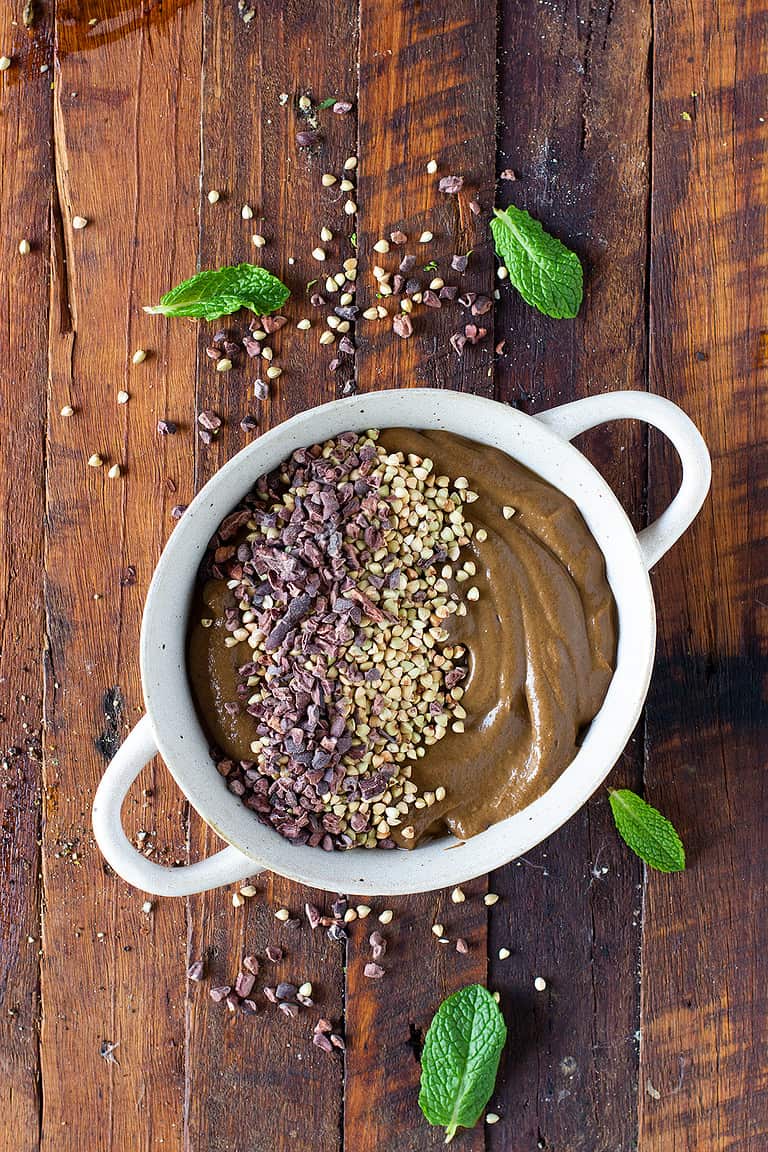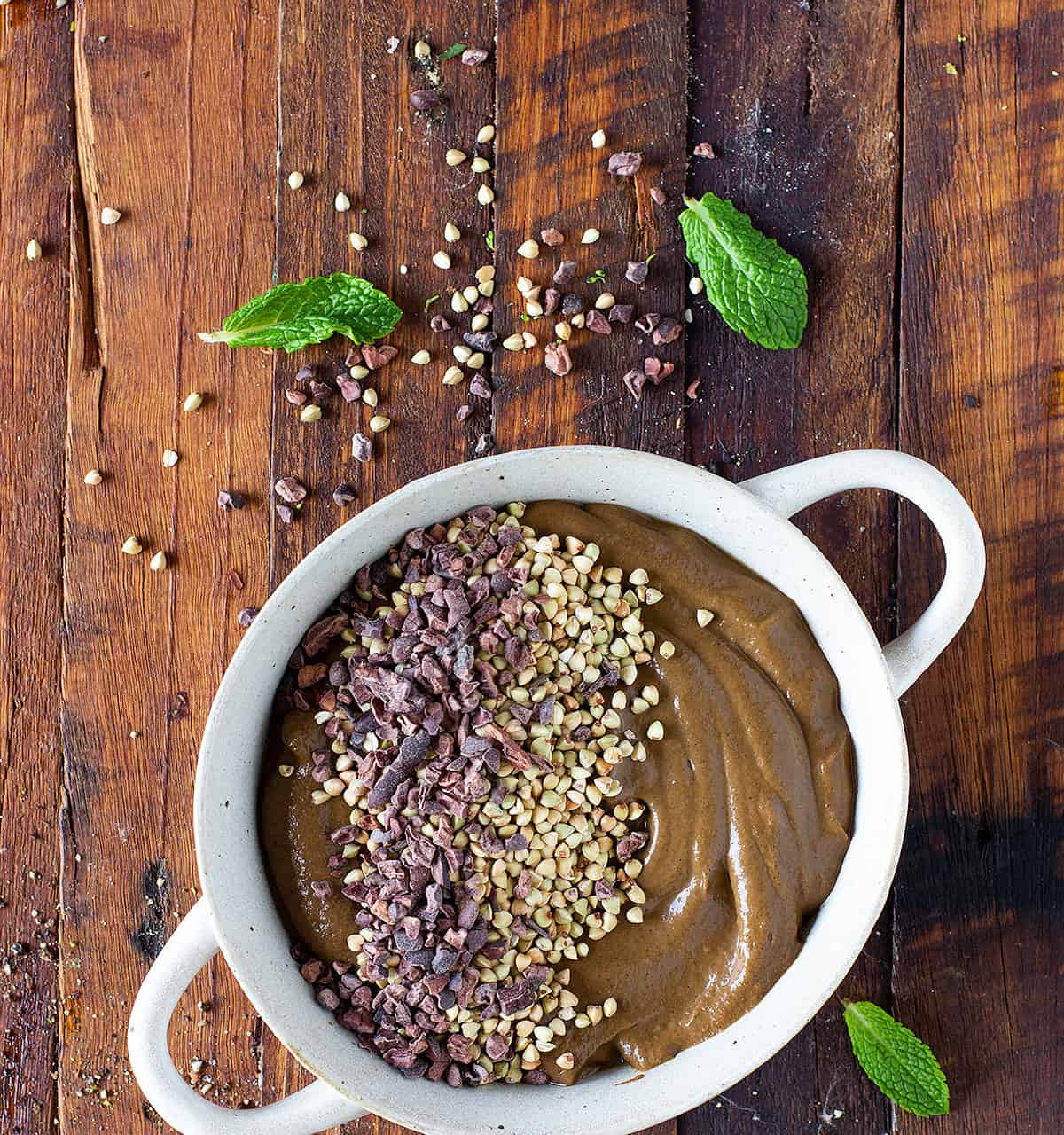 Let's dive into some nerdy facts on the awesomeness that is peppermint shall we? Mint leaves are rich in something called kynurenic acid. Kynurenic acid (KYNA) is a metabolite of "kynurenine production", a biochemical pathway fed by the amino acid tryptophan. Kynurenic acid exerts anti-inflammatory and anti-oxidative capabilities. It has also been found in high amounts in the gastrointestinal mucosal layer suggesting a positive role in the microbiota. (1)
Mint also contains strong amounts of phenolic compounds such as rosmarinic acid alongside flavonoids, with volatile components being menthone and menthol. Studies have shown peppermint to have antimicrobial and anti viral properties. Analgesic effects have also been shown in relation to the menthol activity on the gastrointestinal tract.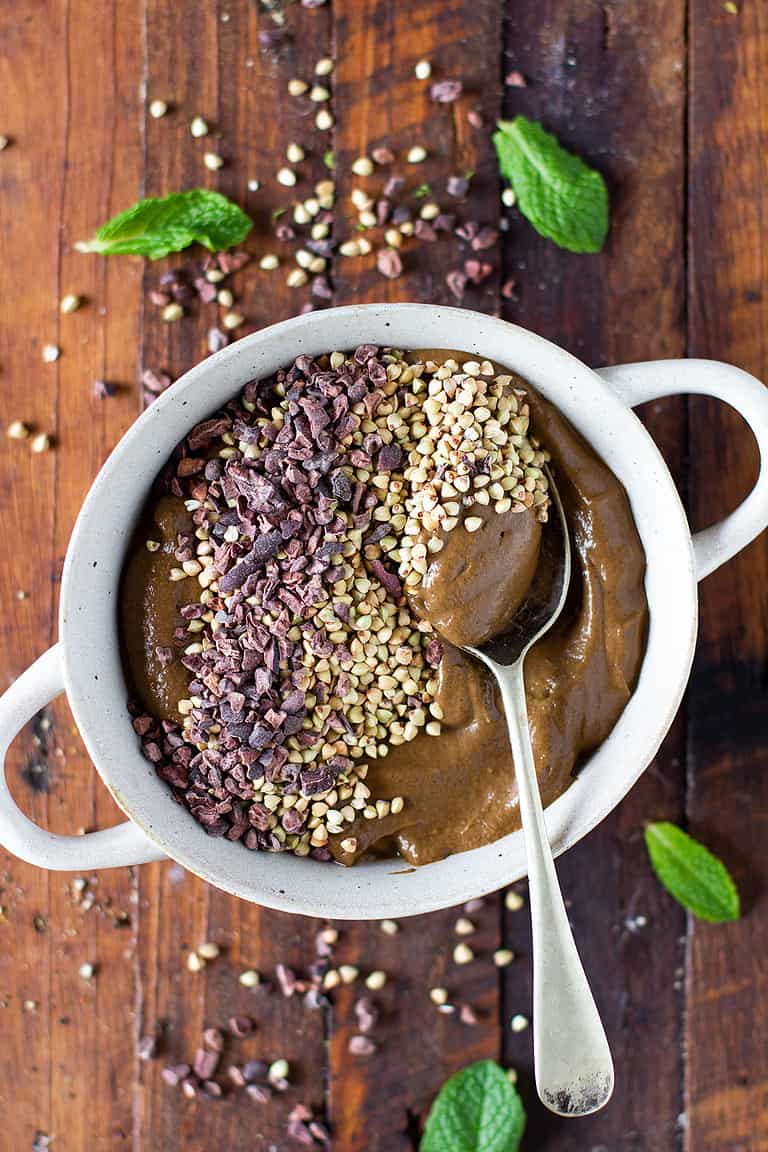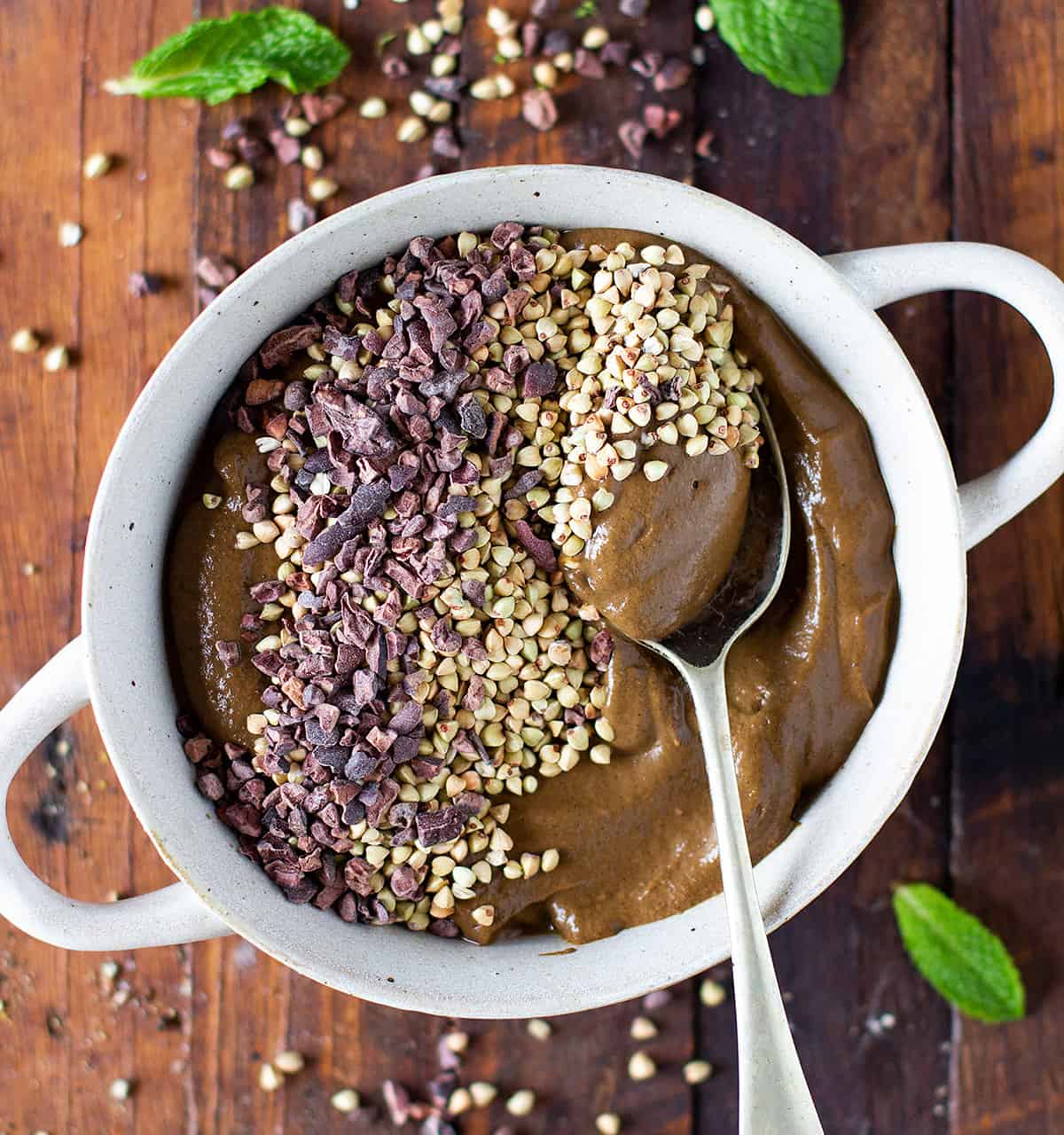 Nutrition aside, there is nothing quite like the combination of chocolate and mint. It does seem to be a camp divider though – I find people either love it or hate it. I remember over indulging on after dinner mints with a vengeance when I was younger. That refreshing mint flavour cancelling out the richness of the chocolate made it easier to eat more and more until I felt sick. I'd like to think I've learnt my lesson here.
This Chocolate Mint Smoothie Bowl is made nice and thick with the plumpness of frozen zucchini and avocado. The combination of both of these ingredients holds a fabulous mousse like texture that is less likely to melt to a watery smoothie before your eyes after a few mouthfuls #smoothiebowlfail. If I am going to have a smoothie bowl I want it to the hold a delicious ice-cream like consistency, otherwise it's super disappointing. I can promise you this recipe will not let you down in the realms of texture, just wait and see when you make it!
(1) Turski M.P et al, 2013, Kynurenic Acid in the Digestive System—New Facts, New Challenges, Int J Tryptophan Res, Published online 2013 Sep 4.
chocolate mint smoothie bowl
serves

serves 1

preparation time

5 minutes

cooking time

nil
ingredients
1 cup frozen zucchini slices (raw or steamed depending on what suits you)
1 generous handle mint leaves
2 tablespoons hemp protein powder
1/4 avocado
4 tablespoons raw cacao
2 medjool dates
pinch sea salt
1/2 teaspoon vanilla extract
1/3 cup almond milk
3 – 4 ice cubes
// toppings //
3 tablespoons activated buckwheat
1 tablespoon cacao nibs
method
Place all ingredients in a blender and blend till smooth and creamy. Spoon out into a bowl and top with activated buckwheat and cacao nibs. Add sesaonal fruit if desired.
nutritional information
This smoothie bowl provides a complete meal thanks to the inclusion of the buckinis topping, which provide complex carbohydrates to a protein, vegetable and fat based smoothie base. Therefore, this smoothie will really keep you going for hours instead of leaving you hungry due to lack of macronutrient balance. Of course you can replace buckinis with another grain topper such as quality granola or toasted oats.
Jessica Cox is a qualified practicing Nutritionist with a Bachelor Health Science (Nutrition) and over 15 years of clinical experience. She is the founder and director JCN Clinic, published author and established recipe developer. Jessica is well respected within health and wellness space for her no fad approach and use of evidence-based nutrition.