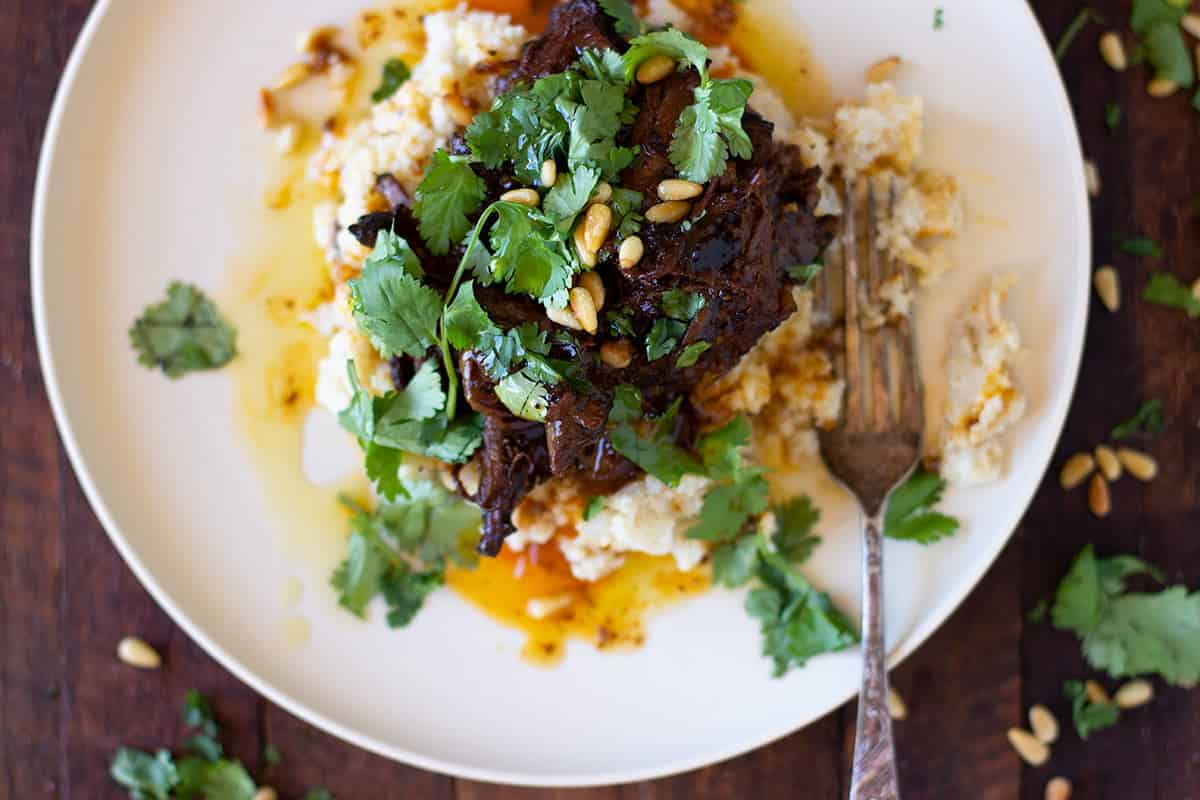 I was going through some old recipe books this week, the type of old book's that you handwrite your recipes into. Way before social media, blogs and Pinterest. I love the nostalgia of these types of books, tattered pages and torn out newspaper and magazine inserts. The tactile nature of this is something I miss in a world now ruled by pinning for filing away recipe ideas. In this particular book, sandwiched between torn out recipes for self-saucing puddings and crispy pan fried fish, I found a hand written recipe for Texan Style Lamb Shanks that I had scribbled down god knows when after making. I know that if I really like a dish I make I will do this, recording the ingredients with the intension of doing something with it in the future. Obviously 'doing something with it' never happened at that point and the recipe was lost in a sea of forgotten inspiration pushed towards the back of the cupboard.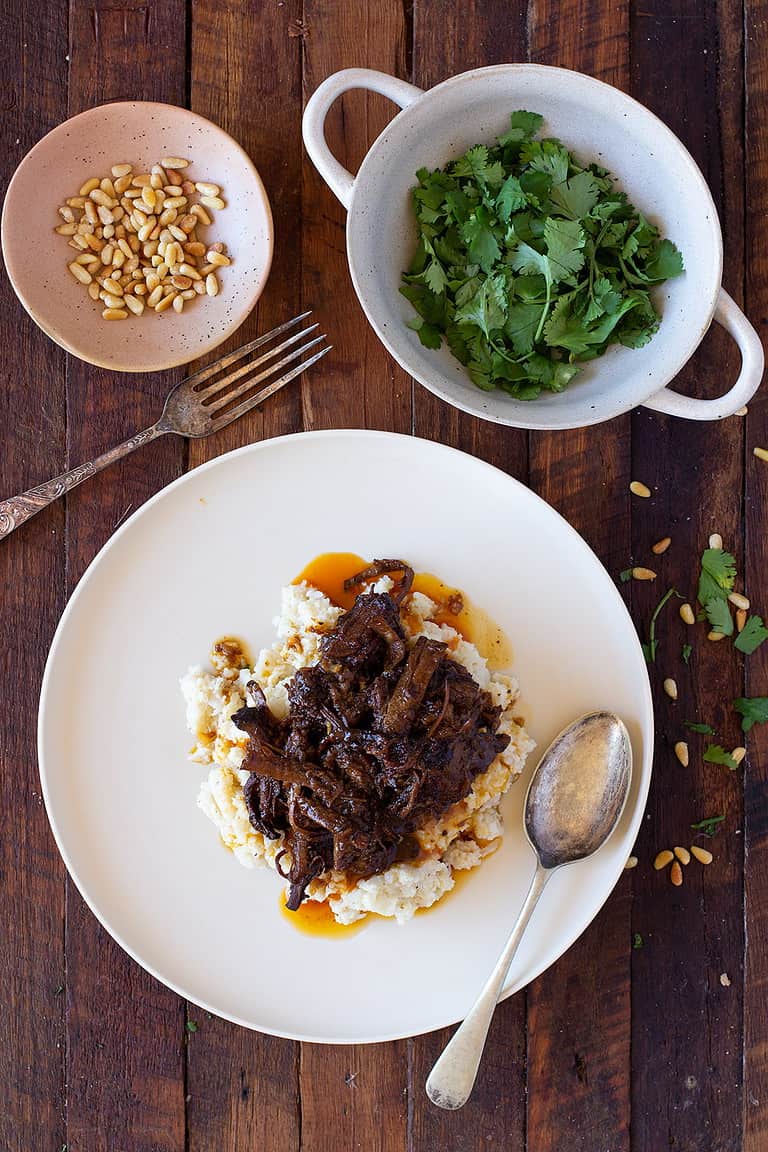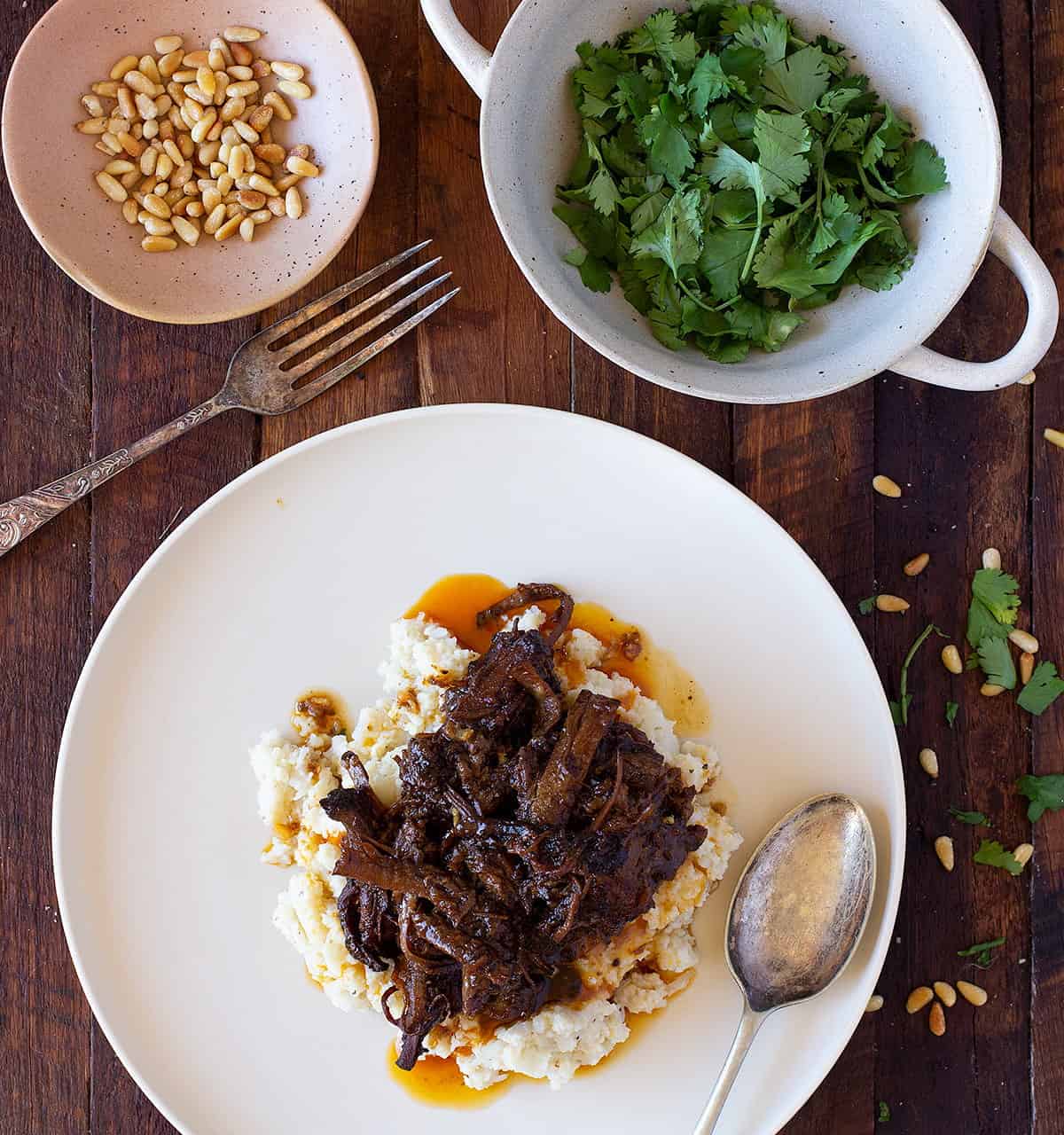 Fast forward to this week and there it was, starring at me ready to be reinvented. With beef brisket in the freezer ready to go I decided to make this into a pulled beef recipe instead of using the shanks originally included. Typically, I had not written down any method at all, just the absolute basic ingredients list. Consequently I pulled out all of the spices needed, bottles and any other non perishable in the ingredients list and left them on the bench top with the recipe book open, then flew out the door like a mad woman. On the train into Brisbane CBD I sent Hubbard a text saying pretty much, make that recipe happen please.
Jump ahead 10 hours or so later, I walked into a kitchen laden with the smell of warm spices, stock and slow cooked meat that pretty much elicited an instant steam of drool, heightened by the cold night I has just come from. I'm sure many of you would agree that here in Brisbane at the moment (and elsewhere within the majority Australia) that slow cooker meals are like a big warm hug at the end of the day. At the JCN Clinic our Nutritionist's are being hit up by our clients for winter warmer recipes that are healthy, tasty and easy to make. Therefore, myself, Carissa, Emma and Jess Cheney are 110% focused on creating these types of easy slow cooker recipes that are honestly a saving grace for the end of a busy day in winter.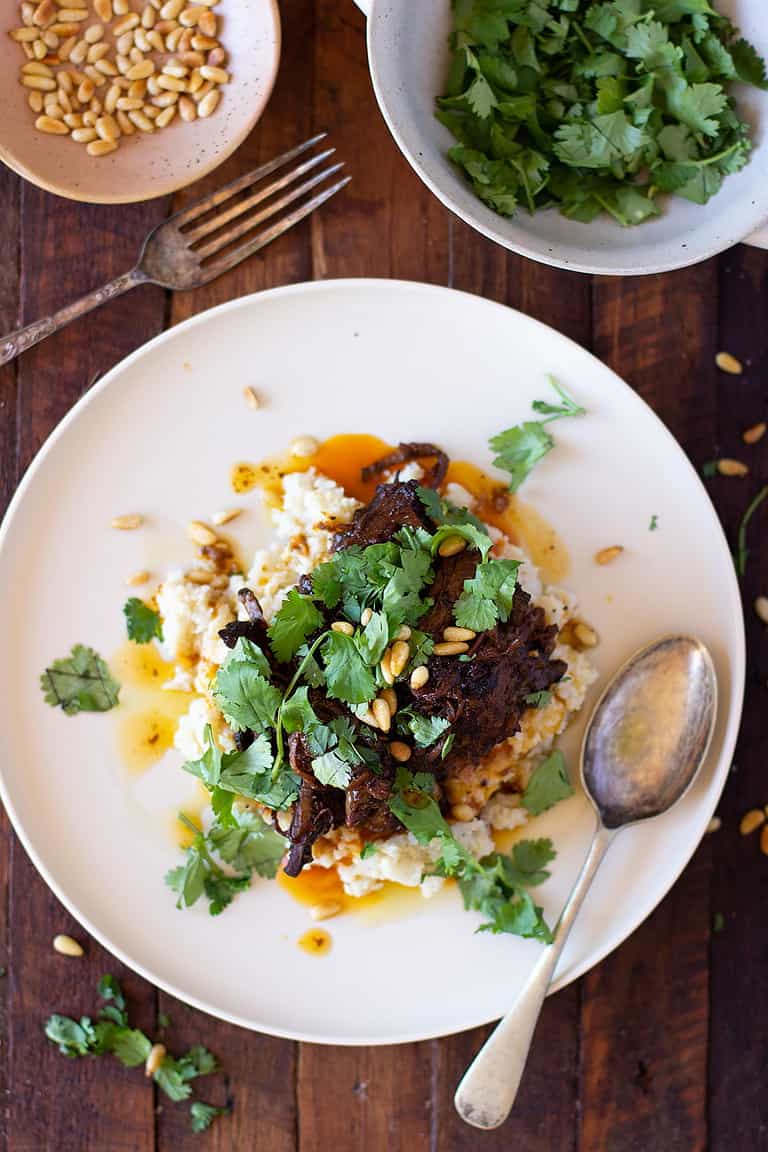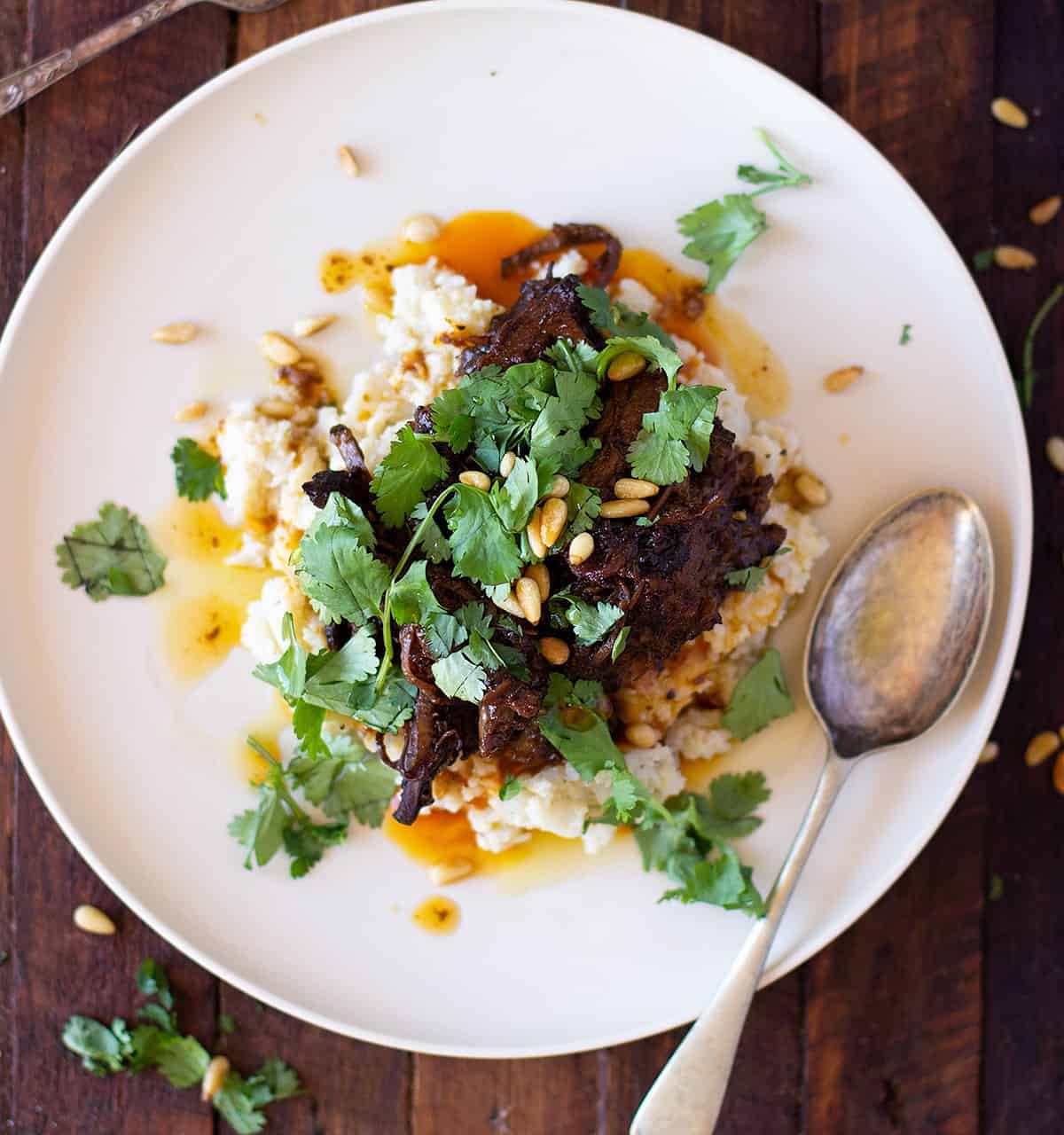 As for the choice of meat for this recipe, we are passionate about encouraging the use of free range, organic produce where possible. Of course this is not always achievable for everyone and as Nutritionist's dealing with all facets of lifestyles we totally get this, but the importance of organic meat for overall health really is a step that more of us collectively should be considering. It is also achievable in an affordable way if you look at using cheaper cuts that can be slow cooked, which are also often the most flavoursome and nutritional parts due to all of the cartilage and marrow. If you would like to hear more about this topic I suggest heading to The JCN Clinic Podcast Show here.
As for this particular brisket, my hubby and I served it with Amy Chaplin's cauliflower and millet mash, which you can find the recipe link for here. We then freshened it up with loads of coriander and finally added some crunch with toasted pine nuts. I do think this Texan Style Pulled Beef Brisket would also be divine with humble mashed potato and a side of Pan Fried Tamari & Sesame Broccolini, or even used classically in bun with slaw, like my Beetroot Slaw. So many delicious options, all drool worthy.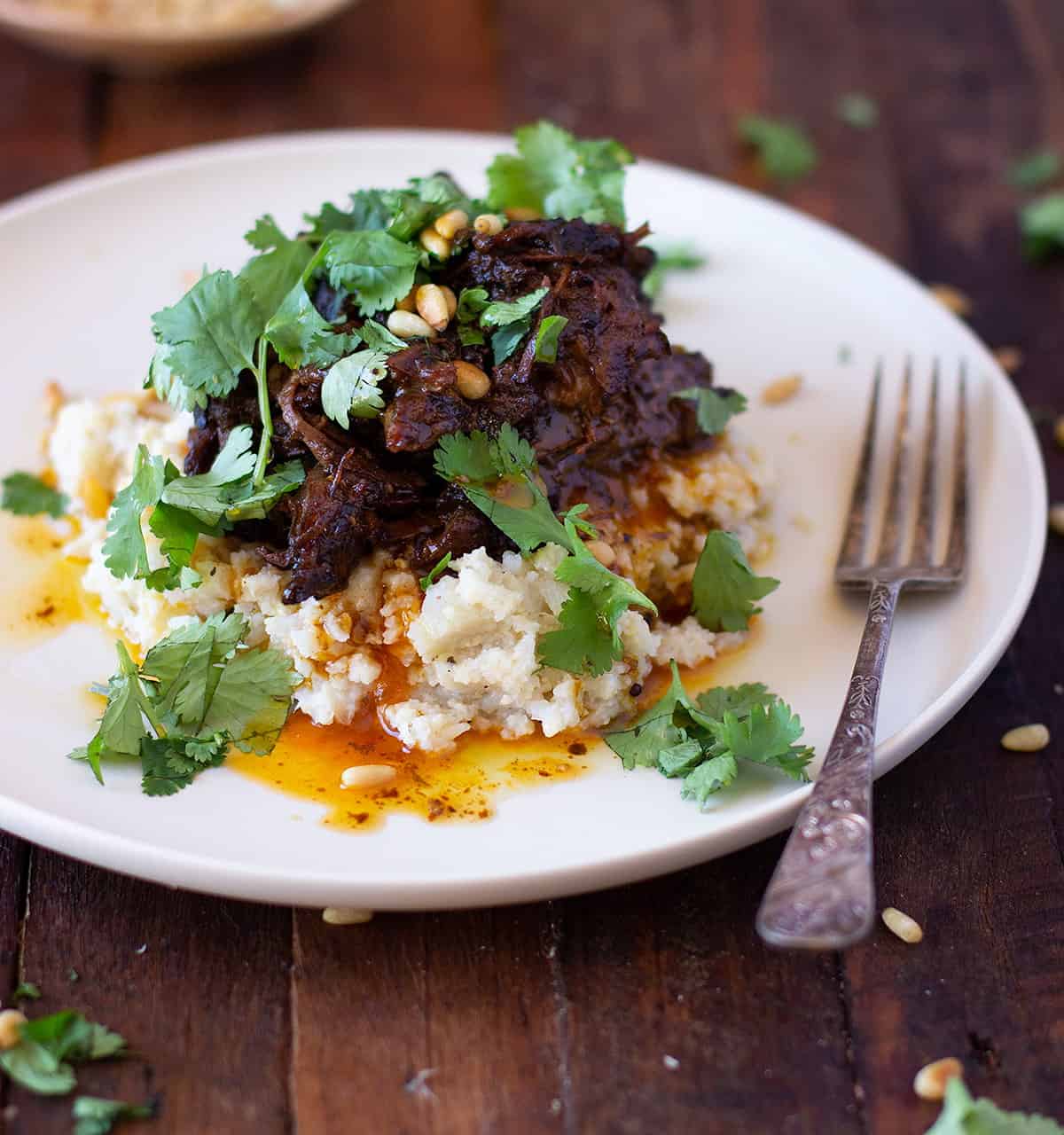 texan style pulled beef brisket
serves

serves 6

preparation time

10 minutes

cooking time

8 hours or overnight
ingredients
1.2 kg beef brisket
2 cups chicken or beef stock
1/4 cup sherry vinegar
2 cloves garlic, crushed
2 tablespoons pure maple syrup
2 teaspoons smoked paprika
2 teaspoons sweet paprika
1/2 teaspoon celery seeds
1/2 teaspoon mustard seeds
2 bay leaves
1/2 onion, diced
2 tablespoons quality worcestershire sauce
salt and pepper to season
method
Place all of the ingredients inclusive of the beef brisket into a slow cooker. Turn the slow cooker to low and leave for a minimum of 8 hours.
Remove the brisket very carefully from the slow cooker leaving all of the liquid behind and place it on a plate, covering it tightly with foil for now. Pour all of the liquid from the slow cooker into a large saucepan and place on a high heat, bringing to a rapid boil. Allow the liquid to boil until reduced down to about 1/3 of the original liquid so it becomes glossy and sticky (around 15 – 20 minutes), tasting it to ensure you are happy with the flavour at this point. Season again if needed.
Now take a couple of forks and use these to shred the brisket into pieces. Once shredded, add the brisket back to the saucepan with the reduced liquid and stir well, coating the brisket in all of the delicious sticky sauce.
Serve brisket as you like, however my preference here is to serve it with cauliflower and millet mash, loads of fresh coriander and toasted pine nuts.
nutritional information
This Texan Style Pulled Beef Brisket recipe is dominated by protein, so to make it part of a macronutrient balanced meal serve it with some complex carbs such as some wholegrains or root vegetables and some vegetables or simple greens. I like to add lashings of fresh herbs or even rocket for an easy option around greens. The fat is plentiful provided by the brisket fat.
Beef is a super rich source of protein, loaded with iron and B12. Beef is also a great source of B3 and B6 and additonally rich in zinc and selenium. Fat wise, beef provides saturated and monounsaturated fats with a good amount of omega 3 also found in the fat of the meat. The priority of using of organic beef is highlighted even more so regarding the fat tissue. Hormones are stored heavily in the fat meaning that any added hormones or hormone feed animal meat will deposit in fat cells and therefore come through in the ingestion of the fat.
Jessica Cox is a qualified practicing Nutritionist with a Bachelor Health Science (Nutrition) and over 15 years of clinical experience. She is the founder and director JCN Clinic, published author and established recipe developer. Jessica is well respected within health and wellness space for her no fad approach and use of evidence-based nutrition.