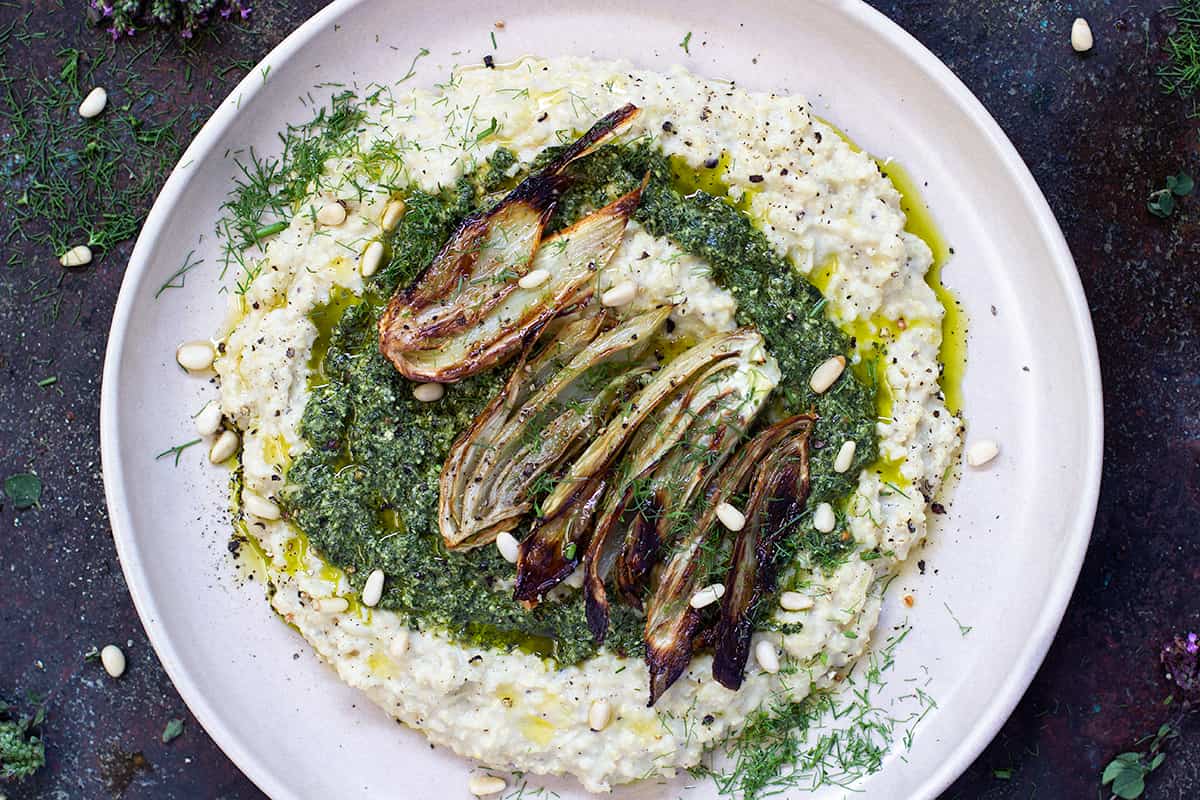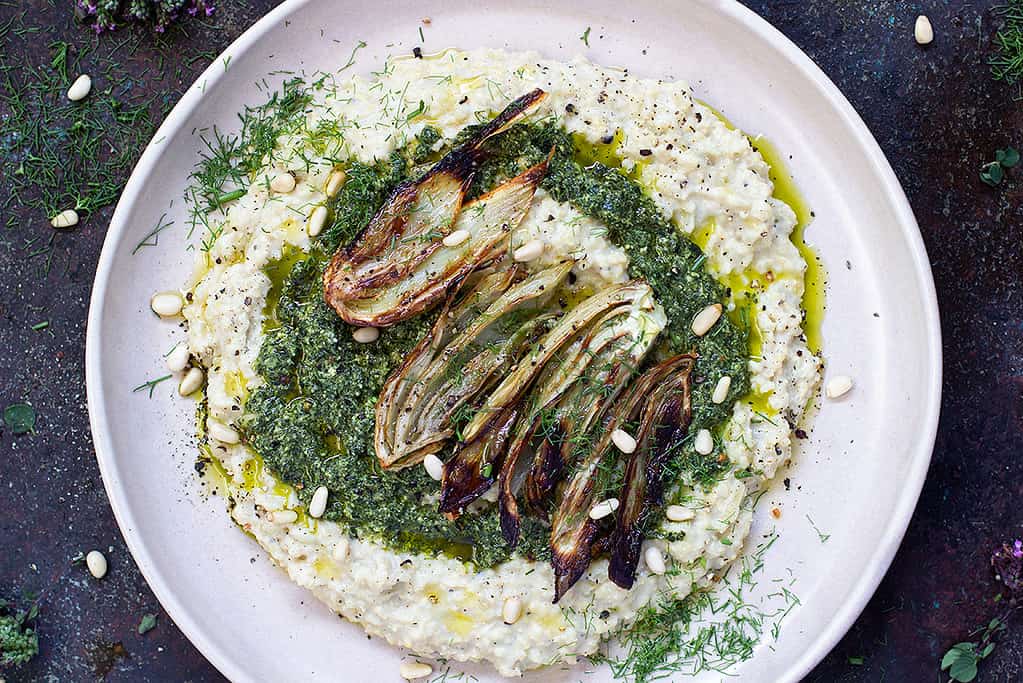 I made this recipe over a year ago and have been storing it in the bank. It actually first appeared over at Power5 as a dish celebrating seasonal ingredients. So even though technically it's had its cherry popped, I just really wanted to bring it to the blog to share with you, as its such a delight.
This is one of those meals that is a wonderful union of flavour and medicinal food. Of course everything that we eat provides us with an abundance of nutrition; vitamins, minerals, phytochemicals, amino acids etc. However the nutritional punch that this Roasted Garlic Millet Risotto w Roasted Fennel & Oregano Pesto is seriously next level.
If there are two areas that this risotto stands out in as far as supporting/boosting health wise it would be your gastrointestinal system and your immune system. You've heard me sing garlic's praises before in regards to it's anti-microbial benefits. This recipe is literally seeping with garlic, roasted to allow it to mellow into the creamy sauce of the risotto. Then, in combination with the antibacterial and anti fungal capabilities of the garlic is the potent antimicrobial activities of the oregano. There is an abundance of research highlighting the benefits of oregano oil fighting adverse numbers of microbes such as gram negative bacteria and parasites. This is why at The JCN Clinic we use oregano frequently as part of our gut restorative protocols, both in supplementation form and the dietary intake of this fabulous herb.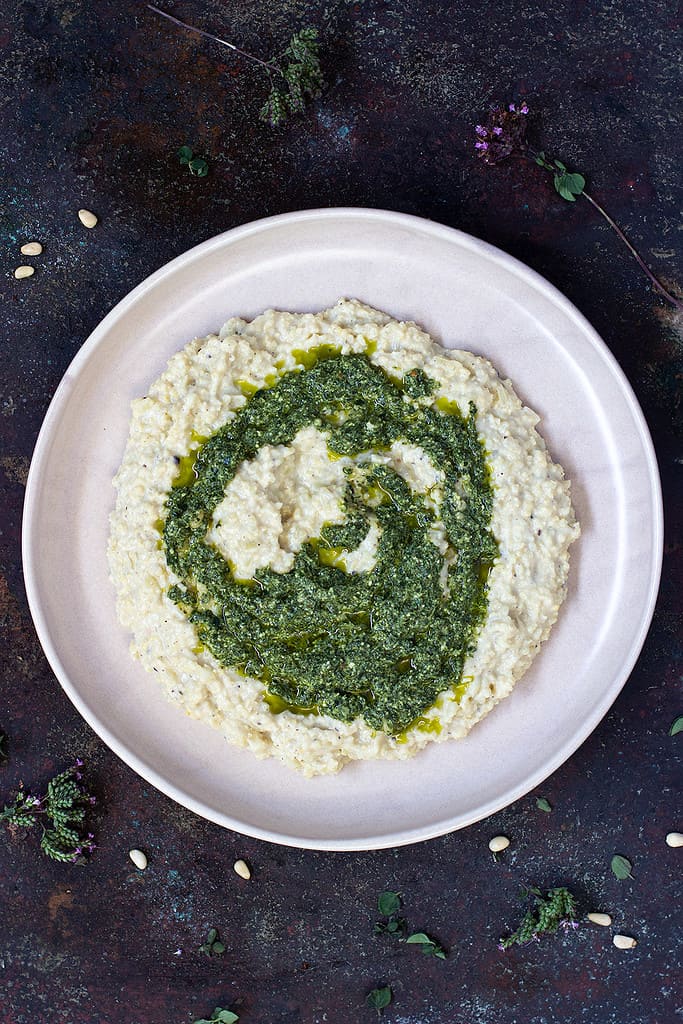 The thing is the more we dive into individualised nutrition, genetics and specialised care within the health arena, the more we see a shift back to the foundation of whole food as a base. We can dive deep into supplementation, targeted 'antioxidants' to squelch free radical activity (quite an out dated notion really), but in reality you will never capture in a bottle what whole food can provide you. Science continues to prove what us passionate Nutritionists preach day in and day out. Food really is medicine.
What I adore about this strong shift towards 'we are what we eat' is that it marries together the pleasure of food with something so wonderfully significant as good health. Truly feeling well daily without dragging your feet around, free from nagging ill-health and modern disease comes back time and time again to what we choose (or probably better emphasised as 'not choose') to put in our mouths everyday. When we can combine nutritionally abundant whole foods and create mouth watering meals that we can enjoy day in and day out, how can being healthy be a burden or hard?
I've said it before, but I truly believe it comes down to educating our young ones. Teach them the the vital skills of knowing how to cook and prepare whole food meals so they are not intimidated or in the dark when it comes to providing meals for themselves and their own loved ones as they grow. Educate their palettes from a young age with bitter greens and herbs so these flavours are not foreign to them. Furthermore, teach them that we are foundational what we eat. When we eat well, simple whole foods in abundance of variety and seasonality then we thrive. I personally think there is not a more beautiful gift to give to the younger generation. Well, that married with sorting out global warming of course, but that's another blog post.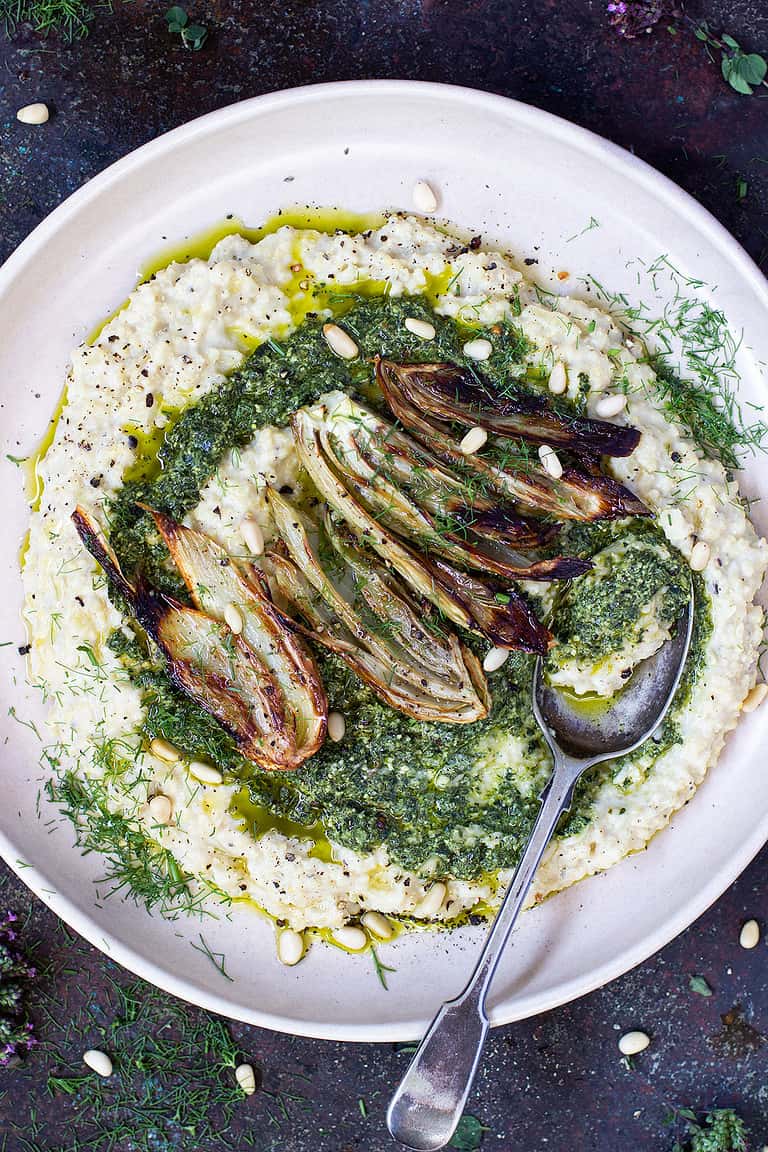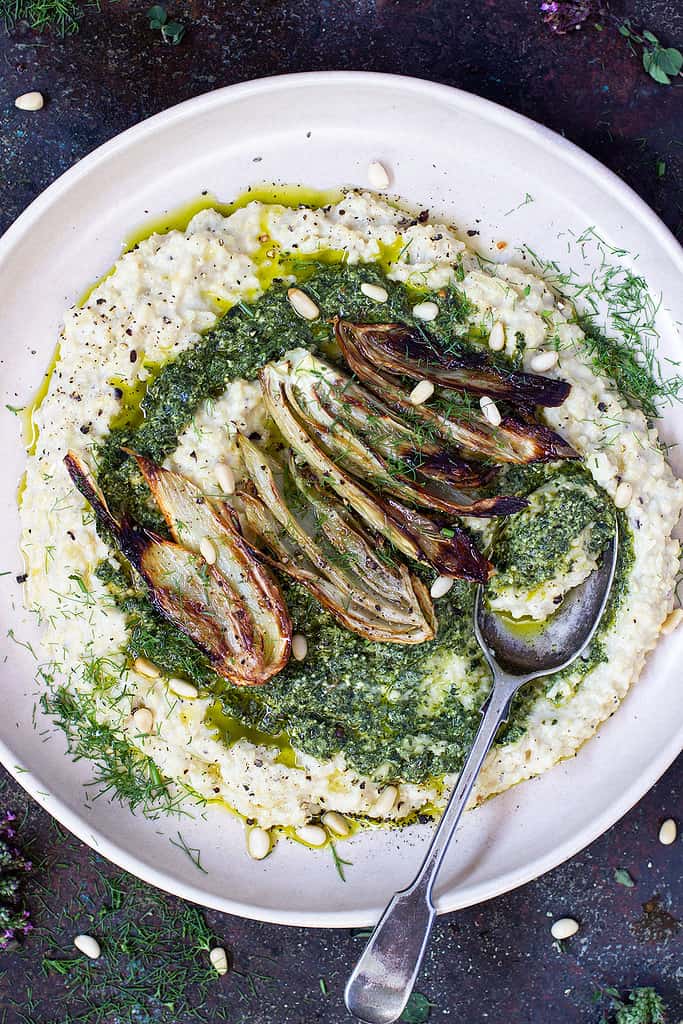 roasted garlic millet risotto w roasted fennel + oregano pesto
serves

serves 4 – 6 as a side

preparation time

60 minutes

cooking time

60 minutes
ingredients
1 cup millet
1 large fennel bulb, cored and stems removed (approx. 330g )
1 small head garlic (40g)
1 tablespoon extra virgin olive oil
500ml quality chicken or vegetable stock
1/3 cup macadamia nuts
1/2 cup nutritional yeast
1/2 teaspoon salt
1/2 teaspoon ground pepper
1 medium brown onion, finely diced
1 large stem celery, finely diced
1 tablespoon extra virgin olive oil
1 cup basil & oregano pesto (see below for recipe)
method
Start by pre cooking the millet. Place the millet into a medium saucepan and cover well with 4 cups of water. Bring to the boil and turn down to a simmer, allowing the millet to cook till just al dente. This will take about 10 – 12 minutes. If the millet is soaking up all the water just add more as you go, the idea is to boil it, not steam it with the absorption method. 
Once the millet is just cooked drain it through a fine sieve and wash well with hot water. Leave the sieve to rest over the saucepan allowing the liquid to run out of the millet. Set aside. (Note that at this point you can place the cooked millet in the fridge and use over the next 2 days).
Preheat the oven to 200c. Place the garlic bulb on a baking tray. Slice the fennel bulb into 1cm thick slices lengthways and place on the baking tray with the garlic. Season the fennel then gentle toss the fennel with 1 tablespoon of extra virgin olive oil. Place in the oven to bake for 3o minutes.
While the fennel and garlic are baking make your basil & oregano pesto and set it aside until ready to serve.
Once the fennel and garlic are done remove from the oven. The fennel should be golden and crispy brown on the edges and the garlic bulb should be nice and soft when gently squeezed. 
To make the broth, place the stock, macadamia nuts, nutritional yeast, salt and pepper into a blender. Take the roasted garlic bulb and squeeze out the entire gooey centre into the blender, discarding the skin. Place the lid on the blender and blend to a lovely creamy liquid with no lumps remaining. 
Now it's time to make the risotto. Heat a large saucepan to a medium heat and add in 1 tablespoon of extra virgin olive oil. Add the finely chopped onion and celery and sauté till soft and transparent. Now add the pre cooked millet to the saucepan and stir through. Poor in the creamy liquid stock mixture from the blender and bring the saucepan to the boil, then turn down to a simmer. There will be quite a lot of liquid to start but it will slowly be taken up as the risotto cooks and the liquid concentrates. Leave to simmer for a good 20 minutes, stirring often to avoid sticking. 
When the risotto is nice and creamy and oozy, taste for seasoning and adjust as needed. Spoon the risotto into shallow bowls or plates and then top liberally with the oregano & basil pesto. Finish by laying on top of the pesto the pre roasted fennel and dress with extra virgin olive oil, pepper and the freshly chopped fine leaves of the fennel and pine nuts if desired.  
Jessica Cox is a qualified practicing Nutritionist with a Bachelor Health Science (Nutrition) and over 15 years of clinical experience. She is the founder and director JCN Clinic, published author and established recipe developer. Jessica is well respected within health and wellness space for her no fad approach and use of evidence-based nutrition.