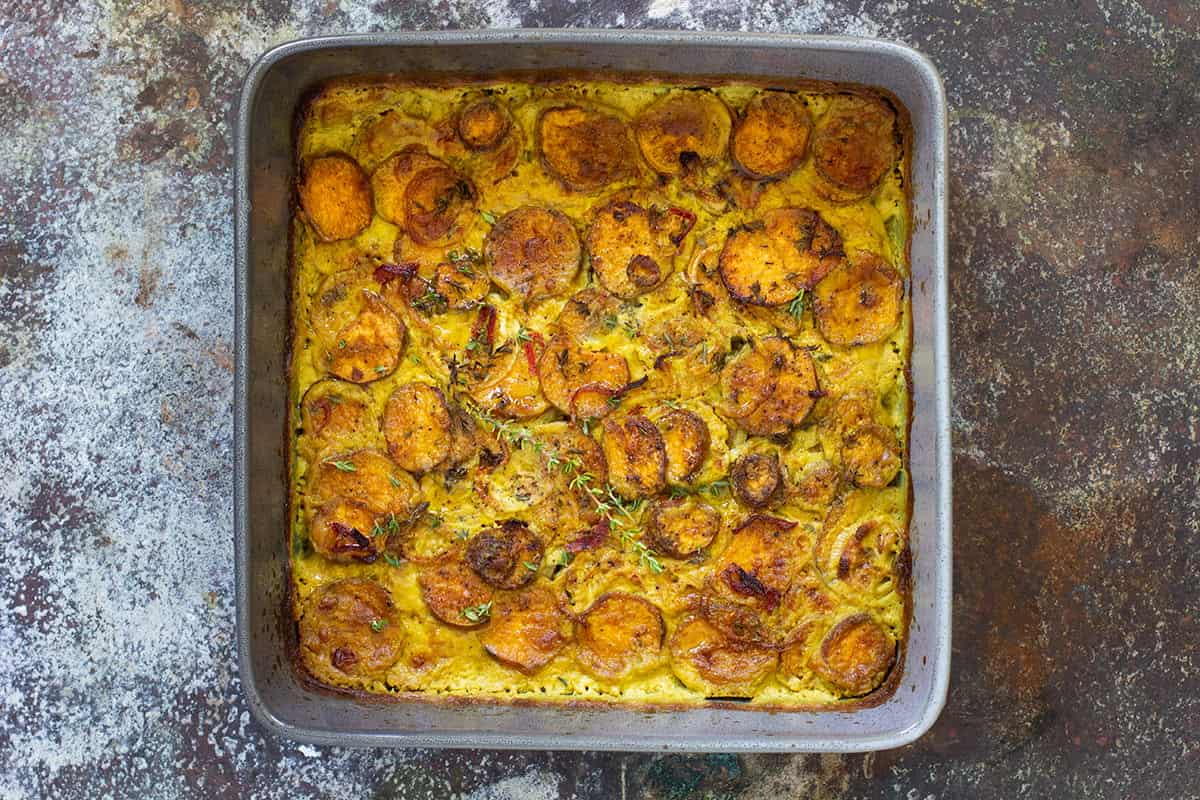 Nailed it. Over the holidays I was kicking back reading over one of my favourite chefs cookbooks, Hugh Fearnley-Whittingstall when I came across his version of a sweet potato bake that incorporated peanut butter. As you can well imagine this recipe stopped me in my tracks. When two of your favourite foods amalgamate in a way you have not thought about before, it sparks your immediate attention. Consequently, not long after, this Creamy Satay Sweet Potato Bake recipe was born.
Hugh's recipe had the sweet potato drowned in a luscious mix of cream, spiked with lime juice and chilli. For me, I wanted to explore a dairy free version but also ensure that it kept that delectable creaminess that I knew would really make this dish sing. I decided to add in some sweet onions, along with pushing my version to more of a cheesy satay flavour than a Thai infused satay.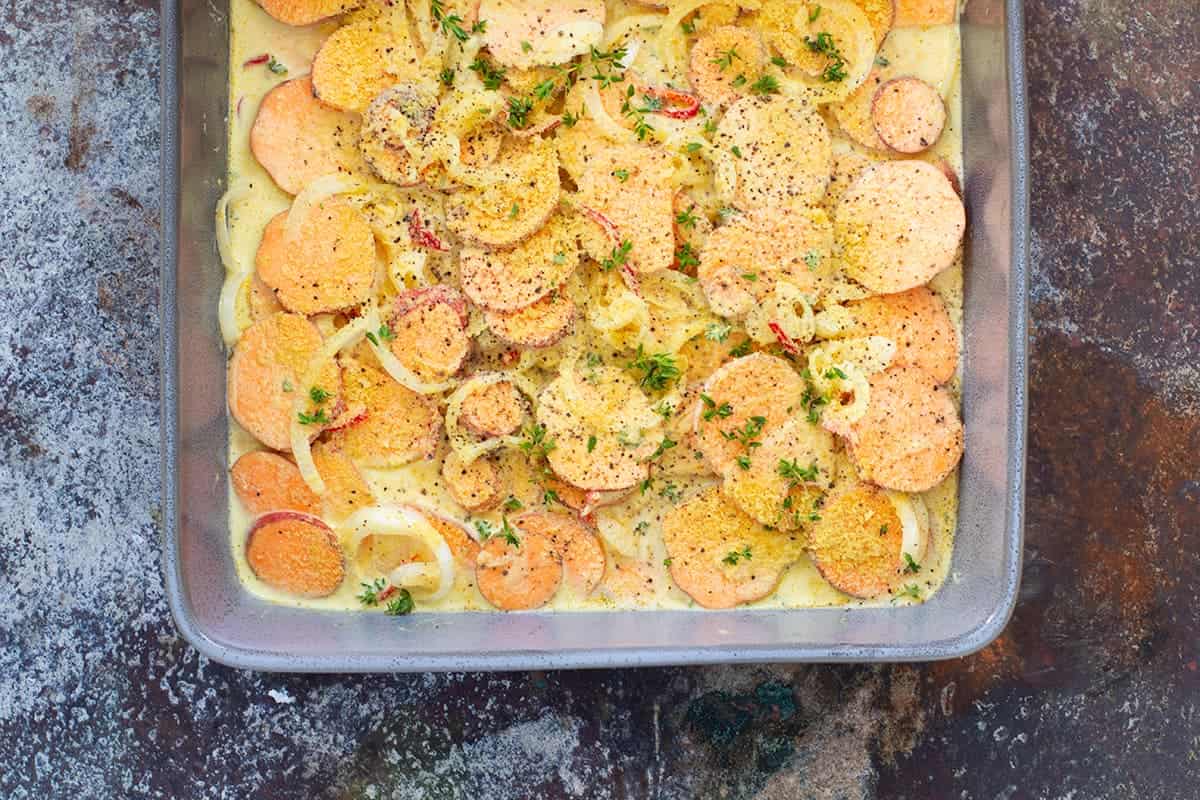 The result I am pleased to say was rather spectacular. This Creamy Sweet Potato Bake is ludicrously creamy without a hint of dairy in sight. The flavours are big, punching you in the mouth with a mix of satay, chilli and cheesiness. I've without question deemed this recipe a cracker and believe it will be stirring the loins of many of you.
The natural fats in this dish are not for the faint hearted. If you are someone who counts calories (yawn) then this sweet potato bake will cause your Calorie King or app of choice to blow a gasket. Of course, I've talked at lengths before about how calories are only one part of the story when it comes to a healthy diet. When your food intake is rich in plentiful wholefoods for the majority and includes more fats than the out-dated food pyramid recommends, it is not only fine, but also advantageous to health. The only area that I see high calorie intake being problematic (if I was to make a sweeping statement) is peri-menopausal and menopausal woman who are also fighting a strong uphill battle against declining oestrogen. For these women usually an intake of wholefoods combined with a stronger awareness of calories, unified with weight training/HIIT training is rather essential for reducing frustrating weight gain. In the JCN Clinic we definitely see the physical results of this.
In regards to adaptions, this Creamy Sweet Potato Bake can be easily modified to suit most requirements. For those on low FODMAP and SIBO diet plans omit the onion and garlic and use garlic infused extra virgin olive oil.  Instead of sweet potato (if needed, depending on where you are at with healing your gut) use pumpkin and parsnip instead, or even eggplant for your bake.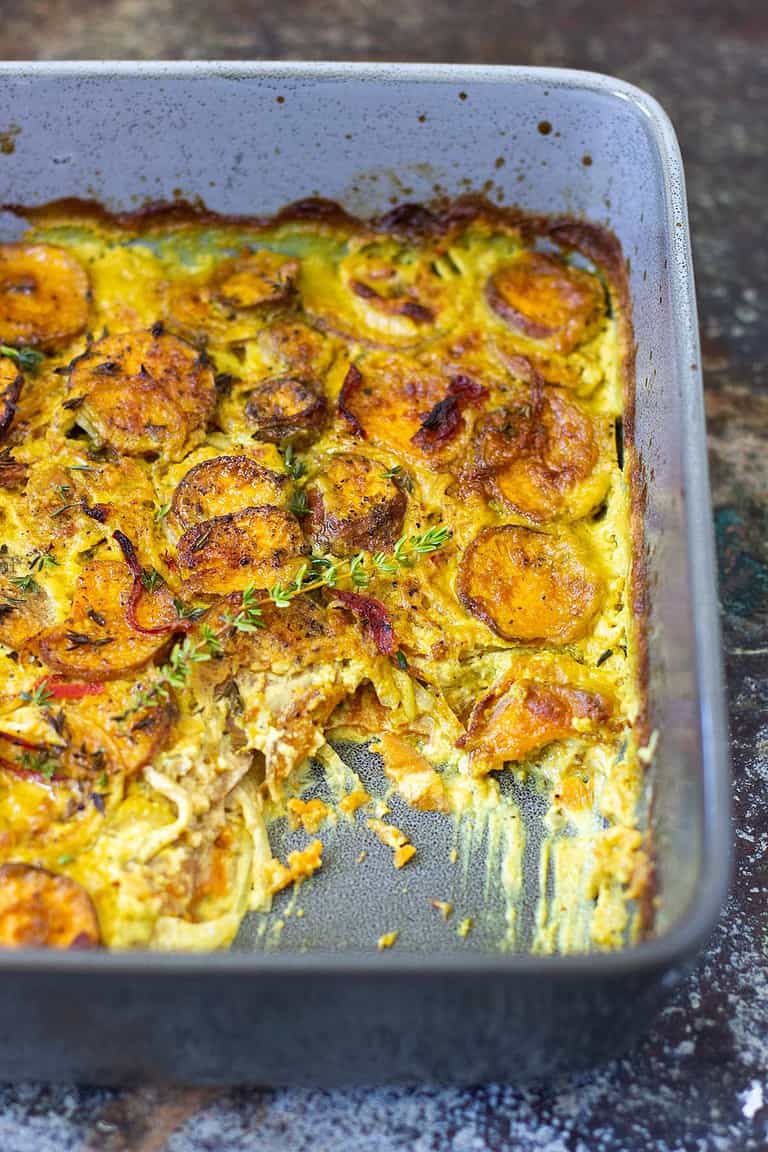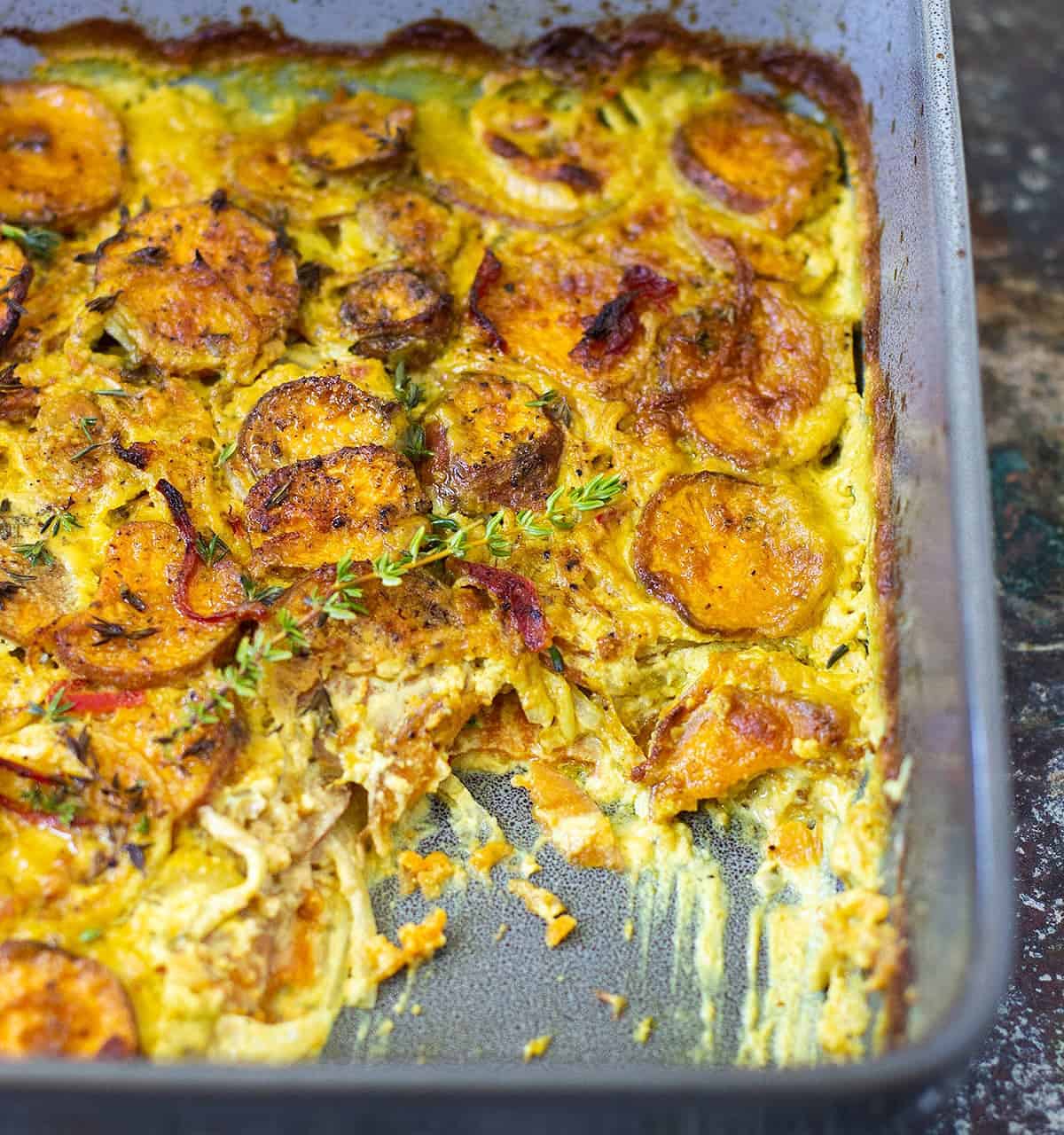 You can also use other nuts to make your creamy sauce such as cashews or even sunflower seeds for a nut free version. To make entirely nut free you could use roasted  sunflower seeds blended into a butter, as I find these have quite a similar flavour to peanuts. Of course you can always use regular potato too to go with the traditional potato bake. As you can imagine this recipe can be adapted significantly to provide ample variations.
When it comes to eating it (the best part!), enjoy it with a really simple green salad dressed with something acidic to cut through the creaminess of the bake, like lemon, balsamic or apple cider vinegar. It's a simple addition that really pulls everything together.
creamy satay sweet potato bake
serves

Serves 4 as a side, 2 as a main.

preparation time

30 minutes

cooking time

90 minutes
ingredients
500g sweet potato
1 medium sized onion, skin removed
2 garlic cloves, crushed
1 medium sized red chilli
1/2 teaspoon each salt & pepper
1 tablespoon extra virgin olive oil
10 sprigs fresh thyme, leaves removed (or 2 teaspoons dried thyme)
// creamy sauce //
80g (1/2 cup) macadamia nuts
1/4 cup nutritional yeast
1/2 teaspoon turmeric powder
salt and pepper to season
1 1/2 cups water
// satay sauce //
65g (1/4 cup) pure peanut butter
1 tablespoon extra virgin olive oil
1 tablespoon almond milk
3 tablespoons water
salt & pepper to season
method
This recipe is adapted from Hugh Fearnley- Whittingstall's cookbook, "Veg Every day".
Start by preheating your oven to 180c fan forced.
Use a sharp knife to cut the sweet potato into thin rounds, around 2 – 3 ml thick. Repeat with the onion. Place the sliced sweet potato and onion in a large mixing bowl. Deseed the chilli and finely slice, then toss through the sweet potato and onions with the garlic, olive oil, half of the thyme leaves and salt and pepper. Set aside.
In a blender place the macadamia nuts, water, nutritional yeast and turmeric, then season well. Blend till creamy and smooth. Poor the creamy macadamia nut mixture into the bowl with the sweet potato and onion mix and toss well to ensure everything is coated.  Set aside.
To make satay sauce, mix peanut butter, almond milk, water and olive oil in a bowl until creamy. Season well with salt and pepper. Set aside.
Now to assemble! Place half of the sweet potato and onion mixture into a deep dish baking tray ensuring that the sweet potato is spread out nicely (use your hands to do this), then pour over half of the creamy sauce still in the bowl. Take the satay sauce and spoon out on top of the sweet potato and onion until it is all used up. Now top the satay sauce with the remainder of the sweet potato and onion mixture and pour on the last of the creamy sauce.
Sprinkle the top of the creamy satay sweet potato bake with a liberal amount of nutritional yeast, the remaining thyme, cracked pepper and drizzle with extra virgin olive oil. Cover with foil and place in the oven for 60 minutes, then remove foil and bake for a remaining 30 minutes until the top is golden and the sweet potato is soft when you pop a skewer into the bake.
Remove from the oven and allow to sit for at least 10 minutes before serving. Enjoy with a green salad and protein of choice. This bake can be stored in the fridge for 3 days and then frozen for 3 months.
nutritional information
Nutritionally, sweet potato is rich in betacarotene, a nutrient important for respiratory health and eye health. They are also an abundant source of Vitamin C, vitamin B6 and potassium. Of course well known turmeric has been extensively researched and documented for its anti inflammatory properties. It has also been studied comprehensively for its use in fighting cancer. The macadamia nuts in the creamy sauce are rich in monounsaturated fats and are rich in Vitamin B1, copper, manganese while also providing some plant based iron.
Overall, this recipe provides a good amount of carbohydrates, fibre and fats. The protein in this dish is mainly provided by the peanuts and macadamia nuts, however as a meal on its own I would advise adding some extra protein on the side. For instance, I enjoyed this with my Chicken Schnitzel here on the blog.
Jessica Cox is a qualified practicing Nutritionist with a Bachelor Health Science (Nutrition) and over 15 years of clinical experience. She is the founder and director JCN Clinic, published author and established recipe developer. Jessica is well respected within health and wellness space for her no fad approach and use of evidence-based nutrition.