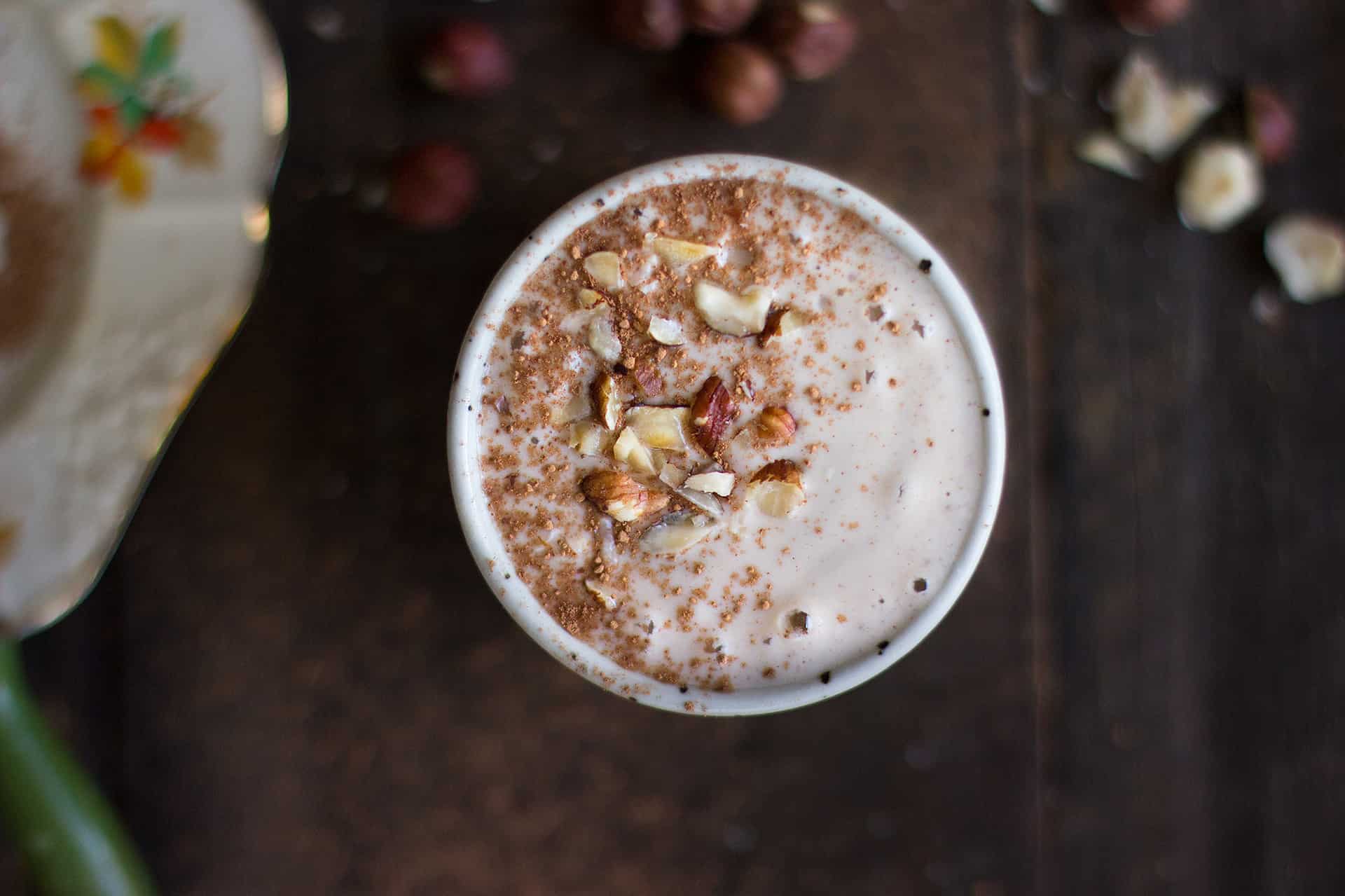 I think its important to have a mix of recipes here on the website. Sometimes we want to spend lingering hours in the kitchen, pottering about, mixing and measuring. Other times we want something fast, delicious and easy. This peanut butter and hazelnut smoothie certainly fits the later.
I've posted this smoothie more than once on Instagram, so it was only a matter of time before it needed to end up here. Whenever I post this smoothie on IG its often as part of breakfast. The emphasis on part is due to the fact that this smoothie is not a meal on its own. A smoothie for breakfast without enough protein or complex carbohydrates blended through will leave you hungry too soon, accompanied by low blood sugar levels and sugar cravings.
As a nutritionist, this is one of the most commonly made mistakes to the start of the day for young people enthusiastic about getting healthy. Out comes the blender and in goes the kale or spinach, almond milk and a banana or berries. Then there's the kumu powders, maca powders and so on. What has been created here is only part of a meal. It's a great snack by all means, but it is certainly not a well balanced start to the day.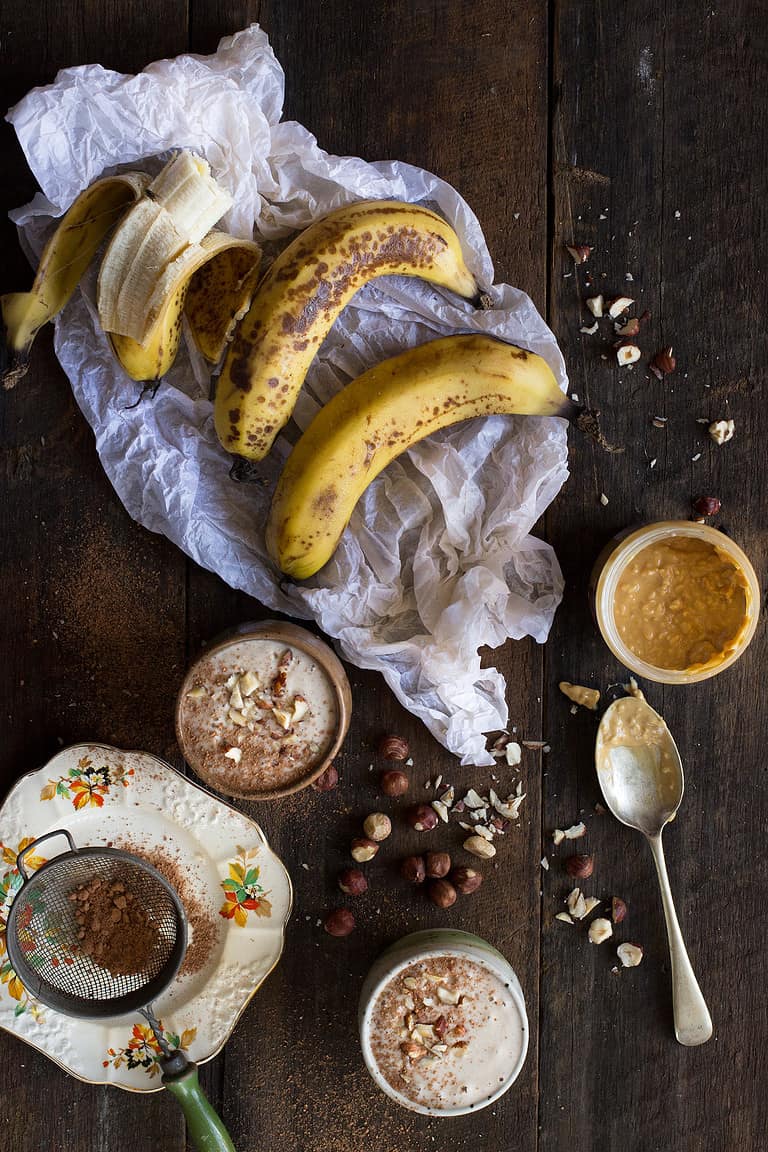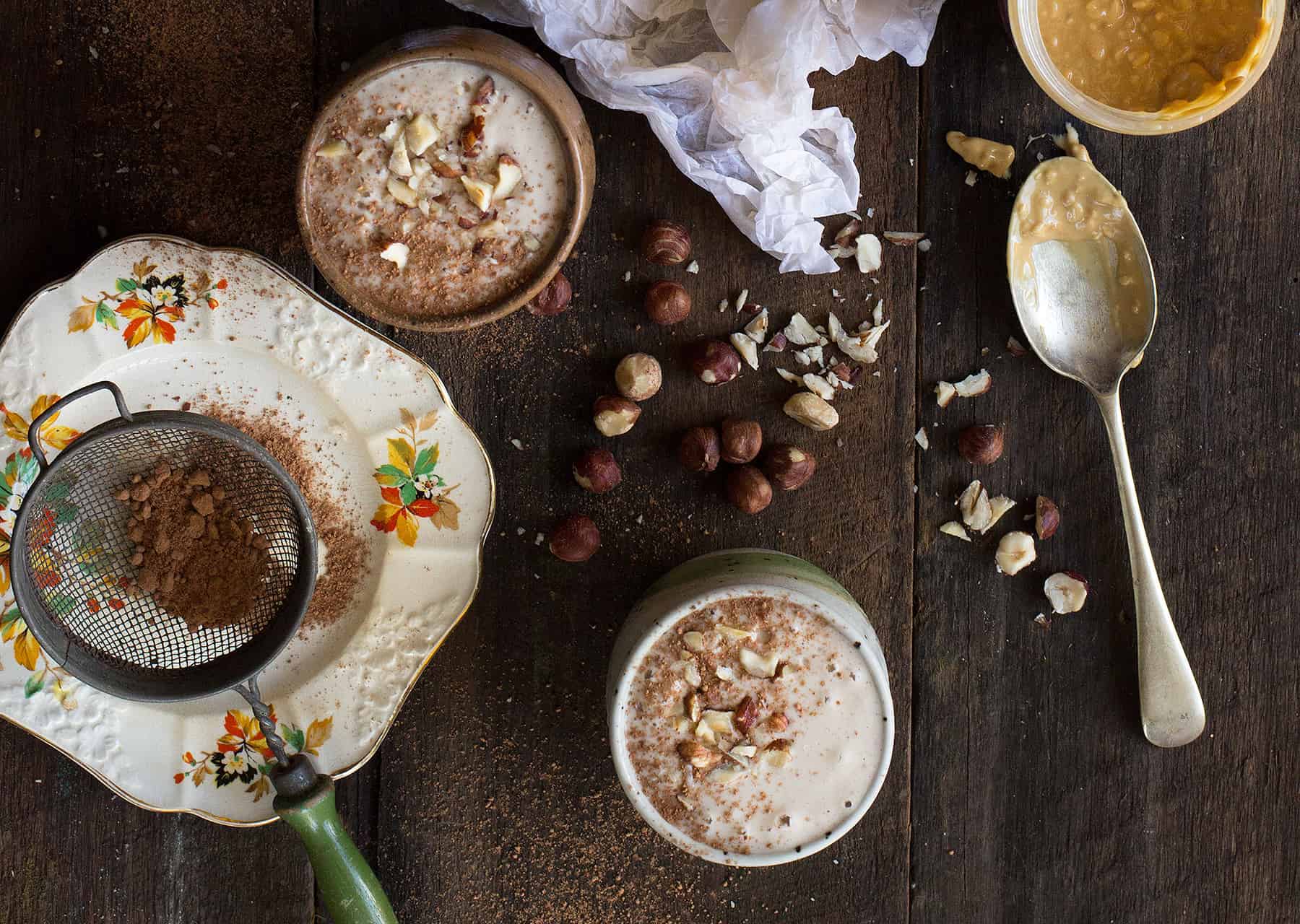 So how do we make a smoothie a meal? Well first off, you must add more ingredients to a base like this. For instance your body requires some complex carbs, which may be used in the form of 1/4 cup of oats or quinoa flakes or soaked buckwheat if you liked. Then you would need to add in some protein, which could come in the form of yoghurt, or an egg (raw) or silken tofu or even some unflavoured protein powder if you like. Now, our smoothie is becoming a meal. Lastly, we need some good fats. Here those fats come from nuts and nut butter, however other choices could be avocado, seed butters such as tahini or quality unrefined seed/nut oils. Perfecto!
If you would like to keep the smoothie here as is like me however, its about having something on the side to make this a balanced start to the day. Just leave this smoothie as is in all its scrumptious glory, then you pop a piece of wholegrain toast (depending on your grain needs) in the toaster for your complex carbs, top with your favourite spread and some protein such as a fried egg or some tofu or some ham off the bone. Too easy. #smoothieplustoastcombo complete.
Of course, as aforementioned this peanut butter and hazelnut smoothie works well as a snack in-between meals without adding anything additional. There is enough in it to see you through to your next main meal. Think of it like a fancy way of having a piece of fruit and a handful of nuts.
As always, feel welcome to moderate this recipe, as you like. It is rather divine with some added raw cacao thrown in and some cinnamon if that takes your fancy. If you enjoy this smoothie or make a moderated version of this recipe, please let me know in the comments below, as I always love hearing your feedback.
ps. thank you to my lovely administration assistant and right arm Casey for writing up a few of todays 'nutritional information' pointers. xx
peanut butter & hazelnut smoothie + how to make a macronutrient balanced smoothie
serves

2 people as a side or snack

preparation time

3 minutes

cooking time

nil
ingredients
1/3 cup raw hazelnuts
2 heaped tablespoons 100% peanut butter
2 frozen bananas
2 cups milk of choice (I used almond milk)
method
Place all ingredients in your blender and blend till smooth and creamy. Top with chopped nuts and a sprinkle of cinnamon or cacao powder if desired.
nutritional information
Apart from being delicious, the humble hazelnut, has been shown to possess beneficial cardioprotective effects. Positively, daily consumption of hazelnuts may reduce formation of the unwelcome type of cholesterol and reduce inflammation leading to unhealthy cholesterol levels (2012, lipidjournal.com). Hazelnuts are also a good source of Vitamin E, a potent antioxidant effective at combating free radical damage.
When it comes to boosting the nutrient density of our diets, peanuts are absolute powerhouses. Each little nut is packed with high levels of healthy monounsaturated fat, fibre, magnesium, vitamin E and folate all effective in helping maintain healthy cholesterol levels and blood sugar control (2014, M. Wien, Nutrition Journal). Having this smoothie containing peanuts at breakfast will stop any desires to reach for the biscuit tin by 9am.
As mentioned in the blog post above, this smoothie make a wonderful snack for in-between meals. If you are looking to make it a meal please ensure you add to this smoothie base some complex carbs and protein as suggested above. Personally I adore this smoothie with added oats and silken tofu as a complete meal.
Jessica Cox is a qualified practicing Nutritionist with a Bachelor Health Science (Nutrition) and over 15 years of clinical experience. She is the founder and director JCN Clinic, published author and established recipe developer. Jessica is well respected within health and wellness space for her no fad approach and use of evidence-based nutrition.