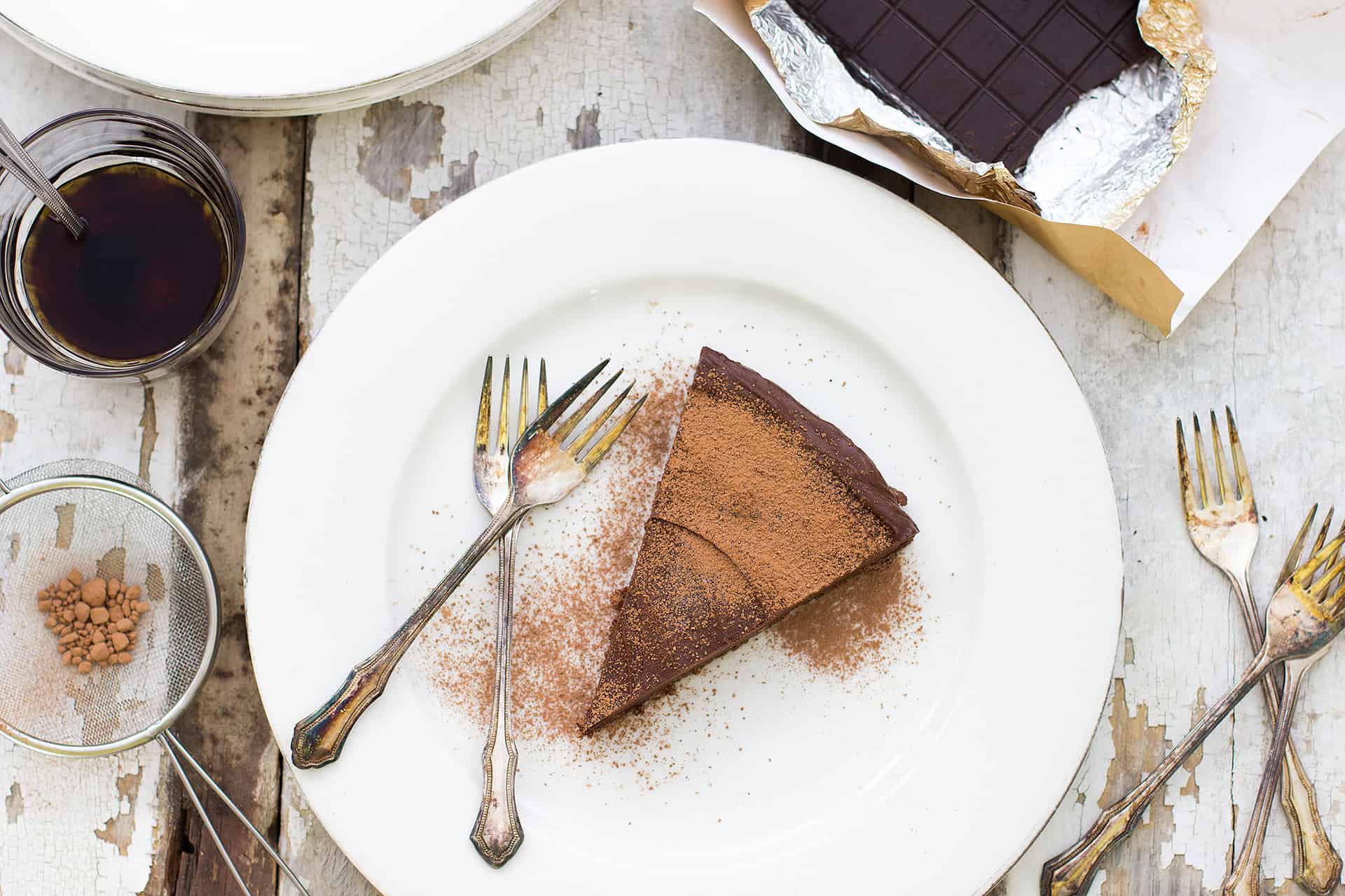 I made this torte for a dinner party recently and boy was it a success! Technically this torte isn't 'raw', as the dark chocolate is heated before going into the mouse. Technicalities aside though, this torte is really something else. The coffee works perfectly to cut the intensity of the chocolate. The torte is also quite rich, so you will only need a small serve.
As with many raw food desserts, the focal ingredient that lends creaminess is avocado, however I can promise you now that even the biggest raw food skeptic would never know. I have served this dessert more than once at dinner parties to all sorts of taste buds, and it continues to be a crowd pleaser.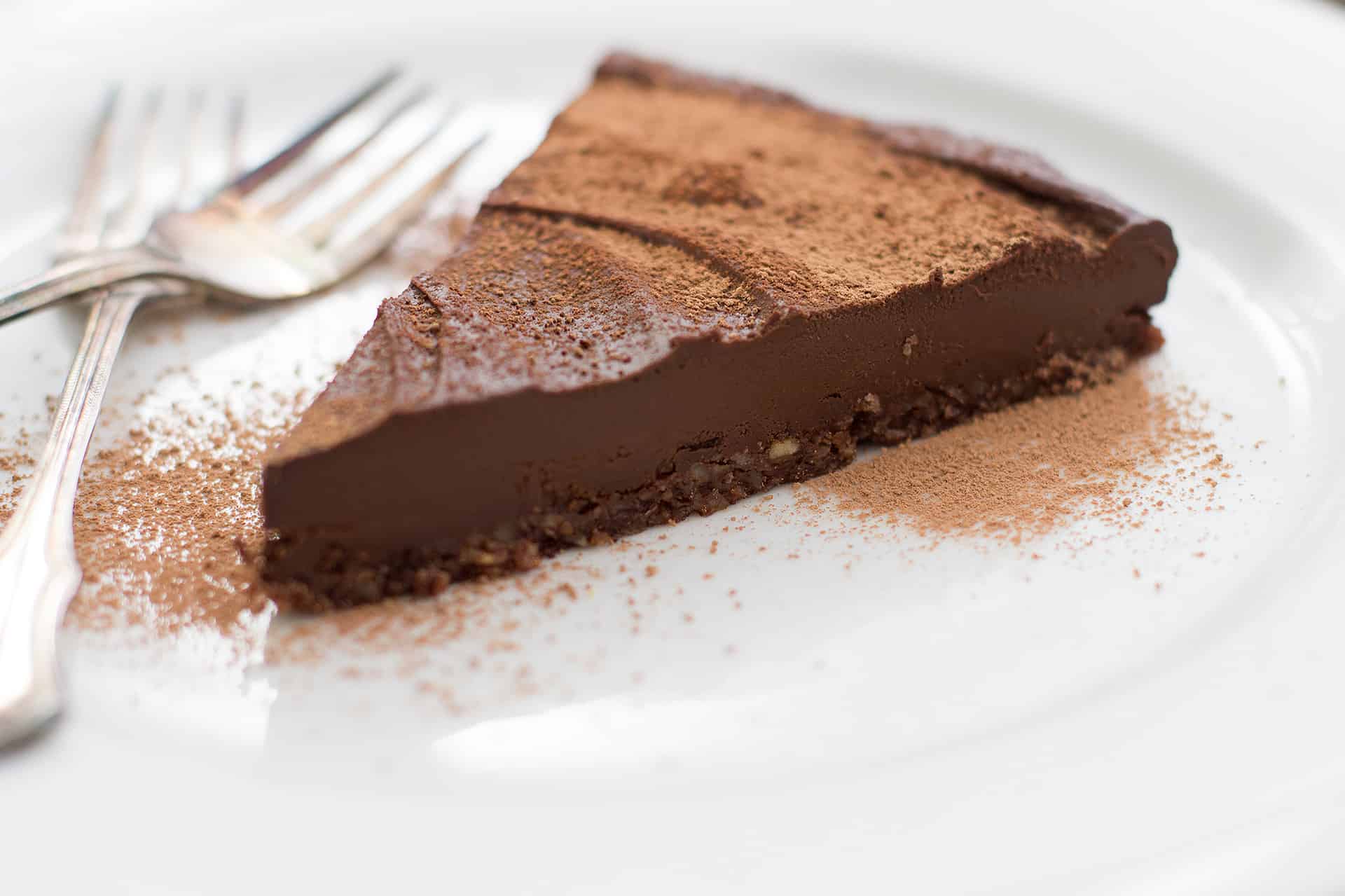 If coffee is not your jam you could always opt to leave this out and just add the same quantity of almond milk or other milk of choice to compensate. You can also play around with adding other flavours if you omit the coffee. For example you could add freshly squeezed orange juice instead with some orange zest for a jaffa like flavour.
However you choose to enjoy this torte, I am confident that it will win a prized place in your heart. Personally, I think the ultimate accompaniment to this torte is an espresso martini. Life is to be lived after all!
double chocolate coffee torte
serves

8 – 10 people

preparation time

1 hour, plus 2 hours chilling time

cooking time

nil
ingredients
for the crust:
1 1/2cups pecans & 1/2 cup hazelnuts
1/4 cup cocao powder
2 tbsp coconut oil or nutelex
1/4 cup pure maple syrup
1 teaspoon pure vanilla extract
1/2 teaspoon sea salt
for the mousse:
2 cups avocado flesh, pitted and scooped out
2/3 cup pure maple syrup
1 tablespoon tahini
1 tablespoon arrowroot powder
pinch of sea salt
1 teaspoon pure vanilla extract
200gms dark chocolate, at least 70%
1/4 cup cocao powder
1/3 cup coffee (decaf if needed)
method
This recipe is adapted from Oh She Glows.
Start by oiling a 25cm-30cm springform tart pan, preferably one with a removable bottom.
In a food processor, pulse the nuts until crumbly.  Add in the rest of the crust ingredients and pulse until just mixed. Scoop mixture into prepared tin and press down firmly to create an even base. Pop into the freezer to set while making the mousse.
Place all mousse ingredients except for the chocolate into your food processor and blend till smooth. Melt the chocolate in a double boiler (pop a bowl over a boiling saucepan of water and melt the chocolate in the bowl). Once melted, add the chocolate to the mousse and blend well.
Remove the crust from the freezer and scoop the mousse on top of crust. Smooth out, cover well with cling wrap and then place in the freezer for at least 2 hours to firm.
Once firm, remove from freezer and allow to sit for about 5-10 minutes before serving. The torte is best served chilled as it gets quite soft at room temperature.
Serve with coconut icecream or coconut sorbet.
nutritional information
The darker the chocolate used the less sugar content is added to this torte. 85% is ideal, however if you can get your hands on 100% dark chocolate I truly recommend trying it!
Avocado is rich in vitamin B5. This nutrient helps nurture the adrenal glands and is also important for healthy skin, nails and hair. Avocado is also a good source of mono unsaturated fats.
This torte is very high in essential fats provided from the avocado, tahini and nuts. Although these fats are hugely beneficial to the body, resist the urge to go crazy on the serving sizes! There is only so much fats that the body can process in one sitting.
Jessica Cox is a qualified practicing Nutritionist with a Bachelor Health Science (Nutrition) and over 15 years of clinical experience. She is the founder and director JCN Clinic, published author and established recipe developer. Jessica is well respected within health and wellness space for her no fad approach and use of evidence-based nutrition.