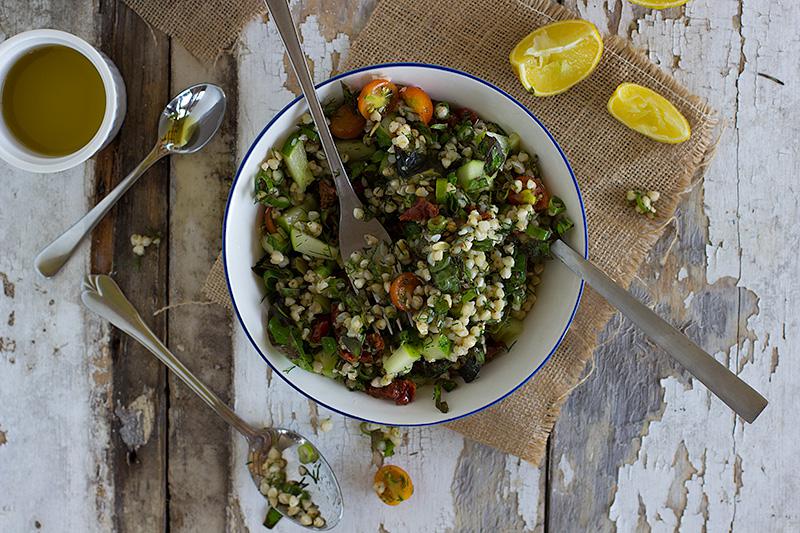 I recently posted on the JCN Facebook Page a link to an article entitled 'What Nutritionists Really Eat in a Day' on The Coveteur with a question regarding realistic expectations. It provoked a lot of discussion, many of you questioning just how realistic some of these wildly ambitious healthy diets can be.
It can be inspiring of course for some to read such posts, however it can also be quite daunting and unattainable for many, which was quite evident in the response to the article. For me, when reading articles based around what 'health professionals' eat, one has to ask oneself if this is really a good representation of how the average day-to-day busy person can eat to stay on top of their game?
Therefore, I decided that I would like to share with you all a day in the life of a selection of my long-term clients diets. What you will see is that each person differs in his or her needs and daily requirements, along with their desire and time spent on food preparation. At the core of each diet however, fundamentally you will see:
Each person's daily intake of food is maintainable and realistic, dependent on the level of food variation and preparation you desire.
Each diet is quite diverse, and therefore highlights that a 'one size fits all approach' is simply not possible. Some choose to put more time into prep over others. This does not make one person 'better', it just simply means that approach works well for them as an individual.
Each person's dietary intake is macronutrient balanced, that being all of their main meals through the day have a balance of complex carbohydrates, protein and fats (with of course a little room to move without being overly controlling).
My main goal as you read through this blog post is to inspire you, show you what realistic healthy eating evolves. How it has ebbs and flows to adjust to what is needed to meet each person's lifestyle, whilst highlighting that being healthy does not require obscure ingredients, expensive 'superfoods' and unrealistic preparation time.
So lets get started!
 Ps. Please keep in mind that the JCN Clinic deals heavily with food intolerances, hence you will see each person has highlighted problematic foods for them. This does not mean that those foods are 'bad' or 'unhealthy'. They simply just cause issues for each of these people as an individual. If you would like more information of food intolerances please see here.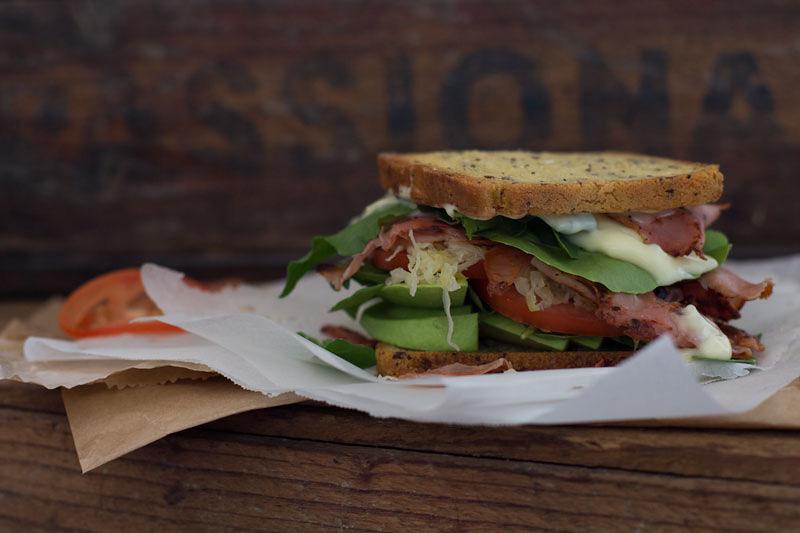 lisa
Occupation: Manager
Age: 47
Daily exercise: Personal training session or group class at gym (Monday to Friday) and walking (at least 10000 steps/day) Saturday and Sunday
Food intolerances: egg, soy, cow's milk
breakfast
Pre-workout – 1 piece of toast with tahini, avocado & lemon juice.
Post-workout – home-made protein smoothie with fruit, spinach, quinoa flakes & different seeds
Morning Tea
Coffee on goat's milk, 2 ryvitas with dip (more and more varieties available that are preservative free and cater for intolerances or I make my own)
Lunch
A sandwich (meat and salad) or salad (containing a protein and quinoa/rice) or left-overs from dinner! Piece of fruit.
Afternoon Tea
Piece of home-made slice or chia pudding or seed & nut mix.
Dinner
A wide-ranging as I like variety! Salad with a protein (for me, generally beef, lamb or fish) or home-made curry or other 1 pot dishes like casseroles, stews, soup.
Dessert
Piece of home-made slice or chia pudding or piece of fruit.  Sometimes chocolate!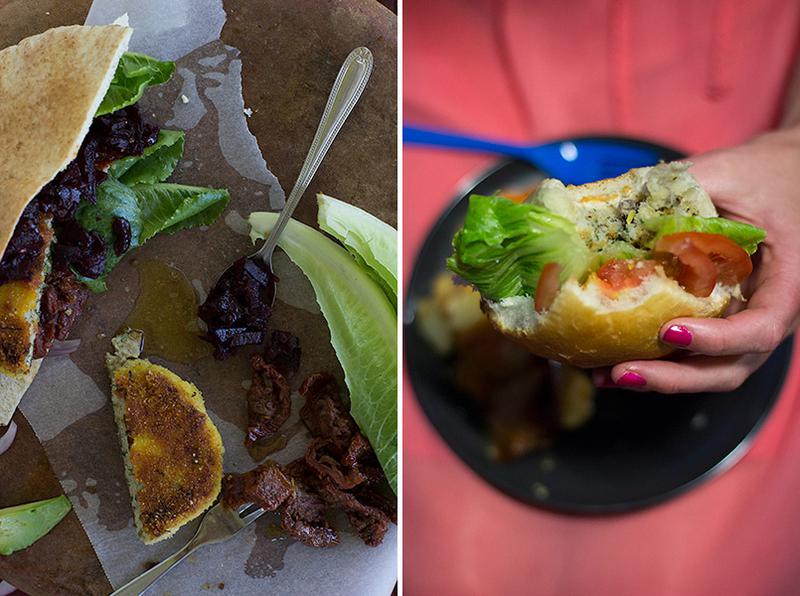 Jules
 Occupation: Banker
Age: 43
Daily exercise:  Cycle to work, walk to work, PT session
 Food intolerances:  dairy, eggs, gluten
breakfast
A frappe smoothie – I know you would like me to mix this up but the fact that you've had me actually having breakfast for the past 2 years is a feat in itself.
Protein powder, coconut water, frozen mixed berries, lecithin powder, slippery elm and any other powders Jess deems necessary for my digestive health. Oh and to get some more carbs/fibre in a big big spoonful of quinoa flakes.  On Saturdays after a long run, I love gluten free toast, avocado, tomatoes with some fresh herbs and a twist of lemon.
morning tea
Banana or home made protein balls – these change from week to week due to my inability to follow a recipe to the letter of the law but include almond meal, cacao powder, dried fruits, coconut, chia, crushed walnuts, coconut/maple syrup.
lunch
I try to food prep on a Sunday afternoon and make up some "dry salad" which is essentially:
 coleslaw with wombok, cabbage, fresh herbs and grated carrot that can last in the fridge for a couple of days.
Roasted veges – sweet potato, pumpkin, zucchini, tomatoes, eggplant, potato etc that are roasted in olive oil, spices and fresh herbs depending on what is available.
Tabboule – made on raw cauliflower, gluten free couscous, fresh herbs, finely diced capiscum a dash of avocado oil and some lemon/lime juice.
Brown rice salad with chopped up veges – capsicum, zucchini, sweet potato, herbs and spices.
Then I will cook up some extra meat at dinner – chicken, fish etc and throw a bit of this and bit of that from each into a container and take in for my lunch.  I find that if I keep the salads pretty dry, that is not too much oils or dressings, they will last a fair way into the week  and then I can mix and match and change them up with different dressings each day.
afternoon tea
Fresh vegies – carrot, celery etc with home made hommus – I cook the chickpeas myself, add tahini (because I know how much you love tahini) lemon juice salt and cracked pepper. Again this is done in the pressure cooker on a Sunday afternoon and put into individual containers I can just grab and throw in my bag and run out the door.
dinner
Grilled meat – I will buy chicken thigh fillets, fish fillets, pork or steak and marinate them in a variety of spices – portion control them into a ziplock bag and into the freezer.  I take these out in the morning before work and put in the fridge  – they are pretty much defrosted by the time I get home and only need 20 mins in the oven to bake. Mix them with salad or make up some vietnamese rice paper rolls loaded with salad veges and a satay sauce made with peanut butter and sweet chilli sauce.
dessert
Banana, berries, gluten free cereal and coconut yoghurt or tapioca puddings – again made up on Sunday afternoon, or if I'm busy – a couple of dark chocolate coated superberries from Micks nuts.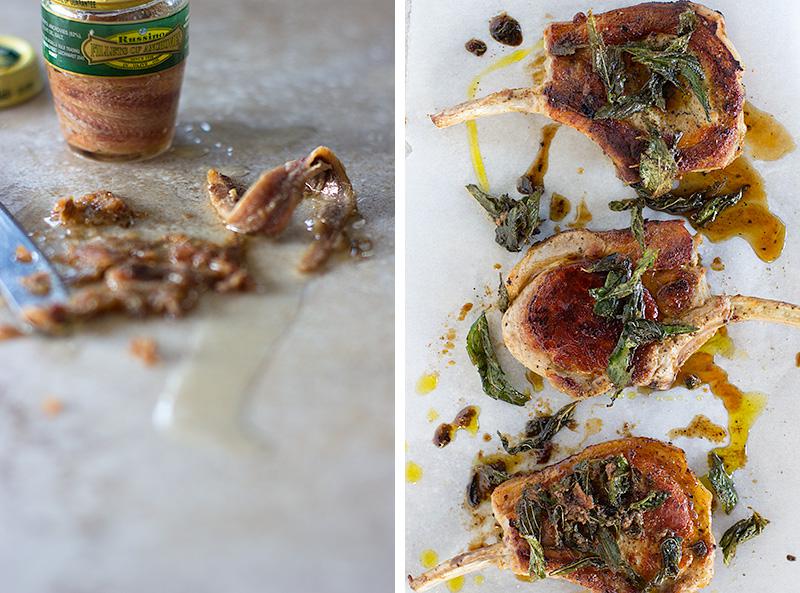 dameon
Occupation: Construction Estimator
Age: 41
Food Intolerances: Nil
breakfast
Either wholemeal toast with tomato and/or goats cheese or and eggs and parmesan cheese or peanut butter with a glass of 100% OJ.
or, a banana, rice milk and yoghurt smoothie with a dessertspoon of oats if Jess sneaks them in.
morning tea
Homemade cheese scones or crackers with goats cheese or hummus.
lunch
Left overs from dinner which is ususally some meat and a roast vegetable grain salad, or a sandwich with proscuitto or ham, cheese, avocado and spinach. Tomato goes in a container to add later so the sandwich doesn't go soggy.
afternoon tea
Peice of fruit and sunflower seeds and maybe some shortbread.
dinner
Changes all the time, but generally either steak, chicken or fish with a buckwheat or quinoa based salad with lots of herbs and roast vegetables, or homemade wedges with salad or green pea mash.
dessert
Not generally a dessert person, occasionally some  chocolate.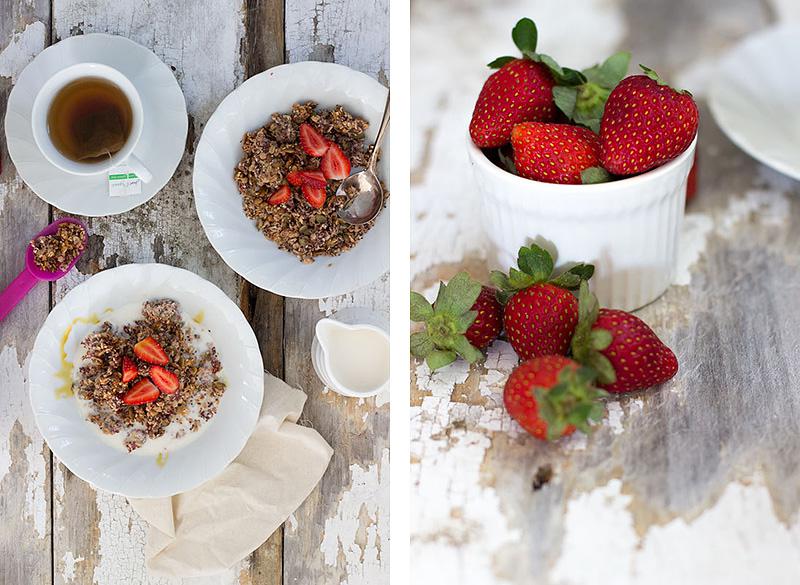 Fiona
Occupation: Communications Professional
Age: 34 (sigh …..)
 Exercise: mix of gym classes, PT sessions and running after my kids
Food intolerances:  where do I start? ….. all dairy (cow's milk, goat's milk, sheep's milk), soy, eggs, carrot
breakfast
Pretty much the same thing …..every day! But only because it's yum. A couple of weet bix with natural muesli on top with a sprinkling of chia seeds, flax seeds, slippery elm, and some chopped up fruit with rice milk.
Plus a cup of black tea or a coffee made with almond milk
morning tea
A nut bar (usually Carmen's because they're delicious), or something I've baked at home (sugar-free banana bread, muffins, etc).
lunch
Generally it's a sandwich or wrap with some kind of meat, relish and a salad mixture plus some good fats – usually avocado or nut spread.
afternoon tea
A piece of fruit and a handful of dates and almonds, or some yummy crackers and dairy-free dip.
Or I'll make myself a smoothie with rice milk, banana/berries, some english spinach, a bit of dairy free protein power, and sometimes also some cacao or avocado.
dinner
We keep it pretty simple in our house – usually some kind of meat with veges or salad, or a casserole with pasta or rice, risotto and veges, or a mild thai curry that the kids are happy to eat, or the standard spag bol.
For takeaway treats, we usually go Asian because there are plenty of dairy free options.
dessert
Usually a choc truffle ball that I've made at home (dates, cacao, chia seeds, quinoa flakes, macadamia oil, almonds and almond meal), or for a treat I'll have some dark chocolate.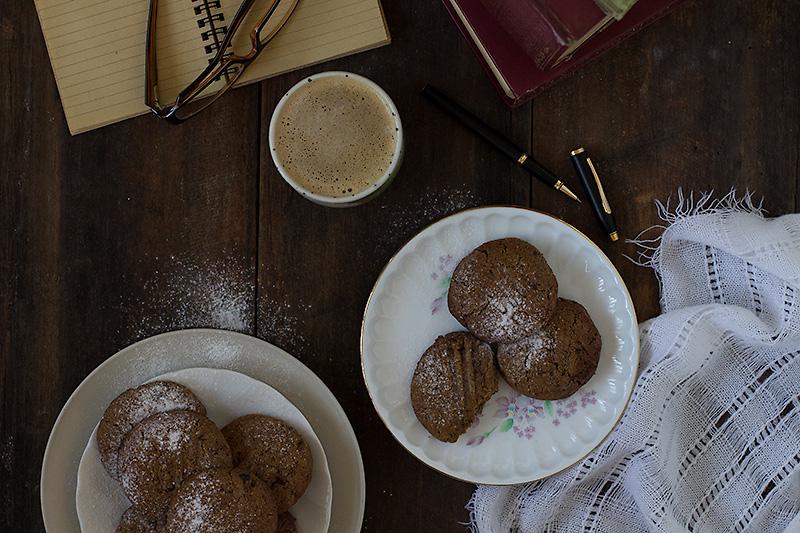 Aoife
Occupation: IT Business Analyst
Age: 34
Daily Exercise: Pilates twice a week, walking
Food intolerances: Refined sugar, dairy, gluten, egg white (mild), cashews (mild)
breakfast
Helga's 5 seeds GF toast, almond butter, ground flaxseed, cinnamon, fruit (peaches, pears, banana, berries – whatever is around).
morning tea
Fruit (apple or peach) with small handful of almonds.
lunch
Base of  baby spinach & rocket, alfalfa sprouts, olive oil & balsamic vinegar dressing with a variation of a few of the following:
Protein – chicken, ham, falafel, white bean, goat's cheese fetta
Veg/ Carbs – sweet potato, buckwheat, brown rice, broccoli, capsicum, carrot, avocado
(I need some decent carbs & protein otherwise I'm very tired in the afternoon)
Or, an open sandwich using the same as above.
 afternoon tea
Don't always feel hungry or remember to have something but when I do – some fruit or handful fava-nuts (roasted broad beans – they taste like chips).
dinner
Typical dinners are:
Chicken/Beef/Pork & veg stirfry or curry with basmati rice/rice noodles
Spaghetti Bolognese – either GF pasta or zucchini strips
Bangers & mash (olive oil, salt, pepper)  with veg
 Chilli con Carne
Fish and veg
For weight purposes I try to keep starchy carbs portions small, but don't let it rule my life.
dessert
If I feel like something sweet…
Smooze fruit ice (coconut & pineapple) or 1-2 squares sugar free dark chocolate or coconut chocolate ice cream (dangerously nice!)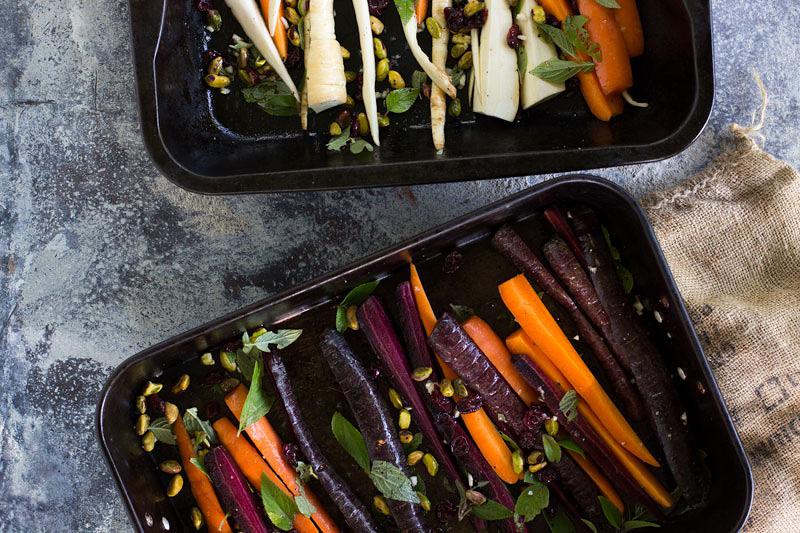 Leonie
Occupation:   Business Analyst
 Age:  46
Exercise:  gym: weights, cardio, combo of both or boxing, at least 5 days a week
Food intolerances:  wheat, dairy (cows milk only), egg intolerant
Vegequarian
breakfast
Bowl serve of my own cereal mix which consists of puffed buckwheat, puffed brown rice, puffed millet, almond flakes, dried cranberries, coconut flakes, sunflower & pumpkin seeds.  To each morning's serve I add sheep milk yoghurt, hemp seeds, cinnamon, a few raw cashews/macadamias/walnuts and finally some fresh berries, with a non dairy milk.
Morning Tea
Either: carrots and hummus, piece of fruit, rye toast with peanut butter or with avocado & sheep milk feta
Lunch
Usually a salad from Vegerama or salmon sashimi and seaweed salad (bought meals).
Afternoon Tea
One of the following: banana, coconut yoghurt (about 2 tablespoons worth) and blueberries, small amount of dark chocolate
Dinner
Veggies, (including many mushrooms!), stir fry with tofu or prawns.   Or salmon fillet and steamed veggies.  Or take away veggie indian curry.
Dessert
Rarely eat again after dinner… might be a small serve of dark chocolate with a tea – milk or herbal.  50% of the time would have a tea at night.  Never coffee because I don't desire it.
Thank you to my lovely clients (and hubby) for your participation in this blog post. Much appreciated! xx
Jessica Cox is a qualified practicing Nutritionist with a Bachelor Health Science (Nutrition) and over 15 years of clinical experience. She is the founder and director JCN Clinic, published author and established recipe developer. Jessica is well respected within health and wellness space for her no fad approach and use of evidence-based nutrition.