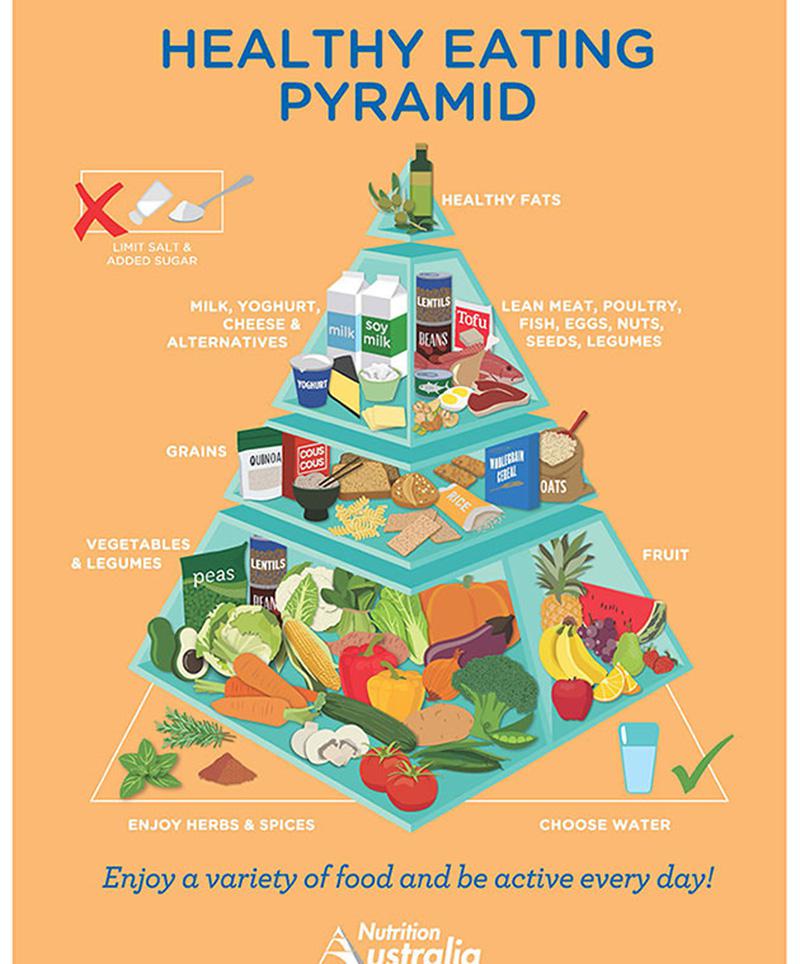 This week has seen the new Nutrition Australia Food Pyramid revamped. A new look along with a new shake up, it's certainly a great step in the right direction. I posted a link to the new pyramid on Facebook early in the week, and boy did it get some comments!
For those already quite well briefed in the area of nutrition and 'wellness', it's easy to pick the new pyramid apart and find flaws. However, it's important to remember that this pyramid is designed for the average joe (or jane) who has a limited understanding of nutrition.
Some great positives for me are:
Cereal, grains and breads have moved off the bottom and given first place to fresh produce! There is now a larger focus on vegetables with a smaller focus given to fruit, showing that vegetables should be eaten in larger quantities than fruit.
Herbs and spices get an important mention at the base of the pyramid.
Legumes get a mention in the vegetable section and in the protein section, showing that they provide both protein and carbohydrates. Although, I am on the fence a little about this one, as it could be confusing for many in regards how much legumes should be consumed.
There is recognition of soymilk in the dairy section, showing that our milk sources come from other areas besides regular cows milk.
There is recognition of alternative proteins such as tofu and legumes.
The fats area is filled with healthy fat sources such as olive oil (yippee!) and nuts.
What I would like to see changed in the future:
More differentiation between grains, that being a section for fibre dense grains such as whole wheat, barley and oats and an alternative section for low fibre grains such as cous cous and white breads.
The protein section given equal footing, or alternate ranking with a complex carb section. Perhaps a split down the middle like the old pyramid did with vegetables and fruit.
Fats given more attention and not pushed to the top of the pyramid. I'd like to see the top of the pyramid include healthier sources of high sugar foods such as dried fruits, honey, maple syrup and so forth.
Foods that contain good fats such as nuts, seeds and avocado also included in the fats section.
Here is a copy of the handout containing the food pyramid that we use in the jcn clinic for our clients: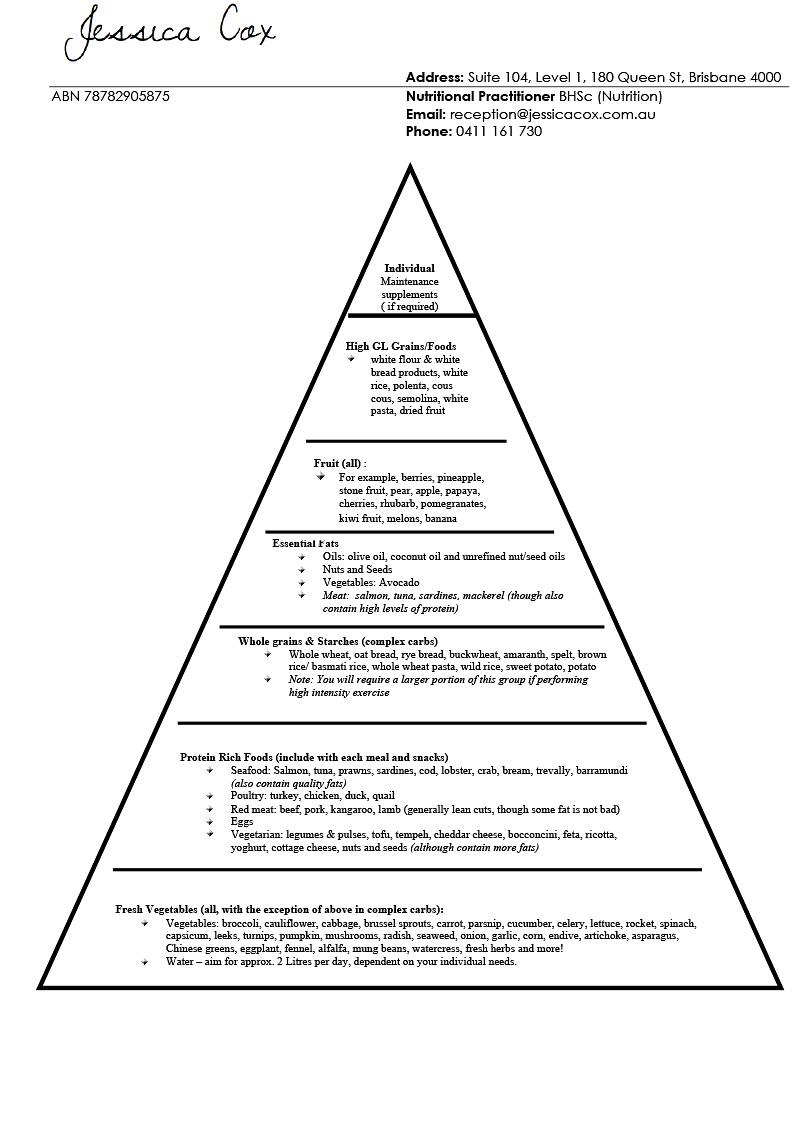 What do you think? I'd love to hear your thoughts on the updated Nutrition Australia pyramid, plus any you have on the pyramid we use in the JCN clinic.
Jessica Cox is a qualified practicing Nutritionist with a Bachelor Health Science (Nutrition) and over 15 years of clinical experience. She is the founder and director JCN Clinic, published author and established recipe developer. Jessica is well respected within health and wellness space for her no fad approach and use of evidence-based nutrition.